Article Ideas & Take-Aways
Visual Interpretation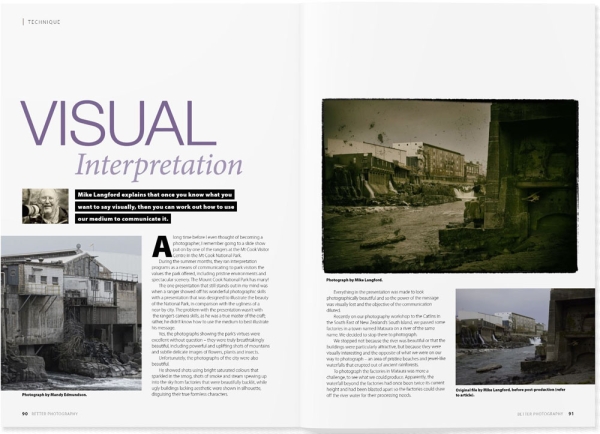 Mike Langford has always been a thinking photography and this month's article distils his thoughts on using photography to communicate what you feel about a subject - to interpret it.
"A long time before I even thought of becoming a photographer, I remember going to a slide show put on by one of the rangers at the Mt Cook Visitor Centre in the Mt Cook National Park. During the summer months, they ran interpretation programs as a means of communicating to park visitors the values the park offered, including pristine environments and spectacular scenery. The Mount Cook National Park has many!
"The one presentation that still stands out in my mind was when a ranger showed off his wonderful photographic skills with a presentation that was designed to illustrate the beauty of the National Park, in comparison with the ugliness of a near-by city. The problem with the presentation wasn't with the ranger's camera skills, as he was a true master of the craft; rather, he didn't know how to use the medium to best illustrate his message.
"Yes, the photographs showing the park's virtues were excellent without question – they were truly breathtakingly beautiful, including powerful and uplifting shots of mountains and subtle delicate images of flowers, plants and insects. Unfortunately, the photographs of the city were also beautiful. He showed shots using bright saturated colours that sparkled in the smog, shots of smoke and steam spewing up into the sky from factories that were beautifully backlit, while ugly buildings lacking aesthetic were shown in silhouette, disguising their true formless characters."
So, what should the ranger have done? And what does Mike do today? Read the answers in the current issue of Better Photography (Issue 105). Click on the link below to subscribe - plus you get immediate access to 50 back issues full of informative material and inspirational ideas! Use coupon code BP40 to get 40% off - just $29.88 for an annual subscription.
Australia - A Photographic Journey
If you visit Canberra from time to time (or you are an ACT resident), you may have seen Scott Leggo's gallery. Scott has certainly built up an impressive portfolio of images around Canberra and the Snowy Mountains, but it wasn't until I purchased his book Australia - A Photographic Journey that I learnt his portfolio extended across the entire continent.
Priced at $75 (including delivery in Australia), the premium quality, hard cover coffee table book has 224 pages and approximately 200 photographs. It is a wonderful example of highly-coloured landscape photography that meets a market. It's not designed for other photographers as much as it is for the tourists - or for Australians wanting to send a gift overseas. When you put the book into this perspective, Scott really has done a great job.
So, why should another photographer purchase the book? Research! Inspiration! Ideas! I have to say my favourites are the alpine areas in winter and I must get myself down there again. I used to camp out overnight and go ski-touring, always taking a camera with me, but never capturing it quite the way Scott has. He has found some magnificent light - and so research alone is a good reason to support a fellow photographer!
Further details can be found on Scott's website here: https://www.scottleggo.com/products/book-australia-a-photographic-journey-by-scott-leggo
Dots of Life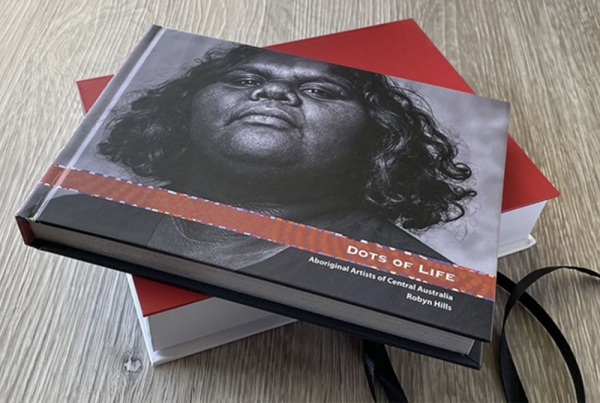 Robyn Hills and I go back many, many years. She was not only an AIPP Australian Professional Photographer of the Year, she handled the publicity for the AIPP for a few years and I have her to thank for finding myself on television, being interviewed by the late Bert Newton after I won the same award. 
Robyn has recently published a small book called Dots of Life, Aboriginal Artists of Central Australia. Its 250 pages contain 100 portraits of Aboriginal artists, 100 Indigenous paintings and 14 superb landscapes. The rocks at Juka Juka, north-west of Yuendumu are remarkable, but so are the paintings by the artists and a wonderful source of inspiration in terms of colour and design. Aerial photographers will be very interested! So will portrait photographers interested in doing a project of their own - lots of reasons to purchase a copy and help out a photographer who has published a book!
The book comes in a choice of soft ($54) or hard cover ($87), the latter including a presentation box (156x218x23 mm), it's printed in Australia and Robyn says it would make a perfect gift. Further details can be found on her website at https://robyngraphs.com.au/products/aboriginal-artists-of-central-australia-dots-of-life/
Peter Eastway FAIPP HonFAIPP HonFNZIPP APPL GMPhotogII MNZIPP
Editor and Publisher
Why did you receive this email? You are registered on the Better Photography website.
Unsubscribe: If you'd like to unsubscribe, click the link here to visit our unsubscribe page: Unsubscribe me, please!