An Excerpt from Better Photography Magazine
Visual Interpretation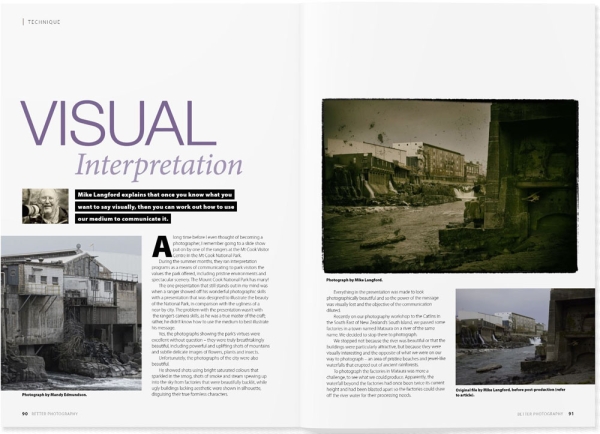 Mike Langford has always been a thinking photography and this month's article distils his thoughts on using photography to communicate what you feel about a subject - to interpret it.
"A long time before I even thought of becoming a photographer, I remember going to a slide show put on by one of the rangers at the Mt Cook Visitor Centre in the Mt Cook National Park. During the summer months, they ran interpretation programs as a means of communicating to park visitors the values the park offered, including pristine environments and spectacular scenery. The Mount Cook National Park has many!
"The one presentation that still stands out in my mind was when a ranger showed off his wonderful photographic skills with a presentation that was designed to illustrate the beauty of the National Park, in comparison with the ugliness of a near-by city. The problem with the presentation wasn't with the ranger's camera skills, as he was a true master of the craft; rather, he didn't know how to use the medium to best illustrate his message.
"Yes, the photographs showing the park's virtues were excellent without question – they were truly breathtakingly beautiful, including powerful and uplifting shots of mountains and subtle delicate images of flowers, plants and insects. Unfortunately, the photographs of the city were also beautiful. He showed shots using bright saturated colours that sparkled in the smog, shots of smoke and steam spewing up into the sky from factories that were beautifully backlit, while ugly buildings lacking aesthetic were shown in silhouette, disguising their true formless characters."
So, what should the ranger have done? And what does Mike do today? Read the answers in the current issue of Better Photography (Issue 105). Click on the link below to subscribe - plus you get immediate access to 50 back issues full of informative material and inspirational ideas! Use coupon code BP40 to get 40% off - just $29.88 for an annual subscription.
Me, My Camera and Our Pandemic - Reader Project - Last Chance!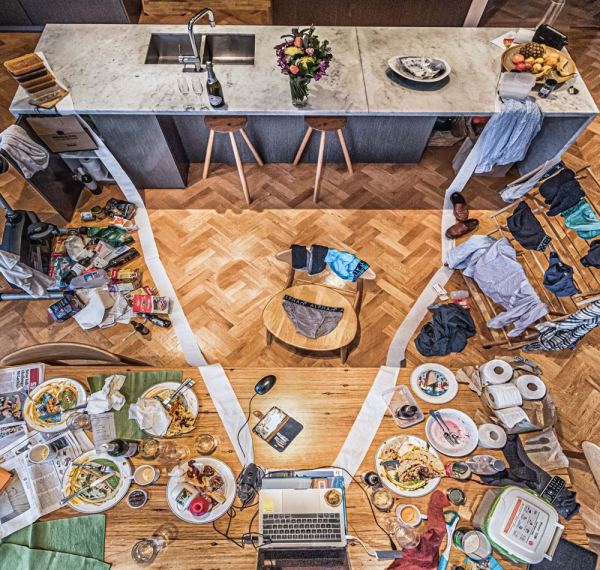 Pandemic Photograph by Ken Spence
Better Photography contributor Ken Spence had a great idea - why not get our readers involved in a little pandemic project?
Writes Ken, "No matter where you live, this pandemic has been a shared experience of isolation. There are the extremes – Melbourne's lock down total of 250+ days and counting being at one end of the spectrum, with Western Australia's isolation from the rest of the country at the other.
"More broadly, as Australians we have all shared the common experience of isolation through the ban on international travel. This has changed what we can do and what we can photograph. For the many photographers who define their preferred genre of photography as "travel", pity about that." 
However, as Ken suggests, limitations can be a fuel for creativity, so we have cooked up the idea of providing a stage for Better Photography Magazine subscribers to share their creativity in the context of the pandemic with a larger audience. This may well involve aspects of isolation, but not necessarily. 
"See this as an opportunity to document and share your personal experiences of this worldwide catastrophe. Our State and Federal leaders assure us that we will be on the other side in a few months and so we are calling for your contributions before the end of November 2021. Then in our Autumn 2022 edition, we will publish a selection under the heading "Me, My Camera and Our Pandemic" , plus release a web gallery of 100 contributed images."
We are very excited to see what our creative subscribers will share with us - and Ken has started the ball rolling with the photo at the beginning of this post. We know that this will result in a very powerful article that will provide a historic reference to this unique time in all our lives.
So, how do you contribute?
Step 1: Prepare a photo for submission. The subject is up to you. It might be something you edited from a trip taken years ago, or something you photographed around the home - that's up to you. However, the size you send to us should measure no more than 3000 pixels on the longest edge and be saved as a JPG at a moderate setting (e.g. setting 8 or 80%). Name your photo with your own name and a number (so we know whose photo it is): e.g. PeterEastway-01.jpg. If you send more than one, give the next one a higher number (PeterEastway-02.jpg)!
Step 2: Write a caption of no more than 50 words. You can start the caption with the title of the photo if you like. You can write a few words of poetry, you can explain what the subject is, how you photographed it, or relate something of interest you experienced during the pandemic. But no more than 50 words!!!
Step 3: Send the photo and a caption in an email with the heading - Pandemic Project - <Your Name> - Photo 1 (or 2, 3 etc). Use a separate email for each photo you submit. Insert the caption into the body of the email (do not attach a separate file). Insert the photo as an attachment, not in the body of the email (Mac users beware). 
Step 4: Email the photo package to Kim Valenti who will do the initial collation - kim@betterphotography.com
That's it! 
Closes tomorrow for submissions, so get your photos in today!!
Peter Eastway FAIPP HonFAIPP HonFNZIPP APPL GMPhotogII MNZIPP
Editor and Publisher
Why did you receive this email? You are registered on the Better Photography website.
Unsubscribe: If you'd like to unsubscribe, click the link here to visit our unsubscribe page: Unsubscribe me, please!