Article Ideas & Take-Aways
Rainforest Reduction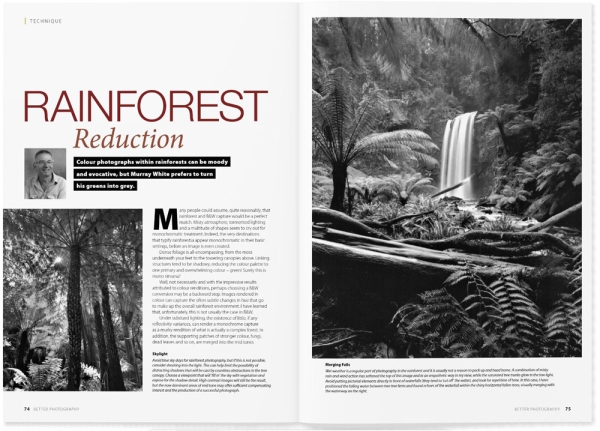 Is the rainforest a place of colour or black and white? Murray White would strongly suggest the latter.
"Many people could assume, quite reasonably, that rainforest and B&W capture would be a perfect match. Misty atmosphere, tormented lighting and a multitude of shapes seem to cry out for monochromatic treatment. Indeed, the very destinations that typify rainforests appear monochromatic in their basic settings, before an image is even created.
"Dense foliage is all-encompassing, from the moss underneath your feet to the towering canopies above. Linking structures tend to be shadowy, reducing the colour palette to one primary and overwhelming colour – green! Surely this is mono nirvana?
"Well, not necessarily and with the impressive results attributed to colour renditions, perhaps choosing a B&W conversion may be a backward step. Images rendered in colour can capture the often subtle changes in hue that go to make up the overall rainforest environment. I have learned that, unfortunately, this is not usually the case in B&W. Under subdued lighting, the existence of little, if any reflectivity variances, can render a monochrome capture as a murky rendition of what is actually a complex forest. In addition, the supporting patches of stronger colour, fungi, dead leaves and so on, are merged into the mid tones and effectively into visual oblivion. More direct lighting risks the creation of highly contrasted images and subsequent loss of some detail.
"The capability of monochrome falls short of its full potential, if you approach a rainforest as if it were just another landscape. However, by shooting selectively and applying some basic principles, it is possible to reclaim some photographic possibilities and plenty of satisfaction. By anticipating the conversion limitations, images can be found that literally shine as a B&W interpretation."
Read how Murray turns green into grey in the current issue of Better Photography (Issue 105). Click on the link below to subscribe - plus you get immediate access to 50 back issues full of informative material and inspirational ideas! Use coupon code BP40 to get 40% off - just $29.88 for an annual subscription.
25% Off Ignacio's eBooks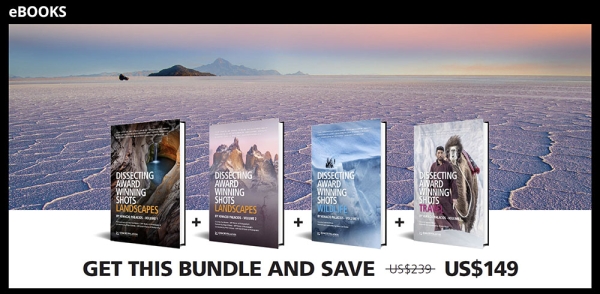 Regular readers of Better Photography magazine will have seen Ignacio Palacios' articles on composition and travel photography. They are excerpts from his collection of eBooks in which he presents many more marvelous examples of his work. Ignacio has graciously agreed to offer all our readers a 25% discount if they are interested in making a purchase!
To see his website, visit https://iptravelphotography.com.au/books/ and if there's something you'd like to buy, use the coupon code BP25OFF in the shop to claim your 25% discount.
Me, My Camera and Our Pandemic - Reader Project (4)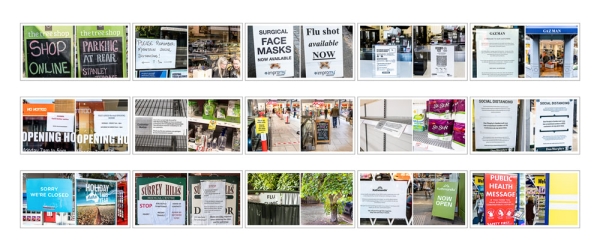 Pandemic Photograph by Ken Spence
Better Photography contributor Ken Spence had a great idea - why not get our readers involved in a little pandemic project?
Writes Ken, "No matter where you live, this pandemic has been a shared experience of isolation. There are the extremes – Melbourne's lock down total of 250+ days and counting being at one end of the spectrum, with Western Australia's isolation from the rest of the country at the other.
"More broadly, as Australians we have all shared the common experience of isolation through the ban on international travel. This has changed what we can do and what we can photograph. For the many photographers who define their preferred genre of photography as "travel", pity about that." 
However, as Ken suggests, limitations can be a fuel for creativity, so we have cooked up the idea of providing a stage for Better Photography Magazine subscribers to share their creativity in the context of the pandemic with a larger audience. This may well involve aspects of isolation, but not necessarily. 
"See this as an opportunity to document and share your personal experiences of this worldwide catastrophe. Our State and Federal leaders assure us that we will be on the other side in a few months and so we are calling for your contributions before the end of November 2021. Then in our Autumn 2022 edition, we will publish a selection under the heading "Me, My Camera and Our Pandemic" , plus release a web gallery of 100 contributed images."
We are very excited to see what our creative subscribers will share with us - and Ken has started the ball rolling with the photo at the beginning of this post. We know that this will result in a very powerful article that will provide a historic reference to this unique time in all our lives.
So, how do you contribute?
Step 1: Prepare a photo for submission. The subject is up to you. It might be something you edited from a trip taken years ago, or something you photographed around the home - that's up to you. However, the size you send to us should measure no more than 3000 pixels on the longest edge and be saved as a JPG at a moderate setting (e.g. setting 8 or 80%). Name your photo with your own name and a number (so we know whose photo it is): e.g. PeterEastway-01.jpg. If you send more than one, give the next one a higher number (PeterEastway-02.jpg)!
Step 2: Write a caption of no more than 50 words. You can start the caption with the title of the photo if you like. You can write a few words of poetry, you can explain what the subject is, how you photographed it, or relate something of interest you experienced during the pandemic. But no more than 50 words!!!
Step 3: Send the photo and a caption in an email with the heading - Pandemic Project - <Your Name> - Photo 1 (or 2, 3 etc). Use a separate email for each photo you submit. Insert the caption into the body of the email (do not attach a separate file). Insert the photo as an attachment, not in the body of the email (Mac users beware). 
Step 4: Email the photo package to Kim Valenti who will do the initial collation - kim@betterphotography.com
That's it! You have until the end of November to respond, but you can start sending in your photos whenever you like. 
Peter Eastway FAIPP HonFAIPP HonFNZIPP APPL GMPhotogII MNZIPP
Editor and Publisher
Why did you receive this email? You are registered on the Better Photography website.
Unsubscribe: If you'd like to unsubscribe, click the link here to visit our unsubscribe page: Unsubscribe me, please!