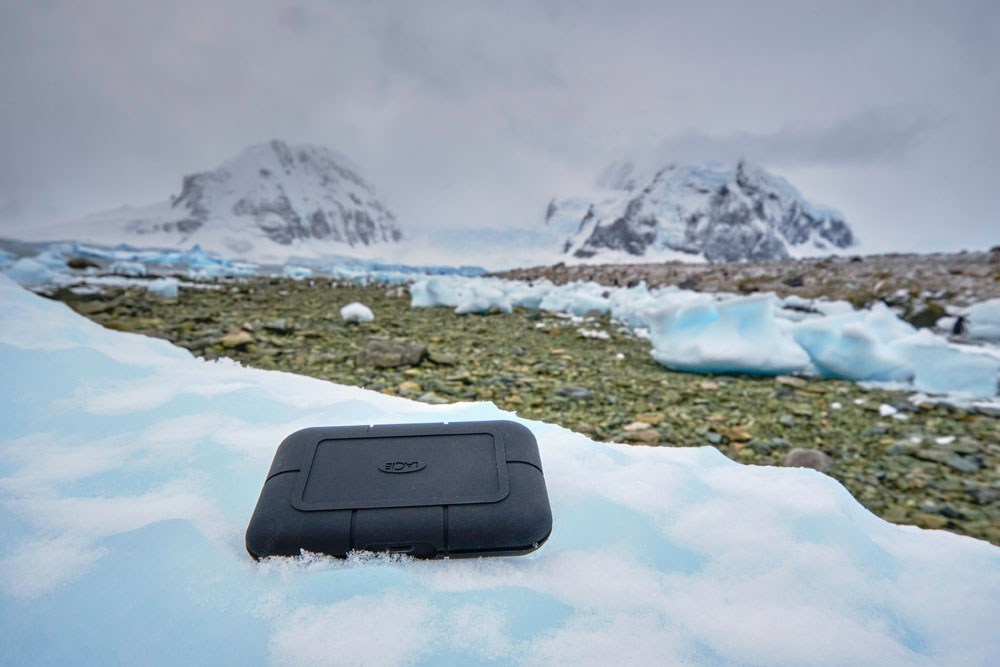 A Special LaCie/Better Photography Promotion
No Compromise Storage in a Go-Everywhere Package!
Peter Eastway reviews the highly portable Rugged SSD Pro storage solution from LaCie, from the remotest location on Earth – Antarctica!
One of the many fun aspects of writing for a photography magazine are the toys we get to play with. And the most recent toy I have to report on is the LaCie® Rugged® SSD Pro portable storage device.
As its name suggests, the Rugged SSD Pro is designed for life on the road – and the high seas as I recently took it on a voyage to Antarctica.
The Rugged series' well known plastic protective shell in vibrant orange has been replaced by a suave matte black, distinguishing it from the standard Rugged SSD. But, what else makes the Rugged SSD Pro different?
In a word, speed.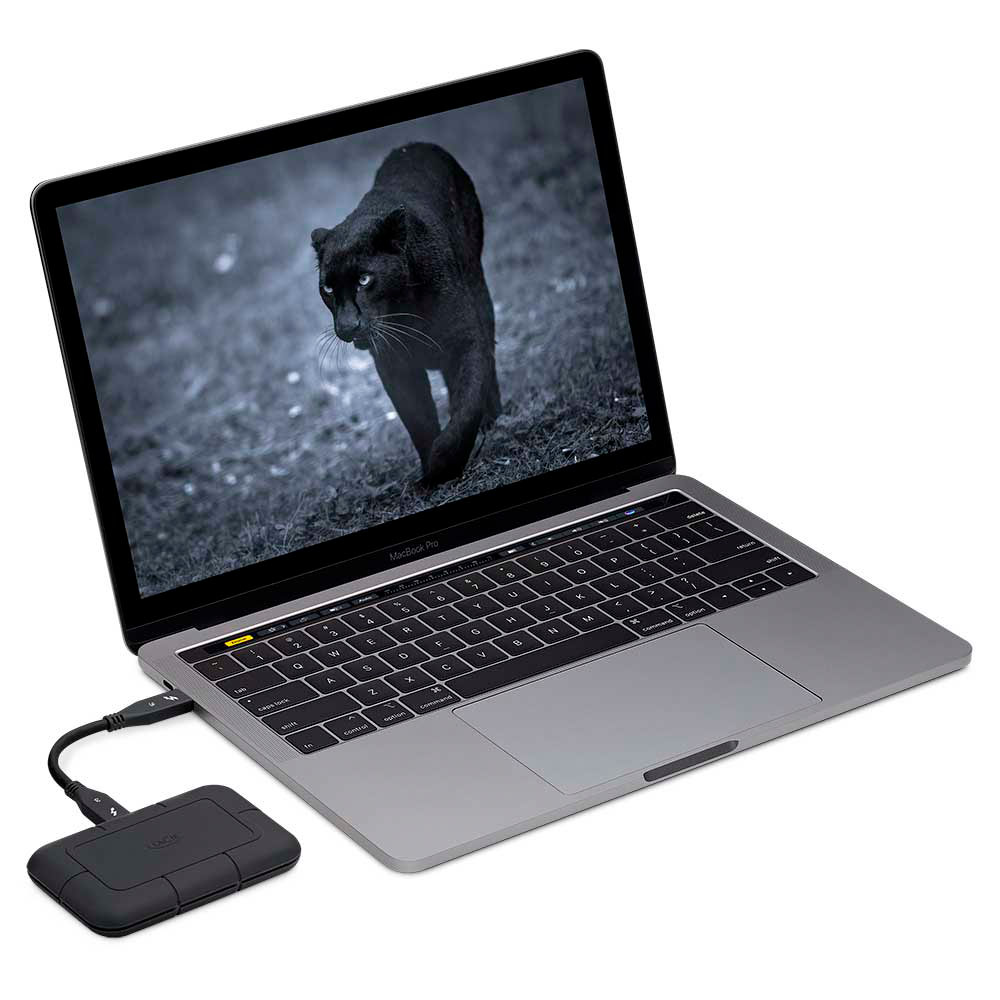 Plug the LaCie Rugged SSD Pro into any Thunderbolt 3 or USB 3.1 on your laptop and enjoy the speed
The LaCie Rugged SSD Pro has been designed to meet the requirements of both photographers processing large image files and film-makers with their gigabytes of motion – especially out on location.
However, not only does the Rugged SSD Pro provide additional storage space, it can work as a scratch disk with high-speed data transfers and editing power.
For photographers, this means that when you open your image files in Photoshop, Lightroom or Capture One, etc., it doesn't matter whether they're stored on your laptop's internal drive or the Rugged SSD Pro, your software won't hesitate as it opens, edits and saves your work.
Inside the Rugged SSD Pro is a Seagate® FireCuda® NVMe solid state drive offering super fast Thunderbolt 3 speeds up to 2800MB/s (compared to 1000MB/s on the standard Rugged SSD).
The benefit for photographers is that it really is so fast, it's just like working on an internal drive. And if you're into film and video production, then you'll be able to play back 6K, 8K, and super slow motion source files anywhere – without transcoding.
So, what happens if your computer doesn't have Thunderbolt 3 connectivity? No trouble! LaCie has thought about that too!
Previously, Thunderbolt 3 devices would only work with Thunderbolt 3 computers; now, the LaCie Rugged SSD Pro features the latest Thunderbolt 3 controller and is the first Thunderbolt 3 portable storage solution offering USB 3.1 compatibility for seamless plug and play connectivity.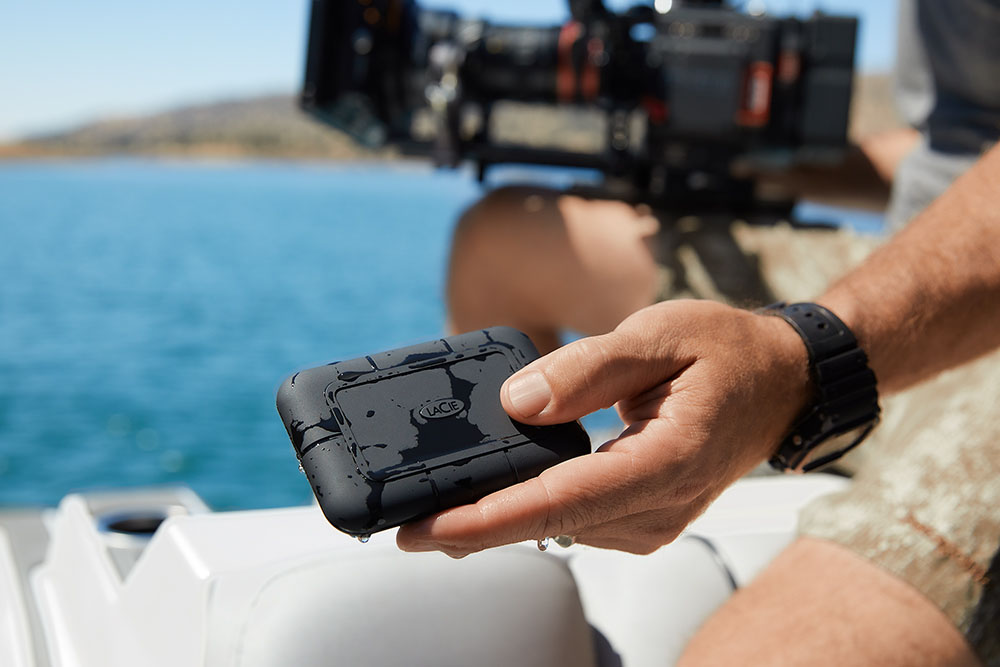 Don't try this intentionally, but the LaCie Rugged SSD Pro will survive for 30 minutes under one metre of water! Now that's rugged!
Now, I do have a small confession to make. I'm not sure if I came even close to pushing the ruggedness of the Rugged SSD Pro while in Antarctica.
You see, the Rugged SSD Pro has very impressive IP67-rated dust and water resistance, a three-metre drop tolerance and two-ton car crush resistance. And it is the first Thunderbolt 3 storage solution that can be immersed in water down to one metre for up to 30 minutes.
While I tested the Rugged SSD Pro extensively and took it with me when we landed onshore in Antarctica, my test unit spent most of its time inside a comfortable cabin on an expedition ship. Nevertheless, rough seas can see hard drives fall off desks. Our transfer out to the ship was by water and there's a wonderful sense of security knowing that this small, high capacity solid state drive is looking after your images.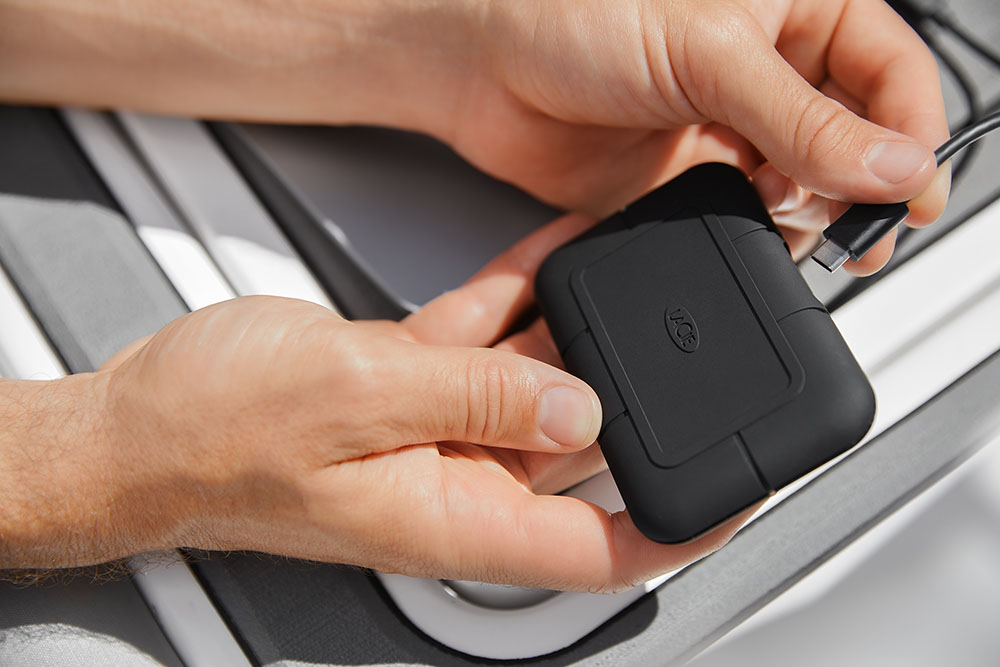 Attaching the LaCie Rugged SSD Pro to your laptop or computer is simplicity itself!
And it's reassuring to know LaCie thinks the same way. Like all LaCie's Rugged range, the SSD Pro comes with a fiveyear limited warranty protection plan featuring Rescue Data Recovery Services.
And there's also a one-month complimentary membership to Adobe® Creative Cloud® All Apps Plan for access to awesome photo and video editing apps.
The 140 gram Rugged SSD Pro is compatible with both Mac and Windows computers and comes in 1TB and 2TB configurations.
If you're looking for a small, robust drive for using out on location that can also double as a super-fast scratch disk, the LaCie Rugged SSD Pro has all the anwers.
For more information, visit www.lacie.com/as/en/, a specialist photo supplier or better computer suppliers Australiawide.