Details

Category: Equipment Blog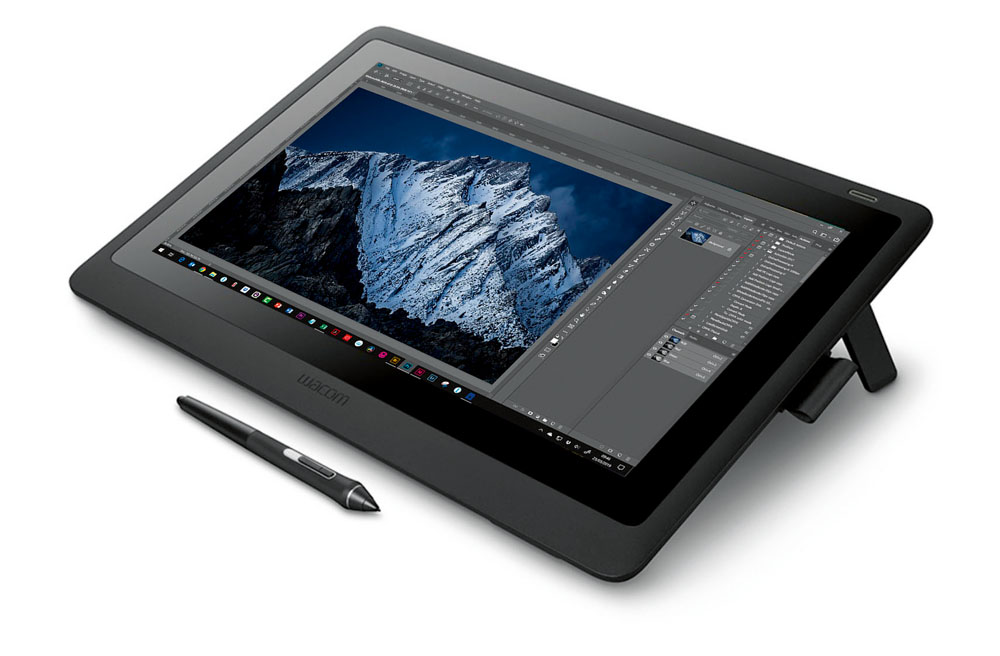 Editing Directly On Screen!
Special Promotion: New And Amazing Wacom Cintiq 16
Better Photography readers will receive a 10% discount on all products in the store. Discount code: BETTERPHOTO10.
Looking to take your editing skills to the next level? Check out Wacom's new Cintiq 16 – an affordable pen display with all the features you need. 
Why do photographers need a pen display to edit their photographs? If you're using the adjustment brush in Lightroom, layers and masks in Photoshop, or even the layers in Capture One, you'll know that you need to 'select' and 'paint' areas of your image in order to edit creatively.
The difficulty, for me at least, is using a mouse. I find it awkward to hold down a button and then move the mouse around the side of my desk. Growing up, drawing and painting was always with a pencil or a brush, so why suddenly do we need to use a mouse?
Don't get me wrong: a mouse is a great pointing device and I still have a mouse attached to some of my computers. But when it comes to editing my photos, I immediately switch to my Wacom Pro Pen 2. My edits are so much easier to perform. They are more accurate. I can be more precise and I don't get tired fingers and hands from awkwardly holding a mouse. For me, there is no better option than a pen.
And even better than a pen is a pen which works on top of a display, so I'm working directly on my image.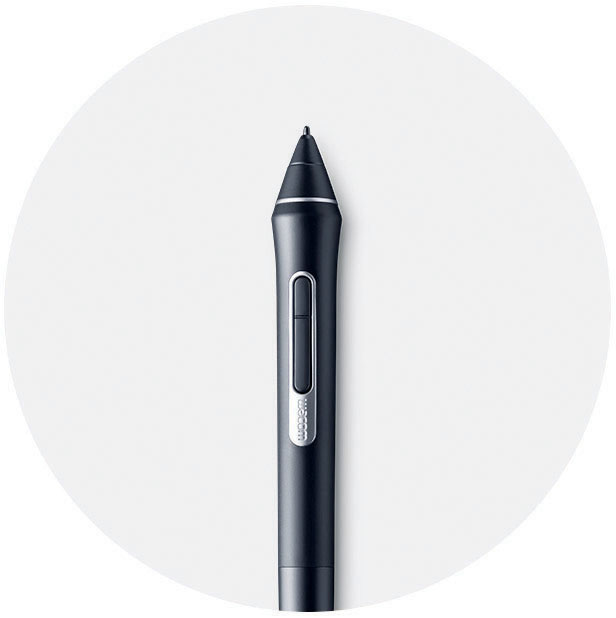 At the heart of all of Wacom's products is the pen. This is the remarkable Pro Pen 2.
Cintiq 16
Wacom has been producing pen tablets since 1983 and produced the first ever pen display, the original Cintiq, in 2001. Today, Wacom pens are used for virtually all types of animated movie creation, game development and industrial design because using a pen is natural, intuitive and it speeds up production. So, if it's good enough for artists who spend their entire lives working on images and designs, it has to be beneficial for photographers as well.
However, in the past, the Wacom Cintiqs with their built-in screens haven't been the least expensive accessory you could buy, but all that has changed with the new Wacom Cintiq 16.
At just $899 RRP, this is a tool you can't afford not to have!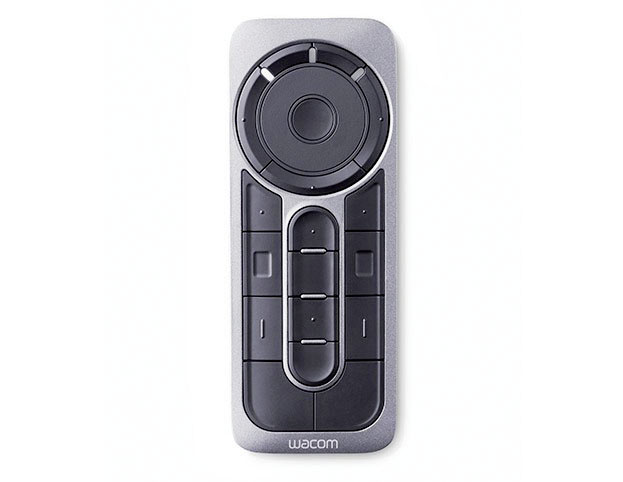 The Wacom ExpressKey Remote means you can put away your keyboard as well!
Work Directly on Screen
Wacom Cintiq 16 combines a pen and a display for a seamless experience that not only feels totally natural, but also makes you more productive. The Wacom Pro Pen 2 features 8,192 levels of pressure sensitivity and a low activation force, so it recognises even the lightest pen strokes. This is really useful when you're fine tuning a mask or an adjustment brush.
The Pro Pen 2 offers amazing precision and control, reacting to the tilt of your hand and accurately responding to each movement, immediately.
Wacom's EMR (Electro Magnetic Resonance) technology allows the Wacom Pro Pen 2 to draw the power it needs from your Wacom Cintiq – so the pen itself doesn't need a battery.
Even better, the Wacom Pro Pen 2 looks and feels like a regular pen so you don't need to learn any new techniques before you start working on your images. The balance of weight, rubber grip and the positioning of the two side buttons combine to make it sit comfortably in your hand.
Plus, those buttons are programmable, giving you immediate control and making your favourite software's shortcuts easy to access.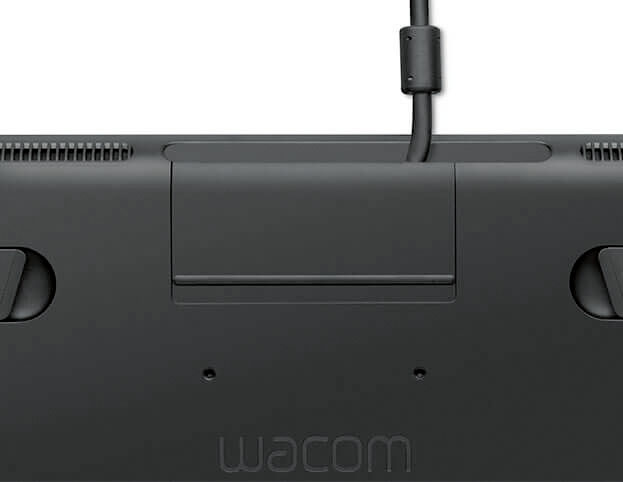 Cables are discreetly kept aside so your Cintiq always looks neat and tidy.
No Keyboard?
While I still use a keyboard, when editing my photographs I put it to the side, using the ExpressKey Remote (or the built in buttons on some of my other Wacom devices).
Using keyboard shortcuts and actions, I have set up Photoshop, Capture One and InDesign so they can be operated without a keyboard.
And then there's the enjoyment of working directly on the screen.
The Cintiq's 16" slimline display makes even the longest working day comfortable and productive. The 1920x1080 px full HD display provides you with clarity to see every detail of your work, while a layer of anti-glare film prevents distracting reflections as you work.
And combined with the Pro Pen 2, it makes drawing on the Wacom Cintiq feel as familiar as drawing on paper.
With reduced parallax, your cursor appears exactly where you would expect and, built of durable, scratch resistant materials, Wacom Cintiq 16 is a creative tool you can rely on day after day.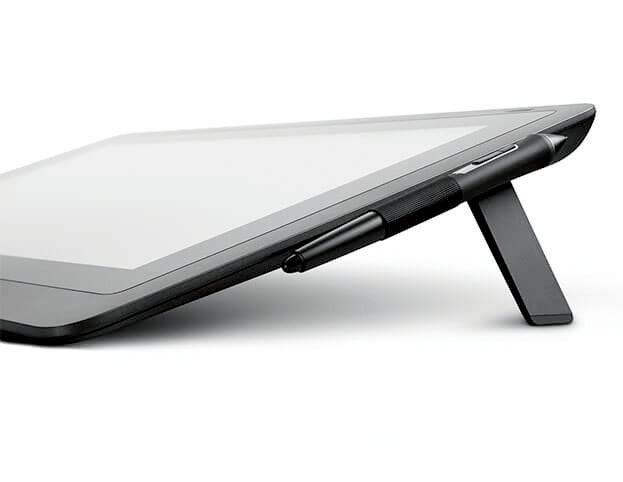 There are built-in legs for ergonomic positioning on the Wacom Cintiq 16.
Easy Positioning
In addition to a set of high-grip rubber feet, Wacom Cintiq 16 features a pair of foldable legs so you can quickly get into the perfect position. Go from almost flat to a 19° incline.
An optional stand gives you even more flexible and ergonomic positions.
The Wacom Cintiq 16 is compatible with both Windows and Mac computers, offering an HDMI port and a standard USB-A port.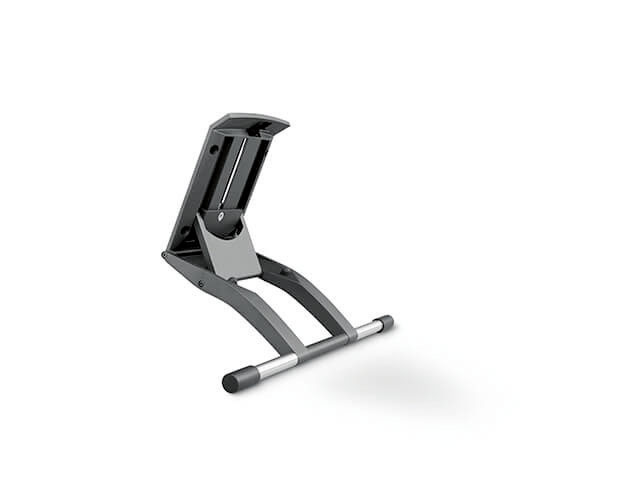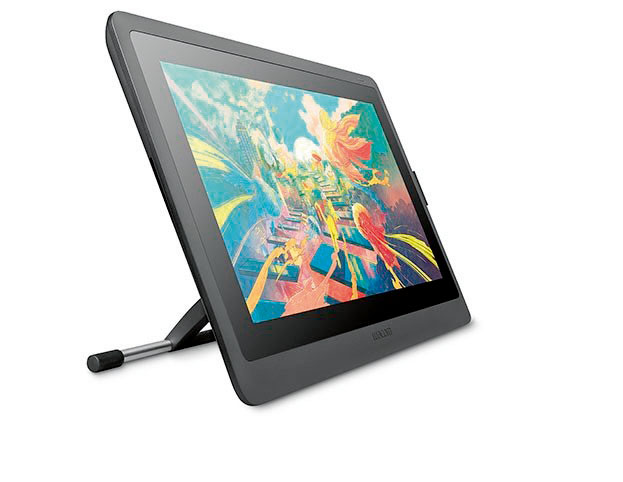 An optional stand provides even more ways to hold and position your Wacom Cintiq 16.
For more information, visit www.wacom.com.
To purchase a Wacom Cintiq 16, visit the Wacom eStore at www.buywacom.com.au, or selected retailers.
Better Photography readers will receive a 10% discount on all products in the store. Discount code: BETTERPHOTO10.
Details

Category: Equipment Blog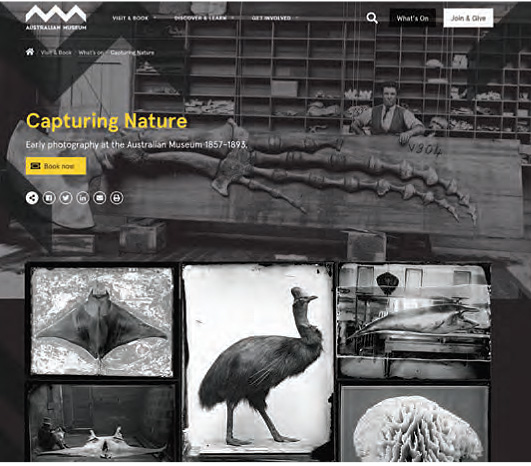 Capturing Nature – Early Scientific Photography At The Australian Museum 1857-1893 might sound a bit historical to a modern photography world, but flipping through this book's pages, we were surprised by just how many competition winning images over the past 20 years appear to have been inspired by this type of work.
Originally utilitarian in purpose, like many other genres of photography, time has a tendency of turning record photography into something more; sometimes art, sometimes simply inspiration for other work. So even though we were only mildly interested in the history of photography at the Australian Museum, we were very impressed by not only the photographs, but their style and technique. And yes, it's given us ideas!
As author Vanessa Finney explains, the photographs of Gerard Krefft and Henry Barnes back in the late 19th century, which feature in the book, were ground-breaking, purely from a technical perspective as new techniques and processes needed to be developed to record in minute detail the Australian Museum's many specimens.
A photograph of a flower would be simple enough, but the giant flipper of a whale (let alone the whale itself ) was quite another matter.
So, as you flip through the pages of this book, you can see how their practical solutions have pioneered and possibly inspired the work of many other photographers over the decades, from advertising to fashion, documentary to art.
And it's fascinating to read how the photographers tackled new projects and assignments, especially when you reflect on the limited technology available to them. Certainly makes our lives as digital photographers seem incredibly easy!
The book accompanies a free exhibition of photographs by the same name and it is on display until 21 July, 2019. Head to 1 William Street in Sydney, opposite Hyde Park.
The book has a RRP of $49.99 and can be purchased directly from the Museum. You can see more about the exhibition on its website, but to purchase the book, you'll have to use email: This email address is being protected from spambots. You need JavaScript enabled to view it..
Details

Category: Equipment Blog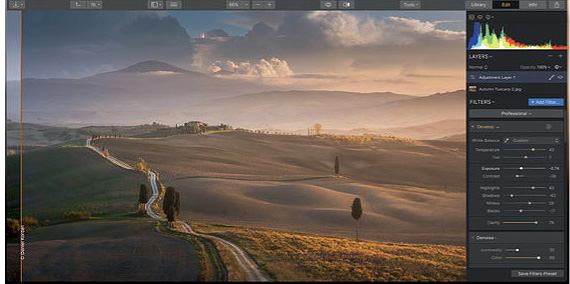 We're not really writing an anti-Photoshop page here, promise! Photoshop is the top dog with a few idiosyncracies and a monthly payment plan of $14.29 including GST in Australia. It also comes with Lightroom, so it is actually very affordable – the same as a cup of coffee each week. Long live Photoshop!
However, for just $99 you can purchase Skylum's Luminar and it's a one-off purchase. It can also be used in conjunction with Photoshop and Lightroom as a plug-in, so you don't need to transfer across to Luminar completely. And while Luminar offers raw file support, it's not clear what will happen in the medium future as new raw file formats are introduced and whether you may eventually need to purchase a new version of the software to support your new camera's new raw format (which is what you do with Lightroom and Capture One).
However, we're looking at Luminar to replace Photoshop. Can it? Photoshop is highly technical, Luminar is highly accessible. Luminar offers layers and masks like Photoshop, but it's not quite as sophisticated in that, for example, channel masks are not offered (but luminosity masking is).
Luminar appears to offer more than Lightroom, but are we comparing it with plain-vanilla Lightroom, or Lightroom with a series of plug-ins, such as the Nik Software series? Luminar is similar in application to both Capture One and Lightroom, but it has a series of features that are already included.
For instance, Luminar boasts an 'artificial intelligence' that enhances your image automatically. Is this a good idea? For photographers learning to edit, it's a great idea because it provides a starting point. However, to leave it at that seems a little boring, so Luminar has a full suite of image enhancement and editing tools, generally applied by a slider control, with the effects easily observed immediately on-screen.
Two features promoted to landscape photographers are the AI Sky Enhancer and the Sun Rays – easy as moving some sliders around.
Luminar also offers a cataloging and file management system, which is important to compete with Lightroom and Capture One, and there are over 60 presets or 'looks' to get you started.
There's a 30-day free trial, so certainly worth investigating.
Find out more at www.skylum.com/luminar