Details

Category: Equipment Blog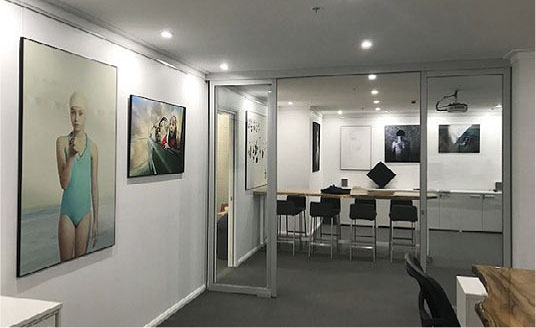 PHOTOS TELL YOU a lot more than words when it comes to a new meeting space in Arncliffe, Sydney, that features the photography of EIZO's Australian photography ambassadors.
The Gallery is designed as a combination office space, demonstration area and meeting place. One of the best things EIZO can do to sell its monitors is to let photographers see them in action and while this is not the key function of the new Gallery, there is a selection of EIZO's latest monitors scattered around the various meeting areas.
And already a number of photographers have given workshops and presentations in the EIZO Ambassadors Gallery.
So, why is it also a gallery? Around the walls you'll find photography by Jackie Ranken, Rocco Ancora, Les Walkling, William Long, Lisa Saad, Karen Alsop, Tony Hewitt, Peter Eastway and Mike Langford.
Said EIZO's Australian managing director, Matthew Bauer, "All the artwork has been beautifully printed, mounted and hung and I just can't believe how magical it is. A very big thank you to Les Walkling for his assistance and incredible attention to detail, generosity, and speed!"
So, if you're in Sydney, keep an eye out for events at EIZO's new Ambassadors Gallery.
Details

Category: Equipment Blog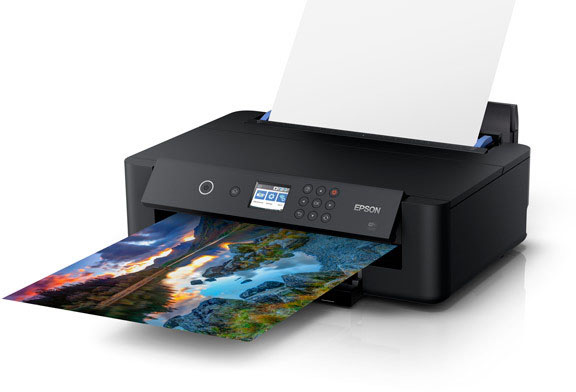 SOME PHOTOGRAPHY MAGAZINES specialise in technique and creativity, others focus on the wonderful equipment and materials we get to use and it's from this latter group that the TIPA awards are made. And in 2018, the Best Photo Printer was the Epson Expression Photo HD XP-15000.
The TIPA (Technical Image Press Association) awards draw upon a global panel of knowledgeable experts who are exposed to a wide range of products. This year's awards were selected by representatives from 29 professional, amateur, and business magazines from Asia, Australia, Europe and North and South America, with a delegate from the Camera Journal Press Club in Japan.
As such, winning the 2018 award means that Epson has now received a total of 39 awards from TIPA for technologies and imaging products, including inkjet printers, inks, scanners and projectors, since 1997.
TIPA provided the following citation: "The Epson Expression Photo HD XP-15000 weighs a relatively lightweight 8.5 kg and, in printing mode, takes up only 476x785x412 mm (18.7x30.9x16.2 inches) of space. This 6-colour printer, including grey ink for enhanced black and white prints, offers variable droplet size as small as 1.5 picolitres and can deliver up to 5760 x 1440 max resolution in print sizes up to 13x19 inches (A3+). It can also handle specialty media, including card stock, via a 50-sheet rear tray, plus 2-sided printing. It offers easy set-up via a 2.4" colour LCD and features wireless connectivity, allowing users to print from their smartphone and tablet."
The Epson Expression Photo HD XP-15000 Wide-Format Printer is available from www.epson.com.au for an RRP of $499 and through major Epson retailers and resellers across Australia.
Details

Category: Equipment Blog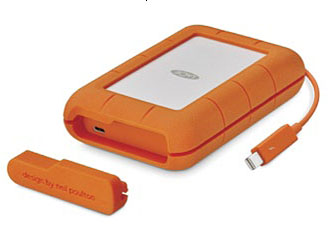 ARE YOU RUNNING out of storage space on location with lots of video files and high resolution raws? Or do you just want a fast way to store and then quickly access your images. If so, LaCie's latest Rugged drive could be of interest.The stylish, orange-rubber shelled, portable drives from LaCie have been on film and stills sets for many years and they're called 'rugged' because they're designed to take the rough and tumble of a working production environment – wherever that might be!
The latest Rugged drive is the RAID Pro 4TB, designed by Neil Poulton (although to be honest, it looks very similar to preceding Rugged drives!). It offers up to 240 MB/s in RAID 0, the configuration designed for speed as it is writing to two drives simultaneously. However, for photographers and video producers who are concerned about having a digital backup, the RAID 1 configuration can be used instead. This halves the capacity of the drive down to around 2TB, but now you have two copies of your files so if one of the drives were to fail, all your work is safe and sound on the second drive.
Of course, both drives are in the one case, so if you lose the case, that's a problem. Perhaps a second Rugged drive as a separate backup is an even better solution?
The Rugged RAID Pro 4TB has an integrated SD Card Reader, so you can quickly offload content using LaCie's quick import toolkit. The portable drive also sports the latest USB-C connector and is compatible with both next-generation Thunderbolt 3 computers and backward compatible with USB 3.0.
Of course, the reason the Rugged drives are so popular is because they are shock, dust, crush and water resistant. And to put its money where its mouth is, LaCie includes a 3-Year Limited Warranty with Rescue Data Recovery Services.
For more information and pricing, visit www.lacie.com.au