Details

Category: Equipment Blog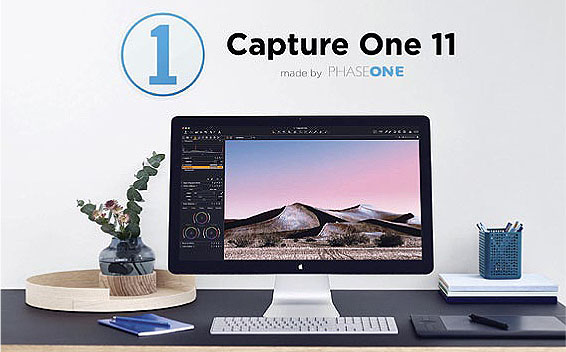 As Adobe increases its monthly tribute for running Photoshop and Lightroom, some photographers are looking for an alternative. However, this isn't the main reason you should investigate Capture One. Much more important to consider is image quality and if you prefer the way Capture One works – many photographers do. And just as Lightroom can replace much of what Photoshop does, Capture One can replace Lightroom and so it can be the raw processing and image editing application of choice.
Late last year, Phase One released Capture One 11 with some incremental, but very important improvements.
For photographers reading this magazine, one of the most important aspects of post-production is the abililty to selectively edit the image. In Photoshop we use layers and masks, in Lightroom we use the adjustment brush – and similarly Capture One has its local adjustments. It is within local adjustments that many of the improvements lie, especially a much faster and more robust processing engine, which means the masking process is much quicker and your consequent edits flow better.
For photographers already using Capture One, why should you upgrade? More tools have been added to the local adjustments tool, now simply called the 'Layers' panel. These include the levels and colour balance, and you can also add a layer with a filled mask much more easily than before. You can also add presets to layers, one preset per layer, but of course you can have multiple layers. And for each layer, its opacity can be adjusted from a slider control sitting up the top of the layers panel. It's a great improvement for photographers looking for an alternative to Photoshop, but like Lightroom, it still doesn't replace Photoshop as tools like luminosity and channel masks are unavailable!
Other pro-level features include being able to annotate notes over the top of photos (for sending files off to your retoucher), exporting Capture One files with crops, overlays and watermarks preserved as separate layers in PSD files, and Lab mode readouts in addition to RGB. Catalog restoration functions have been beefed up and when importing files from partially full memory cards, a duplicate checking feature will save you time.
For more information, visit https://www.phaseone.com
Details

Category: Equipment Blog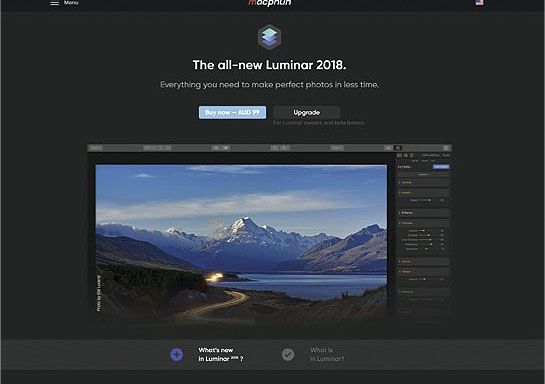 Macphun has been producing photo editing apps for quite a few years, but until recently only for the Mac. Now it is available for both Mac and Windows - and for some photographers it might be an affordable option to Photoshop or Lightroom.
It's also likely to be of interest to photographers who are new to editing because it takes a slightly different approach to postproduction. Photoshop and Lightroom provide you with all the tools, but they don't make suggestions as to what tools you might like to use. Luminar is a little different in that its interface is designed around the application of filters and what they might look like, using preliminary thumbnails to guide your deliberations.
Now, a filter in Luminar terms is really any form of image adjustment, from standard curve dialogs to brightening and warming filters. The terminology is more general than photographic, perhaps making it more accessible for non-photographers.
However, once you have applied one or a series of filters, you are then able to adjust them yourself using (generally) slider controls. It's easy to preview the result on your screen (and our standard recommendation for having a good quality monitor remains).
In somes ways, Luminar lets you edit your photos a little like the Nik Software plug-ins did for Photoshop and Lightroom, but you don't need Photoshop or Lightroom to run Luminar. Interestingly, you can use Nik and other Photoshop plug-ins with Luminar!
However, there are a lot of advanced features in Luminar as well. If you want to work selectively, Luminar provides the equivalent of layers and masks. Each filter can be applied globally or locally and there are a number of different ways you can brush in the filter effect.
Luminar will open raw files and the new 2018 version is claimed to be much faster than the earlier version, with new and improved algorithms for many of the filters.
And the price? As we go to press, the online price for a download is AUS $99 – and you can download a free trial first.
For more information visit www.macphun.com/luminar
Details

Category: Equipment Blog
Expressing the True Art of Photography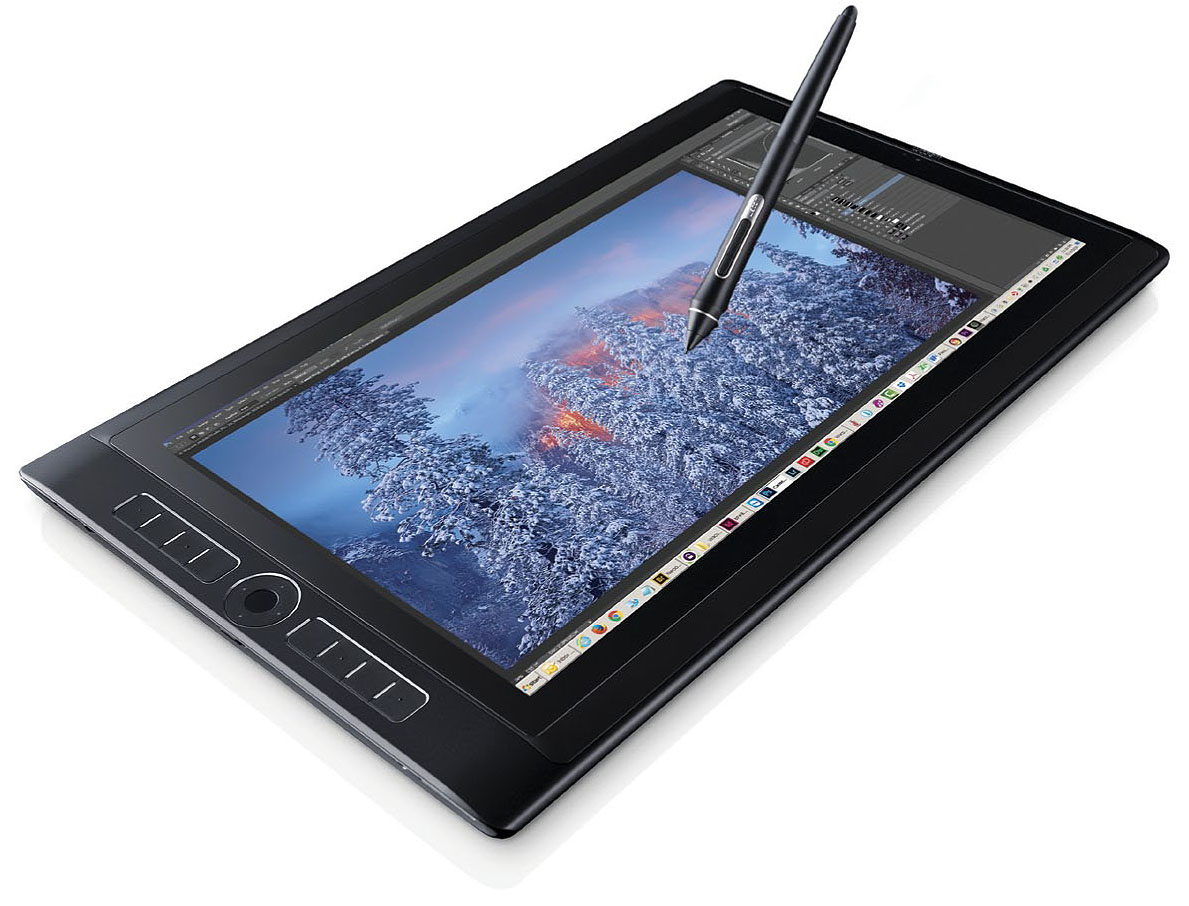 INTUOS PRO • MOBILESTUDIO PRO • CINTIQ PRO
Wacom's Pro Pen 2 can be used with all Wacom's latest products, no matter what photography program you're using. Reproduced from Better Photography Magazine.
Don't dismiss the idea of a pen for photography, because although it's true it can take some people a little practice, there's no doubt a pen is a much more involving and ergonomic way to create photographic art.
As readers of magazines like Better Photography, we know you're committed to your photography and that you use software like Lightroom, Photoshop and Capture One to process your files.
If at any stage you use layers, layer brushes, gradients or masks, then a mouse (or a finger on a touch pad) is not nearly as practical as using a pen, especially Wacom's latest Pro Pen 2.
First up, let's compare your hand position as you grab your mouse, press a button with your finger and drag it around the table. I certainly don't find it comfortable, even for short periods of time.
Now compare this with the much more natural process of using a pen to point to menu items, tap on them and then, most importantly, dragging and drawing your masks and brushs over the screen or tablet. It's just like drawing on paper and artists over the past 50,000 years haven't ended up with brushes and pens because they are uncomfortable to use!
There is a strong argument purely from a physical standpoint for using a pen over a mouse.

Wacom Pro Pen 2
But not just any pen. Some simple pens you may have tried in the past wouldn't have had the technology you'll find in Wacom's Pro Pen 2, technology that translates into a beautiful replication of pen or pencil on paper. There is a whole science behind the Pro Pen 2 that makes it more realistic than actually using pen and paper!
To begin with, the Wacom Pro Pen 2 has 8096 pressure levels, so unlike a simple pointing device like a mouse, you can control the size or opacity of your brushes by putting more or less pressure on the pen.
There's also a difference to the shape and feel as you tilt the pen, just like when using a pencil or a paintbrush.
When working with adjustment brushes in Lightroom or on a mask in Photoshop, this degree of fine control becomes incredibly important in the way you apply and draw your masks. It makes it far more intuitive to use.
Some people have compared the Pro Pen 2 to a musical instrument, rather than a physician's scalpel. Although just as accurate as a scalpel, the Pro Pen 2 works like a beautifully tuned musical instrument, something that can help you create amazing art.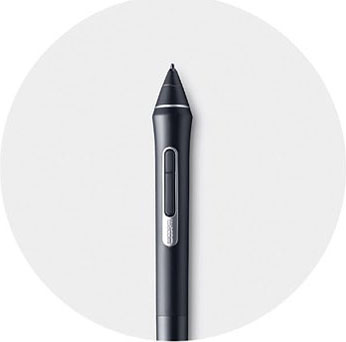 No Lag Or Parallax
The Pro Pen 2 has no discernible lag, so as you move your pen, the cursor moves in perfect synchronisation.
And when you're using your pen directly on-screen, such as with the MobileStudio Pro and the Cintiq Pro, there is no parallax difference between where the pen meets the finely etched glass and the cursor.
This is because the MobileStudio Pro and Cintiq Pro use incredibly thin (and tough) glass on top of the screen, so there is no discernible gap between the pen tip and the cursor.
Again, these might seem like little points, even expected of a good pen system, but they are issues that Wacom has refined over many years. Not all pens work this well.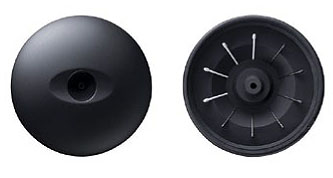 In Practice
So, how do you work with the Pro Pen 2 when in Photoshop or Lightroom?
Chances are your Wacom is already set up to work optimally with the Pro Pen 2 and the TouchRing. Run your finger around the TouchRing one way to increase the size of your brush, run it the other way to decrease the size. Now add in the pressure you apply and even the angle of the pen to the screen and you'll discover why the Wacom Pro Pen 2 is so incredibly useful for photographers in post-production.
For more information, visit www. wacom.com. And to purchase a Cintiq, MobileStudio Pro or Intuos Pro, visit the Wacom eStore at www.buywacom.com.au, or selected retailers.