Details

Category: Equipment Blog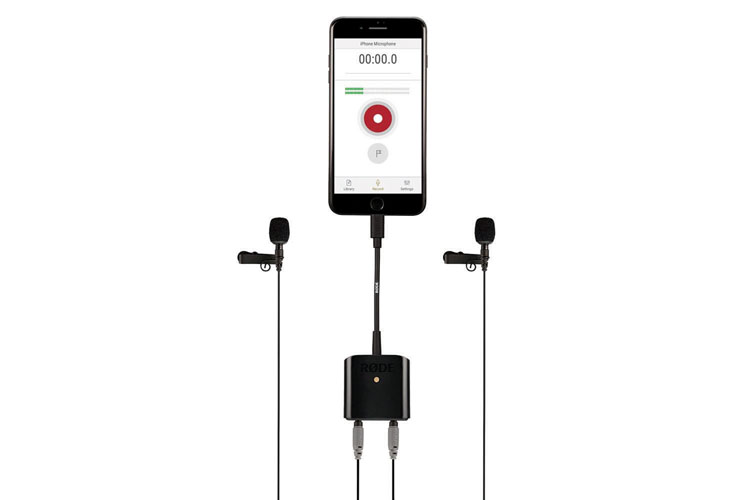 Many productions made by photographers ignore location sound because it is so difficult to do correctly – and a much easier solution is to add music or narration later during post-production.
This approach works just fine for doing little arty pieces, but what happens when you have people talking to the camera as part of your storyline? What happens if you want to interview someone on camera?
Professionals use a number of different approaches, depending on the location, the budget and other considerations. One of the most popular is to use a wireless lavalier system. A small microphone is attached to the person talking, connected by a cable to a transmitter which goes into their pocket or attached to a belt out-of-sight. A receiver is attached to your camera or sound recorder and away you go. And if you have two people speaking, you need two set-ups!
So here's another, inexpensive solution that will fit in a pocket: the RØDE Mobile Interview Kit. It includes two smartLav+ lavalier microphones (they are connected by cables, not wirelessly) and an SC6-L connector for an iPhone or iPad. To use, plug one or both lavalier mics into the iPhone via the connector, attach the lavalier mics to the people you are filming, and launch the RØDE Reporter app. Your iPhone or iPad records the sound and then you simply export it and drop it into your video editing software.
The smartLav+ is a 4.5mm miniature mic made with omnidirectional condenser capsules and Kevlar reinforced cable. The SC6-L is a simple input/output breakout box with a Lightning connector to connect directly to iOS devices. With two TRRS inputs and one stereo headphone output, the SC6-L connects to any TRRS device, including the two supplied smartLav+ microphones. And with the RØDE Reporter app, you can alter boost gain and choose between summed stereo and dual mono.
RØDE is an impressive company, producing a range of products that are useful for photographers dabbling in the world of audio visuals and video productions. They also have a range of camera mounted mics that do a stellar job – and an even better job if you learn a little about sound recording before you use them!
For full details, visit www.rode.com.
Details

Category: Equipment Blog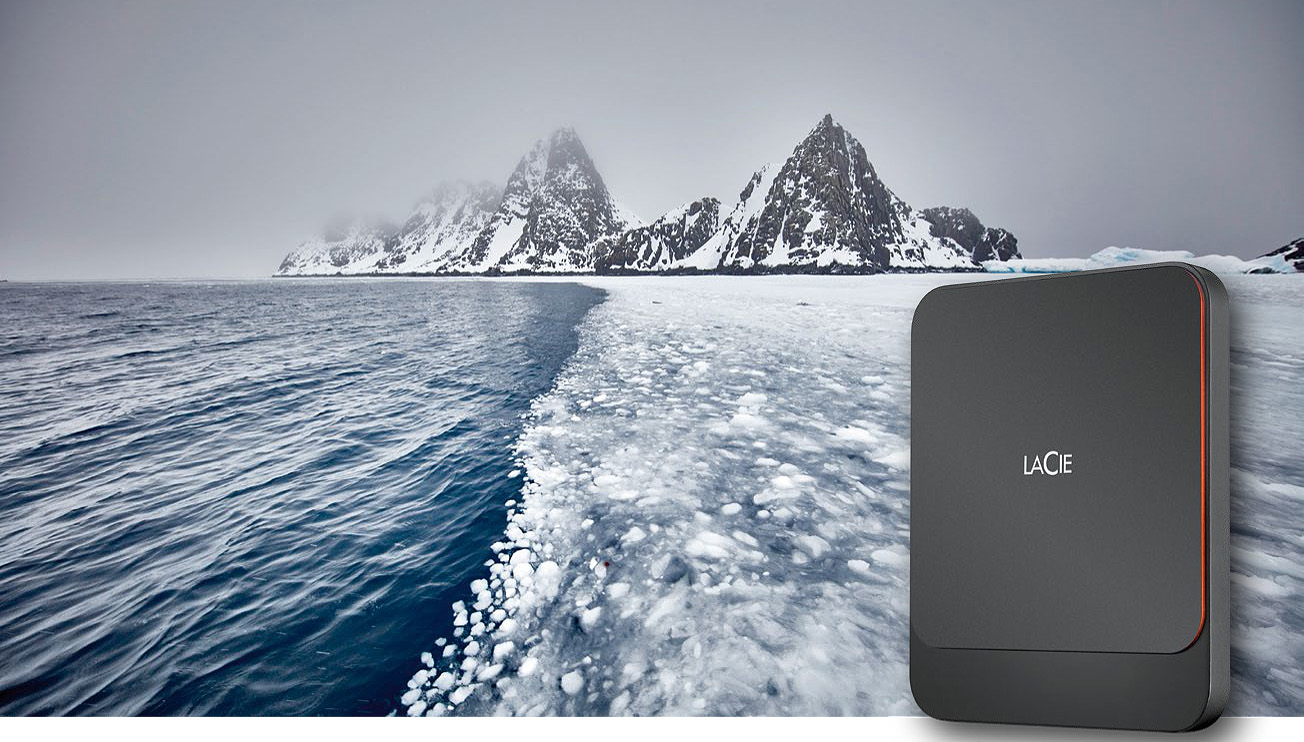 Introducing LaCie's Portable SSD Drives
When working on location, your equipment might be insured, but what about your photos? The solution is multiple copies of your invaluable raw files and LaCie's new Portable SSD drives make it so easy to do. Peter Eastway reports!
I've just returned from a three-week voyage to South Georgia and Antarctica. During that time, I captured hundreds of gigabytes of raw files and video footage, for both personal and professional purposes. On board ship, I had no worries about security. Cabin doors couldn't be locked, but there was nowhere for a thief to hide anyway! However, there's always a risk of a computer or hard drive malfunction, so I made backup copies of my files as I went.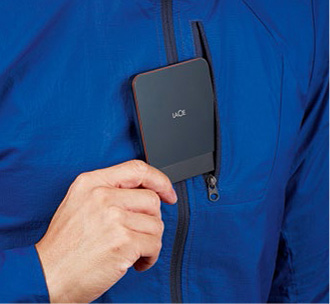 Backup Workflow
In a perfect world, I take sufficent memory cards so I don't have to overwrite them until I return. This is the first copy of my files.
I then transfer all the files to my laptop, day by day. This becomes my second copy, although because my laptop doesn't have unlimited storage, I usually find towards the end of the trip I am offloading some of the files to a separate backup drive, such as my LaCie Rugged.
And then I have a third copy which I make at the same time I'm ingesting the cards to my computer. In Antarctica late last year, for the first time, I used the tiny LaCie Portable SSD unit.
Some people might consider me overly cautious, especially when we think back to the days of film when we'd post our exposed rolls back to Melbourne for processing, and then rely on the postage service a second time to deliver them back home! However, that was hardly professional (and done before I turned professional, I hasten to add) and just because it was tough in the old days, doesn't mean it has to be today!
Given how inexpensive storage media is, why take any risks at all – even when you return to civilisation?
Truly Portable
On my trip back from Antarctica, I had to overnight in Buenos Aires. After checking into my hotel room, in what I considered a safe-enough neighbourhood, I needed to go out for dinner. What do I take with me?
While cameras and computers are insured, my raw and video files cannot be replaced, so if a thief managed to break into my room and take my camera and laptop bags, I'd be left with nothing.
My new solution was to pick up the tiny LaCie Portable SSD and slip it into my shirt pocket! How easy was that? I could enjoy my meal without worrying about what might happen, even if it usually doesn't!
In the past, I'd take my LaCie Rugged drive and while it's not large, it would have to go in a trouser pocket or be held in the hand with my phone. So while the Rugged drives are not large, the LaCie Portable SSD Location Storage: When Small Is Better Introducing LaCie's Portable SSD Drives (Above) LaCie's Portable SSD drives are literally small and light enough to fit into a shirt pocket. drives are around one quarter the size and one quarter the weight!
So, given the small size, does this limit the drive in any way? The short answer is no!

Super Fast
As file sizes for both stills and video have increased, so has the speed of computer processing and, importantly, transferring data to and from hard drives.
The new LaCie Portable SSD drives offer maximum sequential read/write speeds of 540/500 MB/s. What this means is that you can edit your work (using Photoshop, Capture One or Premiere Pro, for example), straight from your external drive with speeds of up to 540 MB/s.
This is really good news for photographers and video producers using a space-limited laptop for processing on location. No longer do we need to worry about filling up our built-in hard drives, we just dump our data onto one or two LaCie Portable SSD drives without incurring any noticeable drop in computing performance.
And transferring your files to the LaCie Portable SSD drives will be quick. For instance, LaCie suggests it will take less than a minute to transfer one hour of video footage.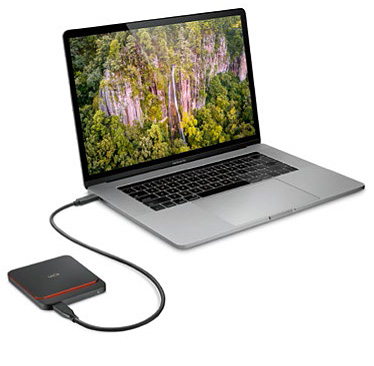 Fully Featured
Other key features on the LaCie Portable SSD drives include:
• pre-formatted exFAT for Apple macOS and Microsoft Windows;
• LaCie Toolkit Software Suite, which makes it simple to give important files the essential added protection they need, such as backing up on demand with one click, scheduled daily, weekly, or monthly backups, and sync files and projects across multiple devices;
• drop resistance of up to two metres;
• a three-year limited warranty;
• three-year Seagate Rescue Data Recovery Plan;
• one complimentary month of the Adobe Creative Cloud All Apps plan; and
• USB-C and USB-C to USB 3.0 cables included.
The new LaCie Portable SSD will be available in 2TB, 1TB and 500GB capacities.
So, while LaCie's Rugged drives are a little larger and cost less than the new Portable SSD drives, there are size and speed advantages that are set to make the LaCie Portable SSD drives the new default standard for creative photographers.
For more information, visit www.lacie.com, a specialist photo supplier or better computer suppliers Australia-wide.
Details

Category: Equipment Blog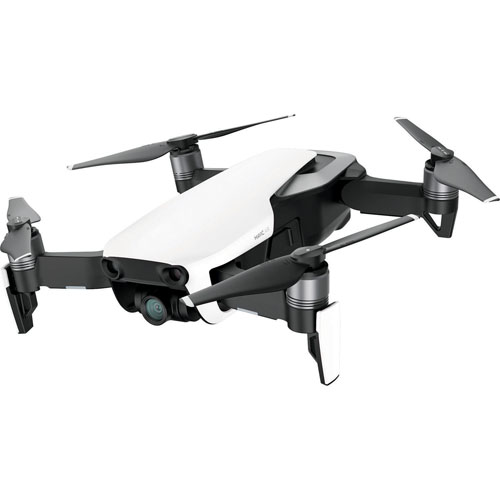 Will the editor replace a plane and helicopter with a new drone? Just maybe! Better Photography recently borrowed a DJI Mavic Air, a small drone with a built-in camera and a remote control. And there are a lot of things to like about this little package, especially if you're new to aerial photography and wanting a drone that is easy to fly and operate.
To begin, the drone itself is small and compact, especially when folded up and stored in its carry case. It will easily fit in your camera bag instead of a 70-200mm zoom, for instance. You no longer need a large, dedicated hard case to transport it around (although they are still needed for larger drones, of course).
The remote controller works in tandem with your smartphone, the latter giving you a live video feed of what your drone is seeing from up above. All you need to do is download the DJI Go 4 app, plug your phone into the controller and you're ready for flight.
Now, you can't just fly anywhere, of course. In Australia, there are CASA rules and regulations that you need to be aware of and abide by. Our office just happens to be in a drone friendly area, but you need to check this yourself – and this is easy to do by downloading another app called Drone Complier.
Making sure the batteries are charged, start up the remote control, start up the drone and follow the instructions online. The DJI Go 4 app will even point you towards some introductory videos to help you make your first few flights and we can report that if our editor can do it, anyone can!
When folded, the Mavic Air measures 168x83x49 mm and weighs 430 g. It has a maximum flight time of 21 minutes (with no wind). The camera only has a tiny sensor with 12MP resolution, but it has a 3-axis gimbal and can shoot stills, 4K video and 32MP sphere panoramas. This camera might not be the answer for professional producers, but for the enthusiast looking for a different angle on the world, the quality of its images is very good.
And importantly, the Mavic Air has lots of cool new features, like SmartCapture, meaning you can launch and fly the Mavic Air using hand gestures and then take photos and videos as you like. No doubt this will have a lot of appeal to photographers and video producers who like to be in the picture themselves! RRP $1299.
For more information, visit www.dji.com.