Details

Category: Equipment Blog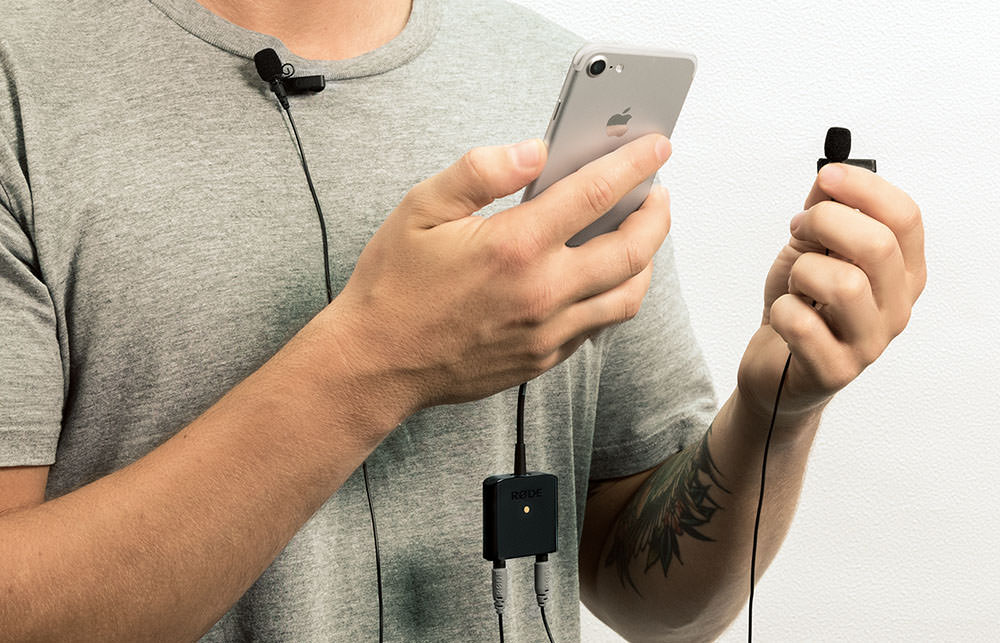 I realise this will be a little out of left field for many readers, but for those who are dabbling in the world of video, one of the biggest struggles we have is with audio. Many of my productions (such as they are) ignore location sound and I add music or narration later during post-production.
My approach works just fine for doing little arty pieces (like the recent one in Svalbard – you can see it on Youtube here: https://youtu.be/69rP-qnNHjg), but if I wanted to include people talking, or indeed me interviewing people, how do I do it? I have a wireless lavalier system, but I never seem to take it and setting the levels correctly is not something I'm yet good at!
One solution I've just been sent to review is the RØDE Mobile Interview Kit. It includes two smartLav+ lavalier microphones and an SC6-L connector for an iPhone or iPad. To use, plug one or both lavalier mics into the iPhone via the connector, attach the lavalier mics to the people you are filming, and launch the Rode Reporter app. Your iPhone or iPad records the sound and then you simply export it and drop it into your video editing software.
The smartLav+ is a 4.5mm miniature mic made with omni-directional condenser capsules and Kevlar reinforced cable, making it suitable for a wide range of film, television and broadcast applications. The SC6-L is a simple input/output breakout box with a Lightning connector to connect directly to iOS devices. With two TRRS inputs and one stereo headphone output, the SC6-L connects to any TRRS device, including the two supplied smartLav+ microphones. And with the Rode Reporter app, you can alter boost gain and choose between summed stereo and dual mono.
Rode is an impressive company, producing a range of products that are useful for photographers dabbling in the world of audio visuals and video productions. They also have a range of camera mounted mics that do a stellar job – and an even better job if you learn a little about sound recording before you use them! If only I took my own advice!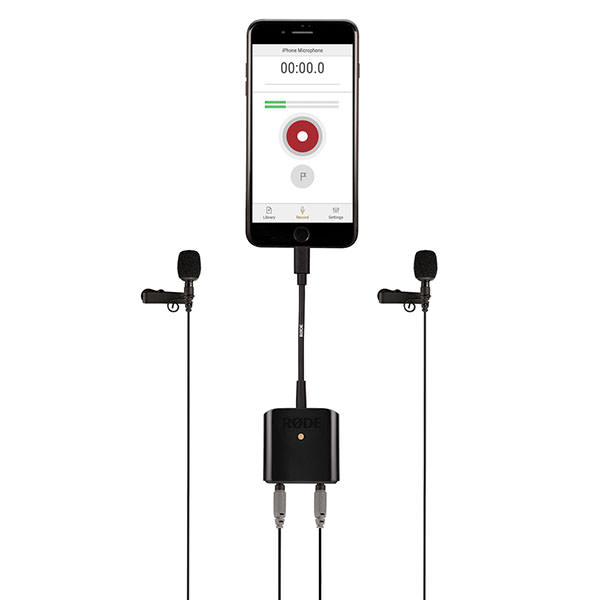 Details

Category: Equipment Blog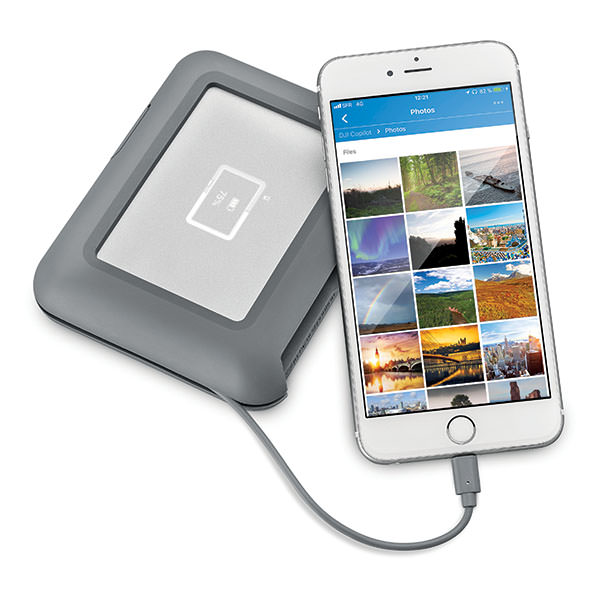 We'll post a more detailed review on the DJI Copilot in the next few weeks when the magazine comes out with a more comprehensive story, but I thought I'd like to mention LaCie's latest on-location device – because it's exactly what I've been looking for.
Years ago, Epson used to make a great little device that was a combination viewer and hard drive. I think the one I still have in the bottom of a desk drawer stores 80 GB, the screen is pretty basic by today's standards, and it isn't particularly fast.
These days, when I travel I usually take a laptop, but there are times and occasions when it's not practical. A recent 6 day walk in the Western Arthurs comes to mind, but just being able to back up your work on the go without using a laptop would be incredibly useful for wedding photographers, for instance.
The DJI Copilot is currently a 2TB hard drive, wrapped in a grey plastic survival suit (a bit like LaCie's orange Rugged range) so it can take the bumps and knocks of life in a professional photographer's camera bag. And although it doesn't have an LCD screen like the Epson, it tethers to your smartphone – so you can see the file structure and the thumbnails on a screen! And that's very useful.
The unit comes with three different connectors, depending on what type of phone or tablet you're using, and your connector of choice can remain in position permanently – indeed, the tether cable wraps around the unit into a purpose-built slot. In terms of input and output, you have an SD card slot (and LaCie provides a MicroSD adaptor for drone and GoPro users), plus USB and TB connectors, so it's really easy to get data into and out of the DJI Copilot.
And we're giving away two of these drives in our Better Photography Photo of the Year competition which will be announced mid-September. Details to come!
Details

Category: Equipment Blog

BIG OR SMALL? MAKING IT WORK FOR YOU AND YOUR PHOTOGRAPHY!
Mobilestudio Pro In 5 Configurations
Wacom Special Promotion
Big or small, having all your editing tools out on location or simply on your lap is a great way to work. But which is best for you? By Peter Eastway.
A confession up front: I went for the big one! I use the 16-inch Wacom MobileStudio Pro, but my reasons for going big might be different to your reasons for choosing small! One of the pleasures of travel photography is being able to look at your work in the evening, pick out your best shots and, if you don't fall asleep, perhaps edit a few of the photos that really inspire you.
The Large Screen
So, when I'm in my hotel room or perhaps working with other photographers, I want to have a large screen with lots of monitor real estate. I want plenty of room for my palettes and, importantly, a good size reproduction of the image I am working on.
I'm often leading a group of photographers when I'm travelling, so having a large screen to show them a Photoshop technique, play an audio visual or give a Powerpoint presentation is really helpful. So I rationalised that I needed the larger MobileStudio Pro.
But there are a couple of compromises, the most notable being its size and weight. Didn't I just say I wanted a bigger screen? Yes, but when I'm sitting on a plane travelling, I think I'd prefer a smaller unit – although I have to say that, now I have mastered Wacom's ExpressKeys and the Pro Pen 2, I am pretty efficient with Capture One, Photoshop and InDesign, even within the confines of a 'cattle class' seat.
And there's also the little issue of price - the top of the range 16-inch MobileStudio Pro costs $4299, compared to $2649 for the entry-level 13-inch MobileStudio Pro.
But even the entry level MobileStudio Pro is a dream machine. Its specifications outshine top of the line laptops from only a few years ago, so how much power do you really need? I could do most of my work with it, certainly when editing my smaller Canon and Fujifilm files. It's only when I'm playing with 100-megapixel Phase One files that I absolutely have to have the 16GB RAM.
So, perhaps we should look at the range of MobileStudio Pro computers and see what we need, starting with the 13- inch models.