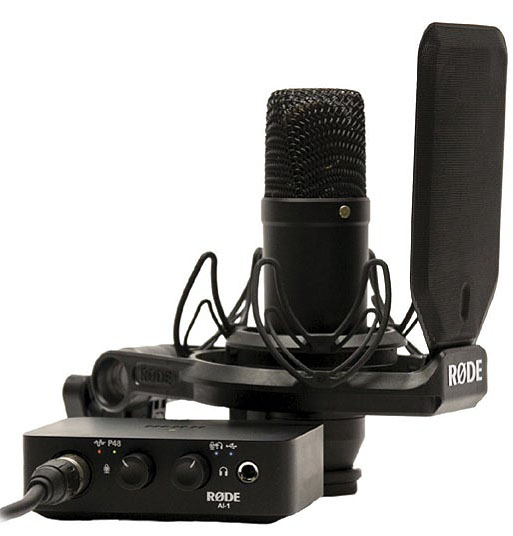 If you're creating online content, such as instructional videos or inspirational audio visuals, and you're recording your sound directly into your computer, you may be interested in RØDE's AI-1 USB Audio Interface.
The problem when plugging a microphone into a computer and then recording your voice and the screen (using a program like Camtasia) is that unless the audio content sounds great, your production won't be particularly successful.
To begin, you need a good quality microphone. Unfortunately, USB microphones aren't always the best option (certainly the cheaper ones are problematic), while the better quality microphones generally have audio connectors which your computer does not.
You need a gadget that sits between the good quality microphone and the computer – and this is where the RØDE AI-1 USB Audio Interface comes into play.
RØDE Microphones designs and manufactures high-quality microphones and related accessories for studio, live and location use. Its products are designed and primarily manufactured in Sydney and exported to over 113 countries globally.
The AI-1 USB Audio Interface adds studio-quality input and output capabilities to your computer, making home recording easier than it has ever been.
With its high quality Neutrik combo jack input and discrete Class-A preamp, you'll be able to connect either a microphone, guitar or a line level instrument, such as a synthesiser. Available as part of The Complete Studio Kit, the AI-1 comes with RØDE's peerless NT1 large diaphragm condenser microphone, SMR shock mount with popshield, 20 foot XLR and USB C/A cables. Everything you need is included in the box!
The AI-1 allows zero-latency playback by enabling the direct monitoring feature and playback via headphones/speakers with the high quality discrete headphone amplifier. To ensure the AI-1 is truly versatile it features 48V Phantom Power and is class compliant – so there is no need to install any drivers. RRP for the AI-1 is $499.
For more information, visit www.rode.com/ai1