Introducing LaCie's Portable SSD Drives
When working on location, your equipment might be insured, but what about your photos? The solution is multiple copies of your invaluable raw files and LaCie's new Portable SSD drives make it so easy to do. Peter Eastway reports!
I've just returned from a three-week voyage to South Georgia and Antarctica. During that time, I captured hundreds of gigabytes of raw files and video footage, for both personal and professional purposes. On board ship, I had no worries about security. Cabin doors couldn't be locked, but there was nowhere for a thief to hide anyway! However, there's always a risk of a computer or hard drive malfunction, so I made backup copies of my files as I went.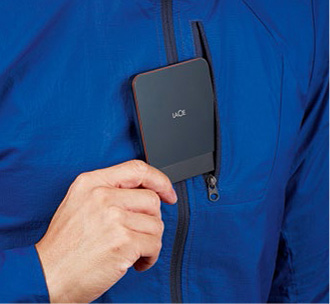 Backup Workflow
In a perfect world, I take sufficent memory cards so I don't have to overwrite them until I return. This is the first copy of my files.
I then transfer all the files to my laptop, day by day. This becomes my second copy, although because my laptop doesn't have unlimited storage, I usually find towards the end of the trip I am offloading some of the files to a separate backup drive, such as my LaCie Rugged.
And then I have a third copy which I make at the same time I'm ingesting the cards to my computer. In Antarctica late last year, for the first time, I used the tiny LaCie Portable SSD unit.
Some people might consider me overly cautious, especially when we think back to the days of film when we'd post our exposed rolls back to Melbourne for processing, and then rely on the postage service a second time to deliver them back home! However, that was hardly professional (and done before I turned professional, I hasten to add) and just because it was tough in the old days, doesn't mean it has to be today!
Given how inexpensive storage media is, why take any risks at all – even when you return to civilisation?
Truly Portable
On my trip back from Antarctica, I had to overnight in Buenos Aires. After checking into my hotel room, in what I considered a safe-enough neighbourhood, I needed to go out for dinner. What do I take with me?
While cameras and computers are insured, my raw and video files cannot be replaced, so if a thief managed to break into my room and take my camera and laptop bags, I'd be left with nothing.
My new solution was to pick up the tiny LaCie Portable SSD and slip it into my shirt pocket! How easy was that? I could enjoy my meal without worrying about what might happen, even if it usually doesn't!
In the past, I'd take my LaCie Rugged drive and while it's not large, it would have to go in a trouser pocket or be held in the hand with my phone. So while the Rugged drives are not large, the LaCie Portable SSD Location Storage: When Small Is Better Introducing LaCie's Portable SSD Drives (Above) LaCie's Portable SSD drives are literally small and light enough to fit into a shirt pocket. drives are around one quarter the size and one quarter the weight!
So, given the small size, does this limit the drive in any way? The short answer is no!

Super Fast
As file sizes for both stills and video have increased, so has the speed of computer processing and, importantly, transferring data to and from hard drives.
The new LaCie Portable SSD drives offer maximum sequential read/write speeds of 540/500 MB/s. What this means is that you can edit your work (using Photoshop, Capture One or Premiere Pro, for example), straight from your external drive with speeds of up to 540 MB/s.
This is really good news for photographers and video producers using a space-limited laptop for processing on location. No longer do we need to worry about filling up our built-in hard drives, we just dump our data onto one or two LaCie Portable SSD drives without incurring any noticeable drop in computing performance.
And transferring your files to the LaCie Portable SSD drives will be quick. For instance, LaCie suggests it will take less than a minute to transfer one hour of video footage.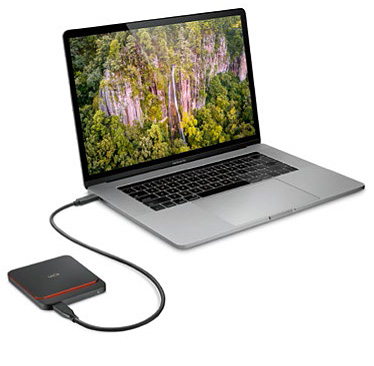 Fully Featured
Other key features on the LaCie Portable SSD drives include:
• pre-formatted exFAT for Apple macOS and Microsoft Windows;
• LaCie Toolkit Software Suite, which makes it simple to give important files the essential added protection they need, such as backing up on demand with one click, scheduled daily, weekly, or monthly backups, and sync files and projects across multiple devices;
• drop resistance of up to two metres;
• a three-year limited warranty;
• three-year Seagate Rescue Data Recovery Plan;
• one complimentary month of the Adobe Creative Cloud All Apps plan; and
• USB-C and USB-C to USB 3.0 cables included.
The new LaCie Portable SSD will be available in 2TB, 1TB and 500GB capacities.
So, while LaCie's Rugged drives are a little larger and cost less than the new Portable SSD drives, there are size and speed advantages that are set to make the LaCie Portable SSD drives the new default standard for creative photographers.
For more information, visit www.lacie.com, a specialist photo supplier or better computer suppliers Australia-wide.