Double Copies On-Location
Make a backup of your backup with the DJI Copilot.
There's more to the DJI Copilot than meets the eye because even without a laptop, you can make multiple backups to multiple external drives, all with the DJI BOSS app on your smartphone or tablet!
LaCie's DJI Copilot is a complete backup solution without a computer. It means that no matter where you are, you can quickly insert an SD card into the DJI Copilot and make a copy of your files. You don't need to turn on your laptop. You don't need an external power supply.
And you don't need a smartphone or tablet either, but if you happened to have one nearby, there's a lot more you can do with the DJI Copilot and the Copilot BOSS app.
The DJI Copilot is a BOSS (Backup On- Set Solution) device with 2TB capacity, an SD card slot and two USB ports so you can copy files directly from your memory cards or the camera.
Review and Select
A further connection allows you to connect the DJI Copilot to your smartphone or tablet with a cable (three different connectors are supplied, so you'll have no trouble attaching your device).
The advantage of connecting the DJI Copilot to your phone or tablet is that the Copilot BOSS app gives you even more control over your files, using the device's LCD screen.
The Copilot BOSS app will let you view your files, play your videos, rename files and even delete files you don't want.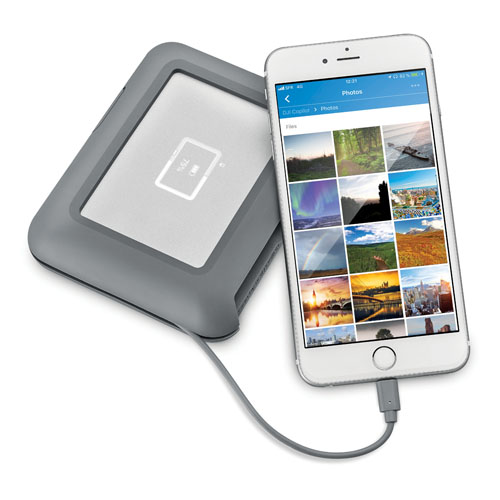 LaCie's DJI Copilot attached to a smartphone. 
Make more Copies
What might not be immediately obvious is that the DJI Copilot can also copy your backed-up files to another hard drive, like a LaCie Rugged, for example. This means there is no limit to the number of backup and archive copies you can create, all out on location, all without a laptop.
Using the USB Type A port, plug in the other hard drive to the DJI Copilot and you will see it recognised by the Copilot BOSS app on your device. Now, select the folders or files you want to copy on the DJI Copilot, and then choose the folder on your other drive where you want the files to end up.
Sensibly the app doesn't need to be connected to the internet to work.
Like LaCie's Rugged range of portable drives, the DJI Copilot is splash resistant, dust resistant and drop resistant, so it will handle tough use out on location. It includes a rechargeable power supply and can also act as a phone charger if required – you see, LaCie really has thought about everything, including a three-year warranty!
For more information, visit www.lacie.com, a specialist photo supplier or better computer suppliers Australia-wide.