Maximising Your Creative Efforts
WACOM CINTIQ PRO 24 • WACOM CINTIQ PRO 32
I'm in photo-editing heaven! And you can be too with Wacom's Cintiq Pro creative pen display. By Peter Eastway.
To my mind, a mouse is not the best tool for a photographer when editing his or her work. Mice are great for general computing, for clicking buttons and opening menu displays, but they are not ideal for drawing masks, making selections or painting in an adjustment layer effect.
While you might think a pen is old school, you can't argue with the ergonomics of holding a pen and 'drawing', compared to the awkward click, hold, press and drag of using a mouse.
Mice really just don't work for photographers.
More than a Tablet
Wacom has a range of pen solutions, beginning with its famous Intuos range of pen/tablet devices. And they work brilliantly well. The first couple of times you use a pen it could feel a little awkward – and this is quite normal. But persevere and the rewards are there, so much so that now I find using the mouse is awkward compared to my skills with a pen!
So, what could be better than an Intuos? Answer: A Wacom Cintiq Pro!
A Cintiq Pro is a pen and screen, rather than a pen and blank tablet. It means that you're drawing, selecting or masking directly onto the image itself, with the tip of the pen in direct correlation to the pixels you're editing.
Whether you're working in Photoshop, Lightroom, Capture One or one of the new editing programs gaining popularity, the Cintiq Pro offers photographers a creative experience like no other.
And it's a lot of fun too!
Five Models
In addition to the 13- and 16- inch models, there are three new Cintiq Pros in two sizes. The large Wacom Cintiq Pro 32 has a 31.5- inch (80 cm) 4K display with both pen and touch control (RRP $4499).
The smaller Wacom Cintiq Pro 24 has a 23.6-inch (60 cm) 4K display and comes in a pen-only configuration (RRP $2999) as well as the pen/touch version (RRP $3499).
Apart from differences in size and control, the two units share very similar specifications, beginning with a wonderful 4K Ultra HD (3840x2160 pixel) display.
Colour performance produces over 1 billion colours with a 1000:1 contrast ratio, so you get great blacks and a beautifully rendered tonal range.
The Cintiq Pros also display 98-99% of the AdobeRGB colour space, so this is no second-rate screen you're drawing all over!
However, they're not lightweight units and at 7 kg and 13 kg, they are designed to sit on a desk – these are studio or home devices.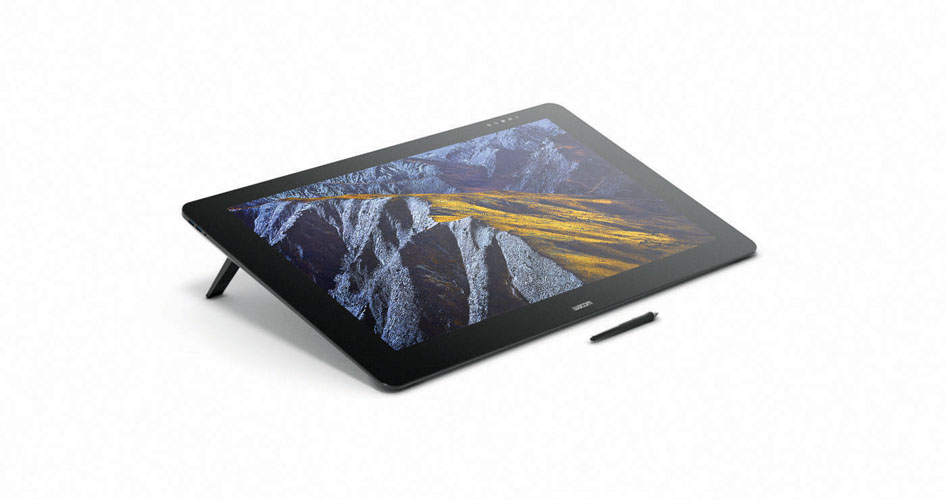 The Wacom Cintiq Pro 24 may be just the size you need for photography purposes. It's available with and without touch control.
Ergo Stand
There are a number of ways you can use the Cintiq Pro. The most basic way is to place it flat on the desk and use it like an Intuos, retaining your computer monitor as well. One advantage of this set-up is that you always have full visibility of what you're doing because, when working on the Cintiq, there are times when the hand that is holding the pen temporarily hides the menu and so you find yourself circling your arm around to adapt. This isn't a problem if you can also see what you're doing on your computer monitor.
The Cintiq Pros come with built-in legs that allow you to position them flat or at a moderate tilt angle of 15 degrees.
However, most photographers use the Cintiq without a monitor, or they keep the monitor as a second screen for their menus and palettes. The benefit of this approach is that many photographers like the idea of 'working at an easel', so this is where Wacom's Ergo stand comes in.
The Wacom Cintiq Pro 24 Ergo stand (RRP $699) sits neatly on your desk or workstation and allows you to easily position your Cintiq in a range of different positions. It even allows you to rotate the screen to vertical and diagonal positions, ideal for those difficult masks or retouching jobs.
Cintiq in Action
Setting up the Cintiq is a snap! Plug it in, load some software, grab the pen and you're away!
Up the top right is a set of buttons for touch, on-screen keyboard, switching between inputs and preferences.
There's also an ExpressKey Remote panel which includes 17 programmable buttons which can be customised for every application you use – and the Cintiq Pro is compatible itself with both PC and Mac computers.
Add the Touch Ring, the Rocker Ring/ Home Button and additional on-screen menus and you may never need to look at your keyboard while working in creative mode again.
The Cintiq Pros use Wacom's latest Pro Pen 2 with 8192 levels of pressure sensitivity on both the pen tip and the eraser at the other end.
The Cintiq Pro really is an amazing input device and there's an option to turn it into a fully fledged computer as well with the Wacom Cintiq ProEngine, which can offer up to 32GB RAM with a 500GB solid state drive.
Which Version?
So, which version is the best? I'm using the 24-inch version. Why?
When I tested the 32-inch model, I felt it was just a bit too big for me, especially when moving the pen around from one side of the screen to the other to interact with menus.
I also found on the 32-inch model that the 4K resolution, while remarkably sharp and clean, was 'stretched' out a little more (because you're working in such close proximity to the screen) and I preferred looking at the same 4K resolution on the smaller 24-inch screen.
What about the touch screen, or is the pen-only model a workable solution? There's no doubt that touch is cool and fun to use, but I find I am often turning touch off or limiting its features to stop it reacting to my unwanted 'touch'. While I personally use the pen/touch model, all the functionality I need to work creatively is effectively available in the pen-only model.
For more information, visit www.wacom. com. And to purchase a Cintiq Pro or Ergo stand, visit the Wacom eStore at www.buywacom.com.au, or selected retailers.