Details

Category: Almost Weekly Photo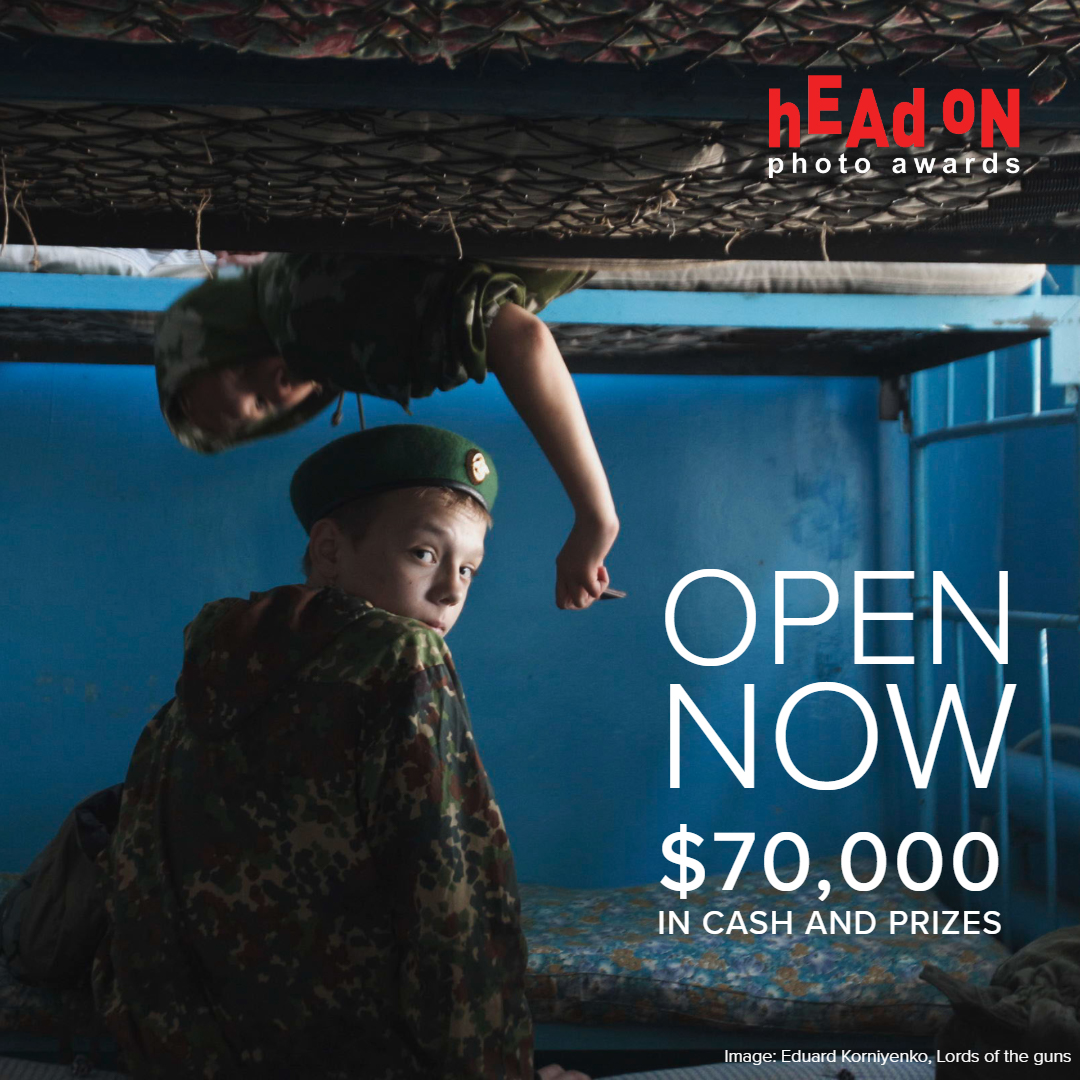 The Head On Photo Awards are now open for entries with a prize-pool of $70,000 up for grabs!
This year the prizes are more significant and bigger than ever. The $70,000 prize-pool of cash and products includes major cash prizes of $15,000 each for the Landscape Award and Portrait Award winners.
The Awards represent a global selection of the best work from emerging and established photographers across three categories; Portrait, Landscape and Student.
The Head On Portrait and Landscape awards are open internationally to professional, emerging and enthusiast photographers from classical to contemporary styles and the Head On Student Award is open to Australia's young photographers (school years K-12).
Award finalists are featured in an exhibition during Head On Photo Festival that receives extensive visitation across two venues; the festival hub at Paddington Town Hall and Paddington Reservoir Gardens.
All photographs are judged anonymously, with no identifying details of the photographer shown to the judging panel. This process ensures that the work is selected solely on merit and not influenced by the celebrity of the photographer.
The judging panel is comprised of leaders in the Australian and international photography communities and represents all aspects of the photography world, including curators, picture editors, photographers, educators and other industry leaders.
This year judges include Whitney Johnson from National Geographic; Pulitzer Prize-winning photographer Renée Byer; New York Times photographer Adam Ferguson; the editor of GUP Magazine, Erik Vrooms and the editor of Leica Magazine, Carla Erdman.
The Awards are a part of the internationally acclaimed Head On Photo Festival. Held in May every year, the Festival is Australia's premier photographic event and a world-leading arts festival.  
Name: Head On Foundation
Call for entry: Head On Photo Awards
Jury: Moshe Rosenzveig OAM, Whitney Johnson, Renee Beyer, Erik Vroons, Adam Ferguson, Carla Erdmann, Amanda Love, Ellie Waterhouse, Charles McKean, Irina Chmyreva, Vignes Balasingam
Deadline: Sunday 16 Feb 2020 (Sydney time)
Details

Category: Almost Weekly Photo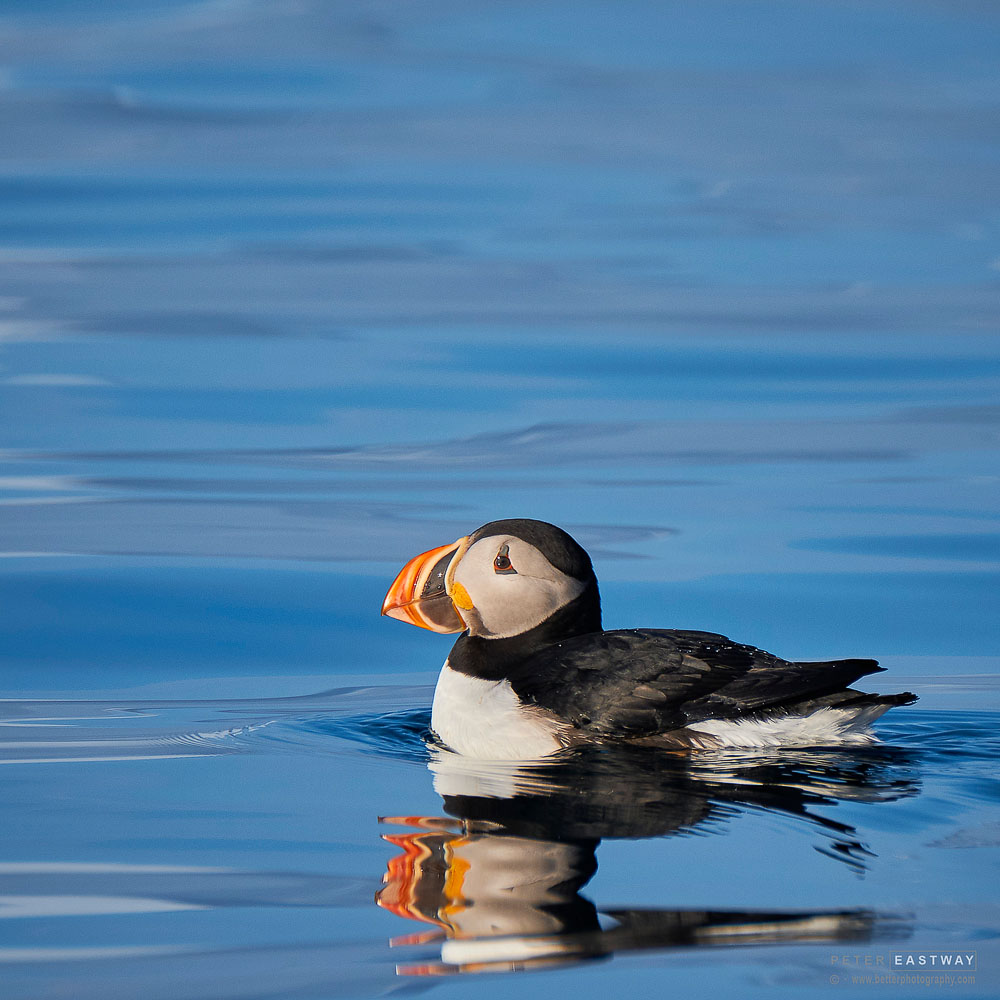 Puffin, Fugle Fjord, Svalbard
Fujifilm X-H1, XF100-400mmF4.5-5.6 R LM OIS WR, f8 @ 1/650 second, ISO 250
The more nature photography I do, the more I realise how much our subjects move. Even these puffins swimming quietly along on a glassy afternoon needed a reasonably fast shutter speed to freeze the action completely.
For many people, nature photography relies on technical perfection. Not always, but for photos like the samples here, you want your subject to be tack sharp, at least on the eyes and beak where it counts. So, how do you do it?
First up, ensure your lens is focusing properly. When you use a telephoto lens (this was a 100-400mm), it magnifies both your subject and any errors in focusing. So, if the autofocus system locks onto the bird in front, the bird behind might not be sharp. Worse, if the autofocus locks onto the shoulder feathers, the eye may not be sharp. Depth-of-field with telephoto lenses is very shallow, and the closer you are to your subject, the shallower the depth-of-field.
In this situation, I used a single spot autofocus point, which was a struggle because I was shooting from a floating zodiac (which is better than a zodiac that's not floating, of course). Slight movements of other passengers compound the movement of the birds and it can be challenging to keep the autofocus point on the eye of the bird. There were a lot of misses, but I knew this would be the case, so I took LOTS of frames and at least a couple were sharp!
Image stabilisation is also great because it helps keep your camera still, but it doesn't help if the subject itself is moving. At 100% magnification, any movement is a problem, so 1/500 second is probably as slow as you should use for any wildlife photography (conditions permitting), but if I had this opportunity again, I'd go for 1/1000 or even 1/2000 second. Most cameras will work very happily at higher ISO settings, allowing these faster shutter speeds.
You don't always see Puffins up in Svalbard, or so they told me the day before, but no one told the flock of twenty or so Puffins that were swimming not far from our ship! 
Interested in a trip to Svalbard? I have two options, one this year in August, one the year after in July! Check out the voyages I'm doing with Kevin Raber (click here) on M/S Quest (Rockhopper Workshops) in 2020 and with Aurora Expeditions here in 2021.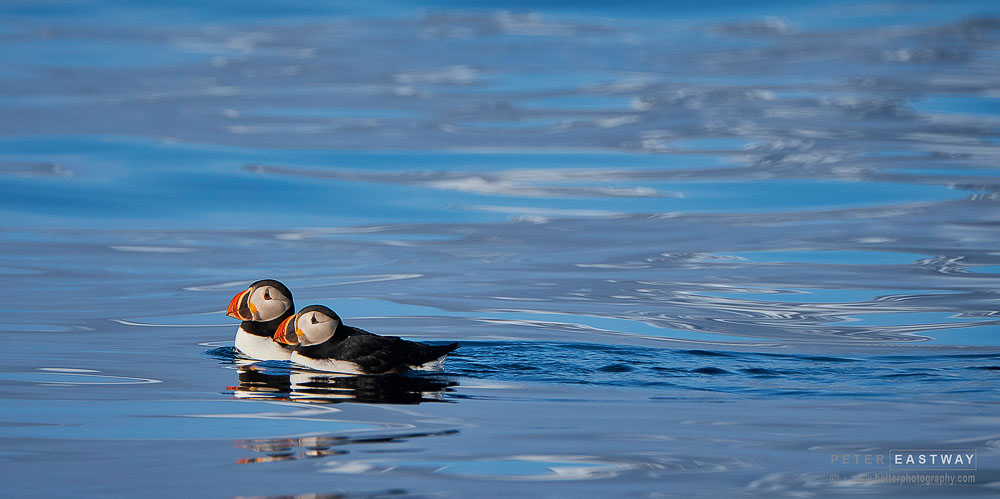 Details

Category: Almost Weekly Photo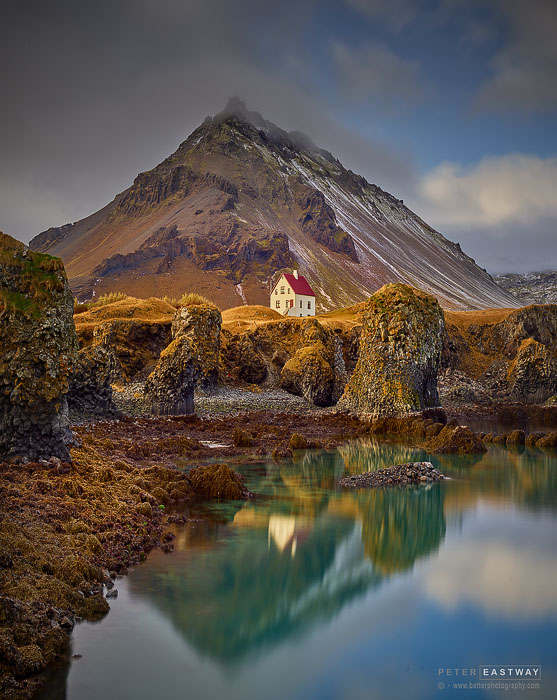 House, Arnarstapi, Iceland. Inspired by a National Geographic photo from 30 years ago!
Phase One XF, IQ4 150MP, 55mm Schneider lens, f11 @ 1/100 second, ISO 64, exposure averaging 2 minutes.
Here's my new year soapbox: photo credits! If a journalist is acknowledged for their words in a magazine or website, why is it that photographers are not?
Now, up front, there are some publications and websites which are extremely good about crediting photographers – thank you! On the other hand, publications you'd hope knew a little better are not.
In a recent Qantas inflight magazine, a journalist wrote a series of captions about some 'amazing' photographs. We knew she was writing the captions, but in most cases, we had no idea who took the photographs she was talking about.
Why not?
As both a writer and a photographer, I can't understand why there is such a bias against photographers. We know how cheap and easy it is for publications to grab photos from a stock library. We also know that sometimes the stock library may only require the publication to credit the library, not necessarily the photographer. Even so, given the paltry payments made for usage these days, the very least a publisher can do is give the photographer a credit!  
Under Australian law, moral rights means (in simple terms) that anyone publishing a photograph must credit the photographer. Of course, there are situations where you don't have to provide a credit, but I can't think of a good excuse not to credit a photographer when the photograph is a key component of an article or blog.
So, let's ignore the legalities. Let's just look at this ethically.  If a publication credits its writers and journalists, why not credit photographers as well? And if we see publishers forgetting to do it, let's call them out.
So, Qantas, how about a quiet word in your editor's ear? You'd make a bunch of photographers very happy!
And a Happy New Year to all Better Photography readers!