Details

Category: Almost Weekly Photo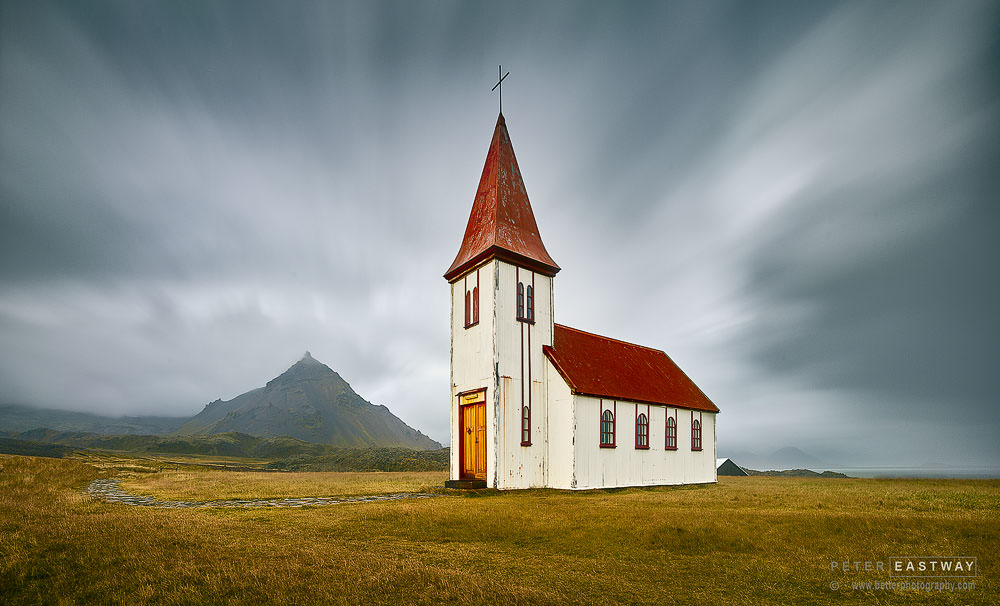 Church at Hellnar, West Coast, Iceland
Phase One A-Series (IQ180) with 23mm lens, 30 seconds @ f5.6, ISO 35
Writing these blogs is a matter of balancing an interesting photo, an interesting story for everyone, and a gentle prompt for the lucky few who might consider joining me on a photo tour, purchasing a subscription or perhaps buying my new book, The New Tradition. On this occasion, the subject is Iceland and this is one of the many photographs from 2015 that I had yet to process.
We stayed in a hotel at Hellnar for a couple of nights - the hotel is just down behind the church, out of sight - and so I had a couple of opportunities to photograph this wonderful little church. I'm not a religious person, but I do love a church in the landscape. My wife Kathie and I spent countless days in New South Wales photographing old Australian churches (well, I photographed and she sketched - being married to a graphic designer has its advantages as we're both happy to potter around). So even now, several decades later, I still find myself drawn to the sign of man being dwarfed by the landscape of nature.
In photographing a subject like this, my approach is to walk around, looking at how the light falls on the subject (under this cloud, there wasn't much direction at all) and, equally importantly, what is in the background. I think when I'm judging photography competitions, the most common mistake is photographers not thinking carefully enough about how their subject is placed in the scene: what's behind it and what's around it. I'm always looking at both the subject within the frame and everything else around it, asking myself how I can simplify the composition. 
With a super wide-angle lens like my favourite 23mm (16mm in full-frame parlance), I find that I need to get in relatively close to the subject so I can exclude unnecessary surrounding elements. And getting down a little lower than head-height meant I could remove most of the buildings in the background (I did need to do a little cleaning up, removing a roof line on the right and a couple of photographers with the van on the left). All of the post-production was done in Capture One (as per my new year's resolution), except for the cleaning up work which was much quicker and easier to do in Photoshop.
So the takeaway? Spend a little time with your subject, investigating what it has to offer. With a subject like a church, you should probably walk around it at least once! 
I'm not sure if we're visiting this particular church on the Better Moments photo tour this October 2019, but don't worry Iceland has lots and lots of little churches and chapels spotted all over its wonderful landscape! Come along and I'll show you - click here for details!
Details

Category: Almost Weekly Photo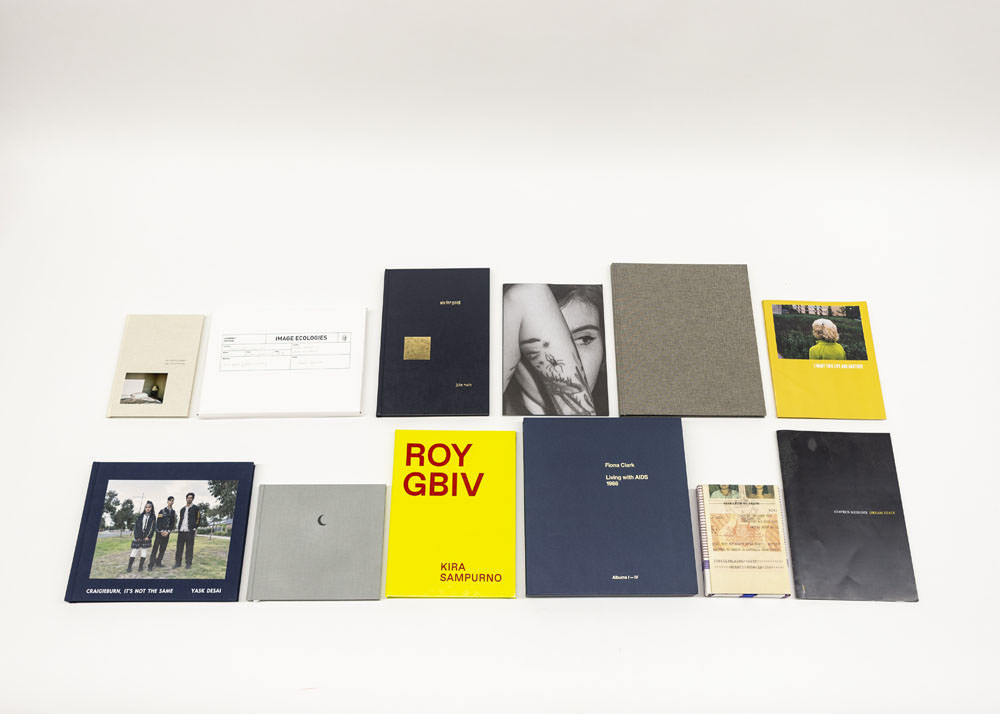 As readers will know, I'm a big fan of photobooks so it was great to see Momento Pro getting behind the Australia and New Zealand Photobook Award.
The winners  were announced to a full house of photo book creators and lovers at the Centre for Contemporary Photography in Melbourne on Saturday 16 March. The biggest prize went to emerging Melbourne photographer, Sarah Walker. Her debut book, Second Sight, published by independent publisher Perimeter Books, won the Photobook Winner prize of $1,000 in cash and $3,000 in Momento Pro print credit. It was selected from 117, mainly self-published, entries.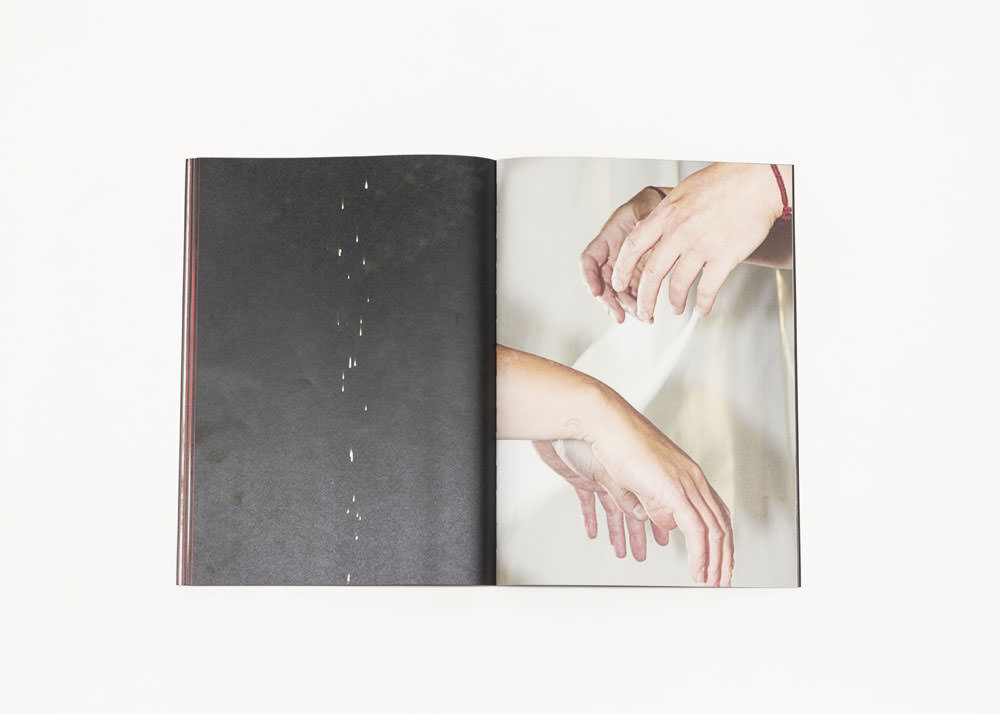 Details

Category: Almost Weekly Photo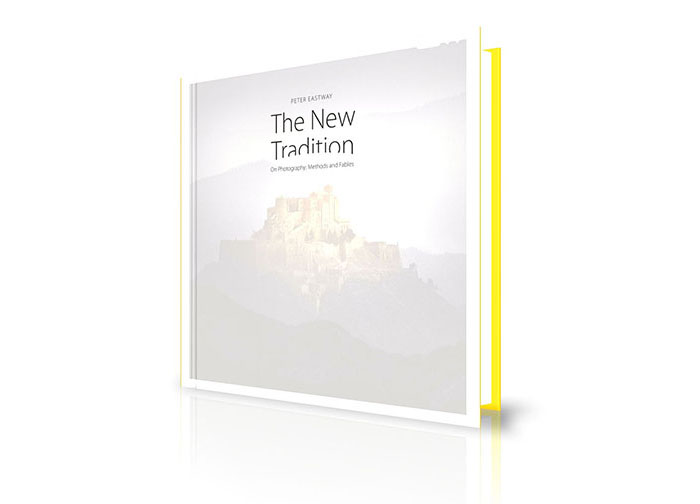 It is with great pride that I announce that my book The New Tradition is available for purchase - and I need your help! The garage is overflowing and I can't fit my car in, the wife is going ballistic and we need to pay the overdraft!
Actually, that's not quite true! We have the books safely stored down at the office and under our stairs at home (the wife suggested it). The car is fine. And we've already sold enough books to pay the printer, so all is well!
However, I'd still really love you to buy a copy of the book. The feedback I have been receiving has been really, really positive and photographers are telling me that they love this book. There are only 700 left, so they will not last long (he says, hopefully, fingers crossed behind his back)!
Said Tony Hewitt (and I know he's a good friend, but it's a nice quote), "This is seriously one of the most definitive photographic books I have seen in the last 25 years. It belongs on every photographer's bookshelf and will change the way you view your own photographic journey!" My mother-in-law agrees! Even my sister bought a copy (long story, don't ask, plus that's one Christmas present I can't give her this year!)
The book retails for $120 plus postage and packaging, but to encourage you to purchase now, I'm offering free postage and packaging within Australia, which is worth around $20! So, don't dilly-dally! Check out The New Tradition now - you can see sample pages and a short video on the website here: https://www.betterphotography.com/online-shop/new-trad-book