Details

Category: Almost Weekly Photo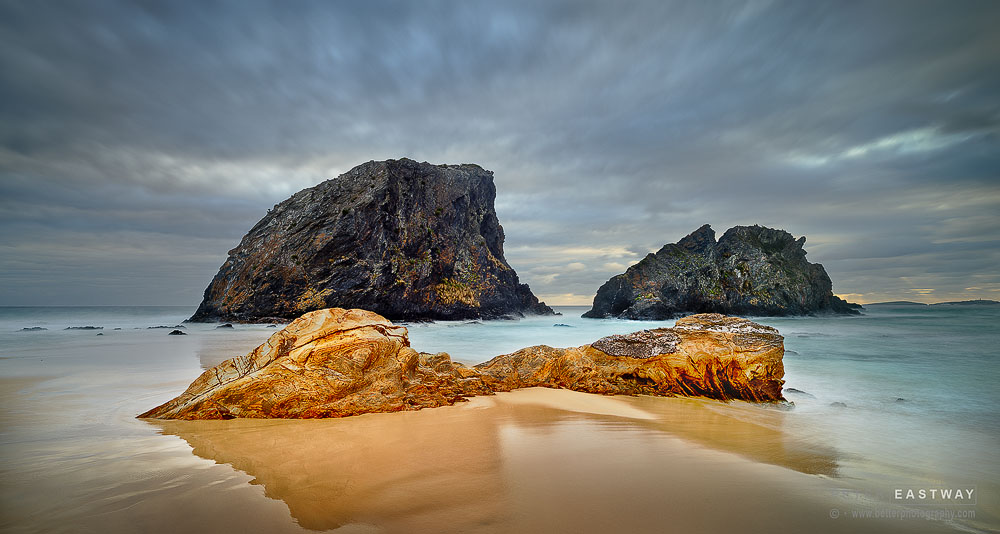 Glasshouse Rocks, Narooma
Phase One XT 150MP with 32mm Rodenstock lens, f8 @ 1/30 second, ISO 50, frame averaging for 30 second, two-frame stitch.
Reading the technical details up above, I can imagine a few readers scratching their heads and wondering what I put in my coffee this morning! Let me explain!
The Phase One XT is a wonderful camera, but requires completely manual focus and manual exposure control. There are no creature comforts, but for photographers who have been around for a while (such as myself), there's a certain enjoyment to be found in doing things slowly and methodically, a little like we used to use 'view cameras' in the days of film. It's not a camera for all occasions, but the image quality is beautiful.
There were two features I used to capture this image. The first was frame averaging, which is like using a neutral density filter. Frame averaging continuously takes the same exposure over and over again, for as long as you desire. I used a shutter speed of 1/30 second continuously over a period of 30 seconds, because this was enough to blur the water and produce some slight movement in the clouds. I could have used a neutral density filter to achieve the same effect - so frame averaging is a time saver in that I don't have to worry about putting my filters on. 
However, frame averaging at shutter speeds (times) shorter than around 1/3 second can produce 'steps' in the exposure. This is because with short shutter speeds, there is an interval between exposures during which nothing is recorded. If you do frame averaging for four seconds at 1/30 second, you might take 12 shots and if you look carefully at the file, you will see 12 outlines of a breaking wave as it moves across the frame. Cloud movement is harder to see because it's movement is so slow. Compare this with a 30 second period where there are hundreds of exposures at 1/30 second and the wave and water movement gets so jumbled up, it produces a soft blur, just like an ND filter. So, for long exposure of 15 seconds or longer, frame averaging is perfect, but for exposures of 1/8 to 15 seconds, I think neutral density filters still have their place for the XT system.
The second feature I used is the back shift. The XT provides vertical and horizontal shift, so I can correct converging verticals (e.g. for architecture) or stitch two images together to create a panorama - and a wider angle-of-view. To fit the two Glasshouse rocks into the frame with my 32mm lens, horizontal stitching was required to provide a little breathing space around the outside of the composition.
And yes, this is taken on the same morning as a photo posted a couple of weeks ago. Still working my way through a productive morning!
Details

Category: Almost Weekly Photo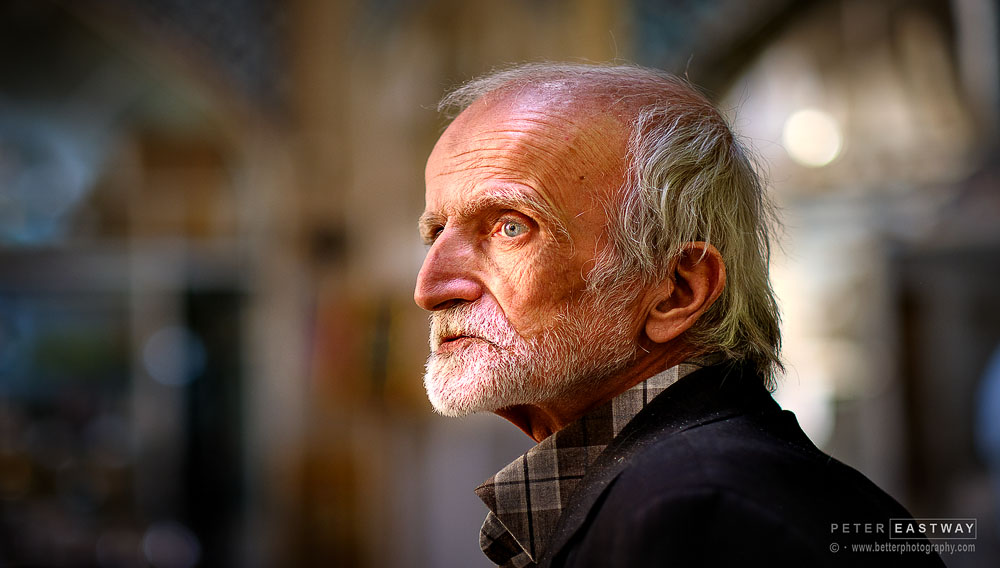 Kashan Bazaar, Iran
Fujifilm X-H1 with 56mm f1.2 Fujinon lens, f1.4 @ 1/250, ISO 250
I may have published a photo of this gentleman before. He has wonderful features - a face that stands out in a crowd. Why? Is it because he has interesting facial characteristics or do we overlay what we imagine his life might have been like, or what his personality is like? And yet, despite all these ideas, I know absolutely nothing about him.
What I do like is the shallow depth-of-field, the hint of the vast indoors of the bazaar in the blurred background and the steely gaze on whatever has caught his attention. Or perhaps he's not looking at anything in particular, but rather lost in his thoughts, looking inwards.
In terms of tips and suggestions, this is one of 20 photographs I took. I tried different angles and waited for different expressions. I repeat this fact often - shooting lots - because I see many photographers just shooting one or two frames when they find a good subject. There is also a degree of post-production in the image that enhances the subject, using soft-brush mask over the face to lighten up the subject in comparison to the quieter background. As always, the finished image is a combination of capture and post-production, even though the amount of post-production on this occasion was quite minor.
While I'm known for landscape photography, one of my private loves is portraiture and currently I'm working through the photo tour to Iran images I took with Nuran Zorlu the year before last. I like some of the portraits I create, although a few of my portrait friends take great delight in pointing out some of my many misgivings! And so it's probably a good idea that I'm not personally a judge in the new International Portrait Photographer of the Year awards that we've just announced.

Following on the success of the International Landscape Photographer of the Year award, the Portrait equivalent seems to be a logical extension. It will follow a similar approach, rewarding not only a small number of top prize winners (there is US$10,000 in cash prizes), but a collection of the best 101 portrait photographs. The winning images will all be designed into a beautiful photo book that can be downloaded or purchased in print, just like we already do for the landscape awards.
To help with the competition, we have four categories for different approaches to portraiture, and six experienced professional photographers to judge. If you're interested in knowing more or entering (entries close 30 April), please visit www.internationalportraitphotographer.com 
Details

Category: Almost Weekly Photo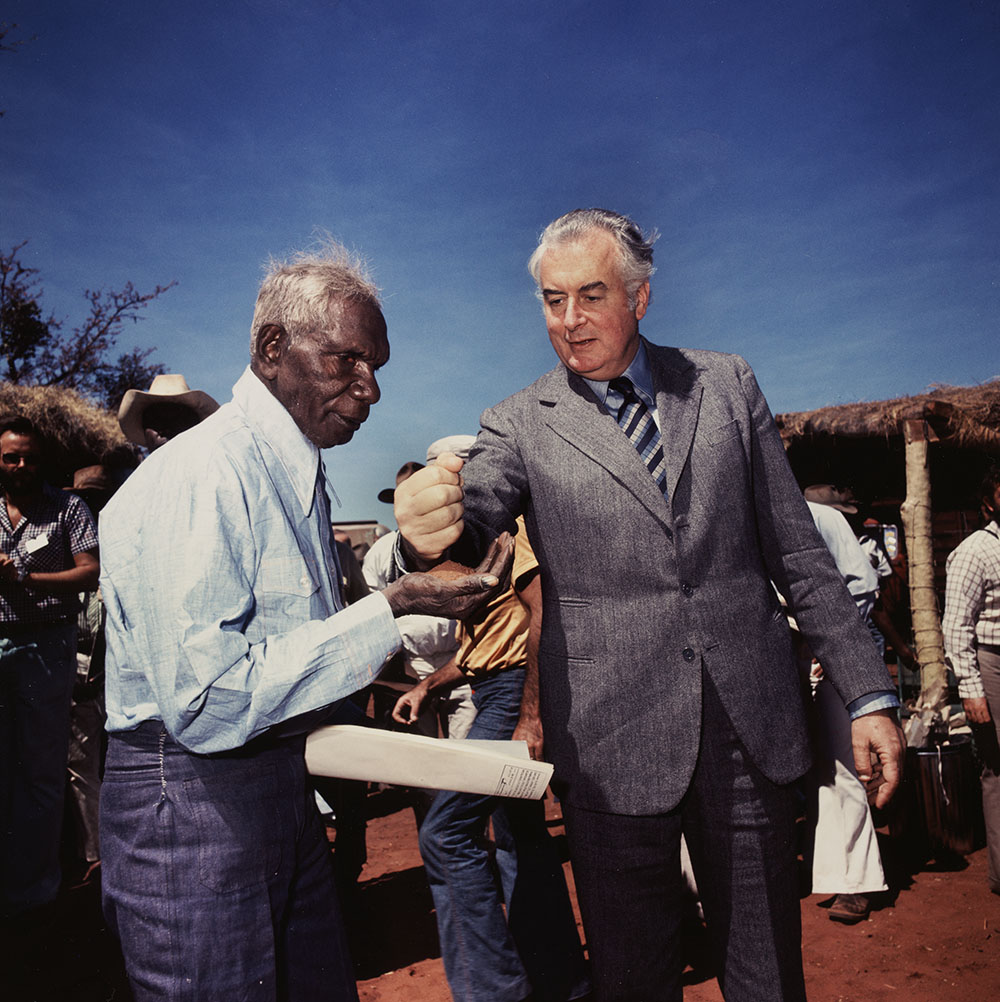 Prime Minister Gough Whitlam pours soil into the hands of traditional land owner Vincent Lingiari, Northern Territory 1975. Photo by Mervyn Bishop. 
The National Film and Sound Archive of Australia (NFSA) is celebrating Mervyn Bishop, one of Australia's most prolific and influential photographers, with an exhibition in Canberra.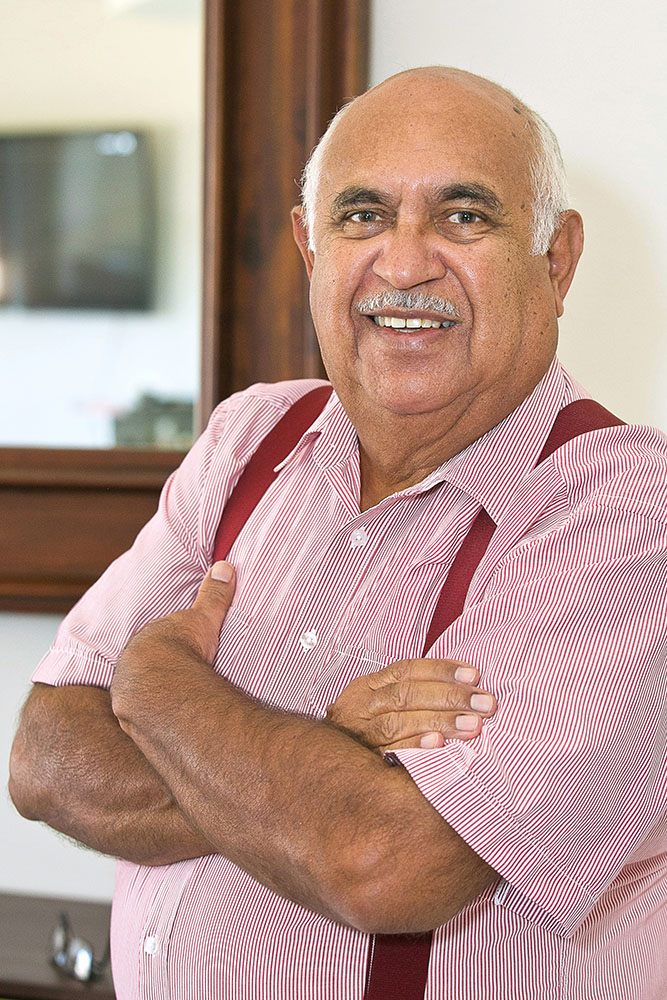 Bishop's images of culture, politics and people have significantly influenced our collective understanding of Australia's history. The exhibition is drawn from the Art Gallery of New South Wales (AGNSW) collection, the artist's private archive, and enriched by sound and moving image from the NFSA.
Mervyn Bishop features iconic photographs that derive from his career as a photojournalist, alongside personal images of family and friends and intimate portraits of members of the Aboriginal community. Spanning the past 60 years, the exhibition provides a fascinating insight into Bishop's life and work.
In 1963, Bishop left his hometown of Brewarrina, venturing to Sydney, where he successfully applied for a cadetship at The Sydney Morning Herald. He became Australia's first Aboriginal press photographer and in 1971 won the News Photographer of the Year Award with his front-page photograph Life and Death Dash 1971.
Bishop went on to work at the Department of Aboriginal Affairs in Canberra in 1974 where he covered the major developments in Aboriginal communities throughout Australia. This included his iconic image from 1975 when the (then) Prime Minister, Gough Whitlam, poured a handful of earth back into the hand of Vincent Lingiari, Gurindji elder and traditional landowner.
The exhibition will be complemented by a suite of special events and public programs, including a curator talk (29 April), a slide night with Mervyn Bishop (28 May) and more.
Where: National Film and Sound Archive of Australia, McCoy Circuit, Acton ACT
When: Fri 5 March to Sun 1 August 2021; 10am to 4pm, Monday to Sunday.
Tickets: $13 adult / $10 concession and Friends of the NFSA / $9 groups / FREE for under 18s
For more information (including our COVID-19 safety measures) and bookings: https://www.nfsa.gov.au/mervynbishop