Details

Category: Almost Weekly Photo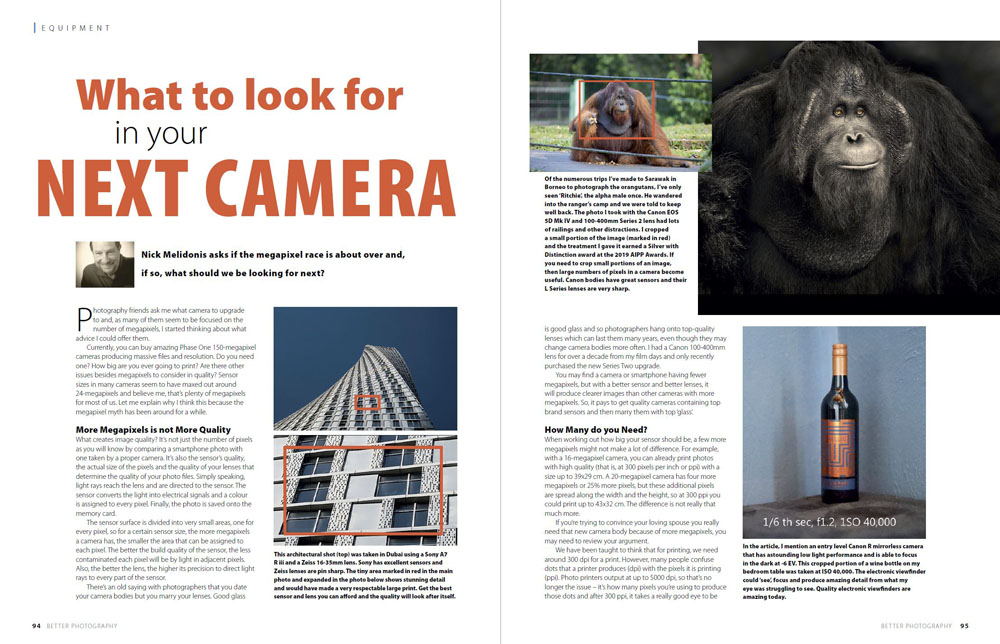 If you're a photographer, chances are you love a good camera. You've either recently bought one or you're planning to buy another, so what will it be?
Regular Better Photography contributor Nick Melidonis has years of experience as a successful professional photographer and in the current issue, he has some sage advice.
"Currently, you can buy amazing Phase One 150-megapixel cameras producing massive files and resolution. Do you need one? How big are you ever going to print? Are there other issues besides megapixels to consider in quality? Sensor sizes in many cameras seem to have maxed out around 24-megapixels and believe me, that's plenty of megapixels for most of us. Let me explain why I think this because the megapixel myth has been around for a while."
Nick then explains the myth before discussing how megapixels relate to printing.
"When working out how big your sensor should be, a few more megapixels might not make a lot of difference. For example, with a 16-megapixel camera, you can already print photos with high quality (that is, at 300 pixels per inch or ppi) with a size up to 39x29 cm. A 20-megapixel camera has four more megapixels or 25% more pixels, but these additional pixels are spread along the width and the height, so at 300 ppi you could print up to 43x32 cm. The difference is not really that much more.
"If you're trying to convince your loving spouse you really need that new camera body because of more megapixels, you may need to review your argument."
Fortunately, there are some arguments! You can read more about Nick's thoughts on buying new cameras and lenses by subscribing to Better Photography magazine online. You'll find details on the www.betterphotographyeducation.com website.
Details

Category: Almost Weekly Photo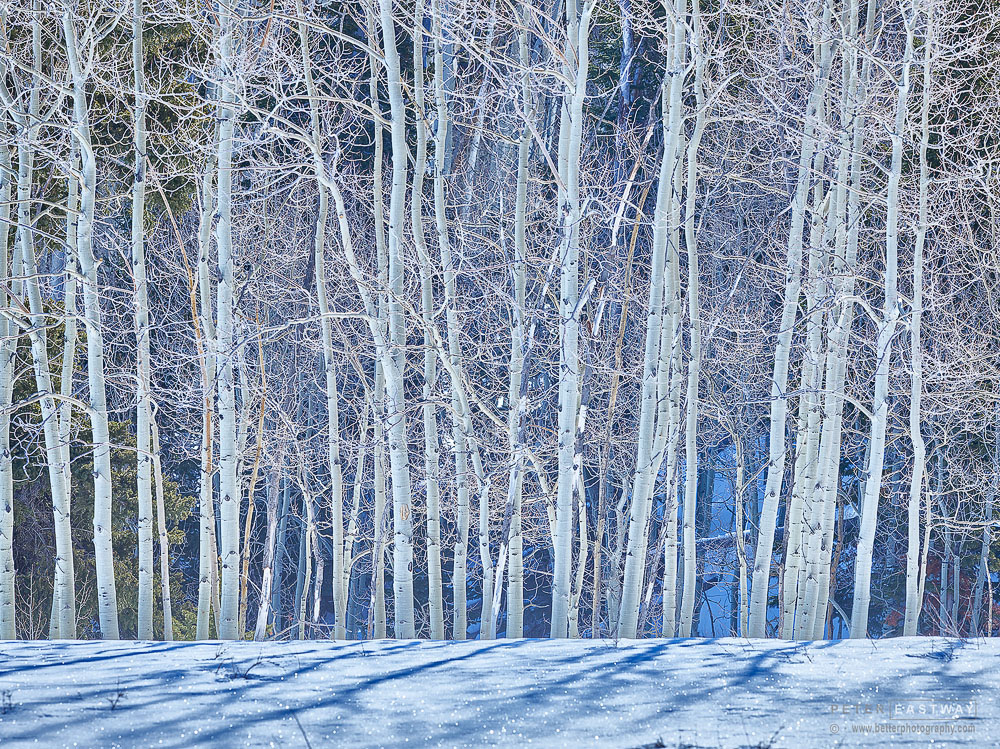 Aspen Grove, Boulder Mountain, Utah, USA
Phase One XF with 150MP IQ4, 240mm Schneider lens
What do you do when the sun is higher in the sky than you'd like? Photographers enjoy shooting at the ends of the day because of the beautiful quality of light raking across the landscape (side lighting), but it doesn't take too long before mid-morning takes over and the light loses its magic.
One option is to shoot in black and white. Another is to head to the mountains because you can usually find an angled slope that is side lit. The third is to look for back lighting - where you point the camera into the light and hope your lens shade is up to the task!
By the time we reached this part of Boulder Mountain on our recent American South West photo tour with Tony Hewitt, the sun was hotter than I'd like for the 'big views', but it was perfect for detailed angles such as this. Three things make the image work (in my opinion).
First, there's the backlighting. You can see from the shadows on the ground that the sun is up to the right, so it's slightly angled. The light doesn't have to be perfectly 'behind' your subject to be termed 'back light'.
Second, behind the stand of trees is a dark background in shadow. The tonality of the background is important because it allows the lightly toned trees to be more visible.
And third, the wonder that comes from landscape in the snow, is the fill lighting provided. In a non-snow environment, the tree trunks would appear a lot darker and the 'rim lighting' around the trunks would be more obvious. However, there is so much light bouncing around in this scene that the trunks are lit up, allowing me to create a relatively 'high key' rendition (light tonal values).
Some of my favourite shots taken on photo tours aren't of the iconic landmarks we advertise in our brochures, but little images found on the road that simply take my breath away.
If you're interested in joining me and Tony Hewitt in the USA, keep an eye on these newsletters as we're working on our next trip for February or March next year. Optionally, email Kim (This email address is being protected from spambots. You need JavaScript enabled to view it.) and ask her to add you to the list and we'll let you know once the details are finalised. We're thinking about Yellowstone!
Details

Category: Almost Weekly Photo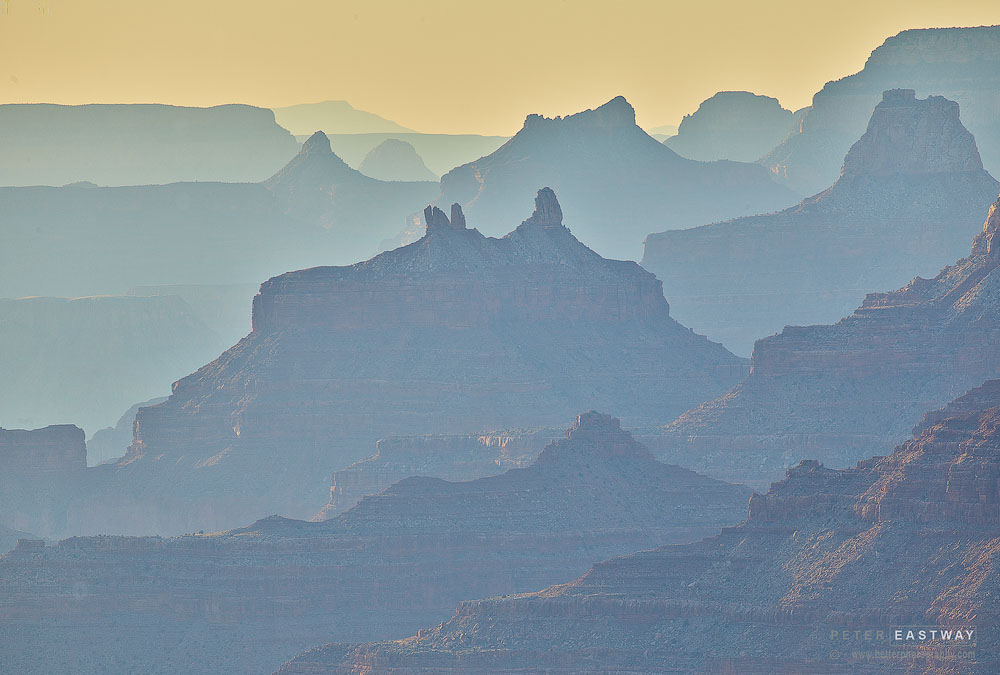 Grand Canyon
Phase One XF with 150MP IQ4, 240mm Schneider lens with 2X converter
I think I have photographed this scene half a dozen times before, but every time I visit the Grand Canyon, I'm drawn to photographing it once again. The force is simply irresistable, but no matter how hard I look for something else, I still have to capture this subject - the back lit ranges at sunset.
I think this is my best angle yet. There are a couple of dozen outlooks along the South Rim of the Grand Canyon and on my recent photo tour with Tony Hewitt, for the first time we spent two nights next to the biggest hole in the Earth. That gave us two sunrises and two sunsets and we spent the time carefully, looking for angles and taking the time to work on our compositions. I'm very proud of myself because I took quite a few frames which included the sky.
Skies can be immensely problematic for me, but that's another story. Here, my challenge is using contrast and clarity invisibly, which I haven't quite achieved here. At first glance, you probably didn't think much of the technique, but hopefully you enjoyed the image. But look at it more closely. See how the ranges at the top of the image are more punctuated than those below. I've used clarity across the whole image, but probably I would have been better to use it locally. For instance, I think I could have less clarity up the top, but I need more clarity down the bottom. This can be done selectively with layers.
And if I can get away without using clarity, I do. Contrast is sometimes a good option, but not always. So, what's the problem with clarity? Clarity works a little like sharpening, in that the dark side of an edge is made darker and the light side lighter. This can create 'haloes' and if you look back to the main image, you can see a hint of a large halo around the central mountain top. That's what I would like to remove when I get around to properly finishing this image.
In the meantime, I'm enjoying a completely different landscape down in Antarctica with Aurora Expeditions!
If you're interested in joining me and Tony Hewitt in the USA, keep an eye on these newsletters as we're working on our next trip for February or March next year. Optionally, email Kim (This email address is being protected from spambots. You need JavaScript enabled to view it.) and ask her to add you to the list and we'll let you know once the details are finalised. We're thinking about Yellowstone!