Details

Category: Almost Weekly Photo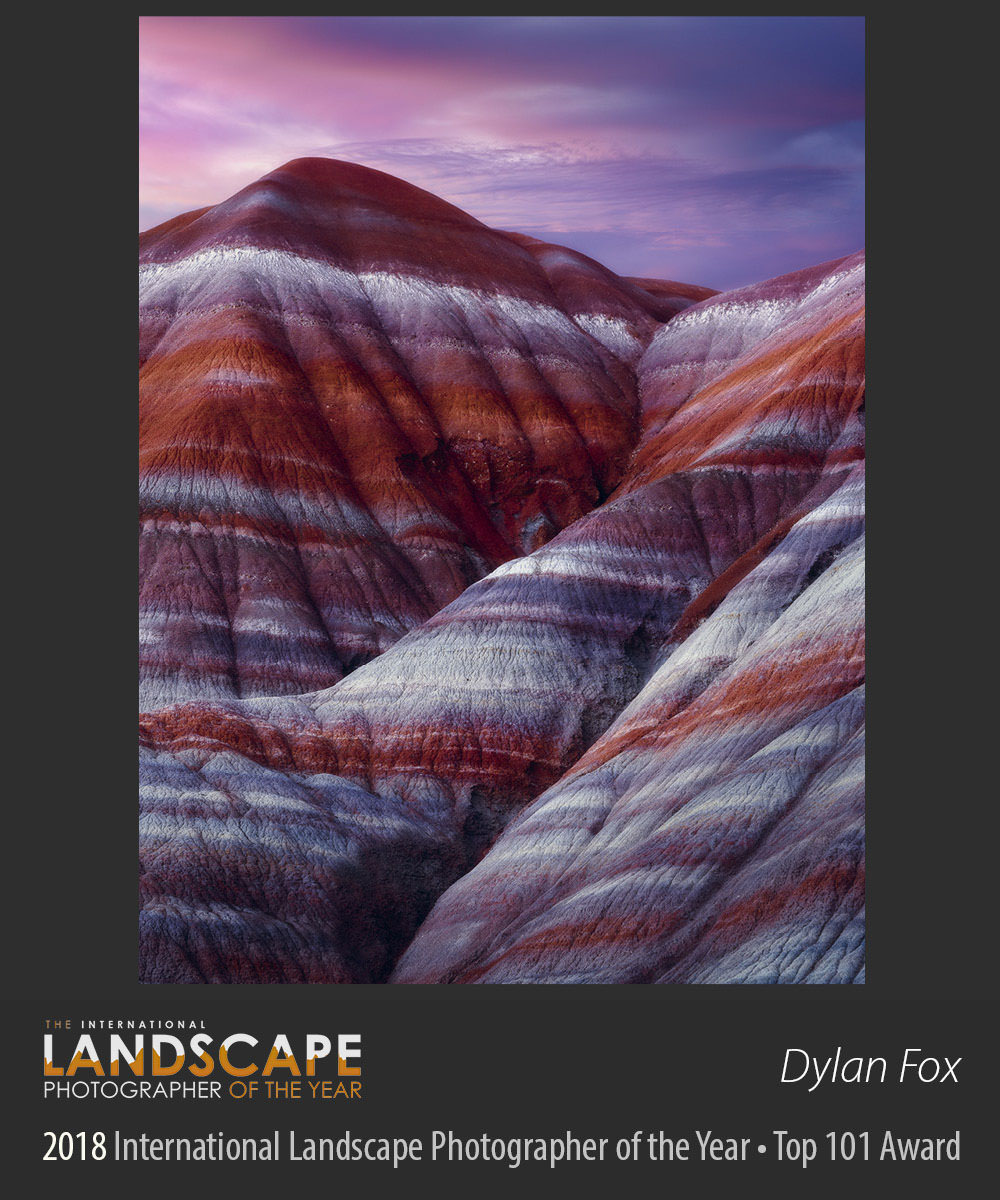 Entries are now OPEN!
The 6th International Landscape Photographer of the Year 2019
Will We See Your Photo In Our 2019 Edition?
We're entering our sixth year of the International Landscape Photographer of the Year Awards and we're super excited! Landscape photography is exploding around the world and so is the imagination and quality.
The main aim of our Award is to be one of the Top 101 landscape photographs of the year. This gives you a place in our exclusive book which is published online and can be purchased as a 'real' hard-cover paper publication as well. There's nothing like the real thing - and it's proudly printed by Momento Pro.
There is US$10,000 in cash prizes for the top three photographs and top three photographers (requiring a portfolio of at least four entries), plus a printed copy of the book from Momento Pro. And there are five special subject prizes winning a print from Created For Life!
Our judges this year are;
-David Burnett, co-founder Contact Press Images, USA
-Tim Parkin, ON LANDSCAPE Magazine Editor
-Adam Gibbs, 2018 International Landscape Photographer of the Year
-Kaye Davis, NZIPP Grand Master of Photography
-Jim M Goldstein, Fine Art Photographer and Author, USA
Prizes on offer include US$10,000 cash, trophies, limited-edition copies of the awards book and large prints of winning images.

Details

Category: Almost Weekly Photo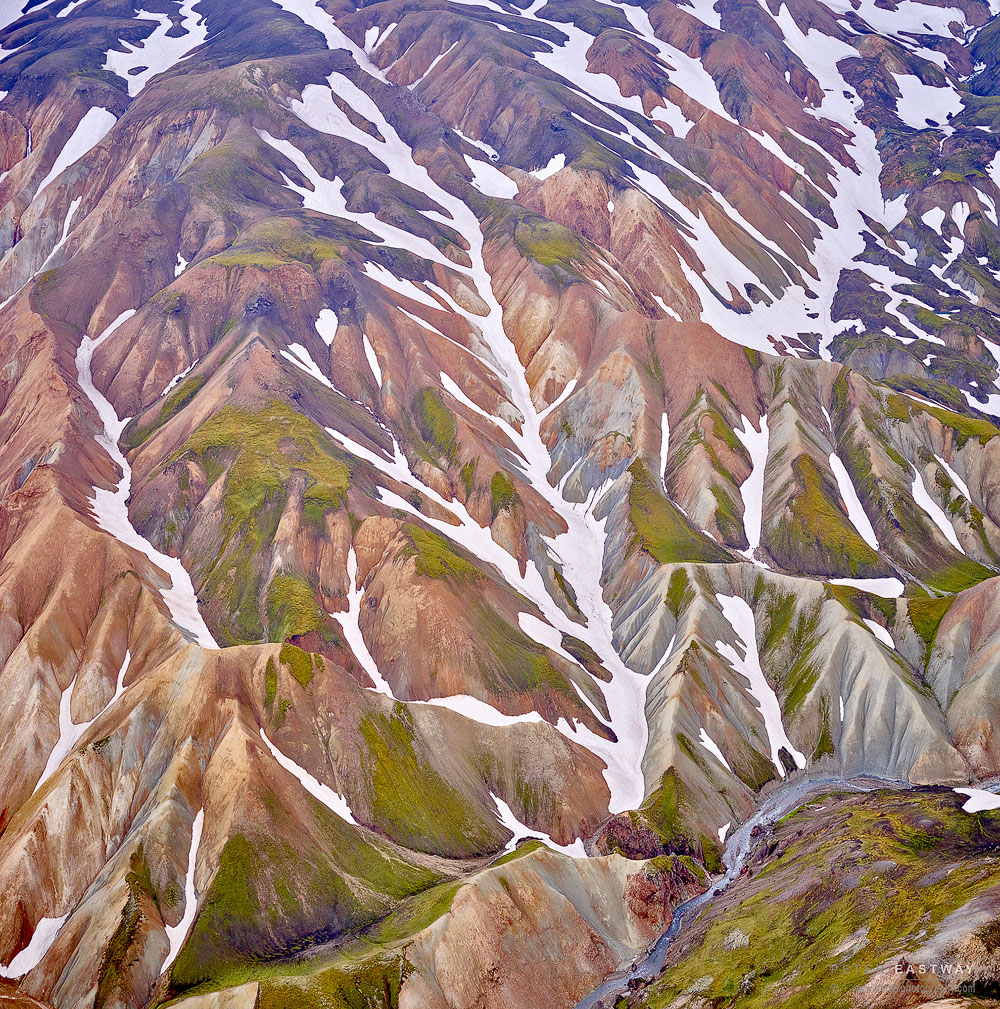 Landmannalaugar, Iceland
Phase One XF 100MP, 80mm Schneider lens, f4.5 @ 1/1600 second, ISO 200.
When you're in the air, do you shoot straight down, straight across, or at an angle? And does it matter whether you're in a plane or a helicopter? Or can we try a drone?
The short answer is that different angles do different things. Often, a straight-down angle (which to do properly requires the aircraft to tilt over) creates more of an abstract pattern, especially if you pick some interesting geometric shapes. And this is the trick - looking ahead and working out what things will look like as you fly over them. In a helicopter, it's much easier to stop and shoot, while in a plane it can take quite some time to loop back around for a second pass. On the other hand, planes are half the price to hire of a helicopter - sometimes less.
Shooting straight across from a plane can be interesting - it's just like climbing up a mountain and shooting from there, with the difference being you can get an aircraft into positions where there are no mountains. A similar approach can be taken with angled shots, but in both cases, the inclusion of the horizon is likely to turn the photograph into a 'scenic view', rather than an 'artistic impression'. 
Of course, if you put a telephoto on, or fly in a little closer, you can still remove the horizon - as with this photograph taken in Iceland. By excluding the horizon, the viewer is left to concentrate on the shapes and lines. The photo can be viewed as reality, or as a semi-abstraction.
And drones? I've just purchased a little Mavic Pro 2 and it's a lot of fun, but it has a wide-angle lens and I'm struggling at present to find angles that don't look the same as lots of other drone photos. However, I haven't given up, especially when the cost of a drone is less than two hours in a helicopter!
There's probably still just time to book a trip to Iceland with Peter Eastway and Better Moments. There's also the option of shooting with a Phase One camera and, if the weather permits, shooting aerials as well! For more details, visit our website or click here.
Details

Category: Almost Weekly Photo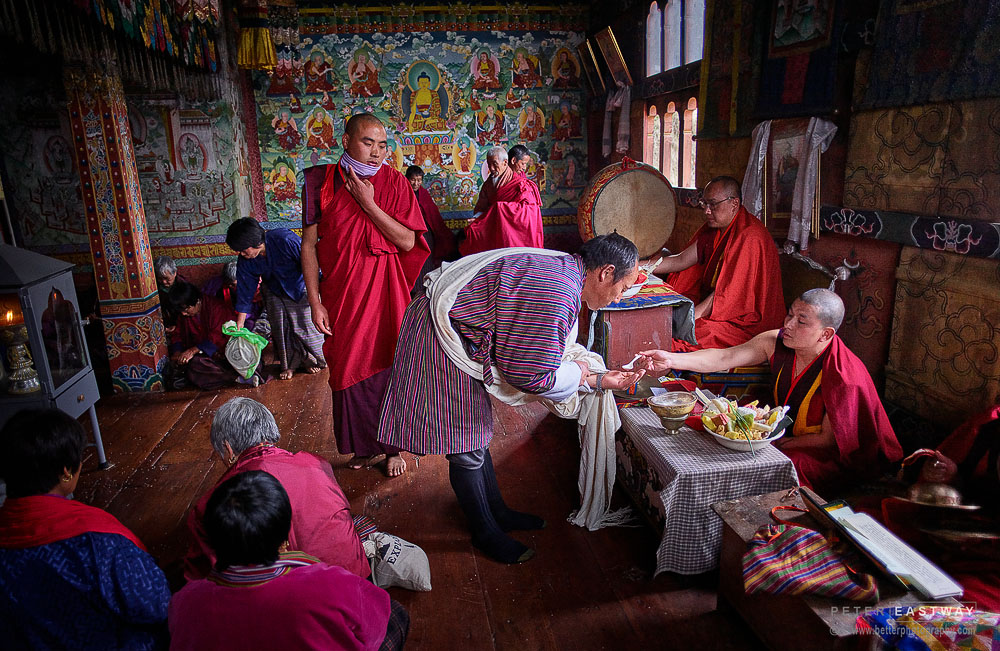 Tshangkha Temple, Bhutan
Phase One XF 100MP, 35mm, f3.5 @ 1/125 second, ISO 3200
Shortly I disappear to Bolivia for a few weeks with Ignacio Palacios and a group of intrepid photographers. What will we photograph? Will it be the spectacular Andean landscape or the brightly dressed people? What are the stories we'll see and how will they unfold? And what is the best equipment for each discipline?
For this trip, I'm taking my Phase One A-Series with a 150MP back because I'm really keen to shoot the landscape, but we're going to many other destinations where the focus is local life, culture and wildlife. The A-Series is not the right camera, at least not for me, and so I'll tuck a Fujifilm X-T3 away as well. While two systems are not as easy to work with as one, on the other hand they provide a back-up for each other and the heavy backpack gives me something to complain about!
There's no right or wrong way to approach travel - it's what makes you happy. I get a great thrill out of shooting high resolution landscapes, but similarly, shooting on the street or wildlife with a mirrorless camera is a lot of fun too!
However, there are advantages if shooting with just the one system. You always have the right camera. There's one less decision to make. It's nice! The photo above was shot in Bhutan with the Phase One XF - and I shot everything on the XF that trip. However, for photos like the one above, the camera was a little slow and I don't feel I captured as many 'decisive moments' as I would have with a faster, smaller camera. While I loved the quality of the medium format files, it's the nuance of posture and expression that make travel shots 'special'.
This photo is taken in our Bhutanese guide's home village where we have been fortunate to get some great interaction with the local families. As I look through my photos, there are lots of faces I recognise, having photographed them many times over the past 6 or 7 years.
Bhutan is a quickly changing country, so if it's on your bucket list, I can only encourage you to join David Oliver and me this November/December on a trip that traverses the magical Bhutan from west to east. Full details can be found here on the website.