Details

Category: Almost Weekly Photo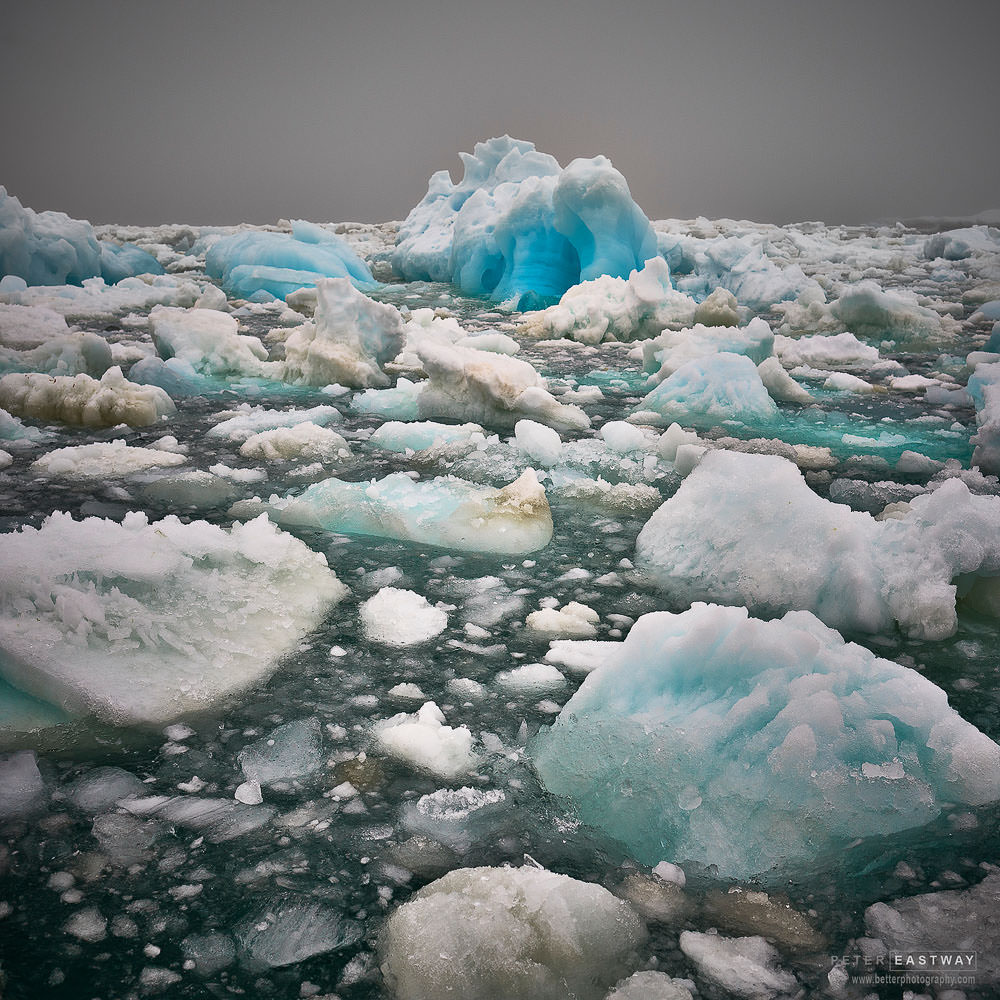 Melting ice, Isispynten, Svalbard
Phase One XF 100MP with 55mm Schneider lens, f8 @ 1/800 second, ISO 200.
What makes a strong composition? What makes an abstract? I've been sub-editing Len Metcalf's wonderful articles on abstracts and composition for Better Photography over the past few issues and he's given me (and our readers) lots to think about. If you're a subscriber, may I suggest you pull out the last few issues and have a read!
I'm suggesting this photo is an abstract. Yes, it's also a literal photograph with very little in the way of post-production (for me, at least). I've used some clarity in this version to bring out the texture in the ice and to separate the ice from the water, but at the end of the day, it's an abstract photograph that relies on the random positioning of ice. The only 'intentional' aspect to the composition is the placement of the large blue berg up the top which hopefully anchors the image.
I took 10 shots to get this one. The other 9 aren't nearly so strong. Why do I mention this?
A photographer who purchased my book, The New Tradition, pointed to a caption I'd written, where I confessed I'd taken around 50 shots to get the good one. For him it was a weight off his mind, because he thought that good photographers only needed to take one or maybe two shots to get it right. Maybe that's true for some photographers, but not in my case. And sometimes, when I'm there in the moment, I have no idea whether or not I have the best shot possible, so I keep taking lots of shots. It's not costing me anything except a little more time selecting the best frame from multiple ones later on.
These days, with so many photographers taking so many great shots, to produce images that stand out, we really need to get our compositional balance working and sometimes, especially with moving subjects like this, lots of photos is the best way to achieve success.
This is shot up in the north of Svalbard on a photo tour I did with Kevin Raber last year. Kevin and I are returning there next year in August if you'd like to join us - but berths sell quickly on our ship, so jump in soon! For more information, check out my Svalbard video here or by visiting the www.betterphotography.com website and looking for the workshops link.
Details

Category: Almost Weekly Photo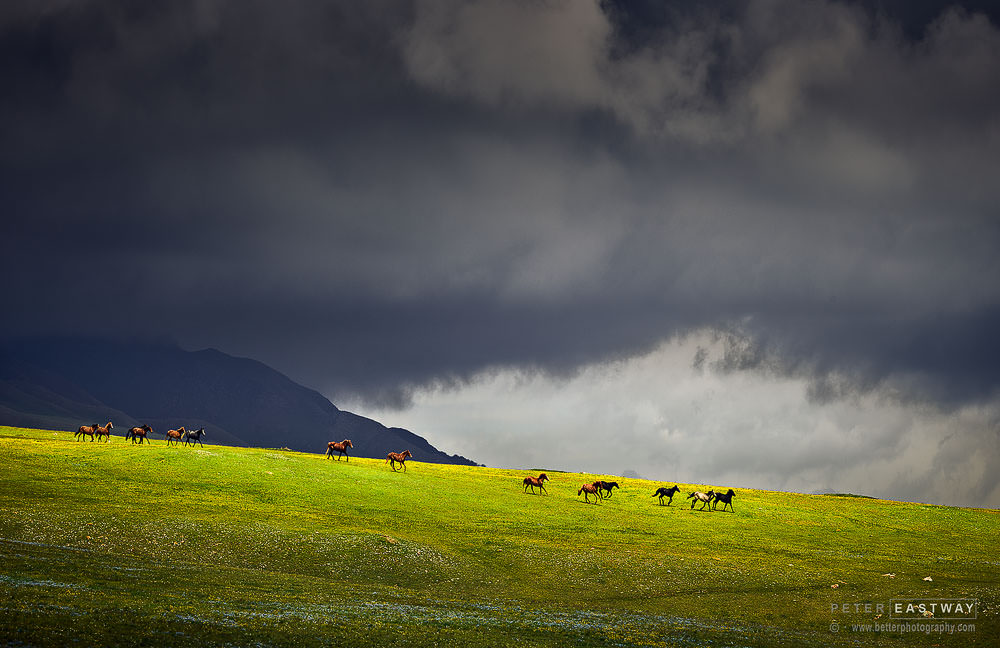 Nomadic horses, Assy Plateau, Kazakhstan
Phase One A-Series 100MP, 180mm Rodenstock, f11 @ 1/125 second, ISO 50
I'm setting myself up, aren't I! I'm just back from the three Stans - Uzbekistan, Krygyzstan and Kazakhstan - and what an amazing photo tour it was. Three exotic countries, quite different from anywhere else I've travelled and definitely places to return. And my wife, who loves horses, was very happy. 
It all happened on our final day in Kazakhstan. We were up on the Assy Plateau, an 'other world' of alpine meadows, flowers, streams and horses. We even found an old Soviet observatory, but I'll save that for another story. At the beginning of each summer, the nomadic herders take their horses up to the meadows as the snows melt and retreat. We hoped to find them in their yurts, but we were possibly a little early - but it didn't really matter. The landscape was just so amazing.
I set my camera up for the landscape you see here. One of the photographers asked me a question, so I turned around to give a hand, and then as I looked back, what should I see coming over the hill. A herd of horses. And not just one or two, but hundreds of horses. The photo above is one of several, this one showing a few of the stragglers cantering to catch up.
I explained to my group of photographers that this was all pre-planned and that we could organise the wildflowers, the stormy skies and the horses whenever we wanted to. Not! I even managed to capture this photo on medium format using my Phase One A-Series with the 180mm - it's probably the slowest camera set-up I have as focus is critical, but as luck would have it, I had just pre-focused on the grasses where the horses were cantering!
So, luck plays absolutely no part in brilliant photography, but being both ready and lucky certainly does!
Details

Category: Almost Weekly Photo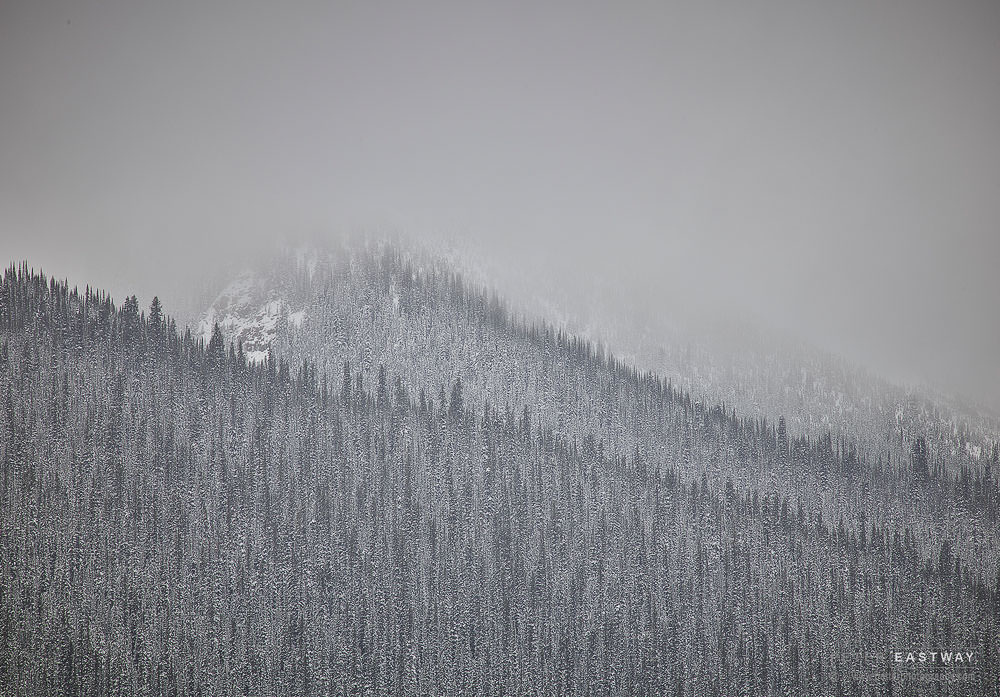 Snow-covered foothills, Icefields Parkway, Canada
Phase One XF 100MP, Schneider 240mm with 2x converter, 1/50 second @ f12, ISO 50.
This is one of my favourite photographs from a trip up the Icefields Parkway in Canada. Why? I'm not exactly sure, but I think it is a combination of me loving snow, of moody light, and of the beautiful textures created by the trees and the way they fold themselves over the foothills.
A lot of travel photography is taken from the side of the road. Even if you're heading off on a trek, you'll drive to the starting point and there are invariably opportunities along the way, especially if the light is changing. On a one to two week trip, I'd expect at least one, two or maybe three weather systems to push through, creating cloud and lighting opportunities - so you need to be ready.
On this occasion, as I've written before, we had early snow. When we started out in the morning in heavy snow, we didn't think we'd get to see anything much at all because visibility was poor, but later in the morning the clouds lifted a little and, using a telephoto lens, I was able to isolate the simple shapes of the tree-covered hills. The telephoto lens lets you simplify your composition and while it won't be very apparent in this small reproduction, there is some beautiful detail in there.
Detail in a photograph remains important to me. I'm happy to capture images that are soft and blurry, but that's a different head space. Part of what makes a photograph a photograph is the way the lens resolves detail. The closer you look, the more you see. So most of the time I'm travelling, I use a tripod. David Oliver laughs at me, saying he's taken his shots by the time I have the second leg of my tripod extended - and there's an argument there. On the other hand, usually the landscape isn't going to run away and spending a little time to set up the tripod can be well-used as you reflect on your subject. The resulting composition is generally more considered than a hand-held one - and I like that. It's not a better way of shooting, rather a different way - and each to their own.
If you'd like to join Tony Hewitt and me in Canada in October this year, we need to hear from you by the end of May. This part of Canada at this time of year is really popular, so if we're to book accommodation, we have to get cracking. For more details, check out the Better Photography website here.