Details

Category: Almost Weekly Photo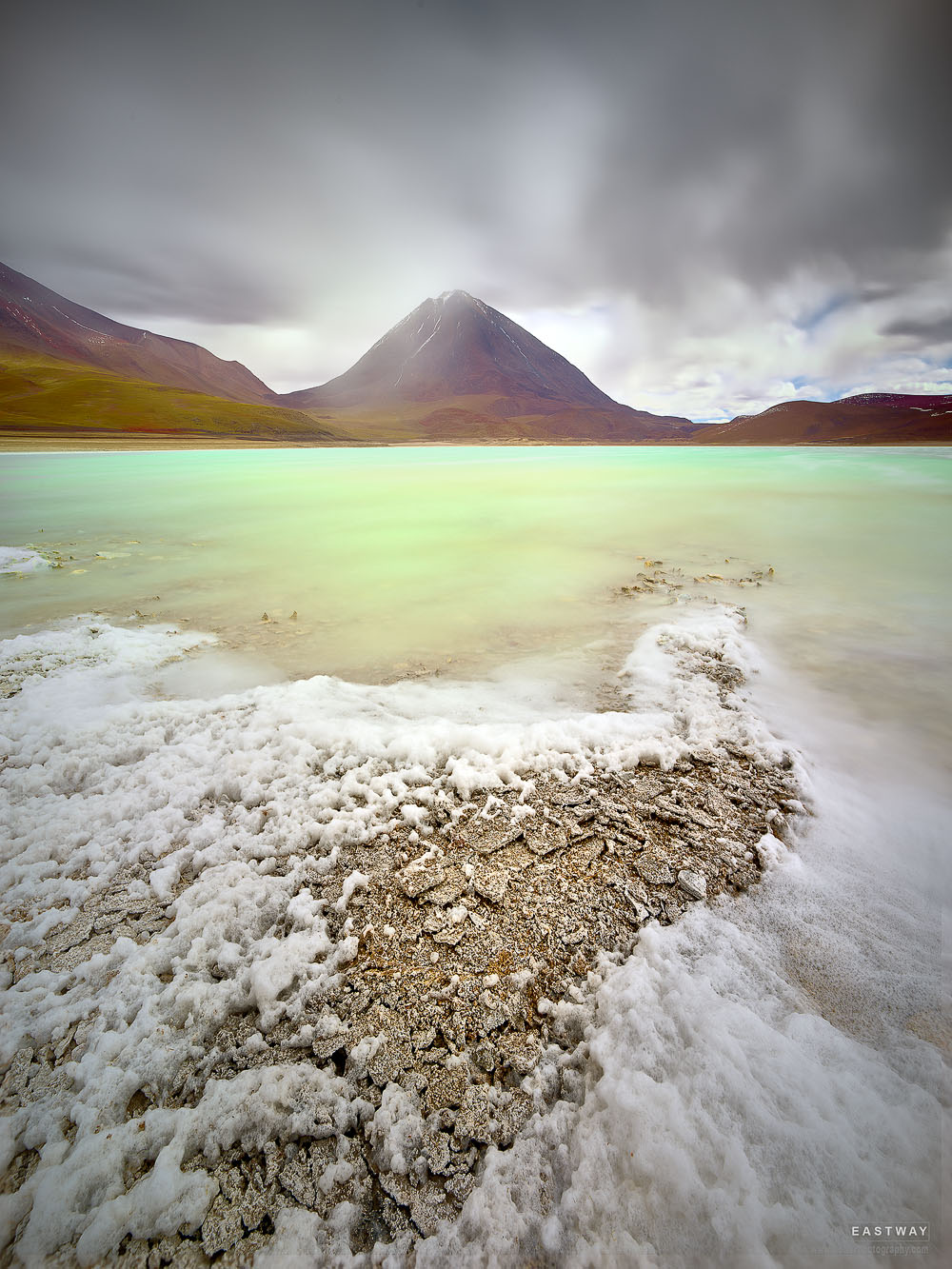 Laguna Verde, Bolivia
Phase One A-Series 150MP, 23mm Alpagon lens, f11 @ 1/125 second, ISO 50
That green is real! And it's not very nice. Laguna Verde up on Bolivia's dramatic Altiplano is full of arsenic and hence, I'm told, its green colour. Laguna Blanca just next door is blue and the flamingos happily wade there, but not in Laguna Verde.
When we arrived, low cloud was skirting the Licancabur volcano on the Chilean border and the wind was howling, creating an acrid spume on the shore. It made a great foreground, although it left the legs of my tripod covered in a salty residue! The technique used to capture this image is a combination of focus stacking and a time exposure.
To ensure the foreground and background are tack sharp, I focused on four points in the foreground (the bottom half of the image), with an aperture of f11 so there's already a lot of depth-of-field keeping things sharp. I then focused on infinity and took a safety shot at the same exposure, but then switched into time exposure mode. On the Phase One IQ4, it's the exposure averaging feature, but you can achieve the same result with a neutral density filter. The exposure is the equivalent of 15 seconds for this one, although I experimented. As the clouds were moving so quickly, I didn't need such a long exposure to achieve a suitable blur.
It's interesting to note how with changes in technology, new ways of shooting are opening up, but at the end of the day, we still need a strong, simple compositions - at least, that's my view!
Details

Category: Almost Weekly Photo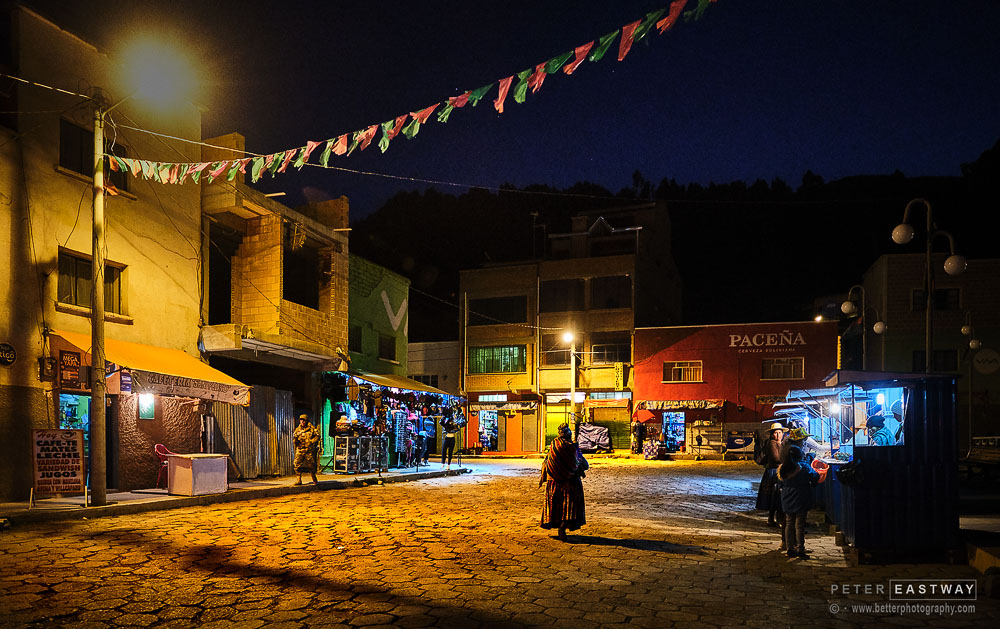 Street Scene, Tiquina, Bolivia
Fujifilm X-T2, Fujifilm Fujinon XF8-16mmF2.8 R LM WR, 1/30 second @ f2.8, ISO 3200
I think it's about time we stopped worrying about noise in photographs. All the new mirrorless and DSLR cameras do a superb job and, while there are undoubtedly differences in how far different sensors can be pushed, for what most of us shoot most of the time, we have enough 'speed'.
This photo is taken on the street early in the night - meaning there's a hint of blue light in the sky which most photographers like, rather than a jet black sky. But down on terra firma, we're shooting with just two street lights and a little stray illumination from the surrounding retail outlets. And the exposure is 1/30 second at f2.8 - so fast enough to carefully hand-hold and shooting at the lens's maximum aperture. 
I've also set my camera to Auto ISO with a limit at ISO 3200. When digital photography first began, ISO 3200 would have produced unworthy results, but today, the results are excellent. I'll bet you wouldn't have thought twice about image noise had I not mentioned it in the heading! Looking at my photos from Bolivia, I have a hundreds of images that are shot at ISO 3200 because of what I was shooting - low light, wildlife action and night scenes. It is such a liberating way to shoot.
So, the technique? I shoot in aperture-priority mode so I can control my depth-of-field. However, I also know that to get the fastest shutter speed possible, I simply open up my lens to the maximum aperture - f2.8 for this lens. Then, as changing light conditions dictate, I let the Auto ISO feature push the ISO up as high as is necessary to maintain correct exposure.
On the Fujifilm X-T3, there are three Auto ISO custom settings, which I have set at 'up to ISO 3200' for 1/30, 1/60 and 1/500 second. I'd like the 1/500 second to be 1/1000 or 1/2000 if the Fujifilm engineers are reading. Then, depending on the subject I'm shooting, I determine the minimum shutter speed.
For street photography, I'm happy to have a little bit of movement if it makes it real, so 1/30 second is fine. Most cameras have an Auto ISO function these days, so it might be worth a little read of your instruction manual!
And another shot from my walk around Tiquina on the way to Copacabana.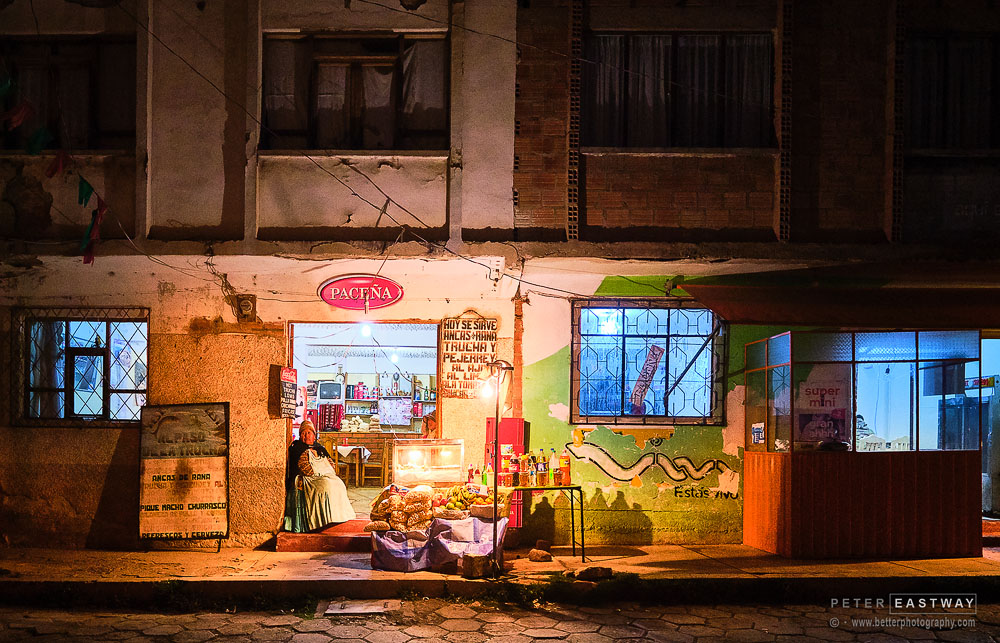 Details

Category: Almost Weekly Photo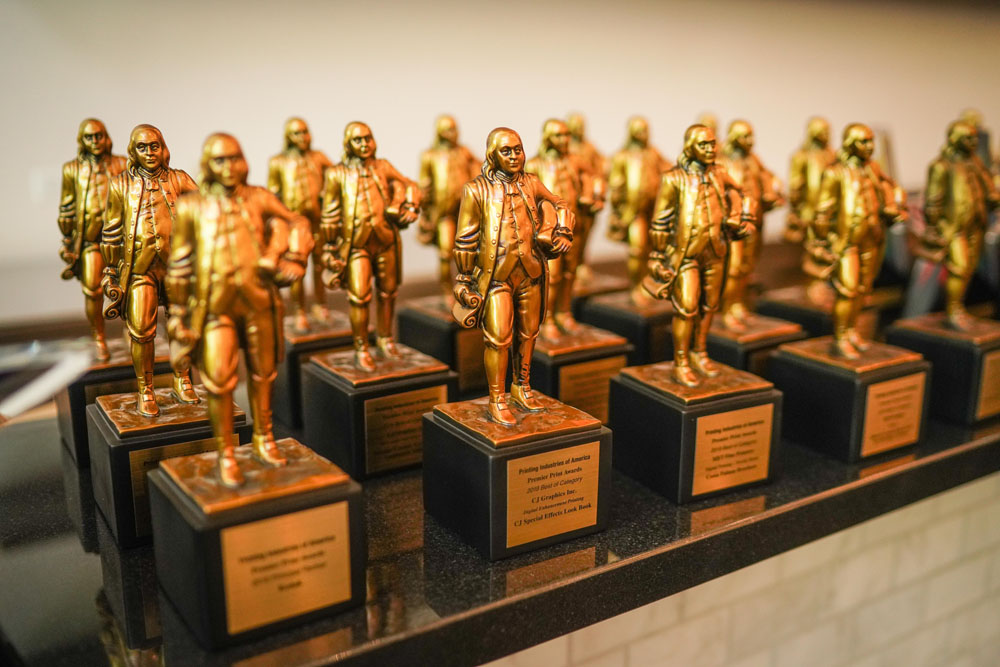 Sydney based printer, Momento Pro, has attained the ultimate graphic arts industry honour by winning the 2019 Premier Print Awards James H. Mayes Jr. Memorial 'Best of Show' prize, for a collector's edition art book, Middlehurst | Middle Earth, by Australian landscape photographer Peter Eastway.
Now in their 71st year, the Premier Print Awards is the largest and most prestigious print competition on the global scene and the Academy Awards of the print world. Michael Makin, President and CEO of Printing Industries of America, stated that, "The Benny winners represent the best our industry has to offer. This year's entries were outstanding, with 2,238 from 13 countries."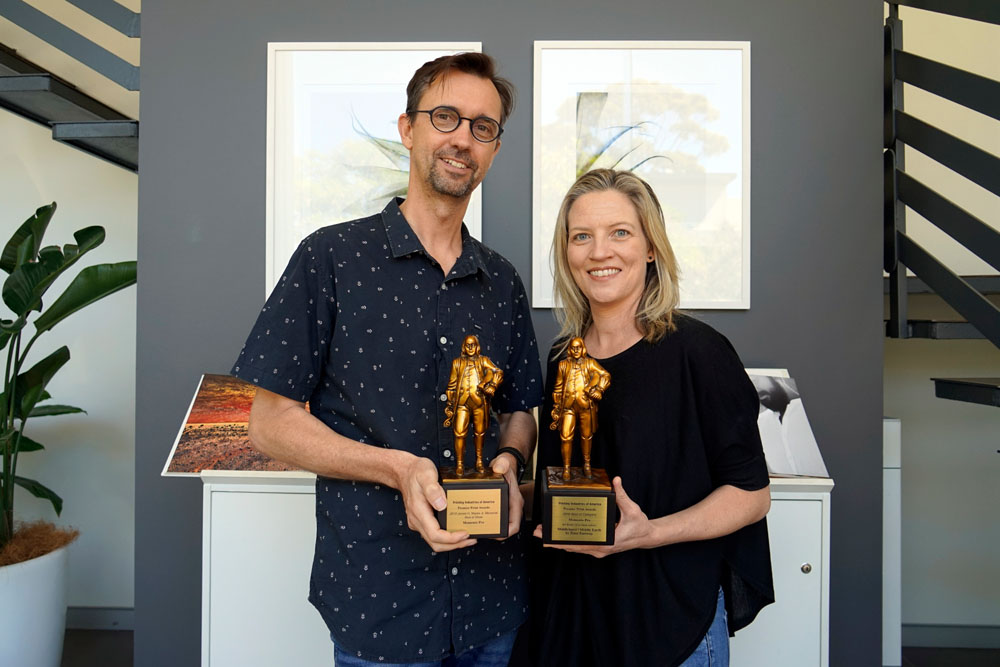 Libby Jeffery and Geoff Hunt of Momento Pro with their Benny Awards
In June, Momento Pro was notified that Middlehurst | Middle Earth had won the 2019 Best of Category for Art Books (4 or more colours), representing the most outstanding coffee-table book devoted to the reproduction of art, photography, or artistic collections.
The judges stated that, "The title of this masterpiece is Middle Earth, but a better title might be out of this world! Each spread is a visual feast for the senses. In the toughest category, this is numero uno. Extraordinary colour!"
On 2 October, at the Premier Print Awards Gala dinner in Chicago, the book was also awarded 'Best of Show.' Award Manager, Mike Packard describes this as, "The #1 award of the evening, the best of the best, resulting from all the Best of Category winners being judged against each other, and this was as close to a unanimous decision as we have ever had. Middlehurst | Middle Earth is a collector's item. Congrats Momento Pro on your Best in Show."
This self-published limited edition book is a 42 x 42 cm inkjet-printed colossus featuring flawless photography from renowned Australian photographer Peter Eastway. Eastway captured the grandeur of the New Zealand landscape on a Phase One camera, then printed the images in a size and quality that did the files justice.
The book was handcrafted from the highest quality materials with the longest lifespan available today. It was printed onto 100% cotton rag using Epson Ultrachrome archival inks, and colour profiles created by international colour expert Les Walkling. These were the same ingredients that led Momento Pro to winning the Art Books (4 or more colours) category in 2016 for the Ken Duncan Portfolio Collection - also a collector's item.
Momento Pro co-founder Geoff Hunt, confirmed that, "Winning the 'Best of Show' is humbling recognition of our 15 year focus on quality not quantity, for all our products, and for all our customers - consumers, professionals, photographers, artists and corporates. We'll also continue helping Antipodeans preserve their artwork and memories in world class quality prints, right here in Sydney, and prove that printing photographs is far from dead."
"It's a great thrill to be a part of the team that won the Benny Award", said Peter. It's one thing to use amazing cameras and visit amazing locations, but quite another to see your vision transformed into a beautiful physical work of art. And that's why I love working with Geoff and Libby at Momento Pro."
The limited edition book (45 copies only) can be purchased by special order through the Better Photography website for $2995. You can see a video of the book being opened, or visit our website to enjoy a flip-book.
"It would make a great Christmas present for the photographer in your life", said Peter. "Just saying!"