Details

Category: Almost Weekly Photo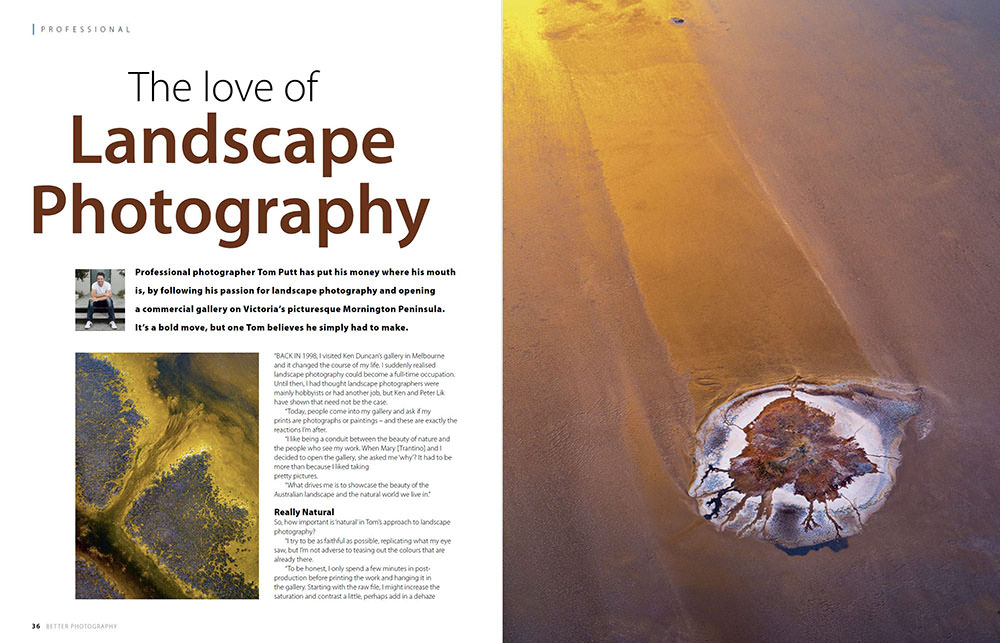 Do you dream of giving up your day job and being a full time landscape photographer? Tom Putt has done exactly that and in the current issue of Better Photography (Issue 98), we ask him what it was like to make the move? Is he a millionaire already? Is every day filled with photographing incredible landscapes? And is there a secret or two to success? 
The answers may surprise you, but there's more to running a gallery and perhaps the most important part is sales!
Said Tom, "I sat down with a business coach the other day and he asked me who is my ideal client? It's a difficult question to answer, but let's say it was a semi-retiree with an appreciation of art and squillions of dollars to spend! So, how do you find these people so you can market to them?
"Answering this question is one of the reasons I procrastinated so long before opening the gallery; the uncertainty of whether it would work, would I find the right location for the gallery, would I be showing the right prints when a customer walks in, was the price right? All these variables are difficult to define and, like all aspects of marketing, some choices work and some do not.
"Professional portrait and pet photographers have a huge advantage when selling their prints: an emotional connection with the subject. A client may have had a dog for 20 years and so there's an immediate connection and money is no object when it comes to buying a print. 
"However, as a landscape photographer, I'm often selling to people where there's no immediate emotional connection, yet I'm wanting them to look at my images and fall in love with them! 
"I remember seeing a photo of a snow gum in Scott Leggo's gallery and I couldn't walk out without buying it. I tell all my clients that they have to fall in love with my photos. Some people buy there and then, others are more considered, but I'm not a big fan of the hard sell. It's really just not me. I approach every sale with the premise that we don't need it."
Tom provides a very honest insight into what it's like to make a living as a landscape photographer and you can read all about it - just subscribe to Better Photography magazine online. You'll find details on the www.betterphotographyeducation.com website here.
Details

Category: Almost Weekly Photo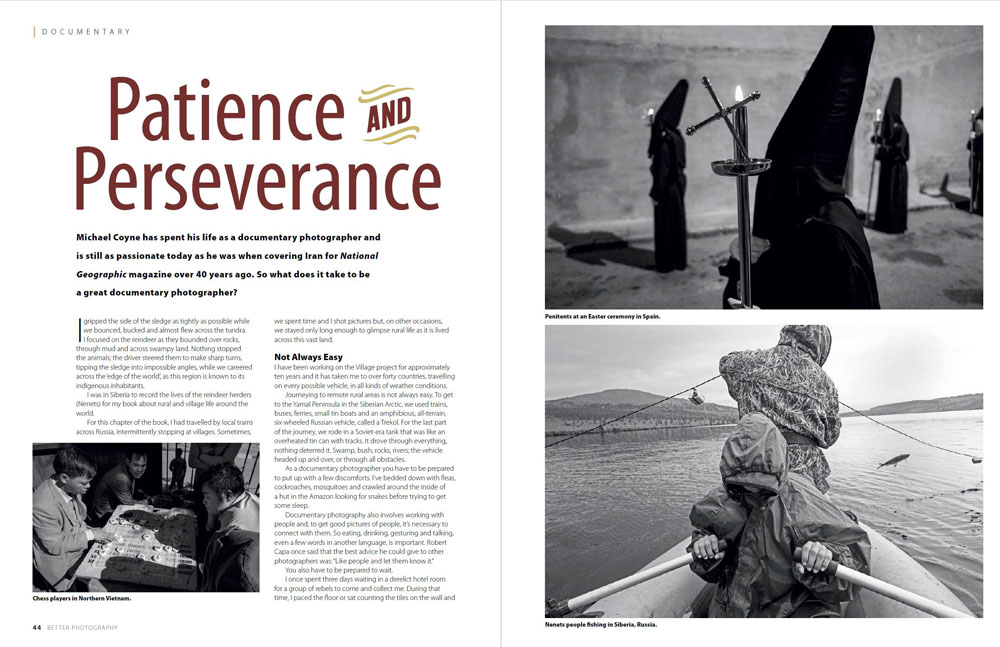 When we look at great documentary photographs, they generally appear effortless. It's like the photographer was just walking along and 'everything' just happened in front of the camera. The truth, of course, is quite different.
Write's Michael Coyne in his article Patience and Perseverance, "As a documentary photographer you have to be prepared to put up with a few discomforts. I've bedded down with fleas, cockroaches, mosquitoes and crawled around the inside of a hut in the Amazon looking for snakes before trying to get some sleep.
Documentary photography also involves working with people and, to get good pictures of people, it's necessary to connect with them. So eating, drinking, gesturing and talking, even a few words in another language, is important. Robert Capa once said that the best advice he could give to other photographers was: "Like people and let them know it."
You also have to be prepared to wait. I once spent three days waiting in a derelict hotel room for a group of rebels to come and collect me. During that time, I paced the floor or sat counting the tiles on the wall and listening to the ceiling fan going around and round. Nineteen
times a minute I calculated.
Late one night, the rebels came to my room, seized me and my camera gear and dragged me down the back stairs into a waiting ambulance which sped through the army checkpoints and up into the hills. There I joined thirty more rebels who were fighting for their independence against the government soldiers.
Networking, contacts and access are important. It doesn't matter how talented you are, if you don't have the right contacts, know the right people, then you can't get to the right places and take good pictures.
You can read more about Michael Coyne's approach to documentary photography, along with some great stories, in Better Photography by subscribing to Better Photography magazine online. You'll find details on the www.betterphotographyeducation.com website.
Details

Category: Almost Weekly Photo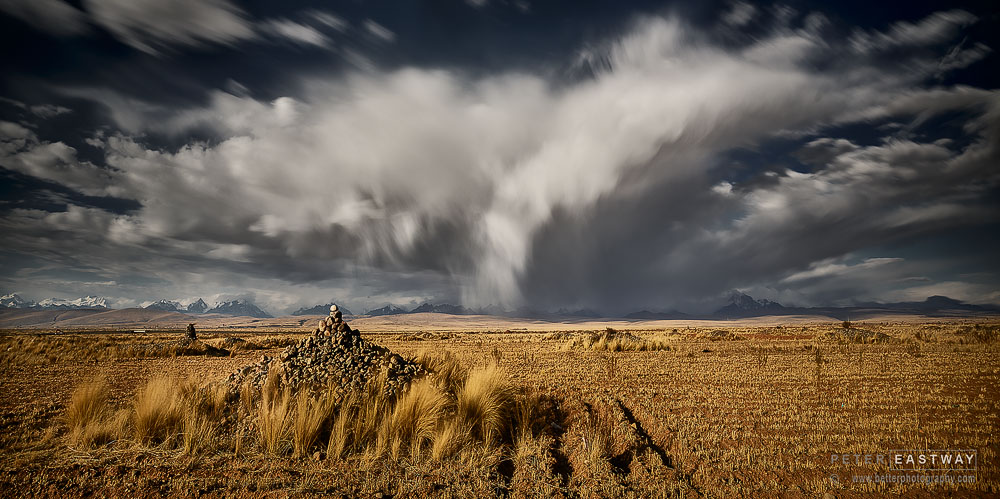 Evening Storm on the road to Copacabana, Bolivia
Phase One A-Series 150MP, 23mm Alpagon lens, f11 @ 1/400 second, ISO 50
I find it happens quite a lot - the inverse square rule for great skies! You're driving along and you watch the sky change, the light drop and the atmosphere build. The heavens look fantastic, but there's nothing in the foreground and, the better the sky, the worse the foreground!
On our trip through Bolivia recently, we were up on the Altiplano heading towards Lake Titicaca and the real Copacabana. Over the distant ranges were some wonderful storm clouds, the crystal clear light was mesmerising, but we struggled to find an interesting foreground. Looking at the map on my phone (I use Guru Maps), I could see our road was about to turn away from both the mountains and the clouds - and then we'd have nothing! So we stopped the bus and bundled out.
We had two options. The first was to shoot the sky and add it to a sky library, not worrying about the foreground. If you're wondering how to drop in new skies to existing landscapes, go and check out Luminar 4 as it does it for you automatically. And I did exactly this as a safety step. Might as well capture it!
The second option is to look more carefully and think about how you can simplify the foreground. The side of the road had lots of busy little fields, which created a really messy foreground, but by walking a couple of hundred metres out, I found a cleared field with a cairn of rocks in the middle. The field wasn't big, but by using a wide-angle lens and getting in close to the cairn, the foreground was easily simplified. And simple is best.
Whether you're capturing photos for competitions or just for pleasure, thinking through your options at the time you're 'on location' makes a lot of sense. By all means take a few safety shots you can play with later on in post-production, but if you can nail a good composition in camera, so much the better!