Details

Category: Almost Weekly Photo
Grass in Snow, Middlehurst, 2019
Phase One XF 150MP, 240mm Schneider lens, f6.3 @ 1/1600 second, ISO 200
One of the challenges I'm currently setting myself is to find the wonder of the landscape in small places. We all love going to locations with majestic views, yet it's the small details on the journey to these places that I enjoy even more. I think it's relatively easy to photograph something that has been recorded thousands of times before - and even then, you might only have a copy of someone else's work. This doesn't mean you don't shoot your own version, of course, rather I think it means you also look for something new.
Tony Hewitt and I were dropped off on a hill above Middlehurst Station while we were recording the Snap Happy TV segments (which are currently running on Network 10 in Australia on Sundays around 12.30pm). We weren't quite sure how deep the snow would be, but were willing to give it a try as Willy (our pilot) took the chopper away for another errand. We just hoped he came back as it would have been a long walk back down the hill!
While there were fantastic views from where we landed, the fresh show had an attraction all of its own. Using a 240mm lens (which is like a 150mm lens on a full-frame DSLR), I isolated the grasses that managed to shed the snowfall, ensuring the background was interesting or neutral. This is much easier to do with a telephoto lens than a wide-angle. Then, in post-production I dialed down the contrast, ensured I had tone and detail throughout the snow, and then emphasised the grasses by increasing the colour saturation.
Now this isn't a photo that will win first prize in a landscape photo competition, but I feel it will make a great page in a photo book or in a slide show. It adds a dimension to a story that can be difficult to complete with a single image - so I don't try. The longer I take photographs, the more I'm tending towards photo essays and photo books as being the ultimate expression for photographers.
And if you're interested in listening to a little piece Tony and I recorded about the Middlehurst experience, check out YouTube here: https://youtu.be/AEzhEKcKMsk
Details

Category: Almost Weekly Photo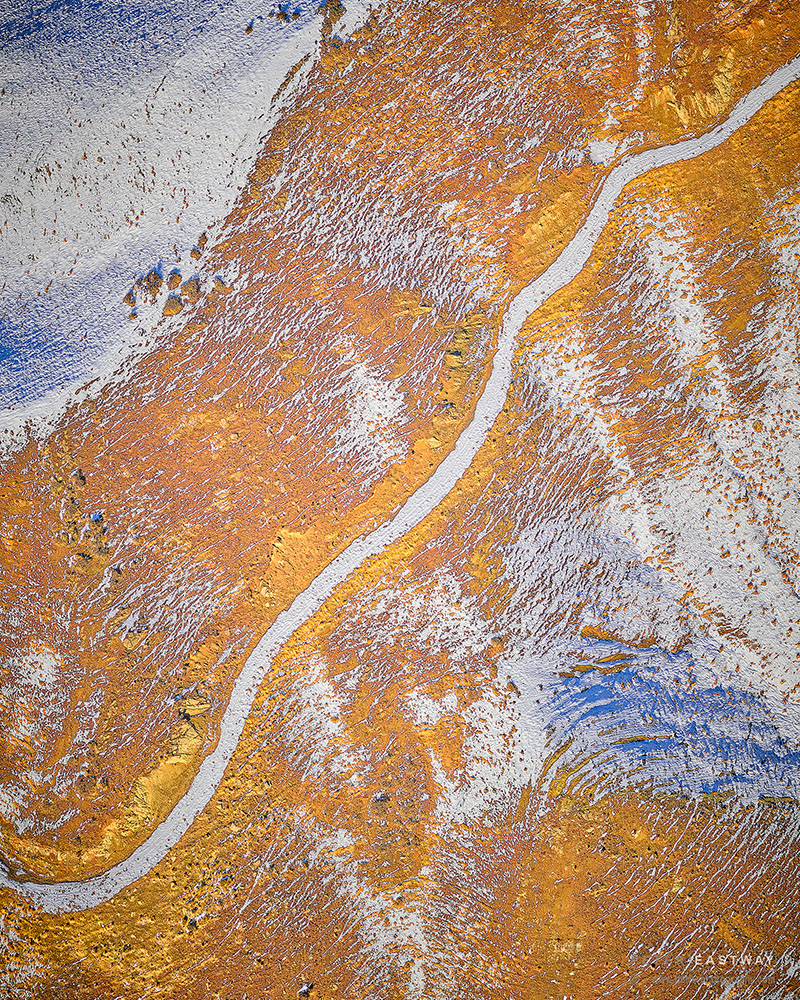 Station track, Middlehurst, 2019
Phase One XF, IQ4 150MP, 80mm Schneider lens, f6.3 @ 1/2000 second, ISO 100
With every photographer shooting aerials these days, is the genre at risk of becoming cliche and boring? I don't think so. While photography judges might struggle to give 'yet another aerial' a really high score, the simple fact is aerials can look great! Like sunsets and photos of green tree frogs with bulbous eyes, they will always be popular.
But in any event, why are you taking photographs? Hopefully it is to please yourself, so it DOESN'T MATTER what others think! If you buy a drone or have the opportunity to get airborne, make the most of it! I still love getting into the air and can't see that thrill lessening any time soon.
When airborne, I'll shoot the scenic shots like everyone else, but what I like most are the abstracts that can be best created by tilting the aircraft over and shooting directly down. The plan view. Then the trick is to find an interesting composition and perhaps one of the easiest devices is a diagonal line.
In this case, the diagonal line is formed by a station road covered in snow. The snow has mostly melted away from the surrounding paddocks, revealing the yellow grasses below and an interesting pattern of lingering snow. It's a simple composition and there aren't lots of extra bits and pieces to distract the viewer.
When judging photo competitions, I think the biggest mistake most aerial entries have is trying to fit it all in. From up in the air you can see lots of different things that are all interesting in their own way, but when left together in a wide-ranging composition, tend to be complicated and confusing. A simple composition is best and often it can be easily achieved by cropping. This image has been both cropped and rotated to get a composition I was happy with.
And if you're interested in listening to a little piece Tony and I recorded about the Middlehurst experience, check out YouTube here: https://youtu.be/AEzhEKcKMsk
Details

Category: Almost Weekly Photo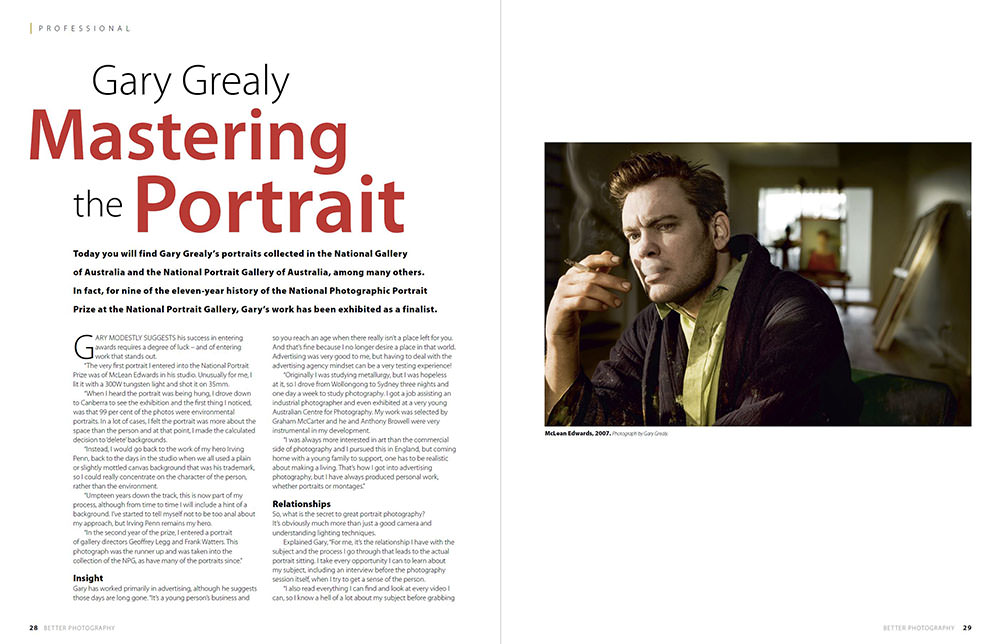 Today you will find Gary Grealy's portraits collected in the National Gallery of Australia and the National Portrait Gallery of Australia, among many others. In fact, for nine of the eleven-year history of the National Photographic Portrait Prize at the National Portrait Gallery, Gary's work has been exhibited as a finalist.
So, what are Gary's secrets to creating his incredible portraits? In Better Photography this issue, we interview Gary and there are three important take-aways.
1. The portrait happens at the time of capture, so setting up the portrait shoot is essential for success. However, Gary isn't just talking about equipment, but the connection he creates with his subject. 
Explained Gary, "For me, it's the relationship I have with the subject and the process I go through that leads to the actual portrait sitting. I take every opportunity I can to learn about my subject, including an interview before the photography session itself, when I try to get a sense of the person." Gary then explains in detail some of the ways he builds that relationship - it makes impressive reading.
2. His post-production process in Photoshop is quite different - yet to me it makes a lot of sense. 
"I guess everyone has his or her own strange way of starting the grading process. Mine is that I will initially process three frames, one light, one dark and a middle 'correct' exposure."
Then with all three images in a stack in Photoshop, rather than using curves to lighten or darken areas, he uses masks to brush in lighter or darker areas. In this way, he says he's not fiddling too much with the initial file - but of course, this is just the beginning of his process - it just sets up the file which is further refined.
3. Gary enters photography awards. When asked why, he asks in reply, what else is there for a portrait photographer?
"If you are a creative person, not only do you want to produce work, you need an outlet as well." And that outlet has led to exhibitions around Australia in a number of regional galleries.
What I love about the interviews in Better Photography magazine are the little gems of wisdom I get to take away that have a big impact on how I think and work as a photographer. It's inspirational. And you can read them too - just subscribe to Better Photography magazine online. You'll find details on the www.betterphotographyeducation.com website here.