Details

Category: Almost Weekly Photo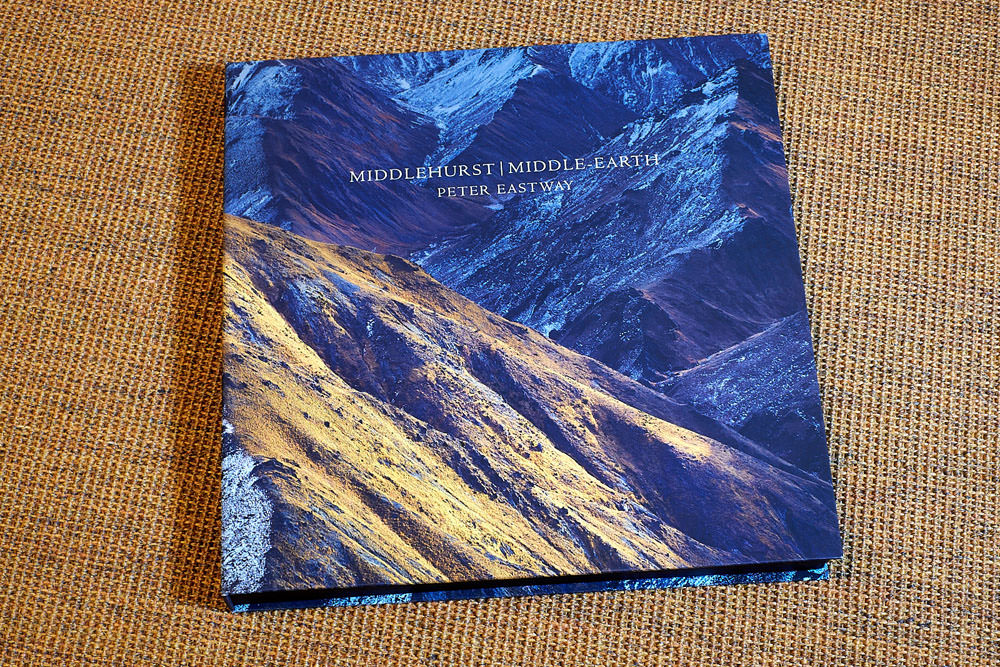 Last month, Peter Eastway won the 2018 AIPP Australian Photography Book of the Year Award. His book Middlehurst: Middle Earth earned a Gold with Distinction and a score of 98%. His other entry, The New Tradition, also earned a Gold with Distinction and was one of the five finalists. So, which was the best book, really?
"It was interesting to listen to the judging", said Peter. "If you're interested, you can listen to the judges' comments as it was recorded and is now on Youtube at https://youtu.be/cB9Y2YRBSQI.
"There were a variety of opinions on both books and generally all were very positive - which is very flattering as an entrant. However, personally, I have a lot more baggage attached to The New Tradition, whereas Middlehurst: Middle Earth is more of a crowdpleaser."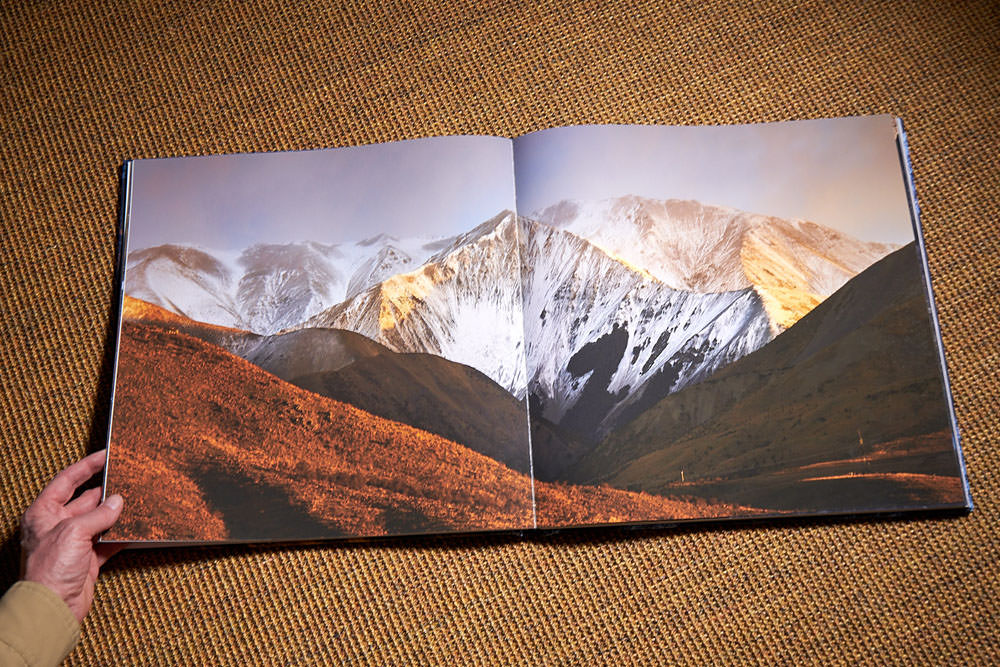 Middlehurst: Middle Earth is a large, 420mm square book, printed with a professional quality, Epson 10-colour inkjet printer and hand bound and boxed by MomentoPro.
"It really is a beautiful book, if I do say so myself. I can remember when I first got it back from Geoff and Libby at Momento, sitting down and quietly congratulating myself. It's not something I allow myself to do very often, because we can always do better, but the medium format Phase One files really came into their own. If people ask me why I shoot medium format, I can now just point them at this book.
"Mind you, at $1995 I don't expect many people will be buying it, but it's available as part of a limited edition of 45 books."
You can also read a few comments Peter made about producing the book on Momento's blog - click here.
You can see a flip-book version of the Middlehurst book by clicking here, but remember, you're just looking at a low-res PDF that hides all the luscious detail of the originals.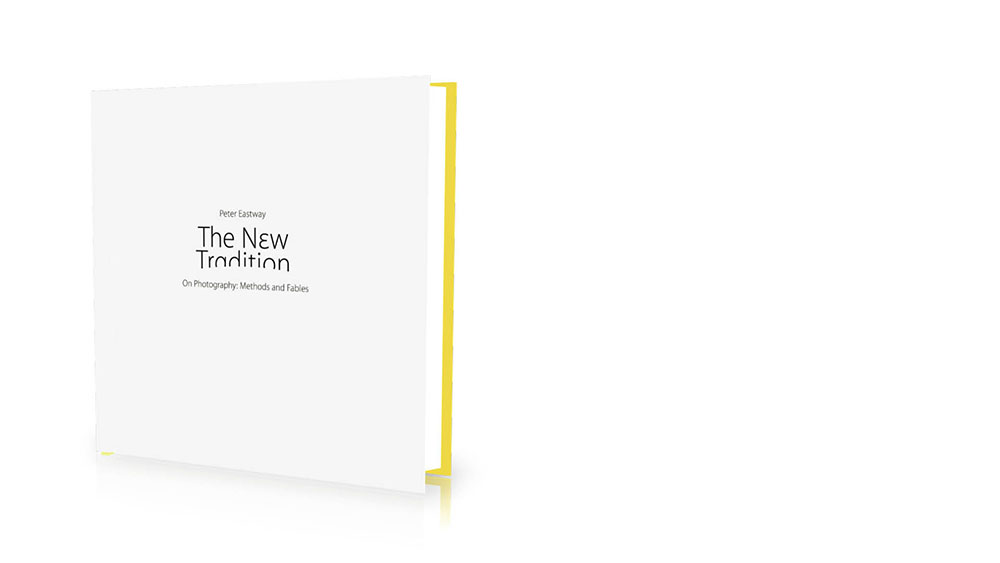 "On the other hand, at a pre-production price of just $95, I am hoping lots of people can afford to buy a copy of The New Tradition. For me, this is a photography book for photographers. It contains not only 100 of my favourite photographs, but what the original files looked like and lots of interesting comments, fables and techniques. I like to think that in time, the judges may have gravitated to this as being the superior book. Middlehurst is big, bold and impressive, but The New Tradition is what I'm all about as a photographer."
You can see a flip-book version of The New Tradition by clicking here.
"The book is being sent off to the printer early next week, but we'll be taking pre-publication orders at special prices for a month or two yet - so don't miss out!"
Details

Category: Almost Weekly Photo
The latest issue of Better Photography magazine is now available online. It will also be on sale in the newsagents and posted to paper subscribers shortly (we have had a small delay with shipping). For online digital subscribers, you can login and download the magazine right now! And if you subscribe to the paper version and you'd like to get the online version for free, just email Kim (This email address is being protected from spambots. You need JavaScript enabled to view it.) and ask her to put you on the list.
Click here to visit the website - you will need your username and password of course!


Help Us With Our Special Offer
Better Photography magazine is available online as a cool flip-book or for download - and we'd love you to help us create even better magazines by subscribing to our online content. If you enjoy our eNewsletters, you'll love Better Photography magazine, plus you will get over 35 back issues packed with amazing content for free!
Even better, we have a special 40% discount offer this month - instead of $49.80, you can get the next four issues and over 35 back issues for just $29.80! Visit our Better Photography Education site (www.betterphotographyeducation.com) and use the coupon code BPHelper to get your online copies of Better Photography now!
Details

Category: Almost Weekly Photo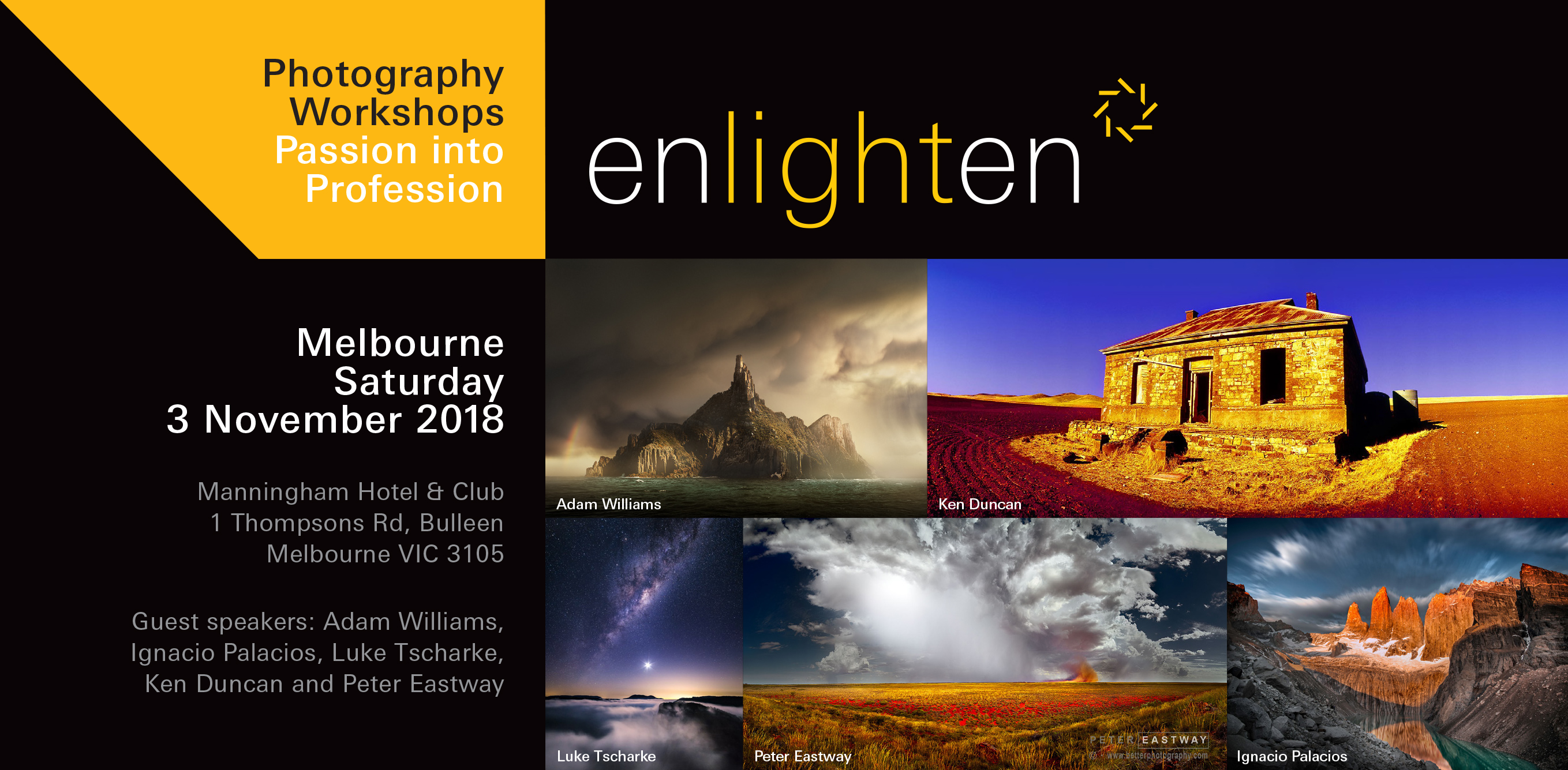 Last Chance for Tickets - Turn your passion for Photography into your Profession!
Join 5 renowned Australian Landscape Photographers for an action packed day of Business Planning, practical actions, steps and secrets to turning your Passion for Landscape Photography into your Dream Profession.
Ken Duncan, Peter Eastway, Ignacio Palacios, Luke Tscharke and Adam Williams who are experts in their respective fields, present the steps, techniques and secrets to establishing a successful career as a Landscape Photographer in 2018 and beyond.
Learn the Steps to Success!
The proven techniques that the Enlighten Speakers use for success.
Making your dream passion a career is not easy, but what is?
Whatever path you choose in life involves a lot of hard work, so you might as well choose one that you love!
Take the first step by joining us at Enlighten in Melbourne
More than just a Photography Workshop
Be inspired to take your photography from your passion and transform it into your Dream Profession! 
Price
$349
Where
The Manningham Hotel & Club
1 Thompsons Rd
Bulleen, VIC, 3105
When
Saturday 3rd November 2018
Time
Arrive 9am for a 9:15am Start
Workshop Finishes - 5pm
Meet the Speakers 5:30pm-6:00pm
For further information and bookings, click here