Details

Category: Almost Weekly Photo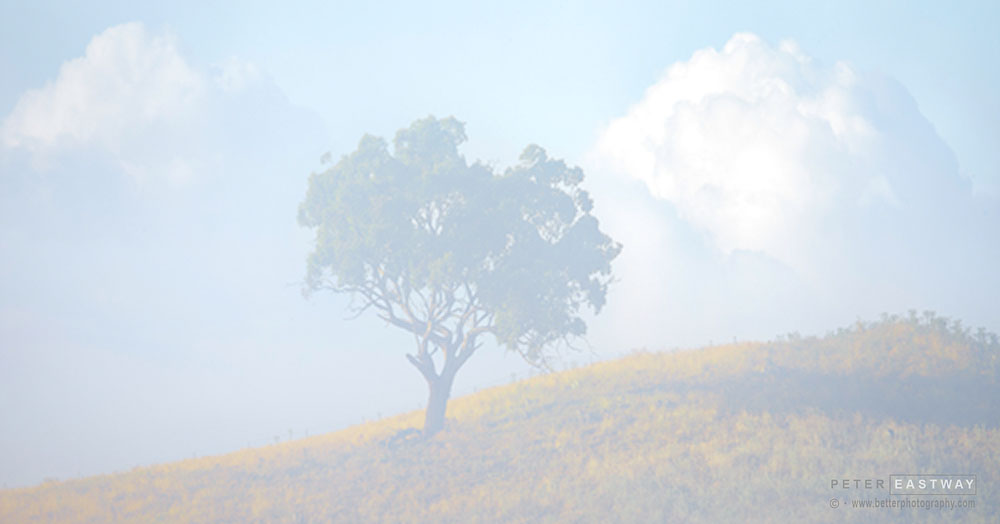 Tree in Mist, Above Sofala, NSW
Cambo Actus-DB2, Phase One IQ4 150mp, Nikkor 600mm, f11 @ 1/30 second, ISO 50.
There's a song that says if you can't be with the one you love, love the one you're with. Now, I'm not for a minute suggesting this is something we should live by, but there's an element of truth when it comes to photography.
Last week I posted a photo from my recent road trip from Canberra to Sydney via Bathurst and Hill End, but what I didn't reveal is that it took me two attempts to get to Hill End. Foolishly, when I arrived in Bathurst, I concentrated on a pillow for my head and some food for my body. I forgot to check the petrol for the car, so at 5.00 am the next morning, I found myself on the road to Hill End with 160 km to travel and 180 km in my tank. But you know how it is, how accurate is that gauge, really?
It was very misty and positively foggy in patches. No idea how those young guys in utes went flying past me, but I wasn't inclined to follow. About half way there, the car was still telling me I had 180 km in the tank. Then we (me and the car) started going up hill and suddenly I had only 80 km in the tank, with at least another 120 km to go. I wasn't going to Hill End.
After chastising myself, I turned the car around. I was above the fog and found a couple of angles, but I was really just going through the motions. I jumped in the car and drove down a few kilometres further and suddenly this scene jumped out in front me and I had to stop! The mist was coming back into the hill and it created some delightful landscapes.
The moral of the story? Even if you are really, really stupid like me, you can still get decent shots if you're receptive to something different! Photography on the road is all about attitude and the mature side of me says just relax and enjoy the journey.
The other side wonders what Hill End would have looked like in all that fog. I drove back after breakfast and a petrol stop, but the beautiful clear sky left no hint of what it might have been there earlier in the day.
And don't wonder what you're going to give yourself for Christmas - the answer is a copy of my book The New Tradition! Use the coupon code to save $30 - details below!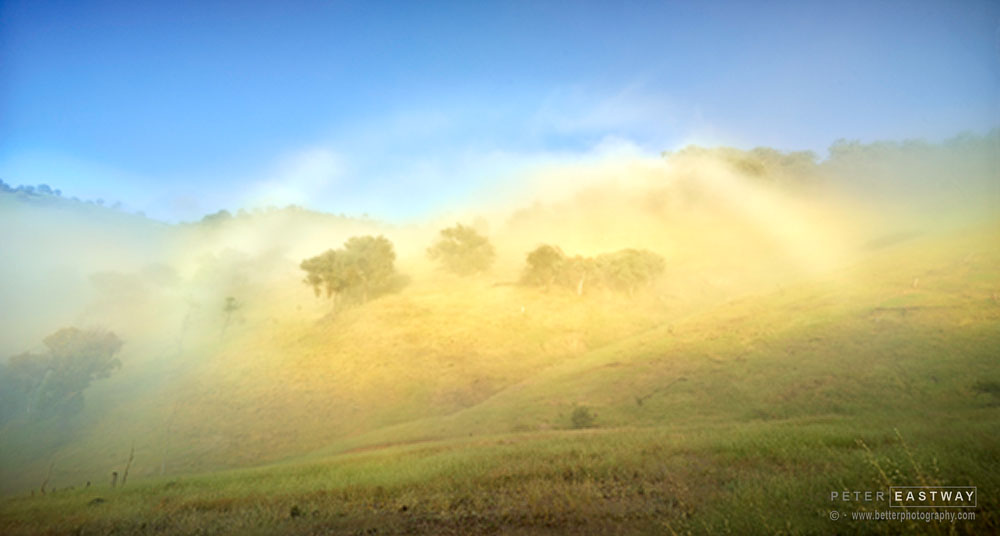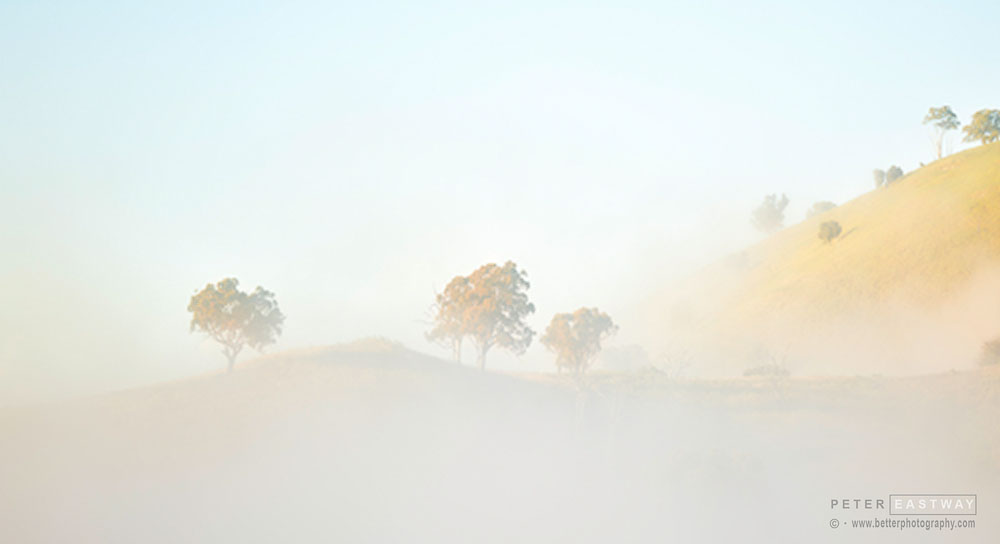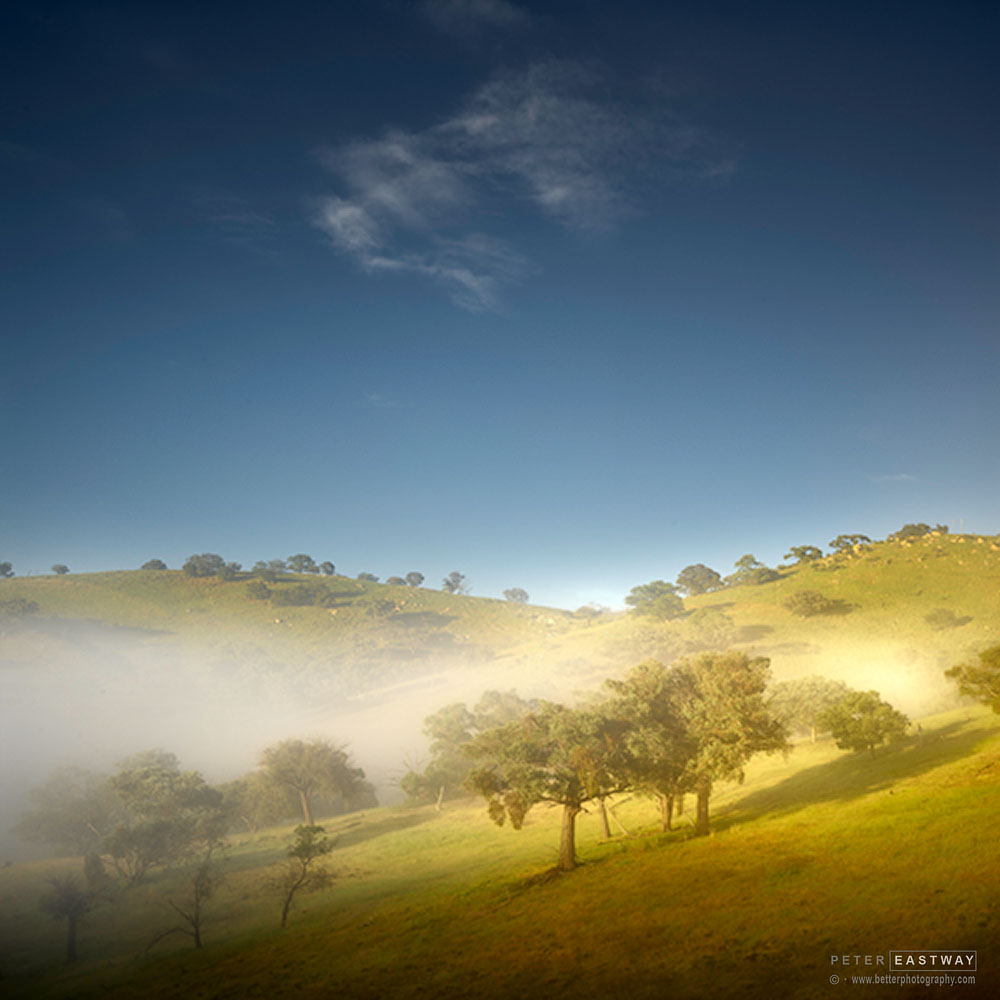 Details

Category: Almost Weekly Photo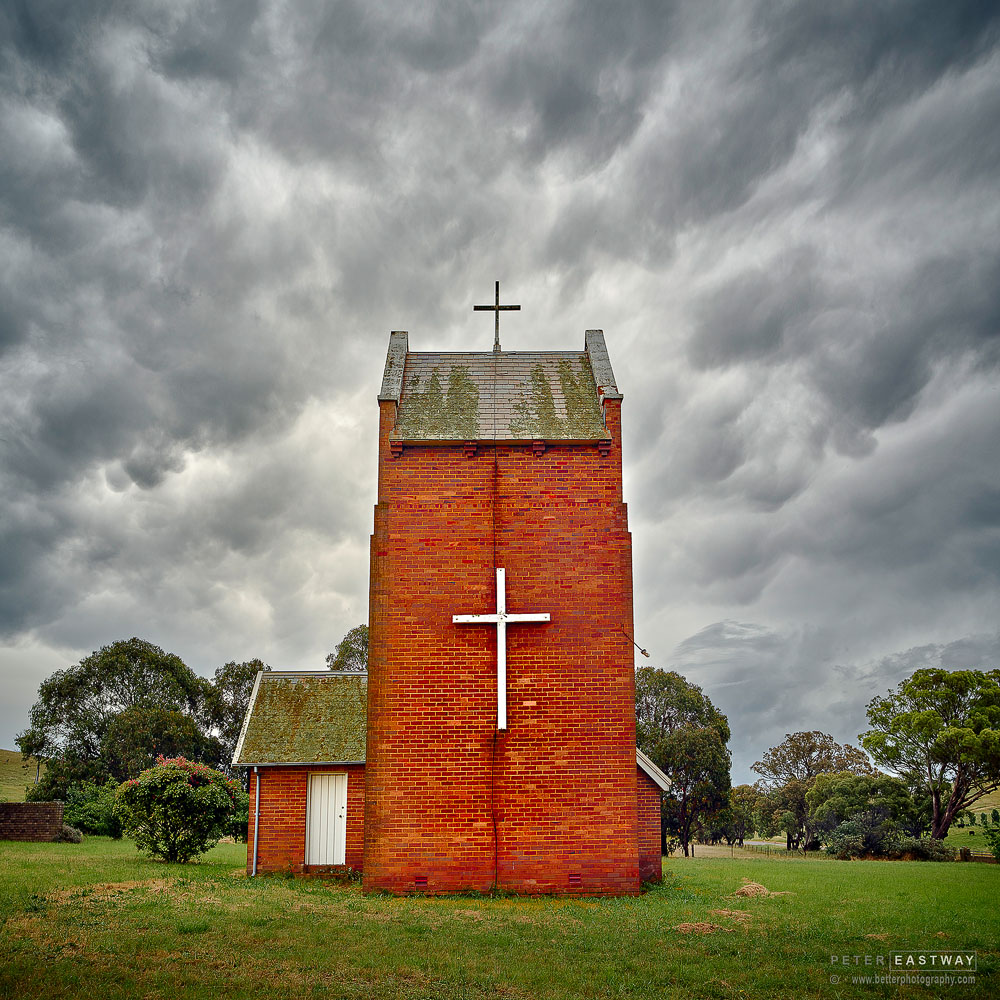 St Barnabas Church of England, Narrawa, NSW
Phase One A-Series, IQ4 150MP, 23mm Alpagon lens, f11 @ 1/100 second, ISO 50.
Do you put your camera away in bad weather? If it's raining? Or the light is poor? One of the things I love about travelling is that you're out in the elements no matter what you 'think' the light is going to be like - and sometimes you get lucky.
I was very lucky a couple of weeks ago. I was in Canberra with the family, enjoying the NGA and the National Portrait Gallery. I'd love them to open a National Landscape Gallery one day! Anyway, I had an extra night as a free agent and thought a road trip up to Bathurst and maybe Hill End was in order.
As I drove out of the NGA car park, there was a huge storm approaching and within half an hour, I found myself pulling off the road because the rain was simply so heavy, it was difficult to see more than a few metres ahead. And I wasn't the only car sheltering from the elements. The good news is that the car didn't leak and I arrived in Boorowa just in time for a cuppa tea. The country towns around NSW are really wonderful these days, with no shortage of great places to grab a snack and take a break.
Then it was back out on the roads, weaving my way up to Bathurst with the storm front following me. The light changed many times and I ended up with a portfolio of 18 shots which I'm proud to report are already in a book and at Moment Pro being printed. Normally, they'd sit on my hard drive for a couple of years, but in these COVID days with more time at home, I have managed to be slightly productive!
The photo above is of an old church at Narrawa - while I can see the building on Google Maps, I struggled to remember what it was called and it probably took me as much time to find its name as it did to drive there! I was smarter with the other churches I photographed, using my iPhone as a diary and notepad.
I wasn't expecting much in the mid-afternoon, but that storm created the most wonderful cloud background - just one image from my bad weather road trip. I'll show a few more photos and come clean about my aborted trip to Hill End, but you'll have to wait until next week I think!
In the meantime, it's not too late to order a copy of my existing book The New Tradition - and use the coupon code below to get a $30 discount. As my mother-in-law says, it's the best book I've ever written and it would make a great Christmas present for yourself!
Details

Category: Almost Weekly Photo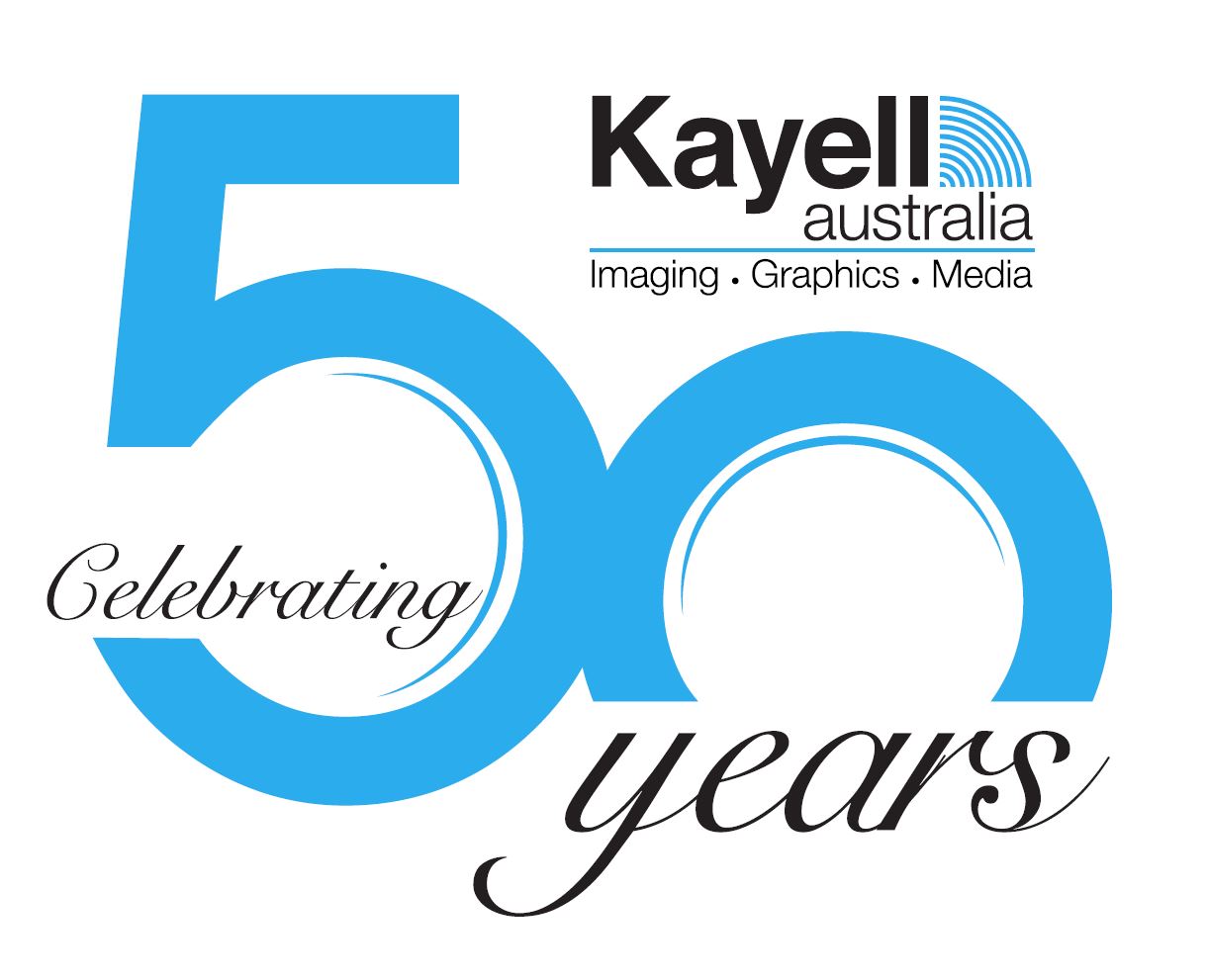 This year, Kayell Australia celebrates a momentous 50 years in business providing a one-stop-shop for the digital imaging, video & audio, fine art inkjet printing and graphic art industries. If you're a keen photographer, then chances are you already know Rob Gatto, Andreas Johansson or some of the Kayell team – so we'd like to say congratulations on your behalf!
Co-founders, John Koens and Hans Leijer, created the name "Kayell" back in 1970 using the first letter of their surnames. They began trading from small premises in Druitt Street, Sydney and within a few years managed to acquire a number of important agencies for the photography, darkroom and laboratory divisions.
Today with online shopping the go, Kayell hasn't been left behind with a really extensive online shop, but what we like is you can still drop down to the Sydney or Melbourne showroom and talk to a real person and get personalised advice. I'm sure some of the products might be a little more expensive, but if Kayell's advice saves you from buying the wrong product or directs you to something better, we consider that invaluable!
Where would we be without shops like Kayell? Ironically, you'll find all the details online at www.kayellaustralia.com.au!