Details

Category: Almost Weekly Photo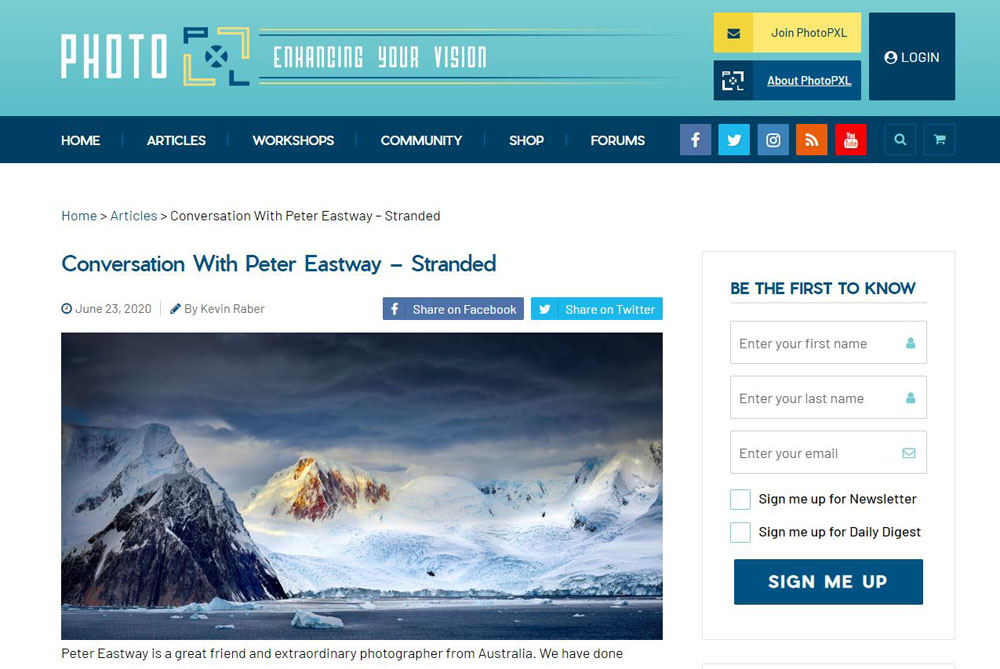 Kevin Raber (and his new website photoPXL) is a great resource for photographers and well worth a regular visit. Perhaps even more so, I say with my fingers crossed behind my back, because there's now a video interview featuring me!
Kevin has had a long career as a professional photographer, worked with Phase One for many years, ran the Luminous-Landscape website for a while and now publishes his own website, www.photoPXL.com. As you can imagine, Kevin has met many of the world's best known photographers and so he's able to call in a favour here and there, turning a casual conversation into a Zoom video that he shares on his website.
In addition to the best known photographers, Kevin also interviewed me. Perhaps his famous friends were all busy, so I found myself talking to him about my recent trips to Antarctica. So, if you're finding yourself wanting something to listen to, check out the video here:
https://photopxl.com/conversation-with-peter-eastway-stranded/
And while you're there, have a look around. Much of the content is completely free, but there's a paid-option for full access and some great resources.
Details

Category: Almost Weekly Photo
On the road to Maymand, Iran.
Fujifilm X-T3, Fujinon XF200mm f2 R LM OIS WR, f5 @ 1/3000 second, ISO 200
Over the years, I've always felt rather lucky with the weather, but I'm wondering if it's just the city-slicker in me who is so out of touch with Mother Nature that I'm pleasantly surprised every time I venture out!
Down in Antarctica earlier this year, I remember watching the low pressure systems scream around the continent and thinking how good our chances were of getting some wonderful weather changes (I'm currently using the Windy app on my smartphone). Let's face it, the most exciting landscapes are taken when the weather is doing something a little unusual - or at least different to that boring blue sky shown in all the travel brochures.
More recently, I've had snow storms in the USA and Georgia, huge thunderstorms in Kazakhstan and in Iran, we followed some heavy rain systems which produced a completely different desert vista. Normally when travelling in these areas, the flat salt pans are dry and dusty, but for our trip, we were presented with a thin film of water and some wonderful reflections. Given this is a desert area, it can't be that common, but then again, is it that rare?
So, are we lucky or is it just that in many parts of the world, the weather is changeable? If you take a two or three week road trip, is there a very good chance you'll cross some interesting weather patterns and then it's just a matter of being prepared?
This photo was taken with a 200mm lens (300mm full-frame equivalent) and then the image cropped top and bottom to create a more appropriate framing. I like the 'width' in the composition. The foreground sands were darkened, colour-enhanced and I also added a little clarity to bring out the texture. If nothing else, the colour contrast will get people looking at the photo!
Details

Category: Almost Weekly Photo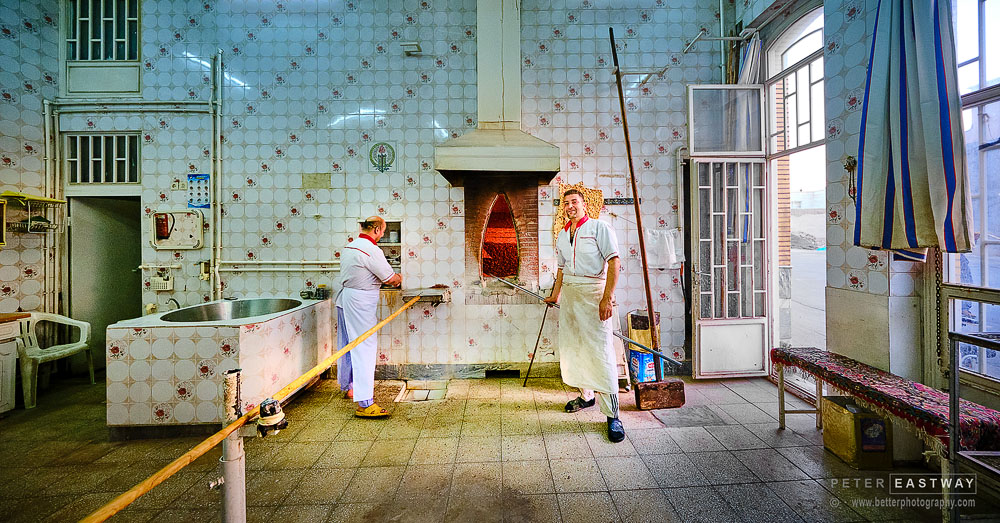 Bakery, Kashan, Iran
Fujifilm X-T3, Fujinon XF8-16mm f2.8 R LM WR @ 8mm, f6.4 @ 1/80 second, ISO 3200
There's a part of me that is really enjoying isolation. It's not that I'm anti-social or I'm getting tired of travelling, far from it. Rather, it's just so nice to sit down and work on photos that have escaped my attention.
A couple of weeks ago, a friend sent me her photo book of Iran - and I seem to remember it was only volume one of three that are planned. As I flipped through the pages and relived the photo tour through her wonderful photographs, there was a pang of jealousy - not because she had photos I didn't (and she did!), but because she'd made the time to edit the shoot.
My problem is that a week later, I received another photo book from another friend who had travelled to the USA with me earlier this year, and I had the same feelings. Some of us are lucky enough to travel to some pretty amazing places, it's almost a crime not to do something with the images, more than just a few blog posts or an Instagram feed.
On the plus side, I have designed a photo book on Antarctica and three on Bhutan while stuck on the ship a couple of months ago, so I will get there - if I have the time! I wonder if some readers are feeling the same?
On the ground, the people of Iran are incredibly friendly. We walked into this bakery with big smiles and our cameras - and were received with equally large smiles and a couple of loaves - or sheets - of wonderfully hot and tasty bread. I think if you're interested in street photography that regional towns rather than large cities provide more accessible opportunities. The locals have a slower pace of life and seem more responsive to an inquisitive photographer.
There were a couple of fluorescent lights above playing havoc with the colour balance, but by tweaking the colour temperature here and there, I'm actually quite pleased with the play of colour across the scene. Thank heavens I lead the photo tour to Iran with Nuran Zorlu - if I'd been with David Oliver, he'd be telling me to switch it to B&W!