Details

Category: Almost Weekly Photo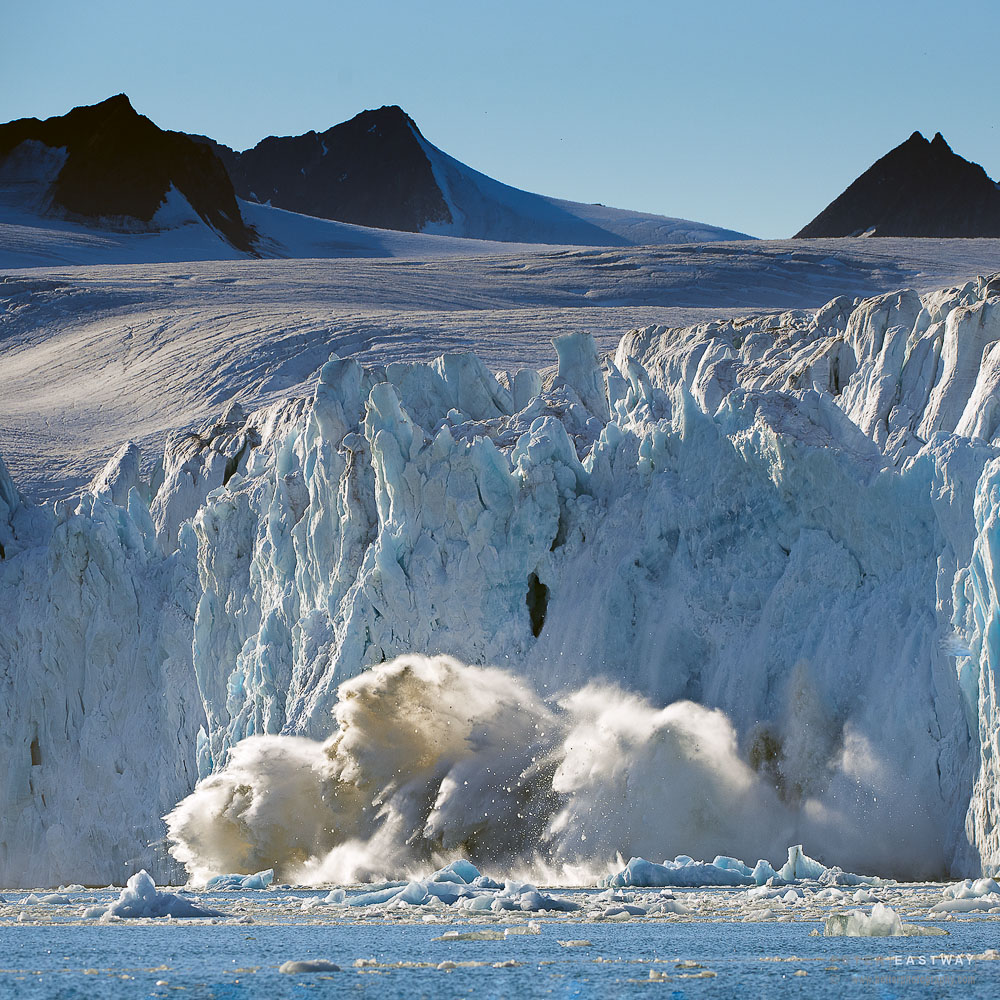 Tinayre Fjord, Svalbard
200-400mm zoom, f6.3 @ 1/1600 second, ISO 3200, hand-held
Next July, I'm leading a workshop with Kevin Raber (of Luminous Landscape) to Svalbard in search of Polar Bears! Well, that's not completely true because, although I'll be very interested in all our wildlife encounters, I'm just as keen to photograph the landscapes.
My last trip to Svalbard was four years ago. Svalbard is an amazing archipelago just below the Arctic Circle, north of the Norwegian mainland. Towering peaks and huge glaciers hug the twisting, intricate fjords, reminding me in some ways of South Georgia. Hmmm, well, yes and no.
One of the thrills of polar travel is watching an iceberg roll or a glacier calve. Unfortunately, with global warming, I'm told it is happening a lot more regularly which makes it great for visiting photographers, if only it weren't so dire for the planet.
The photo above was taken at Tinayre Fjord in the afternoon, on the west coast of Spitzbergen, the largest of Svalbard's islands. We had heard a couple of large cracks while taking a leisurely zodiac cruise along the length of the glacier, but a safe distance away. Interestingly, if you're quick enough once you've heard the crack, there's often enough time to swing around and take a few photos because the splash of water only happens after the ice has fallen and hit the water. I took around 6 frames in quick succession, the last few showing the resulting wave I was sure would swamp our small craft. (It didn't, of course – the brash ice in the water tends to dampen down the waves as they radiate outwards.)
No doubt this photo will attract attention, but perhaps for the wrong reasons. Yes, it's spectacular. Yes, we were patient, waiting for it to happen. And yes, it seems to be a much easier photograph to capture these days as the polar regions experience quite dramatic changes.
And if you're interested in a photography workshop in the next 12 months or so, I have places left on trips going to Bhutan, South West USA, Antarctica and the Silk Road. Full details on the Better Photography website!
Details

Category: Almost Weekly Photo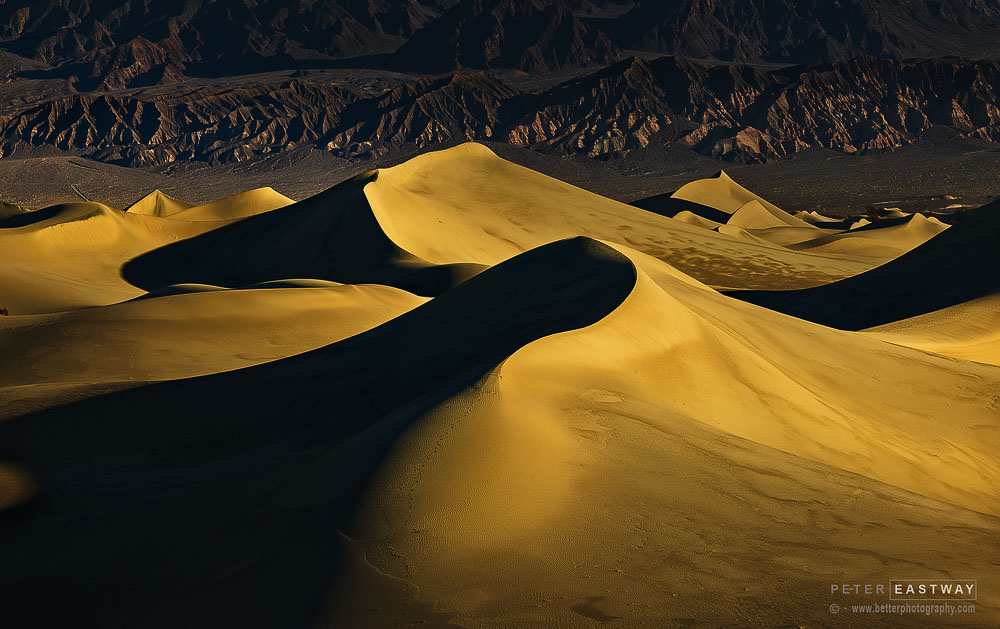 Mesquite Flat Sand Dunes, Death Valley
Phase One XF 100MP, 240mm Schneider, stitch, f11 @ 1/160 second, ISO 50
One of the skills we can all learn is to compose in camera. For some photographers, this means composing the content of the photograph in a pleasing manner within the frame provided by the camera. And this is a great starting point.
But hopefully it's not your end point. The idea behind composing in camera is, surely, to have in mind a final outcome. So, whether you are thinking of a square or a panorama, the idea begins when you look through the viewfinder. There is no law that states your creativity must be confined to the format of your digital sensor (or film).
Looking through the viewfinder at Mesquite earlier this year, I loved the 'S' shape of the dunes, but for the composition to work, I needed a little more space either side. If you click the 'Read More' you can see the first image, plus the two shots used to stitch a wider view.
With a zoom lens, I could have zoomed out a little wide and cropped top and bottom. With a fixed 240mm lens (like a 150mm on a full frame DSLR), I could change to a 110mm (my next widest lens), or swing the camera left and right.
The takeaway is that the best time to consider framing and frame shapes is when you are taking the photograph. You might also make cropping decisions later on in post-production, but sometimes by then it's too late, so another suggestion I make on workshops is to shoot a scene like this with a wider lens as well – which will allow you to consider your final composition at a later time while working in Capture One, Lightroom or Photoshop.
Details

Category: Almost Weekly Photo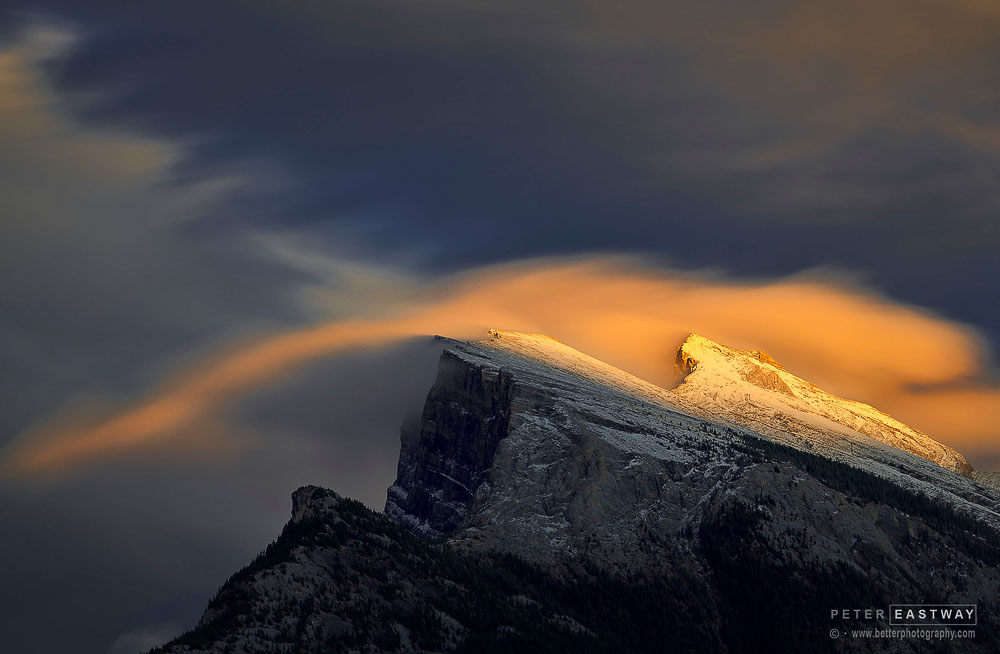 Banff, Canada.
Phase One XF 100MP, 240mm Schneider lens, f11 @ 30 seconds, ISO 50, 10X ND filter.
The obvious answer is no, but on a recent PODAS (Phase One Digital Art Series) workshop to Canada with Tony Hewitt, no planning was needed. After a few days of blue-bird sunshine, I was thinking the Rockies in Canada were chocolate-box sweet and the weather balmy and warm.
However as our group was saddling up for a horse ride, I changed my mind on two counts. First, I decided that two hours in the saddle wasn't for me. Half an hour maybe, one hour if I had to, but two hours was going to do my bum in, so I let my daughter go and Tony Hewitt as well.
As they mounted their horses, the second change happened - with the weather. Dark clouds raced down the valley and the winds blew so strongly that the horses all stopped and put their rears into the wind! I figured if the horses don't like it, it must be pretty grim.
Instead of riding a horse, I and most of the other people who were taking this journey to a dinner location, sat on the back of a cart dragged along by two magnificent beasts. We also got a little wet, but we were under cover and under blankets as the heavens opened up.
And I laughed! Boy, had I dodged a bullet!