Details

Category: Almost Weekly Photo
Preliminary Edit: Summer thunderstorm, Sydney's northern beaches
Phase One XT 150MP, Rodenstock 32mm f4.0 HR Digaron-W, f11 @ 1/125 second, ISO 50
As most of Australia's state borders open up again, I agree that state governments need to get together and work out a standardised system for locking down the borders (if indeed they need to be locked down). As much as I'd love to visit Queensland, and as much as Queensland is inviting tourists from NSW to come, everyone I'm speaking to is worried that once they make their plans, things will change and they won't be able to go, or worse, they'll change during their visit and they'll be unable to get back!
Having said that, isn't it great that's all we have to complain about. Both Australia and New Zealand are geographically very fortunate and our travails are but a fraction of what's being experienced elsewhere in the world. Our glasses are half full.
Like many readers, I've been taking a few photos near home. Living on Sydney's Northern Beaches means I have plenty to shoot, but on this occasion, I could have been anywhere in the world as the hero of the photograph is that sky! After feeling stuck in my office for an hour or two during a summer deluge, when the sun came out I wandered home. As I looked north, the storm seemed to be intensifying, so I grabbed my camera and jumped in the car. A couple of kilometres up the coast, I pulled over and this sky was waiting to be photographed. I spent a good half hour watching this amazing cloud build and morph - it was like going to the movies.
I've marked the photo as a preliminary edit because I'm not quite happy with the tonal mapping just yet. However, the reason I thought I'd share the image is to discuss the use of contrast in post-production. When lightening and darkening clouds, it's very easy to burn out the light cloud, so you tend to darken down the whole file and instead risk having the clouds look too dark and heavy. I find that contrast can build up very easily and the result can be a little too dramatic.
Now, this is possibly just a personal preference, but I'm reducing contrast on a lot of my images these days in order to keep detail throughout both the highlights and shadows. It's as easy as using the brightness/contrast slider in Photoshop - or the contrast slider in Lightroom or Capture One. And if you don't like what it does to the file, press Un Do!
The photo at the top of this blog is the image with less contrast and I'll include the more contrasty version underneath for those who are reading this on my website.
Details

Category: Almost Weekly Photo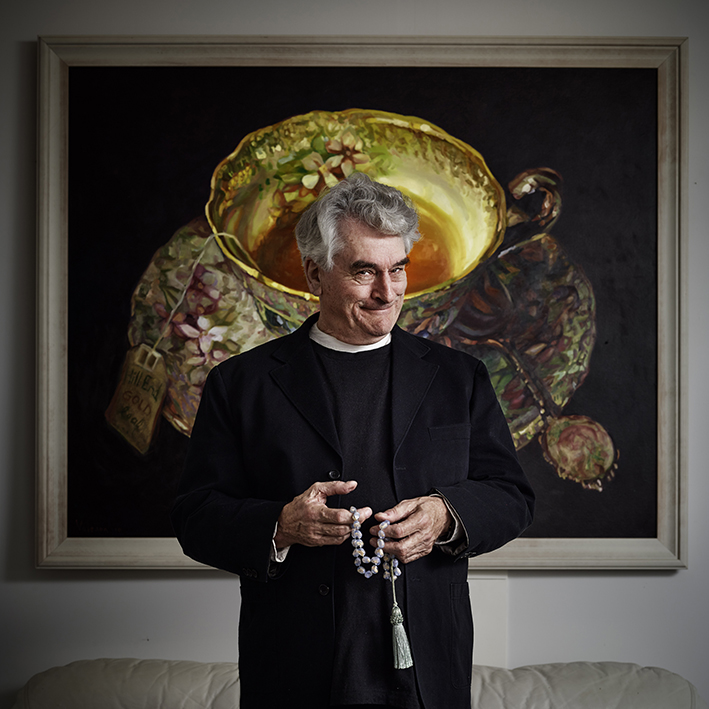 Peter Adams, Katoomba, NSW. The photo was considered to irreverent for use in the book's general publicity, but I am told it is inside. Photo by Peter Eastway.
Peter Adams' book A Few of the Legends is finally done! I've even seen a couple of sample books printed by Momento - a proof of concept so to speak!
Regular readers of Better Photography may remember Peter's articles in the magazine. Each featured a wonderful B&W portrait of a famous photographer, a photograph by the famous photographer and an interview that was always educational and entertaining. While we published over 50 of these articles, the massive new book will contain around 300 photographers.
It has taken Peter over 40 years to put this work together and he has travelled around the world many times to do it! Peter is also a master of the constructed portrait. Thinking on his feet, often with very little time, he'd find a location and a prop with which to photograph his subjects and more often than not, his portrait outshone the work of the interviewed photographer! However, what you'll love most are the stories and the insights into the creative minds of a diverse range of primarily portrait and documentary photographers. It's  a must-have.
The 30x30 cm tome has over 600 pages and will retail for $190 plus postage. However, if you're quick, you can grab a pre-publication offer for just $150 plus postage, although publication remains some months away. For details, visit Peter's website here: https://peteradams.com/books/a-few-of-the-legends#!Amendolia_and_book_B
Details

Category: Almost Weekly Photo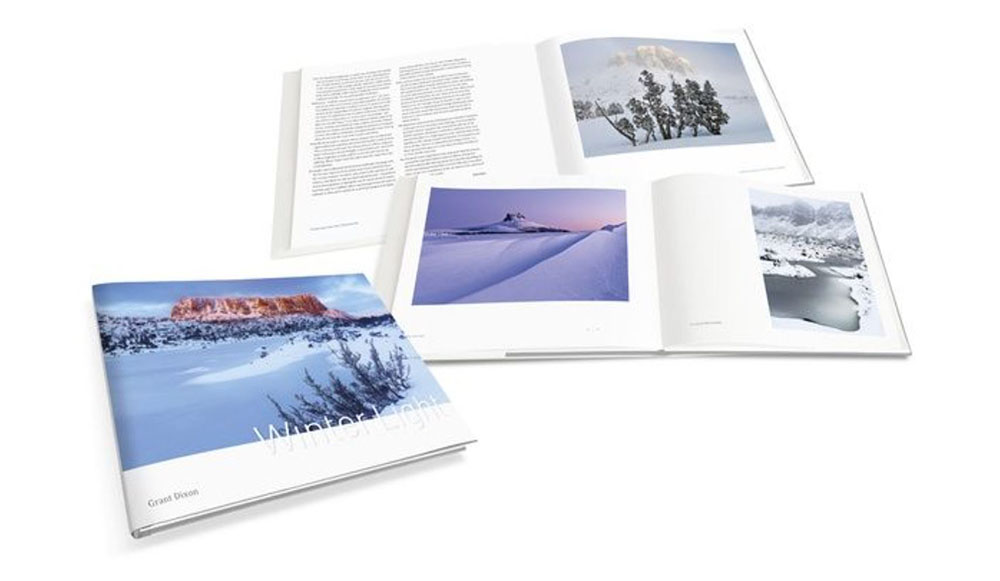 Tasmania continues to produce a proud tradition of landscape photography and I think Grant Dixon's recently published book, Winter Light, sits very comfortably with the best. And having spent many winter nights camping out in New South Wales' alpine areas myself, the cold snow seeping through my sleeping bag well before the dawn, I find myself doubly appreciating how much effort went into capturing Grant's beautifully composed photographs that feature lots of snow and ice.
Of course, it doesn't matter how much effort is made in capturing an image, it's the image itself that counts. You won't be disappointed. Grant's work presents an effortless landscape of tangential light, magnificent vistas and crispy details, yet as photographers, we can't but admire his tenacity and perseverance because images like his don't just 'happen', they are the result of much planning and a degree of luck. Especially in Tassie where the weather can be incredibly fickle!
Grant crowd funded his book last year and it was interesting to do the maths. According to the chuffed.org website, he raised nearly $30,000 from 255 supporters, offering a combination of single books and book/print packages. I'm going to guess he's covered most of his costs and still has a few books to sell, so please support a fellow photographer and buy a book! It will cost you $105 and that includes postage within Australia.
What's in it for you? While many Tasmanian wilderness photographers have used large format cameras, Grant shows what's possible with a standard Nikon DSLR or Sony mirrorless. Even so, his framing has a clean formality that looks like it could have been taken with a large format camera. And his post-production is both minimal and adequate, a conscious choice he has made and exercises deftly. However, most importantly, I think this book is inspirational and as photographers, that's what make us better.
You can purchase Grant's book from his website: http://www.grantdixonphotography.com.au/book/index.php And you'll also find a selection of his work for your viewing pleasure. Enjoy!