Details

Category: Almost Weekly Photo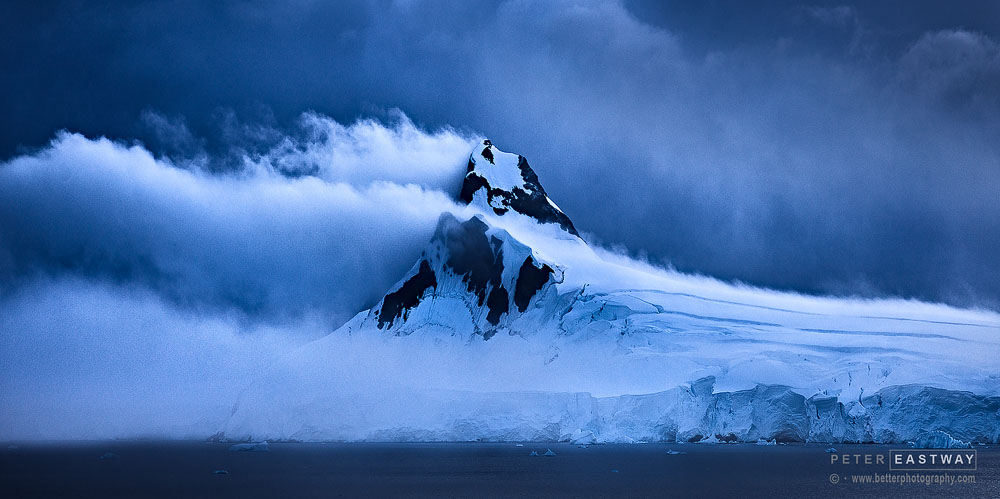 Foyn Harbour Weather Study #3, Antarctica 2020
Phase One XF 150MP, Schneider 110mm, f3.5@ 1/320 second, ISO 100
I should have pushed the ISO a stop higher. The shutter speed just isn't fast enough for shooting from a moving ship in low light and, out of five frames, only this one was sharp enough.
The problem was that I had processed and published a different frame for my book Late Season (you can see a flip-book in the online shop at https://www.betterphotography.com/online-shop/middlehurst-book/art-books/lateseason-detail). Before, I was quite happy with the result, but then I was asked to make a print for a friend and suddenly the frame didn't look quite sharp enough. I also saw a colour difference that I hadn't noticed before.
Refine. Refine. Refine.
I'll never make a successful business person because I'm probably the only one who will ever notice. Nevertheless, I returned to the raw files, compared the five frames that were similar and chose the sharpest one. I then re-processed the photograph, made a new print and updated the book file as well, so the next time the book is published, it will have the refined file.
Is there something wrong with me? Don't answer that question - allow me! No, there's nothing wrong with refining our work. Photographs can always be improved and finessed with time. Not only do the processes we use improve, our own skills and outlook change and mature, hopefully for the better. Rather than being something wrong with me, I see it as a positive trait that I'm still critical of my work - and I mention it because I'm sure thousands of readers will feel the same way.
There is nothing wrong with the pursuit of perfection. This doesn't mean you should pursue it all the time, of course. I don't care if the windows at home have one or two smudges down the bottom where they weren't cleaned properly - one needs to be practical. But when it comes to things that matter, to photographs that you're going to send out in the world, then I think as much 'perfection' as is possible is a positive. 
You can check out the frame that I have now replaced below (or on my website, depending where you're reading this!)
Details

Category: Almost Weekly Photo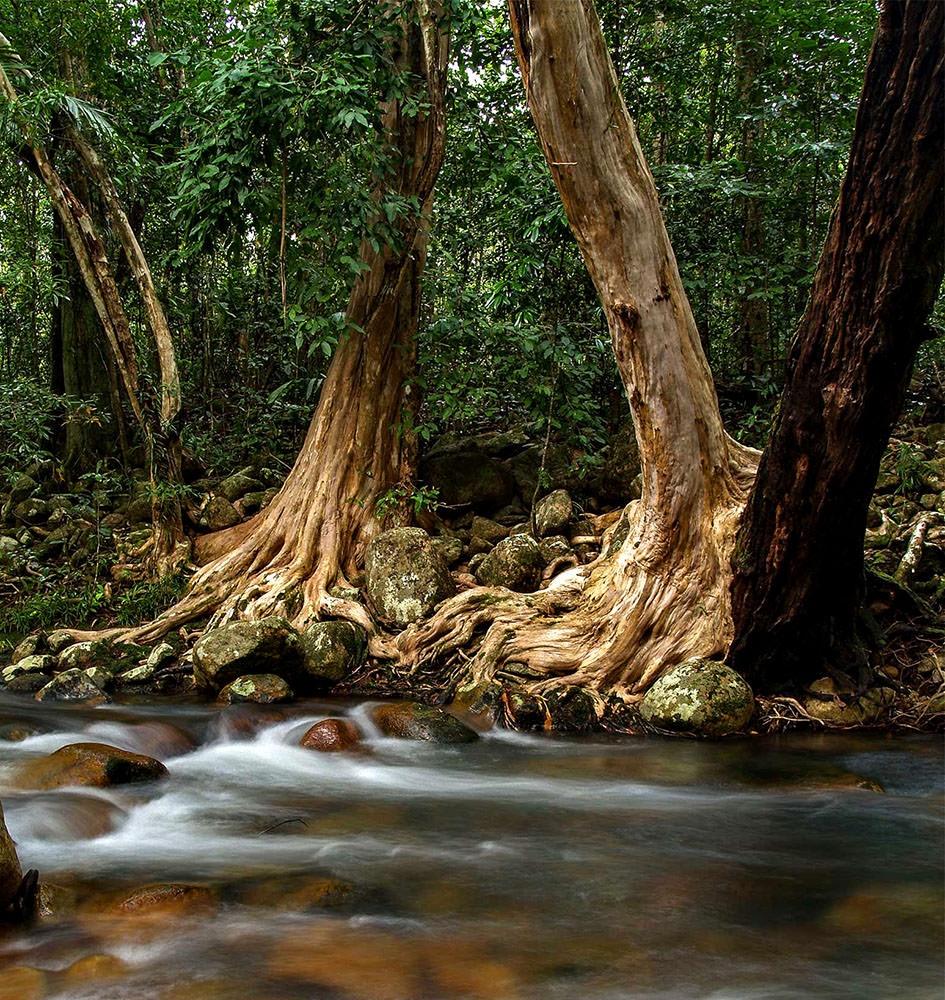 Water gums from Paul Curtis's book, The Heritage of Trees. 
Paul Curtis has published a book titled The Heritage of Trees and we'll be running an article in the next issue of Better Photography about his techniques. However, in the meantime, here are some tips from Paul if you're out and about this holiday season looking for trees!
1 – Know your subject and understand what makes it a good subject. Is it worth returning to and when would be the optimal conditions? I have stumbled across many great trees in my wanderings and sometimes a return was probably not possible, so you make the most of it like any subject and approach it from all angles and with all lenses. Or if you can, return when it is flowering or leaves are turning colour.
2 – Lenses and focal lengths. Consider all your available resources. I have found myself favouring a mild telephoto if I can get back far enough. It allows a more 'face on' perspective and avoids the 'looking up' view which can get repetitive. A wide aperture may assist in knocking the background slightly out of focus, isolating your subject better.
3 – If your subject can only be viewed from the base, ensure the foreground is in sharp focus. Often great trees have gnarly trunks full of interesting detail, even though your sharp focus may trail off into the canopy.
You can purchase a copy of Paul's book A Heritage of Trees direct from his website at https://www.nqwildscapes.com/books/. The cost is $44 and includes postage and packaging within Australia. For orders outside Australia, contact Paul via the website for pricing.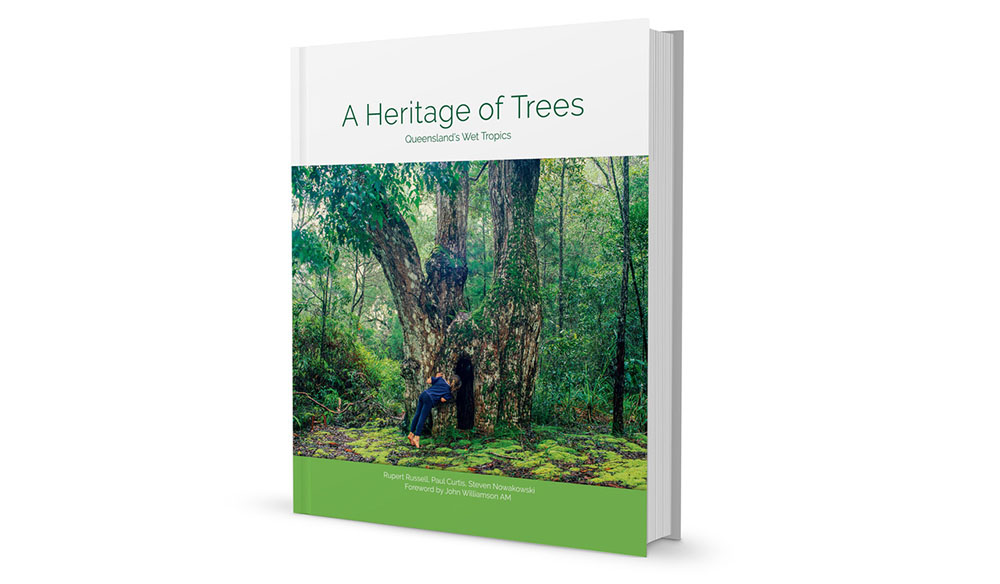 Details

Category: Almost Weekly Photo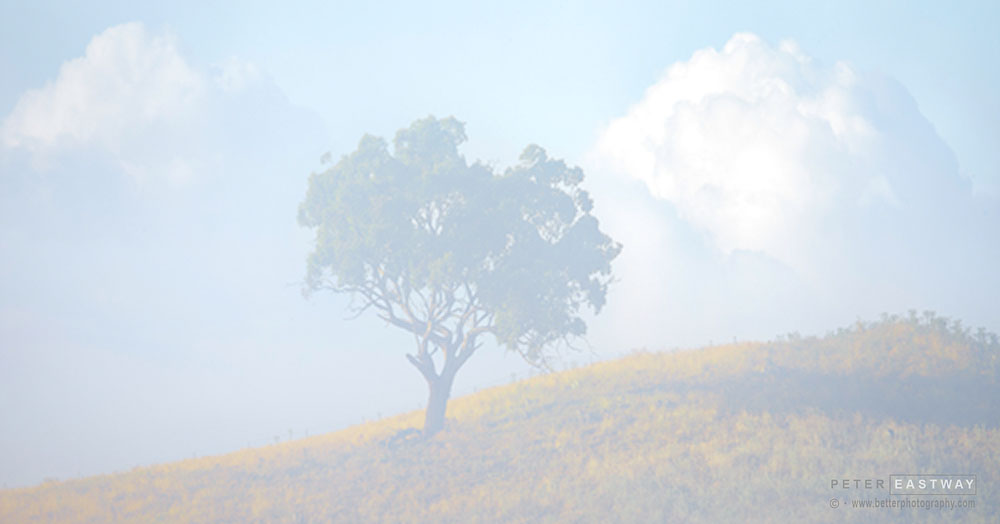 Tree in Mist, Above Sofala, NSW
Cambo Actus-DB2, Phase One IQ4 150mp, Nikkor 600mm, f11 @ 1/30 second, ISO 50.
There's a song that says if you can't be with the one you love, love the one you're with. Now, I'm not for a minute suggesting this is something we should live by, but there's an element of truth when it comes to photography.
Last week I posted a photo from my recent road trip from Canberra to Sydney via Bathurst and Hill End, but what I didn't reveal is that it took me two attempts to get to Hill End. Foolishly, when I arrived in Bathurst, I concentrated on a pillow for my head and some food for my body. I forgot to check the petrol for the car, so at 5.00 am the next morning, I found myself on the road to Hill End with 160 km to travel and 180 km in my tank. But you know how it is, how accurate is that gauge, really?
It was very misty and positively foggy in patches. No idea how those young guys in utes went flying past me, but I wasn't inclined to follow. About half way there, the car was still telling me I had 180 km in the tank. Then we (me and the car) started going up hill and suddenly I had only 80 km in the tank, with at least another 120 km to go. I wasn't going to Hill End.
After chastising myself, I turned the car around. I was above the fog and found a couple of angles, but I was really just going through the motions. I jumped in the car and drove down a few kilometres further and suddenly this scene jumped out in front me and I had to stop! The mist was coming back into the hill and it created some delightful landscapes.
The moral of the story? Even if you are really, really stupid like me, you can still get decent shots if you're receptive to something different! Photography on the road is all about attitude and the mature side of me says just relax and enjoy the journey.
The other side wonders what Hill End would have looked like in all that fog. I drove back after breakfast and a petrol stop, but the beautiful clear sky left no hint of what it might have been there earlier in the day.
And don't wonder what you're going to give yourself for Christmas - the answer is a copy of my book The New Tradition! Use the coupon code to save $30 - details below!