Details

Category: Almost Weekly Photo
Fences near Middlehurst, New Zealand
Phase One XF with IQ4 150MP back, 80mm Schneider lens, f4 @ 1/2500 second, ISO 400
What I love about the art photography workshop I do with Tony Hewitt over in Middlehurst is that we teach people to please themselves. With my background in magazine publishing and photography competitions, a lot of my life is spent trying to second guess what other people will like. Maybe you're a bit the same with your photography, trying to create images that will not only please you, but please others as well.
But back to Middlehurst and the key message we try to get across: we have no control over what others think about our photography. None. Oh, sure, we can post a pretty sunset on Instagram and get thousands of likes, but what about all the people who didn't like it? What about the few who may even make a negative comment, suggesting you could be more imaginative next time!
In this wonderful life of social connectedness, we're discovering just how diverse our individual opinions really are. I guess politicians have always known how hard it is to keep everyone happy and it's no different when it comes to photography. However, unlike politicians who we naively hope are still trying to make us happy, photographers don't have to give a bu%%er about anyone else. Just take photos and do it for yourself!
It doesn't mean you don't post photos on Instagram and look for likes. It doesn't mean you don't enter competitions and lament the low scores because some judge (who is obviously a Philistine) gave you a low score! But it does mean you keep a little part of you to the side, a part that takes photos for yourself and to hell with everyone else.
Here's my photo. While many aerials work because of strong contrast and colour, I'm loving the delicate pastels and the simple composition. The black ants are cows, the white is a dusting of snow and the lines are paddock fences.
So, do I hope you like it? 
To find out, sign up for our Middlehurst art photography workshop. We've put on a second week and we have places available. And the price is likely to increase next year, so now is the time! For more information, visit the Better Photography website or click here: https://www.betterphotography.com/online-shop/workshop-seminars/workshops/middlehurst2020b-detail
Details

Category: Almost Weekly Photo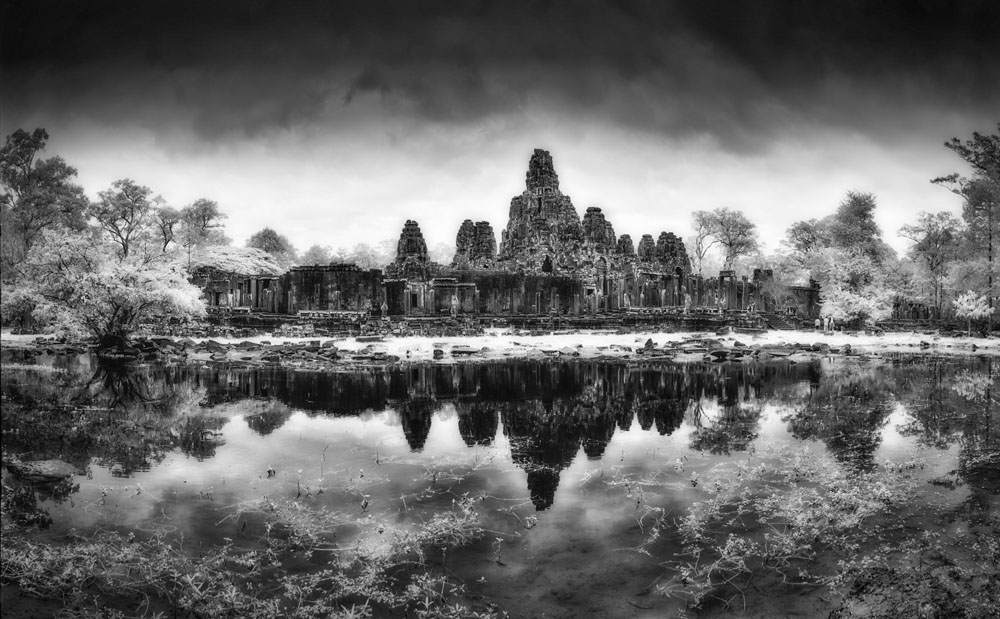 Bayon Temple, Angkor Thom, Cambodia - Photo by Nick Melidonis
Canon EOS 5D converted to infrared, 20mm lens, f4 @ 1/30 second, ISO 200
There are two schools of thought when it comes to black and white infrared photography, those who love it and those who don't. I'm in the former category, especially when it comes to Nick Melidonis's photographs of Cambodia. 
For the past 15 years or more, Nick has been filling Better Photography magazine with great photographs and some of my favourites are his black and white infrareds of the exotic temples in Cambodia. He has certainly mastered the art of infrared photography.
Explained Nick, "My favourite temple in Cambodia is the Bayon, sitting inside the ancient city of Angkor Thom. The massive stone faces with their enigmatic smiles gaze serenely down from the centre of the multi layered temple. This image was captured with an infrared camera, just after a rainstorm. The low viewpoint from a puddle makes the temple appear to 'float' on the water. A good time of year for photographing Cambodia is towards the end of the wet around May to July."
So, what do I like about Nick's photo? It's the mood and the emotion. When I think of exotic ruins, what better location than in the middle of a thick jungle, looking across a reflection pool and with low swirling clouds in the background. And look at how Nick has arranged the tones: the dark shades of the temple contrast against light grey clouds, but above, the sky quickly turns dark, framing the temple below. And then this tonal design is repeated with the reflection in the bottom of the frame. I think it's quite masterful!
While you can buy IR filters for your standard camera, the shutter speeds required can be very long and require a tripod (you'll be able to read all about IR photography in the next issue of Better Photography, available online from March 01). The solution is to have a camera converted to infrared which means it's never going to take a colour image again, but you can hand-hold with fast shutter speeds and the black and whites will be sensational.
There are lots of other tricks and tips that Nick has on infrared photography and he and I just happen to be visiting Cambodia this June 2020 for a week long photo tour. If you're interested, we still have a few places left and would love to welcome you along. For more information, visit the website or this link: https://www.betterphotography.com/online-shop/workshop-seminars/workshops/camb2020-detail
Details

Category: Almost Weekly Photo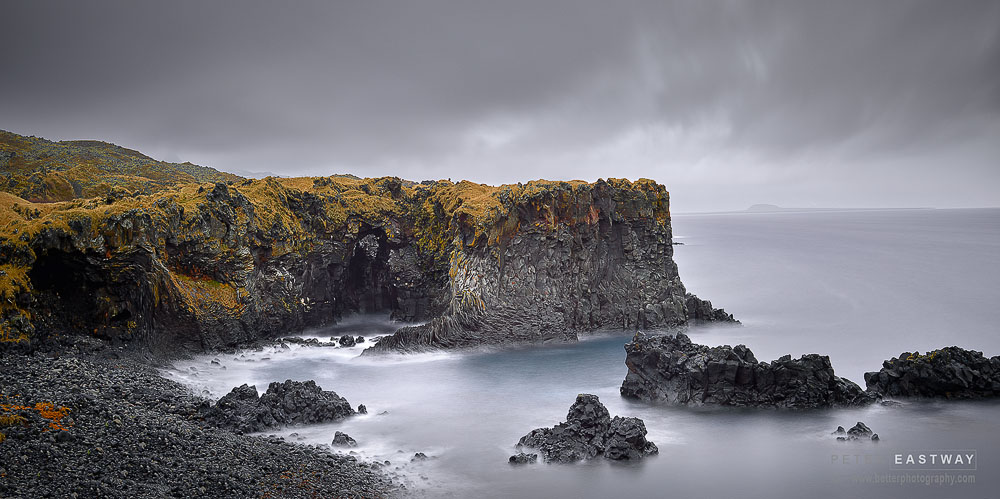 Hellnar, Iceland
Phase One XF 150MP, 55mm Schneider lens, f5.6 for 30 seconds, ISO 50 (exposure averaging)
Gee, I can ramble on! While away on a family holiday in January, Phase One and Drew Altdoerffer released a little YouTube video where Drew and I chew the fat about lots of different photography subjects. If you'd like to take a look or listen, you'll find it here: https://www.youtube.com/watch?v=7tyTUKmj5p0
The interview was done on my way back from Iceland late last year after leading a Phase One photo tour with Better Moments' Christian Norgaard. I also had a little job to do in Iceland: to play with the new Phase One XT camera so initially I thought the interview would be all about the new camera.
However, Drew had bigger ideas and he kindly talked me through my overall approach to photography - why I use particular cameras, what my workflow is based on, and the ideas behind the work I create. I'm listening to it as I write up this blog - gee, I can ramble on! Turn it on and listen to it like a podcast might be the best idea - Drew sounds very educated if nothing else and you can check out his tattoos and beard!
This is one of the images I took in Iceland and it features during the interview on the screen behind us. It's taken at Hellnar where I have stayed several times before, on a cliff looking out to sea. However, what I had never seen before was the little bay down below the cliffs and this is one of the reasons I really enjoy visiting locations multiple times: it extends your appreciation. And it gives you more depth to the portfolio of work you create.
Post-production is great and it can certainly enhance and even improve our images, but it can't help you capture images you haven't yet taken. And it's of limited assistance if you don't have appropriate weather or light. 
In the days of yore, National Geographic photographers would be sent on assignment for periods of weeks if not months or even years. Why? Because to do a location justice requires time. You can buzz through five or six great locations in a few days and take photographs, but to capture the essence of these locations requires multiple visits and time spent in contemplation. While you might capture one or two great photos on a speed trip, to photograph a location well takes time.
That link again: https://www.youtube.com/watch?v=7tyTUKmj5p0