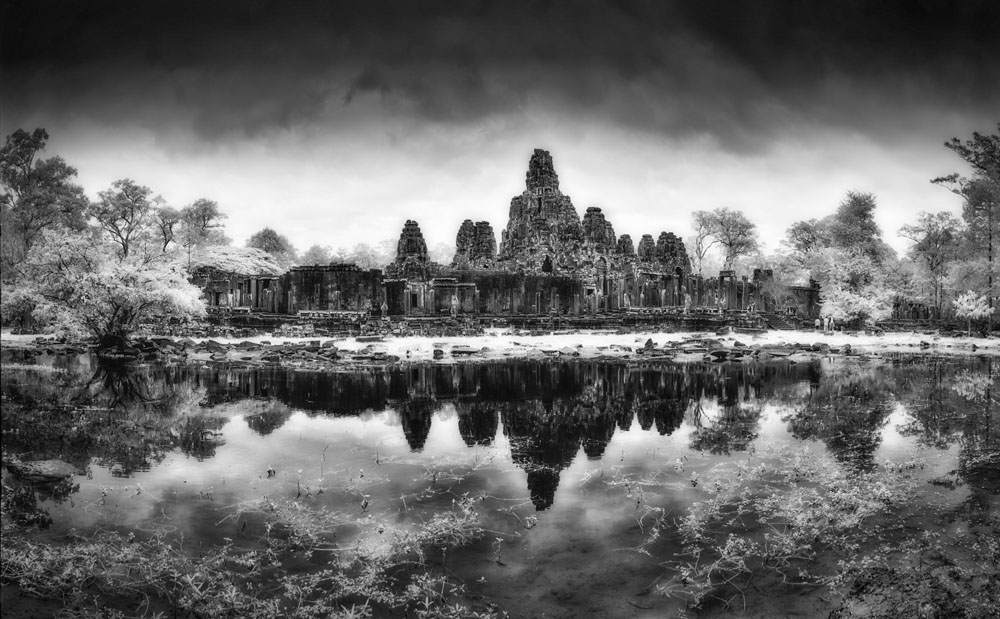 Bayon Temple, Angkor Thom, Cambodia - Photo by Nick Melidonis
Canon EOS 5D converted to infrared, 20mm lens, f4 @ 1/30 second, ISO 200
There are two schools of thought when it comes to black and white infrared photography, those who love it and those who don't. I'm in the former category, especially when it comes to Nick Melidonis's photographs of Cambodia. 
For the past 15 years or more, Nick has been filling Better Photography magazine with great photographs and some of my favourites are his black and white infrareds of the exotic temples in Cambodia. He has certainly mastered the art of infrared photography.
Explained Nick, "My favourite temple in Cambodia is the Bayon, sitting inside the ancient city of Angkor Thom. The massive stone faces with their enigmatic smiles gaze serenely down from the centre of the multi layered temple. This image was captured with an infrared camera, just after a rainstorm. The low viewpoint from a puddle makes the temple appear to 'float' on the water. A good time of year for photographing Cambodia is towards the end of the wet around May to July."
So, what do I like about Nick's photo? It's the mood and the emotion. When I think of exotic ruins, what better location than in the middle of a thick jungle, looking across a reflection pool and with low swirling clouds in the background. And look at how Nick has arranged the tones: the dark shades of the temple contrast against light grey clouds, but above, the sky quickly turns dark, framing the temple below. And then this tonal design is repeated with the reflection in the bottom of the frame. I think it's quite masterful!
While you can buy IR filters for your standard camera, the shutter speeds required can be very long and require a tripod (you'll be able to read all about IR photography in the next issue of Better Photography, available online from March 01). The solution is to have a camera converted to infrared which means it's never going to take a colour image again, but you can hand-hold with fast shutter speeds and the black and whites will be sensational.
There are lots of other tricks and tips that Nick has on infrared photography and he and I just happen to be visiting Cambodia this June 2020 for a week long photo tour. If you're interested, we still have a few places left and would love to welcome you along. For more information, visit the website or this link: https://www.betterphotography.com/online-shop/workshop-seminars/workshops/camb2020-detail