Details

Category: Almost Weekly Photo

19th to 26th July
Be inspired with Dr. Les Walkling and Christian Fletcher
Daintree 2020 is a contemporary photography workshop for anyone who is wondering 'how do I get to the next level'? That is, how do I progress beyond merely beautiful images and prints, beyond the mastery of camera craft and production skills, workflows, clients, and competitions to develop and infuse my work with more meaning, significance and purpose?
This is no easy task, and there are many prerequisites: we need time and space away from the hurly-burly distractions of everyday life. We need an unbelievably beautiful and inspiring location that only asks the best of us. We need state-of-the-art teaching and research facilities that won't let us down. And we need incredibly experienced teachers and mentors who not only work 'at that next level', but also possess the empathy, compassion, understanding and intellectual frameworks needed to facilitate your journey 'to the other side'. These are rarely found qualities, but at Daintree 2020, we supply them all, and in abundance. Read More
My co-presenter is my very dear friend and ND5 collaborator Christian Fletcher.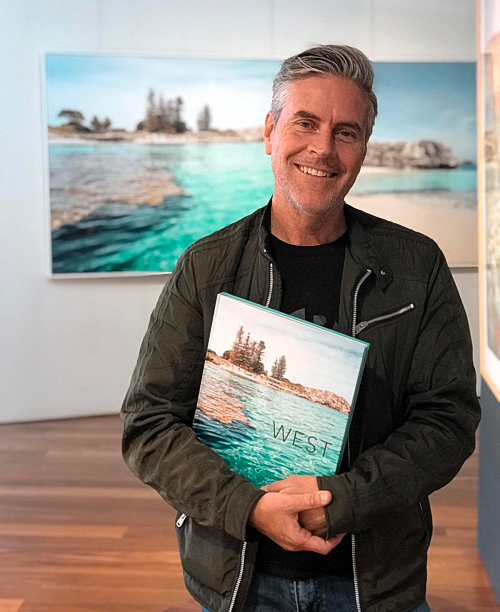 Christian has perfected the art of light, composition, colour and post processing. He believes that all great landscape images have to have the 'perfect light' at their core, and it is this light that he is most respected for. "Christian's pictures are not souvenirs, but images that help us to 'see' and to understand landscape as art. Light literally exudes from Christian's pictures like few others, and this luminescent enlightenment startles us with its clarity and perception" – Les Walkling
Christian is not only an exceptional artist but also a passionate advocate and vocal supporter for sustainability and action on climate change from a grass-roots level. At his core are three key aspects: capturing the beauty in landscapes, teaching his creative skills to others, and using his photography to reinforce our connection with our environment.
Christian's work has also been widely recognised and awarded including the AIPP Western Australian Professional Landscape Photographer of The Year in 2011 & 2014, the AIPP Australian Professional Landscape Photographer of The Year in 2011, the inaugural International Landscape Photographer of The Year in 2014, and the AIPP West Australian Travel Photographer of the Year in 2015. In 2018 his gallery was also awarded 'Most Outstanding Business' at the Busselton Business Awards.
With boundless creativity and the finest equipment Christian pushes the boundaries of landscape photography into areas that invoke serious reflection, and if you have ever participated in one of his workshops you will well know his enthusiasm, passion and humour, and his incredible knowledge, depth of understanding, and remarkably creative skills.  For more insights please see Christian's full biography.
The Venue:
The venue is James Cook University's world class Daintree Rainforest Observatory (DRO) education and research centre at Cape Tribulation in far North Queensland. It is adjacent to Australia's World Heritage listed wet tropics lowland rainforests which are home to a substantial proportion of Australia's biodiversity. This is also one of the few areas in the world where the 'reef meets the rainforest' and the only place where two World Heritage Areas sit side by side.
Looking North from the DRO towards Mt Sorrow
The modern teaching and conference facilities are designed with student-centred learning and inquiry-focused practice in mind. The open design and flexible spaces create many vistas where one can look up to rainforest-clad mountains or down over sweeping views to the Coral Sea. With brand new accommodation and catering infrastructure, well-equipped laboratories and a tower crane providing canopy access to nearly 1 hectare of rainforest, the DRO provides an unforgettable hands-on experience in a unique and inspirational environment.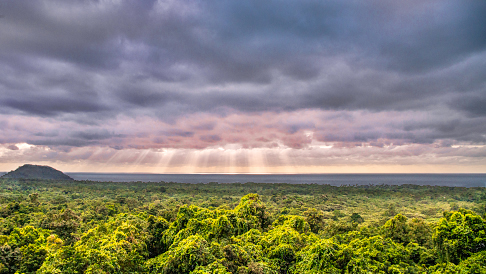 Jacqueline Curley, Looking East from DRO towards Cape Tribulation, 2018
The Syllabus:
The workshop begins with a thorough analysis of your individual workflow which we then refine and polish from capture to print. This ensures your workflow is 'working' so well that you are not distracted by it. We can then focus on 'what comes next' – and how to take your photography there.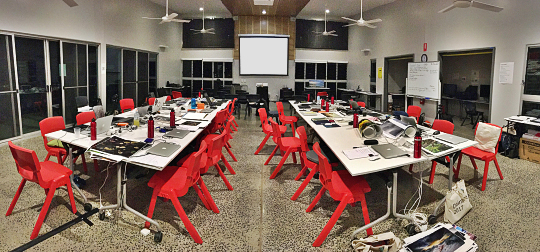 DRO Education Centre Interior
Guidance, inspiration and support will flow from the history of photography, painting, sculpture, music, literature and philosophy, as we form a deeper understanding of how pictures capture 'hearts and minds' while trading in 'secrets and mysteries' beyond our immediate understanding. We will learn from other artists and their production methods, artist statements, finished works of art, historical circumstances and what is required in order to convey significant and lasting impressions, not just through your pictures, but also to your artistic confidence.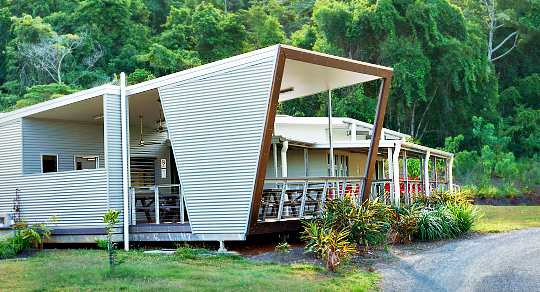 DRO Education Centre Exterior
Facilitation:
You will photograph in pristine environments, process and edit your files with fully colour managed professional workflows, and make prints of the highest quality with the most beautiful papers and profiles available. Our chefs and support staff will take care of everything else, so all you have to work on is refining and extending your photography, and thereby change not only your relationship to your 'hardware and software', but even more significantly, take your pictures and yourself to that 'next level and beyond'.
Highlights of the workshop include formal presentations, small group tutorials, extensive one to one consultations and opportunities to practice and consolidate what you learn in a supportive and supervised environment.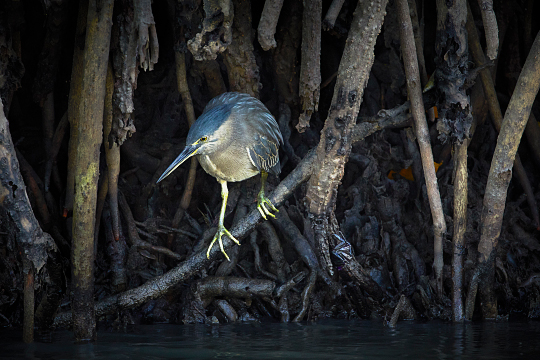 Mike Langford, Striated Heron, Daintree 2018
This is an ambitious workshop that I couldn't imagine presenting without my 30 years' experience of doing this day in and day out for generations of undergraduate and post graduate fine art and media arts students. I also couldn't imagine doing this without over a decade's experience running our annual Orpheus Island residential workshop. And I also couldn't imagine doing this without the incredible talent and support of my co-presenters, tutors, organisers, sponsors and friends who have encouraged me to dedicate a workshop to 'going to the next level and beyond'.
And this is that workshop.
The Cost:
AIPP/ACMP/NZIPP/LPN/FOCUS Members $3820
Non-Members $4150
Full Time Students $3100
The cost includes share accommodation and all meals at the DRO, all photographic materials, plus coach transport to and from Cairns. The only additional costs are travel to Cairns and possible overnight accommodation in Cairns depending on your flight times and /or other travel arrangements. There is also a small fee if you wish to use the DRO crane to access the rainforest canopy with sweeping views over the Daintree National Park, Mt Sorrow, Cape Tribulation and the Coral Sea.
Private off-site accommodation in a beach house or hotel/resort is available for those not wishing to stay in the DRO's dormitory style accommodation. Price per off-site room is $890 for 7 nights.
For an in-depth account of the workshop, please download our Detailed Overview.
Register for this workshop at: www.leswalkling.com/bookings/
And don't hesitate to contact us if you have further questions or expressions of interest: email This email address is being protected from spambots. You need JavaScript enabled to view it. or phone +61 418 980 644
Details

Category: Almost Weekly Photo
Camp Mansfield, Ny-London, Svalbard
Phase One A-Series with IQ3 100MP, 23mm Alpagon, f8 @ 30 seconds, ISO 50
Now, before you start hammering me, there is nothing square about Camp Mansfield! Maybe there was fifty or a hundred years ago when it was first built, but the severe Arctic weather has taken its toll and there's nothing completely straight about this anymore. Nothing made of wood, at any rate!
A lot of people think of the Arctic as being all glaciers, fjords and polar bears, but there's so much more to explore. On our last voyage, we dropped into two small villages for a look around. One was inhabited, this one at Ny-London was not. It's the remains of a mining operation and a little further inland you'll find more evidence, but it won't be there for long. It seems every year, the Arctic winter erases a little bit more of the mischief we've inflicted on the land.
For me, the trick to photographing buildings like these is to keep them upright. I want the building to be straight. Of course, I am very influenced by architectural photography and while there's a time and a place for converging verticals, keeping the verticals vertical in photos like this give the subjects more presence. At least, that's how I see it.
To keep the verticals vertical, assuming they are vertical in the first place (or close to, as in this case), all you have to do is keep the camera back vertical as well. Perspective problems arise when you tilt the camera back to fit in the top of the building, so if you find yourself needing to do this, then step back or use a wider angle lens.
At Ny-London, we were also lucky enough to have very soft light. A band of clouds was racing across the sun behind us, producing a soft glow that was picked up by the wooden facades, but missed by the damp ground below. A quiet evening in the Arctic.
The 2020 photo tour to Svalbard is sold out, but you can still join Peter with Aurora Expeditions in 2021 -
click here for details
.
Details

Category: Almost Weekly Photo
Fences near Middlehurst, New Zealand
Phase One XF with IQ4 150MP back, 80mm Schneider lens, f4 @ 1/2500 second, ISO 400
What I love about the art photography workshop I do with Tony Hewitt over in Middlehurst is that we teach people to please themselves. With my background in magazine publishing and photography competitions, a lot of my life is spent trying to second guess what other people will like. Maybe you're a bit the same with your photography, trying to create images that will not only please you, but please others as well.
But back to Middlehurst and the key message we try to get across: we have no control over what others think about our photography. None. Oh, sure, we can post a pretty sunset on Instagram and get thousands of likes, but what about all the people who didn't like it? What about the few who may even make a negative comment, suggesting you could be more imaginative next time!
In this wonderful life of social connectedness, we're discovering just how diverse our individual opinions really are. I guess politicians have always known how hard it is to keep everyone happy and it's no different when it comes to photography. However, unlike politicians who we naively hope are still trying to make us happy, photographers don't have to give a bu%%er about anyone else. Just take photos and do it for yourself!
It doesn't mean you don't post photos on Instagram and look for likes. It doesn't mean you don't enter competitions and lament the low scores because some judge (who is obviously a Philistine) gave you a low score! But it does mean you keep a little part of you to the side, a part that takes photos for yourself and to hell with everyone else.
Here's my photo. While many aerials work because of strong contrast and colour, I'm loving the delicate pastels and the simple composition. The black ants are cows, the white is a dusting of snow and the lines are paddock fences.
So, do I hope you like it? 
To find out, sign up for our Middlehurst art photography workshop. We've put on a second week and we have places available. And the price is likely to increase next year, so now is the time! For more information, visit the Better Photography website or click here: https://www.betterphotography.com/online-shop/workshop-seminars/workshops/middlehurst2020b-detail