Details

Category: Almost Weekly Photo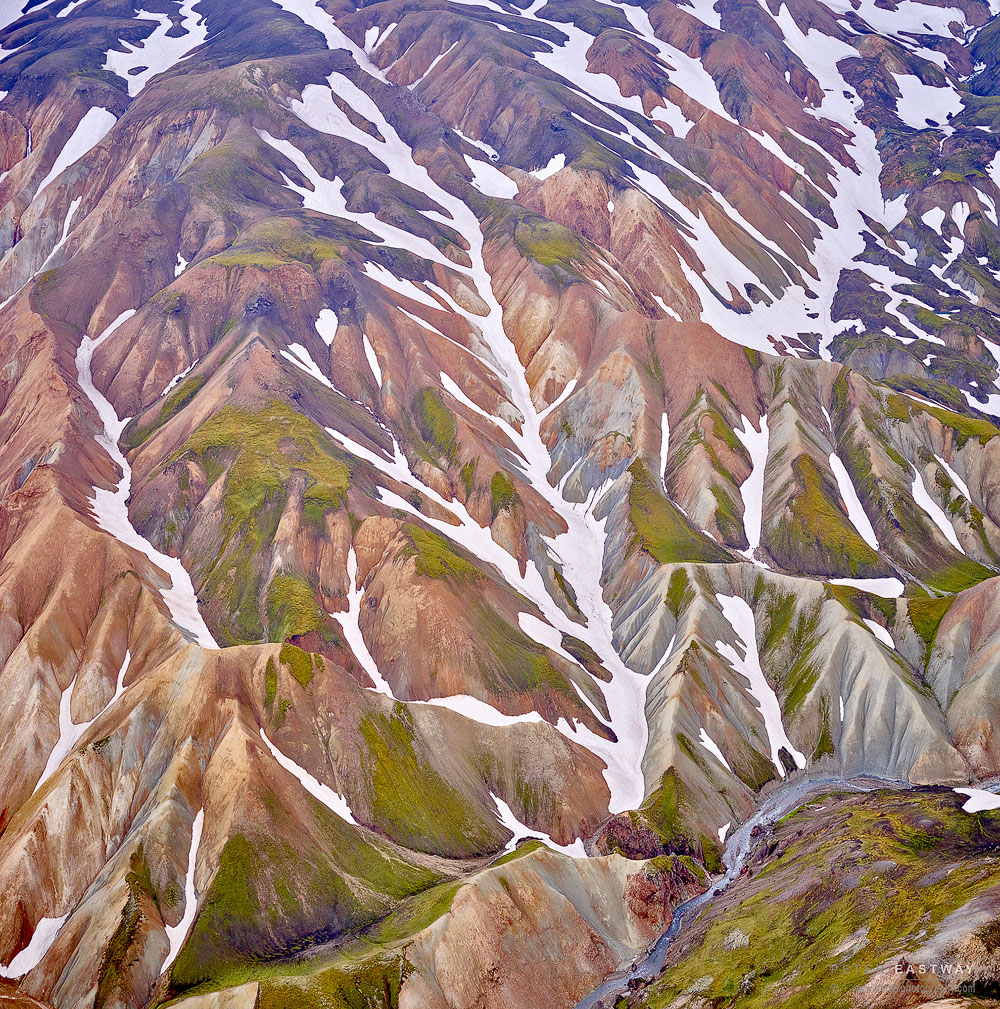 Landmannalaugar, Iceland
Phase One XF 100MP, 80mm Schneider lens, f4.5 @ 1/1600 second, ISO 200.
When you're in the air, do you shoot straight down, straight across, or at an angle? And does it matter whether you're in a plane or a helicopter? Or can we try a drone?
The short answer is that different angles do different things. Often, a straight-down angle (which to do properly requires the aircraft to tilt over) creates more of an abstract pattern, especially if you pick some interesting geometric shapes. And this is the trick - looking ahead and working out what things will look like as you fly over them. In a helicopter, it's much easier to stop and shoot, while in a plane it can take quite some time to loop back around for a second pass. On the other hand, planes are half the price to hire of a helicopter - sometimes less.
Shooting straight across from a plane can be interesting - it's just like climbing up a mountain and shooting from there, with the difference being you can get an aircraft into positions where there are no mountains. A similar approach can be taken with angled shots, but in both cases, the inclusion of the horizon is likely to turn the photograph into a 'scenic view', rather than an 'artistic impression'. 
Of course, if you put a telephoto on, or fly in a little closer, you can still remove the horizon - as with this photograph taken in Iceland. By excluding the horizon, the viewer is left to concentrate on the shapes and lines. The photo can be viewed as reality, or as a semi-abstraction.
And drones? I've just purchased a little Mavic Pro 2 and it's a lot of fun, but it has a wide-angle lens and I'm struggling at present to find angles that don't look the same as lots of other drone photos. However, I haven't given up, especially when the cost of a drone is less than two hours in a helicopter!
There's probably still just time to book a trip to Iceland with Peter Eastway and Better Moments. There's also the option of shooting with a Phase One camera and, if the weather permits, shooting aerials as well! For more details, visit our website or click here.
Details

Category: Almost Weekly Photo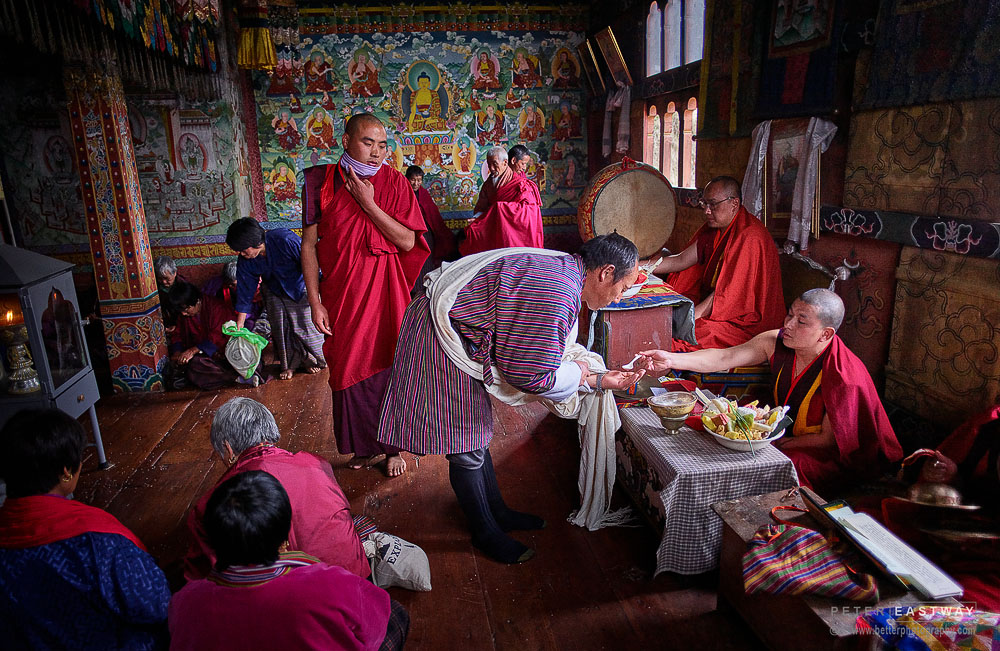 Tshangkha Temple, Bhutan
Phase One XF 100MP, 35mm, f3.5 @ 1/125 second, ISO 3200
Shortly I disappear to Bolivia for a few weeks with Ignacio Palacios and a group of intrepid photographers. What will we photograph? Will it be the spectacular Andean landscape or the brightly dressed people? What are the stories we'll see and how will they unfold? And what is the best equipment for each discipline?
For this trip, I'm taking my Phase One A-Series with a 150MP back because I'm really keen to shoot the landscape, but we're going to many other destinations where the focus is local life, culture and wildlife. The A-Series is not the right camera, at least not for me, and so I'll tuck a Fujifilm X-T3 away as well. While two systems are not as easy to work with as one, on the other hand they provide a back-up for each other and the heavy backpack gives me something to complain about!
There's no right or wrong way to approach travel - it's what makes you happy. I get a great thrill out of shooting high resolution landscapes, but similarly, shooting on the street or wildlife with a mirrorless camera is a lot of fun too!
However, there are advantages if shooting with just the one system. You always have the right camera. There's one less decision to make. It's nice! The photo above was shot in Bhutan with the Phase One XF - and I shot everything on the XF that trip. However, for photos like the one above, the camera was a little slow and I don't feel I captured as many 'decisive moments' as I would have with a faster, smaller camera. While I loved the quality of the medium format files, it's the nuance of posture and expression that make travel shots 'special'.
This photo is taken in our Bhutanese guide's home village where we have been fortunate to get some great interaction with the local families. As I look through my photos, there are lots of faces I recognise, having photographed them many times over the past 6 or 7 years.
Bhutan is a quickly changing country, so if it's on your bucket list, I can only encourage you to join David Oliver and me this November/December on a trip that traverses the magical Bhutan from west to east. Full details can be found here on the website.
Details

Category: Almost Weekly Photo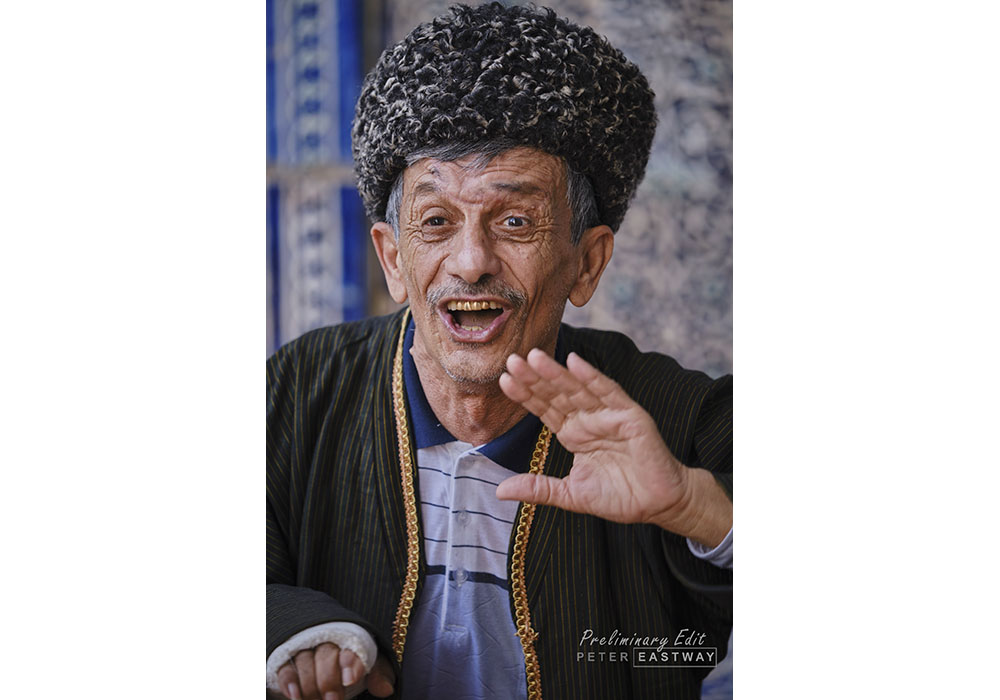 Musician, Khiva, Uzbekistan
Fujifilm X-T3, XF200mmF2 R LM OIS WR, f2.0 @ 1/350 second, ISO 160
As we all get better and better at the technical side of photography, it's the small details that make the difference. David Oliver, Tony Hewitt and I judge at the AIPP's Australian Professional Photography Awards each year and we often see entries that are technically proficient, but emotionally lacking. What do I mean?
Take this example of a musician in remote Khiva, Uzbekistan. Obviously attired to impress the tourist market, unfortunately recovering from a broken arm (you can see his cast), he had an incredibly expressive face. If I timed the exposure correctly.
With a little more experience these days, I find myself waiting for multiple opportunities. First, I need interesting subject matter. Next, I want good lighting. Add in an appropriate background and then I ensure there's nothing distracting around the edges of the frame. All this happens in a fraction of a second and, with practice, is easily controlled, but I have no direct control over my subject.
And this is where you find the difference - the gesture or the expression that takes a competent 'capture' up to a more desirable, expressive moment. Once I have the technical side nailed down, I'll then shoot as many frames as it takes to get that difference. And because I don't necessarily know when my subject will make the 'best' gesture or expression, I shoot lots of frames. It costs me nothing except time at the other end when editing my work and choosing the best frame.
So, when entering photos into a competition, don't just look for technical perfection, also look for a gesture, an expression or an emotion that lifts your image out of the ordinary, even if just a little!
We have a short period of grace accepting LATE entries into the 2019 Better Photography Photo of the Year Awards, but this time entries fully close on 21 August 2019, so while the 'every fifth entry' free option may not be available, there's still time to enter - and who knows, you could be part of the $17,000 prize pool too! For more details, visit www.betterphotographyphotocomp.com now!