Details

Category: Almost Weekly Photo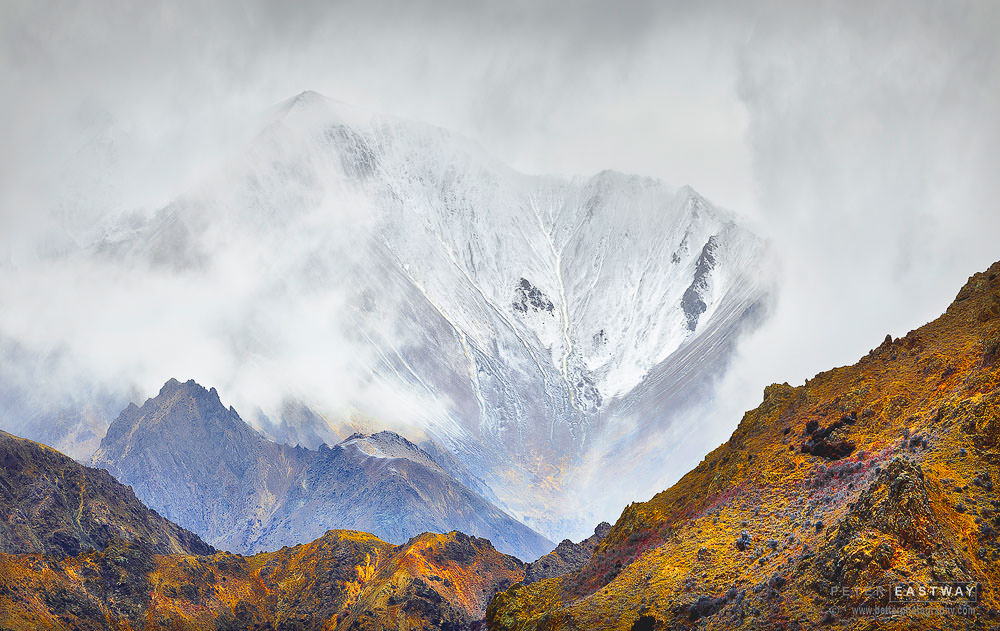 Top of the world, Middlehurst Station, New Zealand.
Phase One XF 100MP, 240mm Schneider lens, 1/10 second @ f11, ISO 50
I'm often asked how long it takes to process a photograph and there are two answers - or should that be two questions.
The first question is, how long does it take to process the raw file to its final edit in Photoshop? The mechanical process of making the adjustments and drawing the masks might take very little time, from five minutes to an hour at the most.
The second question is, how long does it take to work out what needs to be done? And here the answer can be many hours, days, weeks – even months. And of course, as our skills improve and our tastes change, we sometimes pull out old files from years ago and adjust them.
This photograph was produced for Sue and Willie over in Middlehurst, where Tony Hewitt and I give an art photography workshop each year. While printing some of our photos on location during the last trip, this one appealed to Sue and so I'm producing a larger print – but it has to be right.
The final version is up above, but what I thought you might find interesting are some of the variations along the way. I'd process the photo, print it out (A2 size) and pin it on a board opposite my desk down at the studio. Then I'd live with it for a few days, make a few notes and re-edit the file.
I'm thinking I worked on this photo for around 6 weeks to get it to this stage.
And the final print? Made on my Epson SureColor P10070 with Canson Rag Photographique paper. Instagram followers may have seen the print coming off the printer a week or so ago.
So, what was I looking for? I wasn't quite sure, but I knew I'd know it once I saw it! For the mountains, I wanted the cloud and snow to be light and airy, but I didn't want the foreground mountains to be too heavy.
You can see the other versions below…
Details

Category: Almost Weekly Photo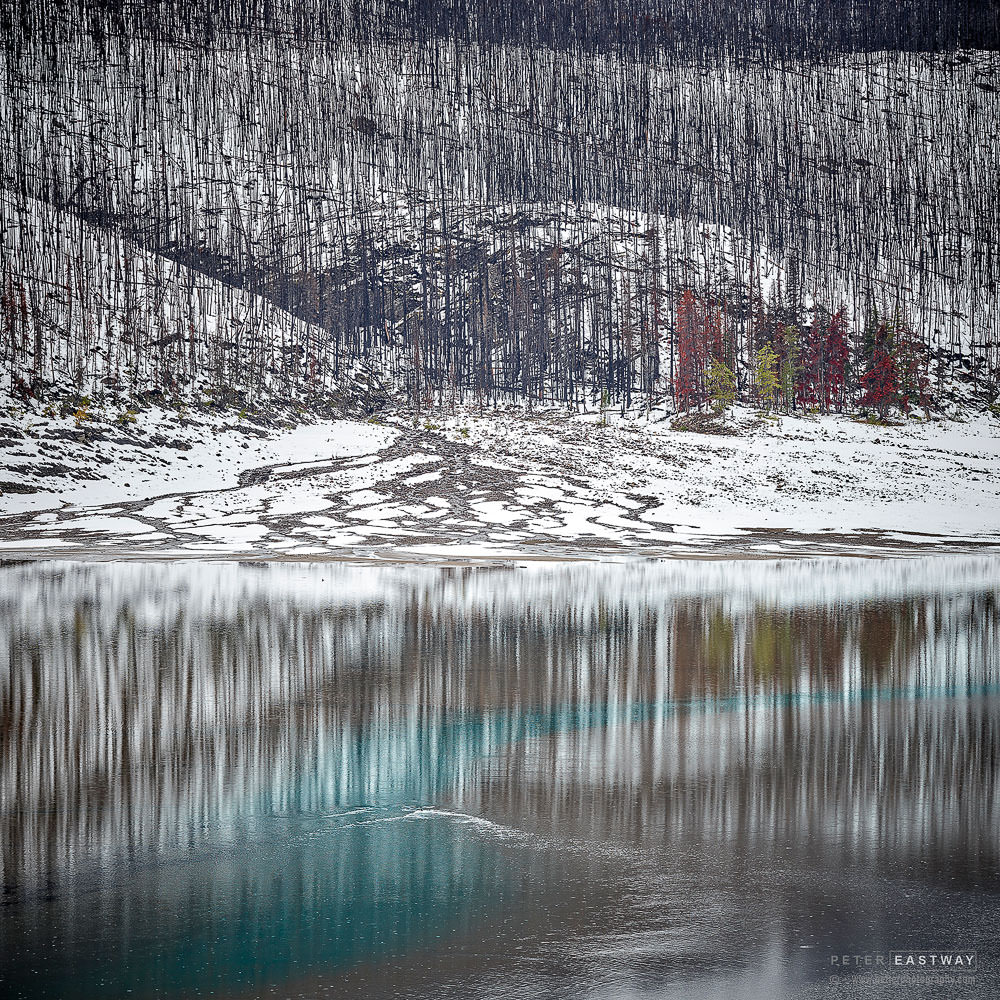 Medicine Lake, Jasper National Park, Canada
Phase One XF 100MP, 240mm Schneider, f11 @ 1/15 second, ISO 50.
New York photographer Jay Maisel is a legend. I met him years ago in Australia when he was invited out to speak and I remember two things.
First, after a week of rain and terrible weather, the speakers and magazine editors were invited out on Sydney Harbour for a cruise and a drink. I had my camera with me (a Minolta, back in the film days), Jay had two Nikons over his shoulder. He also had a cigar in his mouth and just before sunset, there was a break in the clouds and the city of Sydney was dazzled in light. It was the best I'd ever seen the city look – and my batteries died. Jay, on the other hand, kept shooting frame after frame and, as he was a very successful stock photographer, I knew he'd be doing okay financially as well. (And wow, hasn't the stock industry changed since way back then!)
So, my first lesson was that you should always carry a camera, with good batteries!
The second lesson was his approach to photography. I'm paraphrasing him a little, but he said he didn't shoot much, but when he found something of interest, "Then I'll shoot the sh1t out of it!".
Now, sorry Jay if you're reading this, but you did swear and when I relate this story in public, I have to ask permission to cuss! But it is advice I have remembered now for probably 30 years.
Which brings me to Medicine Lake, just out of Jasper in Canada. On the recent PODAS, we drove along the banks of Medicine Lake after recent snows – and after recent fires. The black tree trunks created the most amazing patterns and even better were the reflections.
So, as you'll see, I shot the sh1t out of it!
Also, out of interest, I processed all of my Canada shoot using Capture One. In looking for a quicker way to process files to a reasonable level of satisfaction, I decided to leave Photoshop out of the equation altogether.
Details

Category: Almost Weekly Photo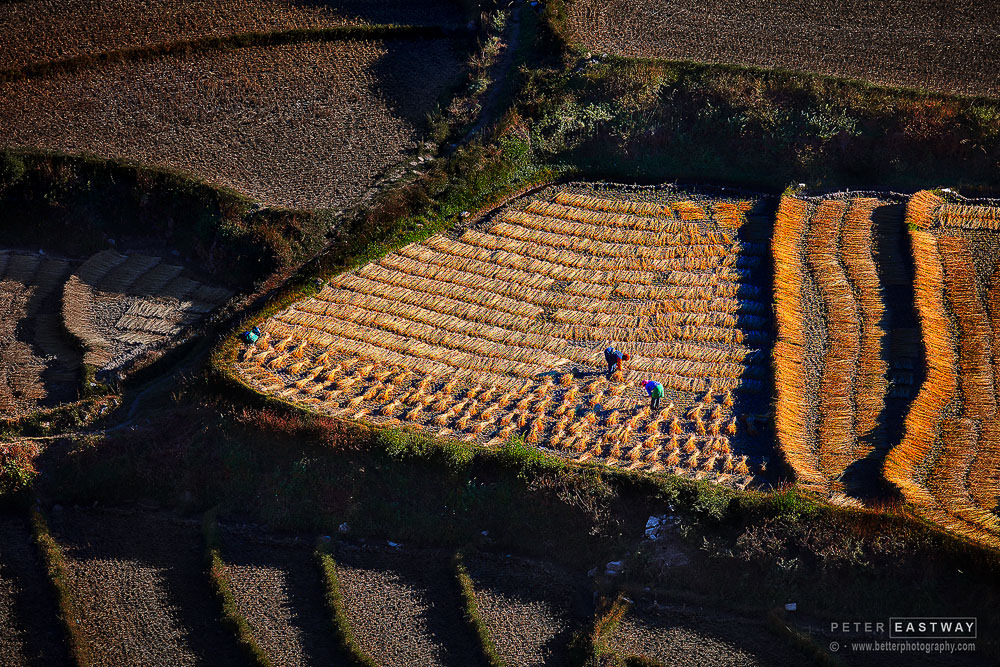 Harvest time, near Paro, Bhutan.
Canon EOS 5DSR, 300mm f2.8 lens, f4 @ 1/1250 second, ISO 200.
When you're on a good thing, stick to it! I have travelled past these fields several times now and each time it is different – a different season, different weather, different activity. In Bhutan near Paro, there's a road winding around the hills up above this valley, providing an ideal aerial vantage point – and without a drone, helicopter or light plane.
(David Oliver and I are returning to Bhutan this April, so now is the time to book in and join us!)
What I like about this location are the repeating patterns, punctuated by human activity. By using a telephoto, you can create great shapes and compositions.
Late last year, I was doing a one-on-one mentoring session with a photographer who had visited Bhutan with David and me last time, and she was trying to work out exactly what she wanted to do with her images taken at this location. My problem in helping her was that I had already worked out what I wanted to do 12 months earlier with my files, so I'm not sure if I gave her good advice that followed her aesthetic, or if my advice was coloured by my own!
With pattern photos like this, where the pattern stretches across the frame, it can be challenging to work out which is the most important area to look at, unless you, as the photographer, indicate importance through post-production. So in the case of the three images presented here, I have to different degrees enhanced one area over another. Sometimes I have added colour to an area, on other occasions, I have removed colour from areas that aren't as important. I have also lightened and coloured the workers in each frame.
There are three images in total working along a theme, but probably a dozen more raw files waiting for similar attention. I think I can feel a series coming on!