Details

Category: Almost Weekly Photo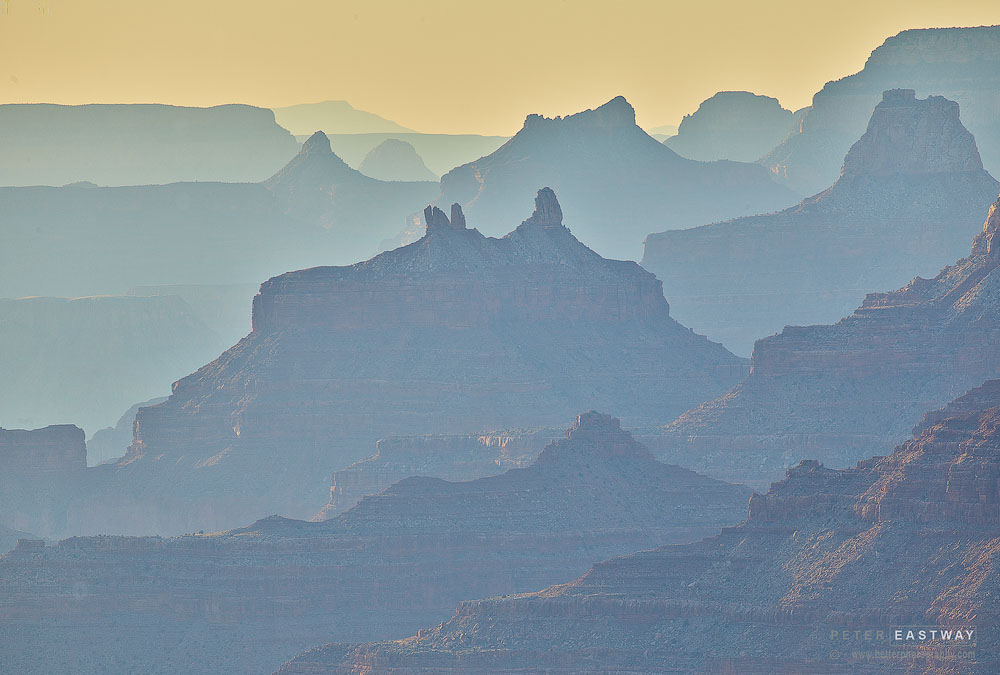 Grand Canyon
Phase One XF with 150MP IQ4, 240mm Schneider lens with 2X converter
I think I have photographed this scene half a dozen times before, but every time I visit the Grand Canyon, I'm drawn to photographing it once again. The force is simply irresistable, but no matter how hard I look for something else, I still have to capture this subject - the back lit ranges at sunset.
I think this is my best angle yet. There are a couple of dozen outlooks along the South Rim of the Grand Canyon and on my recent photo tour with Tony Hewitt, for the first time we spent two nights next to the biggest hole in the Earth. That gave us two sunrises and two sunsets and we spent the time carefully, looking for angles and taking the time to work on our compositions. I'm very proud of myself because I took quite a few frames which included the sky.
Skies can be immensely problematic for me, but that's another story. Here, my challenge is using contrast and clarity invisibly, which I haven't quite achieved here. At first glance, you probably didn't think much of the technique, but hopefully you enjoyed the image. But look at it more closely. See how the ranges at the top of the image are more punctuated than those below. I've used clarity across the whole image, but probably I would have been better to use it locally. For instance, I think I could have less clarity up the top, but I need more clarity down the bottom. This can be done selectively with layers.
And if I can get away without using clarity, I do. Contrast is sometimes a good option, but not always. So, what's the problem with clarity? Clarity works a little like sharpening, in that the dark side of an edge is made darker and the light side lighter. This can create 'haloes' and if you look back to the main image, you can see a hint of a large halo around the central mountain top. That's what I would like to remove when I get around to properly finishing this image.
In the meantime, I'm enjoying a completely different landscape down in Antarctica with Aurora Expeditions!
If you're interested in joining me and Tony Hewitt in the USA, keep an eye on these newsletters as we're working on our next trip for February or March next year. Optionally, email Kim (This email address is being protected from spambots. You need JavaScript enabled to view it.) and ask her to add you to the list and we'll let you know once the details are finalised. We're thinking about Yellowstone!
Details

Category: Almost Weekly Photo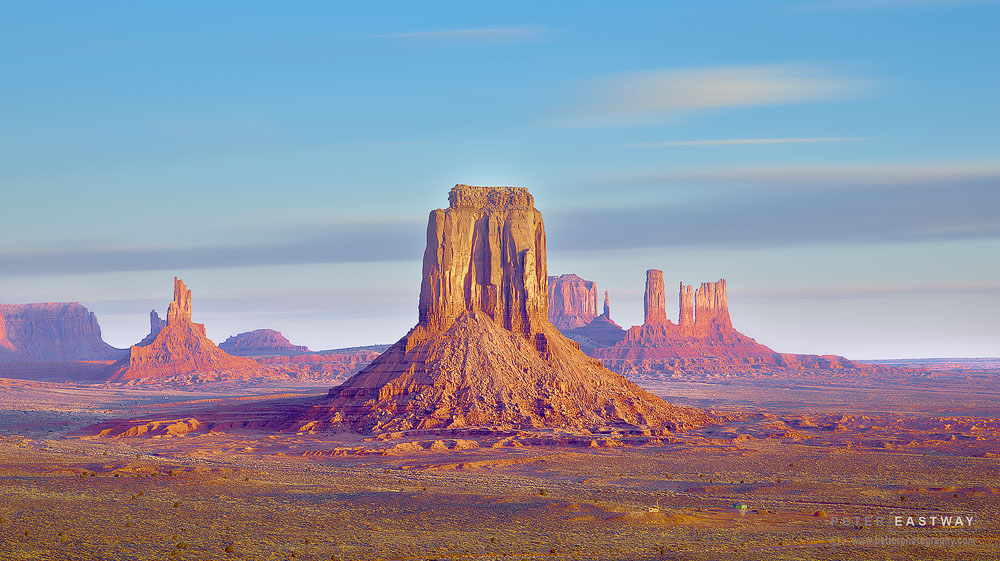 Artist Point, Monument Valley
Phase One XF with 150MP IQ4, 110mm Schneider lens
Many new cameras have Backside Illuminated (BSI) sensors. Certainly cameras using Sony sensors do - like Sony, Nikon and Phase One. In my mind, they are definitely different to the earlier CMOS sensors. Now, I'm writing this based on my experience with Phase One, but looking at friends' files with Sony and Nikon, there are similarities in the 'purity' of colour.
Purity might be a funny way to describe colour - surely the colour in our files depends on the subjects we are photographing and this is very true. However, it's also how those colours are rendered by the sensor and I'm finding my colours are 'purer'. There's less 'black' or 'dirt' mixed in. Whether this is natural or not doesn't really matter to me, it is simply another aspect I can play with.
As I process my files, I'm finding I like less contrast than I used to. I like lighter tones more than I used to. And I like the pastel palette more than I used to. Are these changes happening in me due to other external factors? Am I just getting bored with the old way I processed my work? Or are the new sensors giving me an opportunity to develop a new style?
On my recent photo tour of South West USA with Tony Hewitt, we visited Monument Valley once again. This location at Artist Point was completely different to the previous year when it was covered in snow! Yet despite the incredibly rich reds and oranges in the scene at sunrise, I found myself treading lightly with the edit. I have a little more work to do to take it to its final position, but I think you can see a softer, lighter touch to the colours and contrast.
Is this something worth exploring in your own work? Or is seeing this enough to keep you on your own path and steer away from Eastway-like influences?
If you're interested in joining me and Tony Hewitt in the USA, keep an eye on these newsletters as we're working on our next trip for February or March next year. Optionally, email Kim (This email address is being protected from spambots. You need JavaScript enabled to view it.) and ask her to add you to the list and we'll let you know once the details are finalised. We're thinking about Yellowstone!
Details

Category: Almost Weekly Photo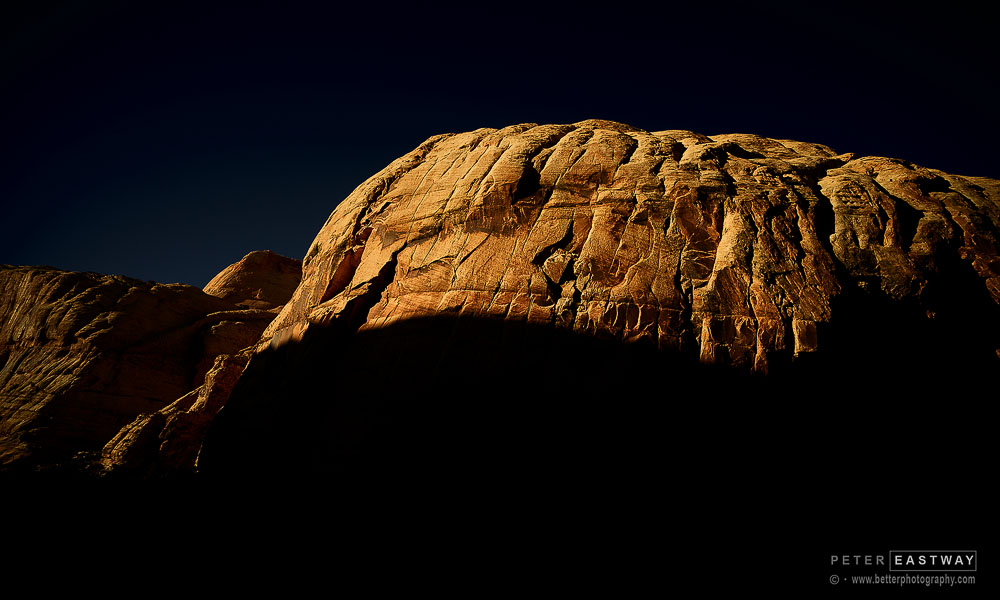 Capitol Reef
Phase One A-Series with 150MP IQ4, 23mm Alpagon lens
Camera manufacturers provide us with warnings when our exposures are too light or too dark. We can often set our LCD screens and even our editing software to blink at us if we have areas of pure white or pure black. 
This is good information to have because, generally speaking, we want to have some blacks and whites, but more important is a range of tones in between. However, this isn't to say we should never have areas of black or white.
A look at the old black and white photographs of the masters, like Ansel Adams and Irving Penn, will reveal wonderfully emotive photographs full of rich blacks and detailless shadows. It seems today that we're almost scared of using blacks anymore.
In the image above, I've processed the file to intentionally produce areas of pure black. It's these blacks that give the rock face its strength and impact. Compare it to a more conventionally processed file (below) where I have endeavoured to include detail throughout.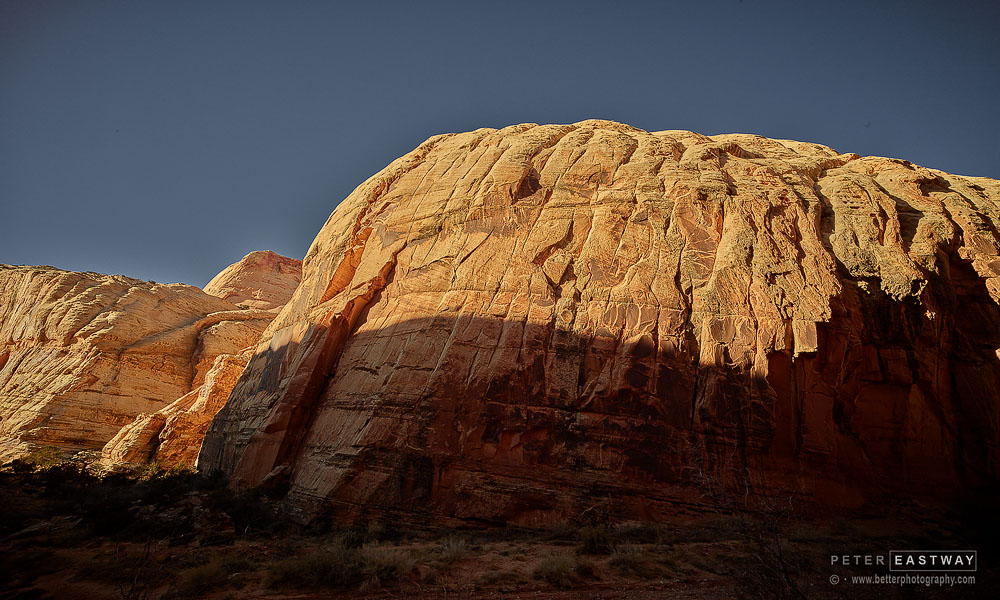 To my mind, this is not nearly as effective as the top photo. Blacks, it would appear, can be a good thing. If you are brave enough to use them!
If you're interested in joining me and Tony Hewitt in the USA, keep an eye on these newsletters as we're working on our next trip for February or March next year. Optionally, email Kim (This email address is being protected from spambots. You need JavaScript enabled to view it.) and ask her to add you to the list and we'll let you know once the details are finalised. We're thinking about Yellowstone!