Details

Category: Almost Weekly Photo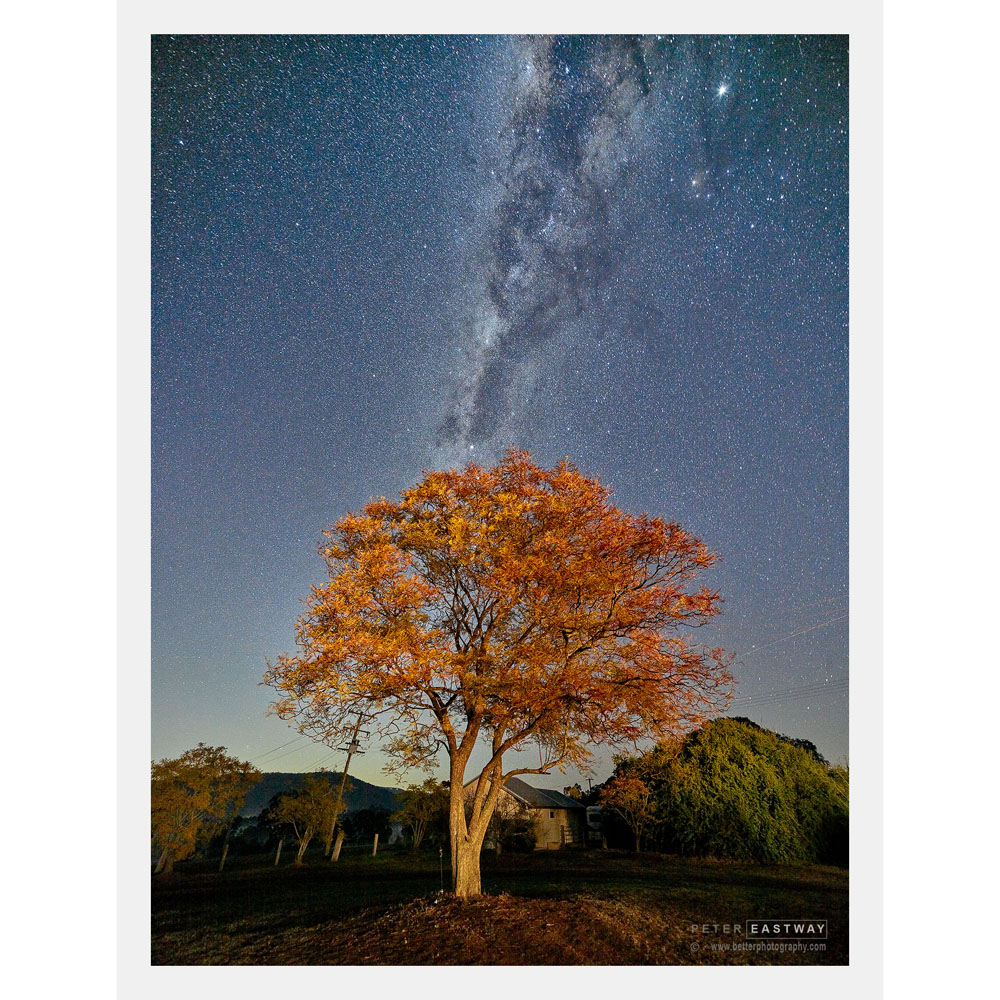 Phase One A-Series, 150MP IQ4 back, 23mm Alpagon
f5.6 @ 30 seconds, ISO 6400
The more pixels you have, the more challenging it is to reduce noise. Of course, Nikon and Sony make a lie of this statement to some extent as their high-pixel count cameras produce remarkable results, even at ISO 6400 and 12,800. Some photographers even laud the results at higher speeds than these - and I'd agree. Compared to the old grainy films we used to put up with, modern sensors are sensational.
The sensor inside Phase One's medium format is built by Sony and so it too has the advantage of high speed and low noise, except that the more pixels you have, the easier it is to see noise. Open up a 150MP file shot at ISO 6400 and you'll find lots of noise at 100% magnification, but reduce the image magnification to 33% or 25% and that noise disappears. Now it looks very similar to a full frame DSLR with 30- to 50-megapixels.
Last weekend I was up at David Oliver's farm for the night, sharing a bottle of red with Bruce Pottinger. It was a beautiful clear evening, so we took advantage of the situation and shot a couple of frames of the stars, just to see how far medium format has come in terms of low light. Bruce was using Fujifilm's medium format GFX (although Fujifilm now refers to this as 'large format'), I had the Phase One IQ4 150MP back.
The improvements are simply remarkable for both camera systems. There is noise, as explained above, but it's so manageable. Medium format has certainly come of age, but are they the solution for night photography?
Possibly not. If you're shooting by the light of the moon, not the moon and the stars themselves, then you may not care how long the shutter remains open. This means you can set lower ISO settings to ensure a noiseless result.
Not so if you're shooting the stars because exposures of longer than 10 seconds will blur the stars. They will move too much during the exposure.
I read somewhere that a shutter speed of 1/15 second or shorter is needed to ensure you have a sharp (not blurred) photo of the moon, but this would depend on the magnification of your lens and the resolution of your sensor. The longer the telephoto, the faster the shutter speed needed. The same principle applies for shooting stars and my memory is that at 10 seconds with a wide-angle lens and a 20-megapixel sensor, you can't see any blurring in the stars.
However, when you step up to a 50-megapixel sensor, you can enlarge the image that much more and suddenly a little blur is visible. The more pixels you have, the shorter the exposure needs to be to avoid blurring the stars. And the shorter the exposure, the higher the ISO setting - unless you can use a wider aperture.
And this is the disadvantage of medium format. My beautiful wide-angle lens has a maximum aperture of f4.5. Compare this to a special purpose f1.2 or f1.4 wide-angle lens for a full-frame or APS-C camera and medium format has a three to four stop (EV) exposure disadvantage. At ISO 6400, my 'fastest' exposure was 30 seconds at f4.5 and I could still see blur in the stars. Not much and you probably can't see it in the image size above, but it's there!
And don't forget, entries into the 2019 Better Photography Photo of the Year Awards close on 15 August 2019, so there's still time to enter - and who knows, you could be part of the $17,000 prize pool too! For more details, visit www.betterphotographyphotocomp.com now!
Details

Category: Almost Weekly Photo
A Flatter Part of Iceland, 2015
Phase One A-Series, 23mm lens, f16 @ 0.7 seconds, ISO 35
On Tuesday night, David Oliver and I gave an Evening Atelier presentation in Sydney to nearly 80 photographers - many of whom have attended past Ateliers. The idea behind the Atelier is a cheap ($9.95) evening so we can talk about photography and share ideas and influences. And of course, David and I are hoping to interest a few people in our overseas workshops as well.
Before David talked about Bhutan, I began proceedings with a trip down memory lane on Iceland (I have a workshop there this October/November). I grabbed photos from my three visits to this most remarkable island and created a short audio visual, and then talked about what it's like to photograph there.
The image above is probably unlike other photos you've seen from Iceland. Instead of towering peaks, cascading waterfalls, dynamic volcanoes or aerial abstracts, I found myself photographing a river that seemingly cut its way through volcanic rock. It was like a man-made causeway - maybe it is!
When travelling, we're all hooked by the hero locations. That's often the reason we visit, because of the great photos we've seen taken by other photographers. Yet the photos that resonate the most with me upon my return are of lesser known subjects, or popular subjects from a different angle. Rather than copying an existing image and looking for the tripod marks left by other photographers, I think it's much more enjoyable to search for my own voice. I have no idea why I liked the look of this river, but it resonated with me and it has become one of my favourite photos.
And I think that's the conclusion we all came to at the Atelier. Since we have no control over the opinions of others, the only people we can make truly happy with our photography are ourselves. Work out what interests you and then use your photography skills to present it in a manner that makes you happy.
If you're happy, then you've been successful.
And don't forget, entries into the 2019 Better Photography Photo of the Year Awards close on 15 August 2019, so there's still time to enter - and who knows, you could be part of the $17,000 prize pool too! For more details, visit www.betterphotographyphotocomp.com now!
Details

Category: Almost Weekly Photo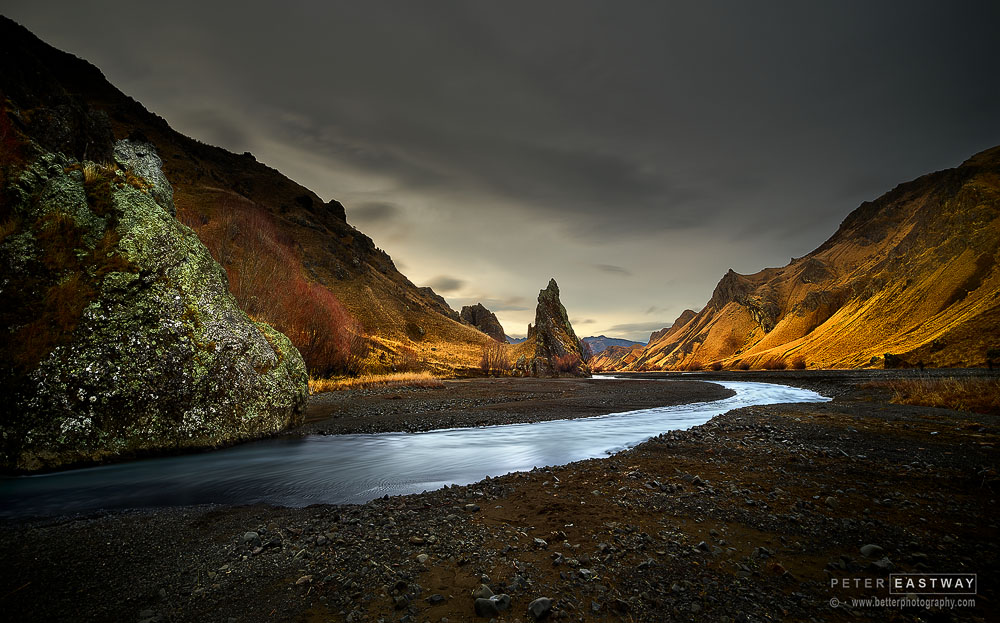 Tolkein Rock, Awatere River, Middlehurst, New Zealand
Phase One A-Series, 150MP IQ4, 23mm Alpagon lens, f5.6 @ 30 seconds, ISO 50
I'm still working my way through this image, but its genesis might surprise you! While working with our photographers on the recent Middlehurst Art Photography Experience, Tony Hewitt and I pull out our video cameras and phones to shoot a little behind-the-scenes for future promotional clips we never seem to finish! The sun had disappeared and it was getting quite dark when I looked down on the tiny screen of my Osmo Pocket. If you know the video camera, you'll also know how small that screen is.
However, looking at that screen, all I could see was the ribbon of blue water and the sky. The landscape was in deep shadow and looked really dramatic! Although I'd packed up my gear for the night, I couldn't help myself but take another couple of photos.
The correct exposure for the highlights at f5.6 was 2 seconds, but using the new exposure averaging feature in the Phase One IQ150 back (it's similar to the feature found on the latest Olympus cameras), I took around 30 seconds worth of exposures, blurring the water still more. And given the incredible dynamic range of the IQ4 back, there was still lots of information in the shadows!
But I'm not quite sure I'm finished. The colour palette is a little strong and although I have tamed the blues in the water several times, maybe they should be tamer still, or maybe I desaturate the wonderful yellows in the Middlehurst hills? I'll live with it for a little while and see how I feel!
If you'd like to see a large print of this image, come along to the AIPP's Australian Professional Photography Awards at Randwick Racecourse in Sydney (10-12 August - entry is free) and check out the LaCie stand. And while you're there, spend an hour or two watching and listening to the judging. It's an experience that could transform everything you think you know and understand about photography - and just maybe you'll understand why so many of us are addicted to the experience.
And don't forget to enter our own Better Photography Photo of the Year 2019 awards. Entries close 15 August and every entry receives a judge's comment designed to help improve your photography! It's also great fun! Click here: https://www.betterphotographyphotocomp.com/