Details

Category: Almost Weekly Photo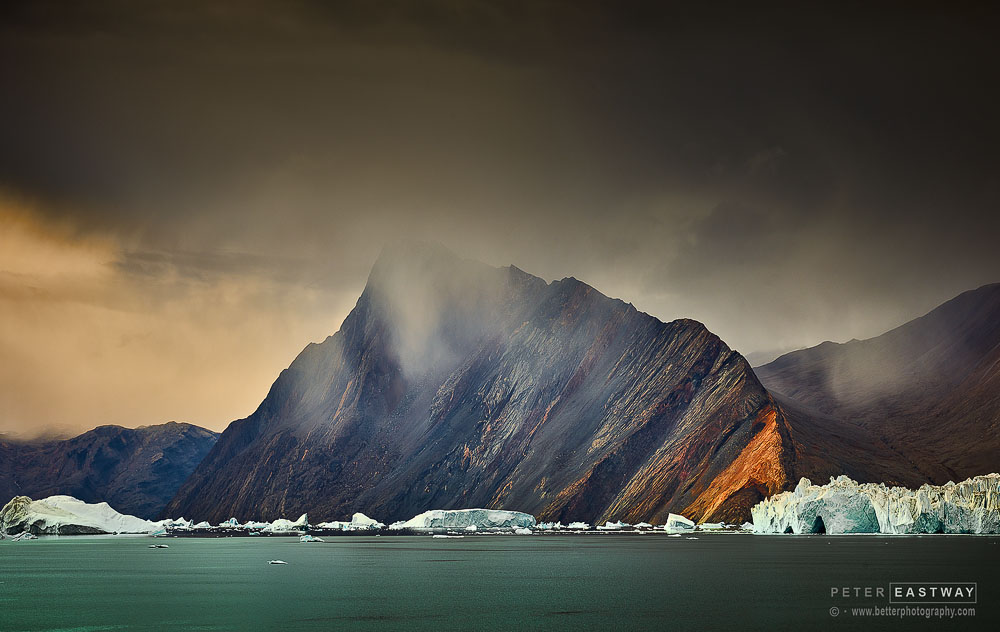 Nordbugten area, Scoresby Sund, Greenland.
Phase One 645DF, IQ180, 110mm Schneider, f8 @ 1/125 second, ISO 50.
Be careful what you wish for, they say, but one thing that is very likely on a photographic expedition lasting one or two weeks is that you'll get a strorm front or weather change moving through. Of course, there are some places in the world where the weather doesn't change very much (I can remember spending a month in Namibia years ago and we had blue skies for 27.5 days, and light cloud one afternoon) but generally speaking, you'll get a couple of weather changes and these are the times landscape photographers should live for. So, rather than wishing for fine weather, hope for the opposite.
This photograph was taken Greenland and I'm guessing it is local weather - meaning the cold air from the ice plateau not too far away created low cloud when mixed with the warmer air over the sea. We had fine weather either side of this particular event.
The photograph has been lightly processed in Capture One 11 using a series of seven adjustment layers. One feature I prefer in Capture One over Lightroom is that your adjustments (adjustment brushes in Lightroom) are set out in a list (a bit like the layers panel in Photoshop), making it much easier to name and access them, and importantly, turn them on and off. It's my new mantra for 2018 - process more photos lightly and worry about the fine detail if and when the image goes to press or to print.
In Capture One I used the Colour Editor in a couple of places - to accent the warm rocks, and to give a little colour to the previously murky waters. You can see the original file without adjustment layers on the website.
The only thing missing from this Arctic trip were Polar Bears, something I hope to fix this June with Kevin Raber - check out our Arctic tour on his Luminous Landscape website. Click here for details.
Details

Category: Almost Weekly Photo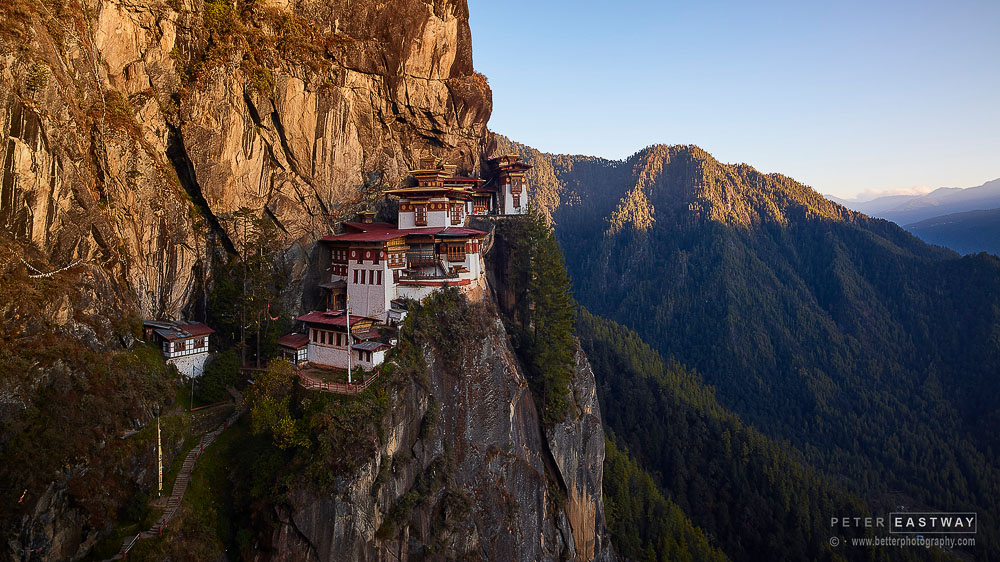 Taktshang Monastery, Bhutan.
Phase One A-Series 100MP, 23mm lens (cropped) 1/60 @ f8, ISO 50
What do we do with all the photos we take? I might do a few more photo trips than most readers (but then again, maybe not) and I struggle to process all the images I capture. They're all there, safely stored on my LaCie 6big and backed up on external drives, both in the studio and at home.
But they are just raw files. I haven't done anything with them. Each night during the trip, I will quickly look at the files and process them lightly in Capture One using my Wacom MobileStudio Pro, usually uploading them to my iPad and iPhone so I can show other trip participants and my family when I get home.
And then nothing!
Well, my new year's resolution is to create a book or an audio visual from each trip, but how am I going to find the time to process the images? I think this is where we have to differentiate the work that we do. When creating images for awards or an exhibition, where the photograph will sit alone for inspection and assessment, I can spend hours if not days in post-production to get it just right.
This isn't going to be sustainable for the 30 – 60 images I need for a book or audio visual, so my new approach is to limit the post-production to what is possible using Capture One (or Lightroom). These photographs are not exhibition grade, but they are sufficiently refined to sit in a book or an audio visual because the viewer has only a fleeting engagement with the images as the pages turn or the slides are changed.
Generally, I can produce a high-quality rendition in less than 3 minutes – and most of that time is exploring where I want to take it. And this rendition looks fine in a book or an audio visual I believe!
What prompted this suggestion? I've just finished processing 80 images from my 2016 Bhutan photo tour which I have put into an audio visual. The new AV will premiere at my Evening Atelier in Dee Why this coming Tuesday evening – so come along. You can book online at www.betterphotography.com or just turn up and pay me $10 cash at the door (the online price is $9.95 and I doubt I will have 5 cents change!). The evening starts at 7.00 p.m.
Details

Category: Almost Weekly Photo
Winners Announced! Sydney, Australia – Thursday 15th February, 2018
Professional and amateur photographers worldwide were invited to enter the fourth International Landscape Photographer of the Year competition for a chance to share in the $18,000 prize pool, including US$10,000 cash.
From 3518 entries from 866 photographers, the winner of the fourth International Landscape Photographer of the Year (based on a folio submission of at least 4 images) is Max Rive from the Netherlands.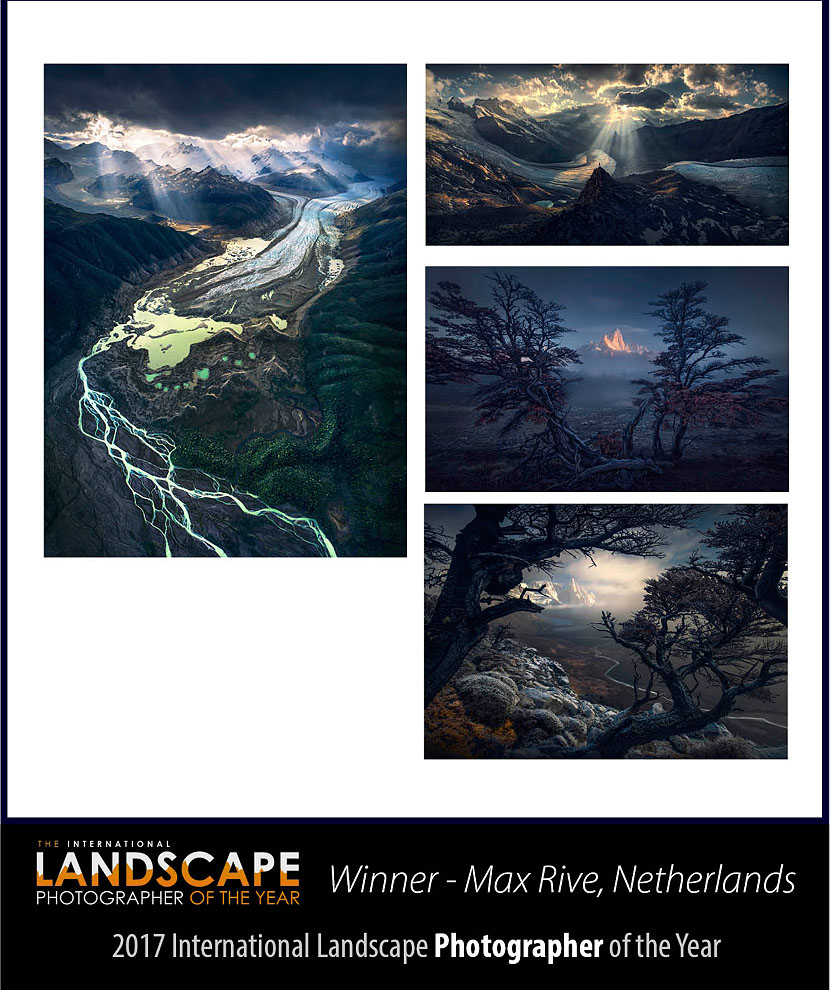 What does it take to become the International Landscape Photographer of the Year? Are the winners all seasoned professionals with years of experience, or are they lucky amateurs with a couple of killer images?
The concept behind the International Landscape Photographer of the Year is to discount the lucky 'killer' images. To win this award, the judges require four high calibre landscape images which together demonstrate that the photographer has a degree of mastery over the landscape image, both in capture and post-production.
Whether professional or amateur doesn't really matter because what all our winners have demonstrated is a passion for landscape photography. Passion is the real difference.
For 2017 International Landscape Photographer of the Year winner, Max Rive of the Netherlands, there's no doubting his passion and dedication. Within his portfolio you will find a distinctive visual approach applied to some stunning locations. And like many landscape photographers, Max's interest in the landscape grew from a participation in it.
"I started taking photos in 2008, just to document a mountain trip I did between studies. I took photos to remember the trip, to show others how cool it was and to have something more to do than only hike – so I was just like many travel photographers, I would say.
"Even though I kept using small compact cameras for the first four years and was more a hiker with a camera than a real landscape photographer, I was very motivated to get some great shots.
"I gradually became more serious as a real landscape photographer when I started sharing photos on the internet and became inspired by the work of others – and by 'real' landscape photographer, I mean using tripods, filters, bigger cameras and waiting for days at a spot to get the shot.
"I have now called myself a professional for the past three years, although I always want to keep challenging myself. I don't want to fall into a predictable routine or get comfortable with what I'm doing."
Max currently uses a Nikon D850 full-frame DSLR, with a Nikkor 14-24mm wide-angle zoom and a 28-300mm long range zoom.
"I've never had any other lenses for my DSLR, mainly because my travels so often include hiking and I cannot carry too many lenses. However, the two lenses I have cover the whole range of focal lengths I need.
"I use my hiking backpack as camera bag and wrap my gear into a jacket for protection. I use a tripod (from Triopo), but I prefer to use it only when it is really necessary. Without a tripod, I have much more freedom to find the right composition and it also allows me to more easily scout around, looking for different angles."
In terms of post-production, Max works with Adobe Camera Raw and Photoshop. He says he doesn't employ sophisticated layer or luminosity masking techniques, but there's no doubt he uses Photoshop to interpret the files he captures.
"I have never seen any post-production tutorials, rather I have just tried out things for myself and I think because of this, I have developed my own style of processing.
"I think the compositional element that has the biggest influence on a photo is the light." Max suggests that in most raw files, the light is strongly divided across the frame which can distract the eyes of the viewer away from the main subject.
"I try to take away that distraction by making the overall image very dark, but keeping the more important compositional elements of the image bright. However, using this approach, it is important to maintain shadow detail in the darkest parts of the image.
"Each image has its own compositional design and different subjects require different approaches to lighting. However, no matter what technique or software you are using, I think it is important that artists have a vision about the relationship between their photos and their processing. Before they take the photo, they should know what the mood, story, colours and light are going to look like.
"To start processing an image without knowing the direction you want to go, will most likely result in a photo without any character and a portfolio with potentially beautiful-looking photos without well distinguished moods or stories."
Max adds that landscape photography gives him a purpose when he goes into the mountains. Although he had some sense of purpose through his love of hiking, carrying a camera adds a further dimension.
"With photography, you take home something more than just memories. I think it is the combination of traveling, experiencing new things and being in the outdoors on the one hand, while working on something and leaving a part of your spirit and vision behind in the form of art on the other hand, that makes landscape photography the perfect combination for me.
"I want to show photographs with a story. There also needs to be a well-defined mood and a very well-balanced composition. And the photograph should depict a unique location.
"I like showing images with a 'wow' factor, such as an image taken from a high mountain with a spectacular view and incredible light, mostly because I like to visit these locations myself."
Max says there are many photographers who have inspired him, but he singles out Marc Adamus for special mention.
"The first time I saw Marc Adamus's photos, I was still a beginner photographer, just shooting during my travels. However, after seeing his photos, I realized more than ever what was possible with landscape photography. Marc combines incredibly powerful and epic compositions with a story, unique moods and, above all, he is going to some amazing locations and always seems to find a new camera angle."
The International Landscape Photographer of the Year is the first and only competition Max has entered for a number of years. "I chose to participate because of the high standard of photographs I see in the competition each year. I am happy to enter a competition which looks good to me and relates well to my own photography.
"Maybe I also thought it was time to see how my photos would do in front of an objective judging panel, instead of my own online followers."
Well, Max, we think you have your answer!
Max Rive, the 2017 International Landscape Photographer of the Year - maxrivephotography.com
The International Landscape Photographer of the Year 2017 - Second Place Adam Gibbs, Canada
The International Landscape Photographer of the Year 2017 - Third Place Huibo Hou, USA
The winner of the fourth International Landscape Photograph of the Year (awarded for a single image) is also Max Rive from the Netherlands.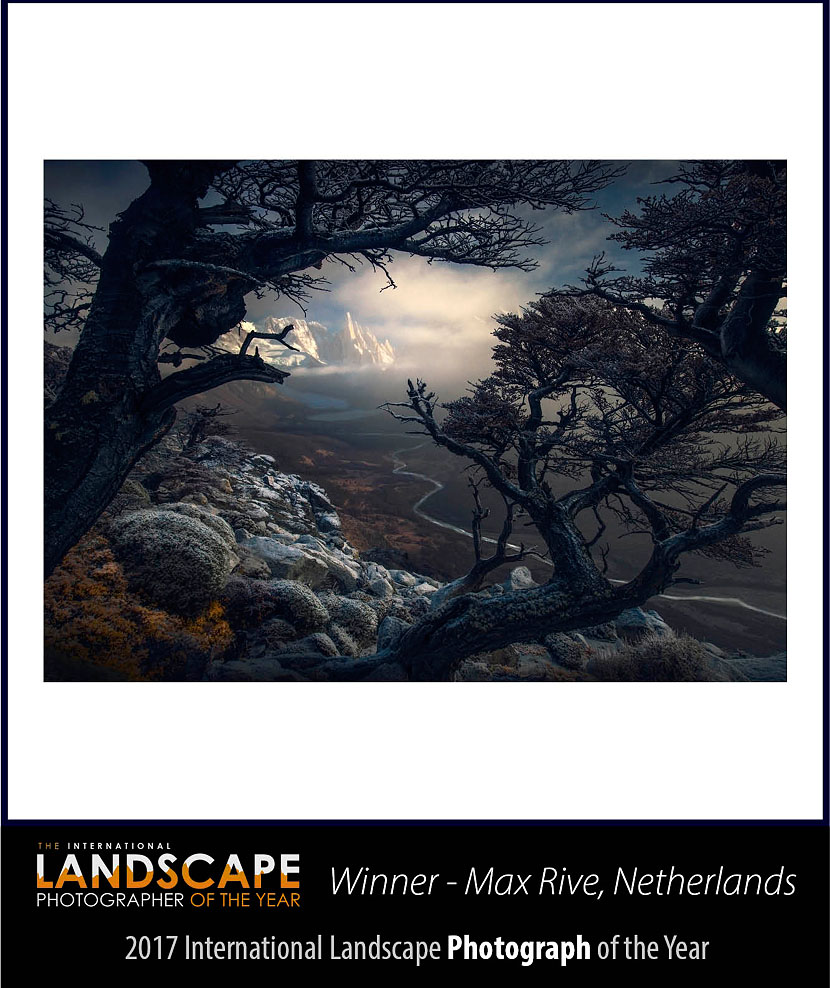 This is the first time the International Landscape Photographer of the Year has also won the International Landscape Photograph of the Year award as well.
Within Max Rive's stunning submissions were a number of images from Patagonia and New Zealand, two remote and exotic locations for Northern Hemisphere photographers. And while Southern Hemisphere photographers will agree that these are spectacular locations, isn't it interesting that they tend to travel to northern locations like Iceland and Canada in search of their perfect landscape photograph? One photographer's dream destination is sometimes another photographer's overlooked back yard!
Many photographers argue that powerful landscape photographs can be captured in thousands of different locations spread all around the world, so rather than focusing on an exotic location, we should concentrate instead on capturing great light and camera angles, and then create a strong story and mood during post-production.
Looking at Max's winning images, he appears to take both approaches, combining exotic locations with a carefully considered aesthetic.
The winning image was taken in Patagonia on the Argentinian side, at the end of a six week trip through the area. Max recalls a misty morning with some breaks in the cloud, allowing the early sunlight to illuminate some of Patagonia's most stunning peaks in the background. Says Max, "I was literally running around to make the most of the continuously changing conditions".
Max explains that before his South American foray, he had left a difficult time behind him in the Netherlands. "The trip to Patagonia allowed me to have my mind focused on other things. I lived in my own world, with no 'nowaday distractions', only the mountains and nature around me. It was a time when I could let my visions, ideas and ambitions grow inside my head."
The winning image is a great example of Max's current approach to landscape photography, darkening down the image overall, but ensuring that key subjects and areas within the composition are lighter and hence attract the viewer's attention. While post-production is a key component of his approach, his vision is based strongly on capture skills and the landscape as he found it – and what he felt about it.
The International Landscape Photograph of the Year 2017 - Second Place Zsolt Andras Szabo, Romania
The International Landscape Photograph of the Year 2017 - Third Place Theo Bosboom, Netherlands
There are also some special awards which change each year to keep things interesting, and the 2017 winners are:
The Abstract Aerial Award
Cristiano Xavier, Brazil
The Long Exposure Award
Marcio Cabral, Brazil
The Mountainous Award
Alex Nail, United Kingdom
The Snow & Ice Award
Cosmin Stan, Romania
The Exemplary Tree Award
Stephen King, Hong Kong
The top 101 is the result of expert opinions collaborating to curate a wonderful exhibit of the world's best contemporary landscape photography. Our thanks go to:
- David Burnett, co-founder Contact Press Images, USA
- Tim Parkin, ON LANDSCAPE Magazine Editor
- Alex Noriega, 2016 International Landscape Photographer of the Year
- Kaye Davis, NZIPP Grand Master of Photography
- Jim M Goldstein, Fine Art Photographer and Author, USA
Chairman of Judges, Peter Eastway says;
"We wish to celebrate the art and craft of landscape photography!
We do this by collecting 101 of the best landscape photographs into a book, as well as rewarding the 'best' single photographs, and the 'best' portfolios of four photographs.
So, what is it that drives landscape photographers to pursue their art? For some, the capture of nature at its most wonderful is reward enough. In fact, these are the moments photographers live for and being out in the landscape is often as enjoyable as capturing it with a camera.
However, the history of landscape art is much broader than merely creating a record of nature. It is interpretive, imaginative and inspirational. Some photographers take their captures and re-map the tonality; others take several captures to produce a landscape of the mind.
We believe that all approaches to landscape photography are valid and as you turn the pages of the previous year award books, you will see exponents of many different styles presenting their rare and carefully considered compositions. Some of the landscapes are straight out of camera, others are from the photographer's imagination.
The International Landscape Photographer of the Year Award has matured with a look and a style that has been guided in part by our judges, and in part by the entrants. There's no doubt that our judges have strongly held views on what makes great photography, but equally we've invited judges who have a broad appreciation of photography. This cornucopia of ideas curates our wonderfully diverse collection of the top 101 landscape photographs, but it also makes choosing the best three photographers and the best three photographs very challenging.
Without in any way diminishing the accolades presented to our major prize winners, I'm sure many of them will be humbled and honoured when they look at the other entries. There are always many other photographs and photographers who are very strong contenders. Much discussion between the judges surrounds the merits of each image and each portfolio, so while the prize winners are justifiably honoured, the real recognition is being published in this book."
For all the details and winners, and the top 101 images, please visit the website and download the eBook
www.internationallandscapephotographer.com
For more media information including images for publication, contact
This email address is being protected from spambots. You need JavaScript enabled to view it.
Proudly supported by Momento Pro, Created for Life & EPSON Australia