Details

Category: Almost Weekly Photo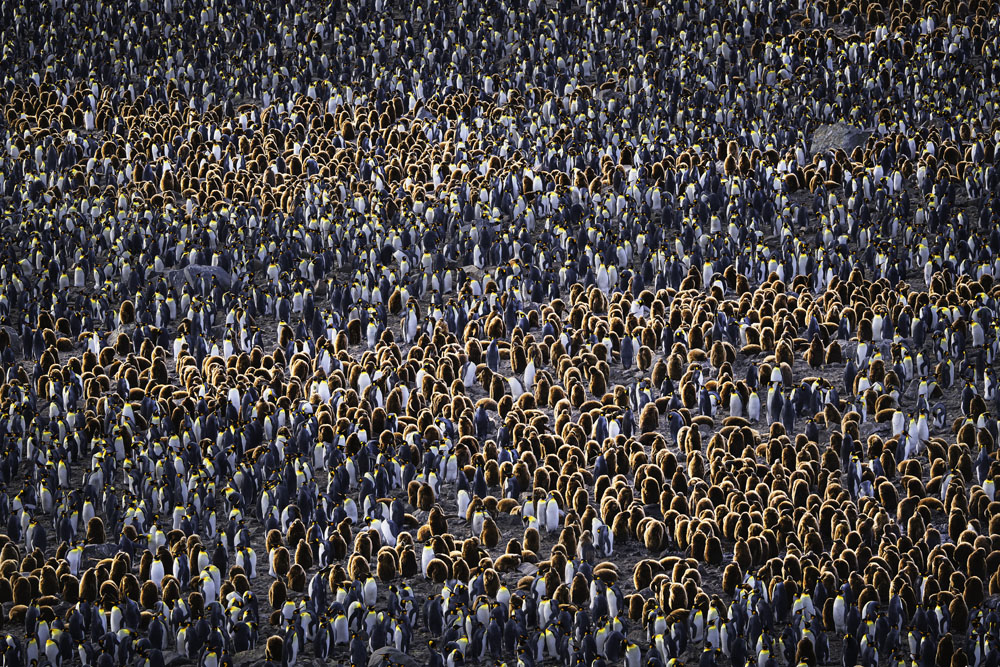 King Penguins, St Andrews, South Georgia
Fujifilm X-T3, 200mm f2.0 lens, f6.4 @ 1/400 second, ISO 160
We've all see the National Geographic photos of thousands upon thousands of penguins and if you travel to South Georgia, there are several locations you'll find them. While Salisbury Plain is pretty good because of a rising hill behind, it's hard to get above the penguins. At St Andrews, there are several locations where you can get up above and look down on a sea of bobbling heads!
There were three things I wanted.
First, I wanted edge to edge penguins. This gives the viewer the impression that the mass of birds goes on and on for ever! (And they do!) I used a telephoto lens to make this easier to do.
Second, I wanted rim lighting - meaning, by looking towards the sun, my subjects would be back-lit and the light coming past them would illuminate their feathers, creating a 'rim' of white light. It's important to keep your exposure a little darker than usual so you can keep control over these highlights. So, I wander around the outside of the colony until I had the right light.
Third, I looked for patterns. The adolescent penguins are orangy-brown and tended to congregate together - like teenagers I guess! This makes an interesting pattern within a pattern, so to speak.
In post-production, I enhanced the contrast to reveal the rim light and the colour difference between the adolescents and their parents.
Interested in a trip to Antarctica or South Georgia? Check out the voyages I'm doing with Aurora Expeditions here.
Details

Category: Almost Weekly Photo
Thethi Village, Albania. Photo by Mehmet Ozbalci.
So, you're at this amazing location, the light is disappearing fast, but you simply have to take a photograph! What do you do? What are your options?
In low light with overcast conditions, a long exposure will capture anything if you leave the shutter open long enough, but I find in these conditions, it's the quality of light that is challenging. The ambient light alone is not going to produce a successful outcome.
Mehmet Ozbalci found himself in just such a situation in Thethi in Albania. It's a quaint, photogenic village at the bottom of the Teth Valley and one of the best subjects to photograph is the local church. Mehmet had the angle with the Albanian Alps in the background, but no light. His solution: turn on the car's headlights! It's such an obvious thing to do, assuming you can position the vehicle in an appropriate position, but how often do we think of it? I didn't ask him if he used high beam or not.
Mehmet is a photo tour guide based in Istanbul and I have travelled with him extensively in Turkey, Georgia, Armenia and, most recently, to Uzbekistan, Kyrgyzstan and Kazakhstan. Photographers on our tours have been so impressed with Mehmet they've booked other tours with him - and without me! Hmmm, I wonder if I need to think about that a bit more...
Anyway, Mehmet and I have a tour planned for April 2020 visiting five countries in the Balkans and Adriatic - Bosnia & Herzegovina, Montenegro, Albania, Kosovo, North Macedonia. Although I haven't visited all these locations personally, Mehmet certainly has and his skills in locating great spots to photograph is uncanny.
Details

Category: Almost Weekly Photo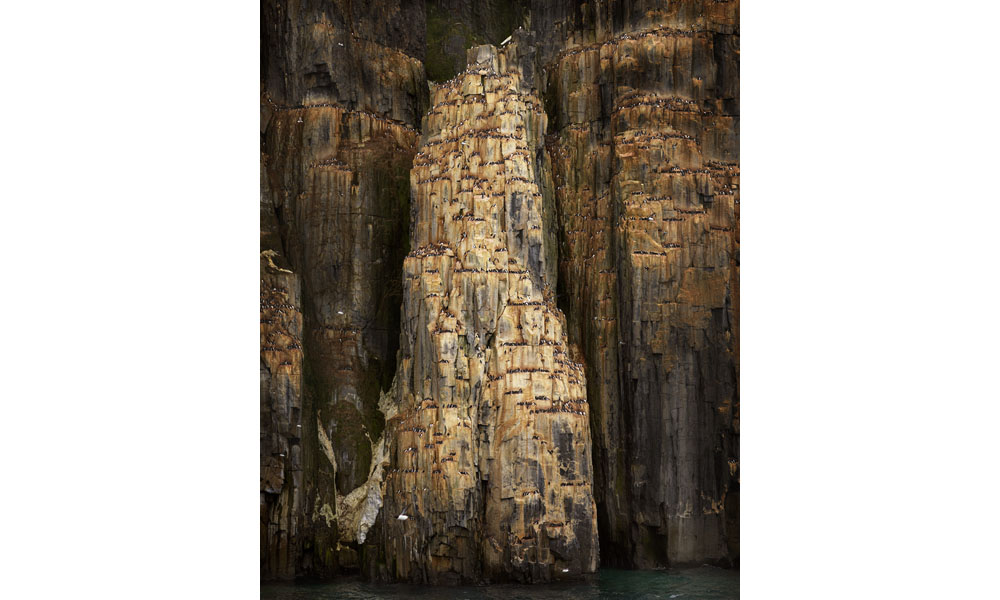 Guillemots nesting, Alkefjellet, Svalbard
Phase One XF, 110mm lens, f5.6 @ 1/250 second, ISO 100
Alkefjellet is a line of cliffs in the middle of Svalbard. You get there by ship and, as I understand it, it's pretty easy for the captain to take the vessel in nice and tight so you get a good view of the nesting Guillemots. I'm told there are over 200,000 of them in the cliffs, but I didn't count them personally.
Mind you, when you look closely at the print, there are three or four blurred birds flying across the frame. They are probably blurred for two reasons: they are a lot closer than the cliffs, so a lack of depth-of-field; and the shutter speed of 1/250 second isn't fast enough to freeze the action.
Some readers might suggest I wait a little while until the coast is clear. Good thought, but reference my earlier observation of 200,000 birds. There simply isn't a time when there aren't LOTS of birds in the air! And second, the ship is moving slowly along the cliffs, so if I waited too long, this angle would be gone.
Our ship went up and then back again, so I had two opportunities to shoot this particular slab of rock. It reminds me of a castle or battlement tower and in post-production, I helped this similarity along by darkening the surrounding cliffs.
I think most people look at the photo and say, okay, but it's when they get up close and see how many bird bums are pointing at them that the content of the image really hits home. In this way, the judging procedure at the AIPP's awards works really well because when a print is judged, it is turned around on a presentation board surrounded by grey cloth and evenly lit from above and below. Having seen the photo from a distance, the five judges get up from their chairs and walk up to inspect the print closely - and this is when the impact of the print and and all the birds takes hold.
The other option is to make a much bigger print! Note to self!
And just to let everyone know, judging for the Better Photography Photo of the Year Award is underway. Results at the end of September.