Details

Category: Almost Weekly Photo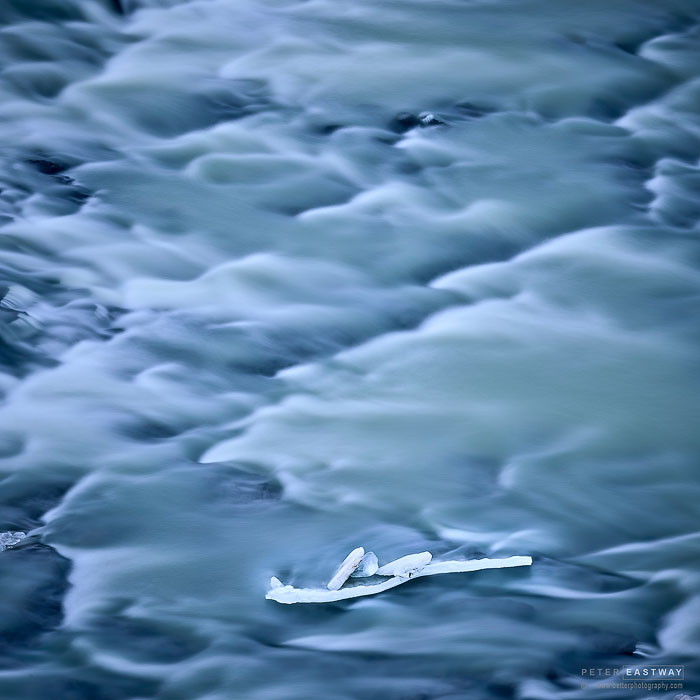 Gullfoss, Iceland - shot on my 2019 Better Moments workshop.
Phase One XF 150MP, 240mm Schneider-Kreuznach, f11 @ 1/8 second, ISO 50
Interested in knowing a little more about two cold places, or is it cold enough where you are already (it certainly is in Sydney just now)? And who knows when we're going to be able to travel again freely - but we will certainly be travelling again!
I have two webinars coming up and you're invited.
The first is this Sunday 7 June at 7.00 pm AEST (Sydney) - which is 12.00 pm MET (Middle European Time) - and it is being hosted by Better Moments. I work with Christian Norgaard who has a photo travel company with a great name, but we are not related. We're going to talk about photographing Iceland! We may have a workshop in Iceland later this year (the end of September), or it could be postponed until next year - who knows! But the webinar is on for sure. And you don't have to come to Iceland with us to find the webinar interesting (but you'd be most welcome)!
You can see what we have planned and book a place here: https://www.better-moments.com/free-webinars/
The second webinar is with Phase One. I've been asked to talk about taking medium format equipment to the polar regions - how to get it there, how to use it, the tricks to watch out for. And I'll be showing a series of images taken on my recent voyages to Antarctica as well. It will be on at 4.30 pm on Thursday 11 June.
You can see what is planned and book a place here: https://go.phaseone.com/P1-EN-2020-05-26-Peter-Eastway-webinar-v2_01Signupforwebinar.html
It seems that webinars are going to become a lot more common in the future, so why not join us and see what it's all about!
Details

Category: Almost Weekly Photo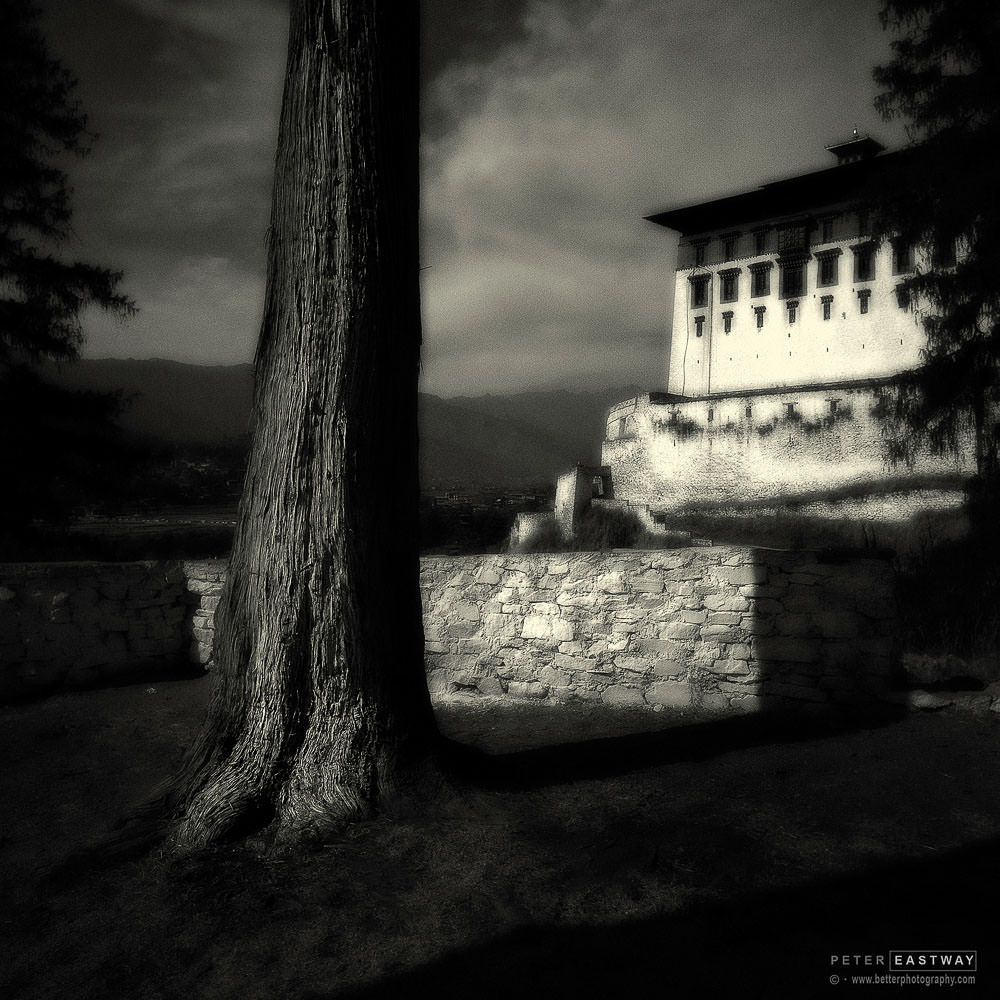 Paro Dzong, Bhutan
Phase One XF, 35mm lens, f8 @ 1/1600 second, ISO 160
How many photo books do you have on your shelves at home? I reckon I'd have close to 1000, but I confess that includes several boxes of books still under the house from when we renovated eight years ago!
And how often do you refer to those books for inspiration? It doesn't happen often enough, but sometimes I find myself printing a bunch of images on my Epson SureColor P10070 (with Canson paper, of course) with a little time between prints. So I'll go to my bookshelves and pull out a photo book. You can do the same with a Google search, of course, but what are you going to type into the search bar? And what will Google decide to give you? I think the advantage I have is that I have already chosen the book because I liked the images. Or the approach. Or the technique, the philosophy etcetera. While the images are great, it's the ideas that matter to me.
I'm always looking for inspiration and it was while reviewing one of my books that I decided to revisit black and white with areas of soft focus. Years ago in the darkroom, I'd use translucent plastic held over the print during exposure to create softness in parts of the image. I loved the results, but never felt that I'd really nailed the technique.
At the time, I was heading off to Bhutan with David Oliver and, given it was my fifth trip, I felt I had the space to try something completely new. And I knew David would be fully supportive if I tried something in black and white because he's always telling me how much better it is than the crap colour photos I produce!
The photo of Paro Dzong is one example of the technique. It uses softness over most of the image, which is then rubbed back over selected areas. Obviously I've also pushed the contrast up and I'm enjoying the deep, rich shadows. It's a little different to my usual work and while I haven't completely nailed the technique, I do love this one. It certainly has some mood to it.
So, my suggestion for this week is, what could you try that is a little different? Maybe you'd like to try some high contrast black and white as well? Or maybe we can both convince David Oliver to shoot a little in colour!
Details

Category: Almost Weekly Photo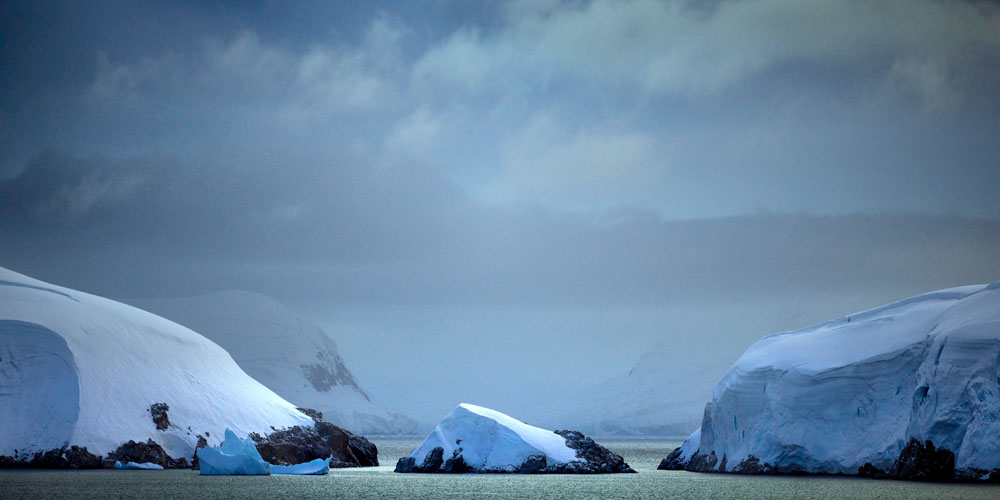 Little White Islands of Snow, Antarctica
Phase One XF 150MP, 240mm Schneider, f4.5 @ 1/1600 second, ISO 800
A couple of weeks ago, I posted a photo which I suggested wouldn't win any photo competitions, but commented that I liked it anyway! My blogs are posted onto Facebook as well as my www.petereastway.com website, so they get a bit of traction - including a few comments that agreed with me and suggested we need better judges.
Now, that's a problem!
To start with, I'm one of those judges and, if you ask me, the photo above (and the one I posted previously) would not win a photo competition. They might be accepted, given a Silver Award or get into the top 20% of entries, but they are unlikely to come first. And as a judge, I wouldn't give them first prize, either.
But I still love the photo. It has lots of emotional baggage for me. I love small, snow covered islands. I remember the cold wind as we stood on the ship's deck, approaching Antarctica for the first time that voyage. And I love the light.
However, the point I was trying to make (perhaps unsuccessfully) is that not every photo we create needs to be something that everyone else in the world loves. I know I get a lot of likes and loves on social media (and thank you for doing so), but there are also a lot of people who just click past because my photo doesn't do anything for them. And that's okay!
We can't control how people react to our work. Now, while it would be untrue to say I've given up caring what other people think, I am training myself to accept that there are all sorts of views out there and not to worry too much about the 'negatives'. On the other hand, sometimes judges have made negative comments about my work which have been really instructive and useful. They have helped me become a better photographer - in my opinion. 
We all have opinions and that's a good thing. It's a first step to creating new and original photography, so we certainly don't want everyone agreeing with everyone else - that would be boring. And as for the judges, yes, there are times when judges get it wrong. So do photographers! But if you enjoy the competition process as I do, I think the solution is not to get upset by poor outcomes, but to work out if you're still happy with the photo.
Sometimes my work is criticised, I agree with the judges and the photo is no longer a 'favourite'. But if I still love a photo after it has bombed in a competition, then that to me is a mark of success.