Details

Category: Almost Weekly Photo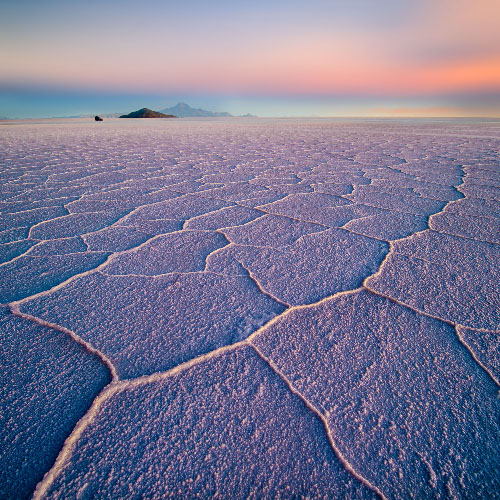 As Ignacio Palacios and I begin to promote our photo tour to Bolivia in July 2019, I asked Ignacio to share one of his favourite photos with us. Here are his notes on his stunning Salar de Uyuni salt lake landscape:
It is a composite image. The top of the image that includes the 4WD and the mountains (Fisher Island) was taken at sunrise and the bottom part of the image with the typical salt plain hexagons was taken at sunset.
The reason why I had to do a composite image is because I only spent one night in Uyuni and that morning at sunrise I could not find the composition that I had in mind (with a strong marked hexagonal line following a diagonal).
That morning, there were also a lot of 4WD wheel marks on the salt hexagons in the area where we parked our car to take a few photos at sunrise. It was so dark that I could not see them, but they ruined most of my photographs. In fact, there were so many 4WDs driving around Uyuni that it was very difficult to find a location without marks...and it would have been a very tedious task to clone them.
Because I wasn't completely happy with the shots I took in the morning, I asked the driver to take me again for sunset. I was the only photographer on the tour keen enough to come back to the salt plains again for a sunset shot. We had to look for a while until I found what I wanted and then we waited for the sun to set...
Apart from saturating, slightly changing the colour of the salt lake and highlighting the diagonal, I haven´t touched this image very much.
Naturally, I'm keen to get to Salar de Uyuni and find some shots like this. The image won Ignacio first prize in the LUX Awards in Spain and did well in Australian awards too - so I will need to find something different!
Details

Category: Almost Weekly Photo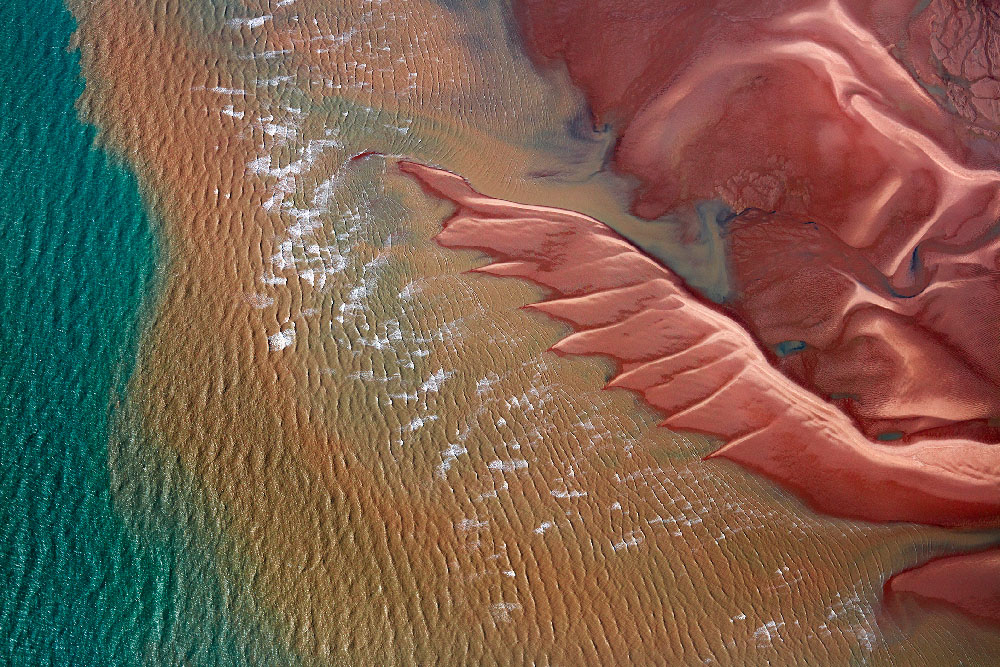 Photography by Tony Hewitt and Denis Glennon, Girt By Sea exhibition.
Regular readers of this blog will know of Tony Hewitt because he and I lead a number of photography workshops together (and there's still a place left for Middlehurst in NZ next month if you're keen!)
However, what you might not know is that Tony and his mate Denis Glennon recently circumnavigated Australia in a small plane, taking photographs as they went. It was a remarkable adventure, undertaken in partnership with Canon, and the result is a fantastic exhibition of 100 large prints, now showing at Paddington Town Hall in Sydney.
I have a fuller article in preparation for the September issue of Better Photography magazine, but if you live in Sydney, NOW is the time to see the exhibition in the flesh (details below).
Location: Paddington Town Hall, 249 Oxford Street Paddington, NSW 2021
Dates: Saturday 16 June – Wednesday 27 June
Time: Daily 10am-6pm
Entry: Free Admission
Details

Category: Almost Weekly Photo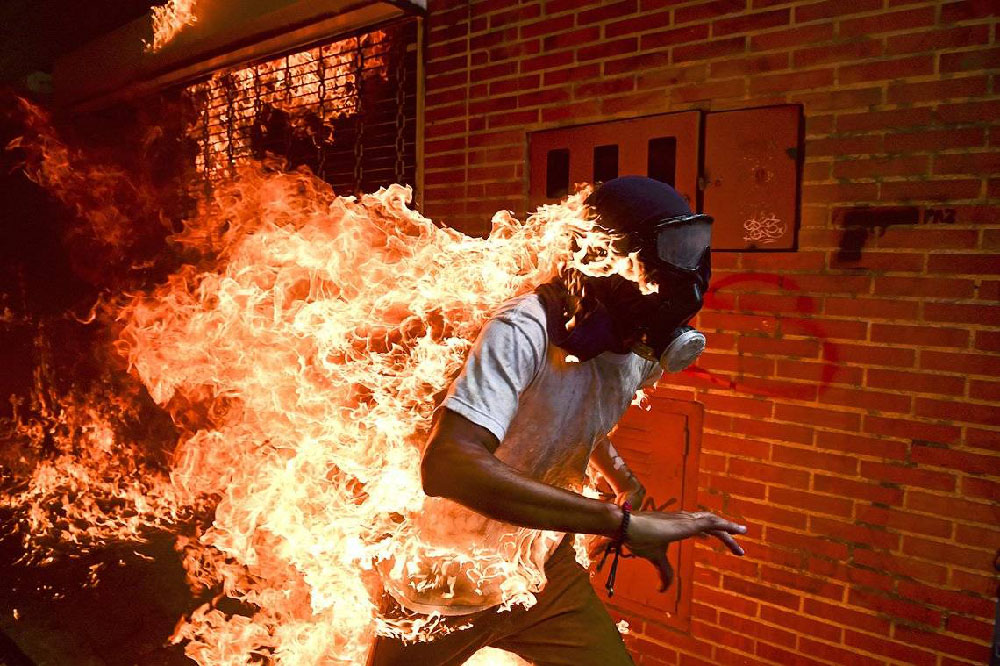 World Press Photo of the Year 2018, Venezuela Crisis, by Ronaldo Schemidt, captures 28-year-old José Víctor Salazar Balza ablaze amid violent clashes with riot police during a protest against President Nicolás Maduro, in Caracas, Venezuela on 3 May 2017. © Ronaldo Schemidt, Agence France-Presse
Each year, Canon sponsors the World Press Photo exhibition at the State Library of NSW in Sydney – and should be congratulated for being a part of it. The 2018 awards are currently on exhibition until 24 June this year, so if you live in Sydney or you're passing through, it's well worth a visit.
Looking around the walls this year, the photographs were incredibly powerful. Maybe I'm getting older, but this is to my mind one of the stronger collections – and there was a range of both good and bad news stories.
The exhibition features 150 winning images selected from among 73,044 photos taken by 4,548 photographers, representing 125 countries.
Of note, the coveted World Press Photo of the Year was selected from six nominees, including Australians Patrick Brown (General News, first prize singles) and Adam Ferguson (People, first prize stories).
Many readers will know my views on photography and its authenticity. For art based photography, there is no need for honesty, but I understand and commend the documentary world for trying to keep their profession clean.
It's not easy. A few years ago, the winning photograph was unfairly criticised by many 'experts' as being a composite. The photographers name was dragged through the mud, not that he was aware because he was away on assignment. When he finally returned, the photo was confirmed to be a single capture and all those so-called experts were wrong. I wonder if any of them apologised?
The reality of photography today is that you can't easily tell if an image is a 'fake' or not. What's even more confusing is that the amount of 'allowable' post-production applied varies greatly, and what one photographer thinks is a lot of editing, another thinks is just the start! The rules and regulations are incredibly rubbery, requiring each winning image to be carefully vetted by the organisation for authenticity. I can't see any alternative.
David Campbell, World Press Photo's director of communications and engagement, gave the photo press a guided tour before the opening in Sydney. You can imagine my ears pricking up when he suggested that black and white photographs may be too far removed from reality and that some photographers are suggesting black and white no longer be allowed.
It's an interesting point. When it comes to a colour photograph, you're only allowed to do minor adjustments to exposure, contrast and colour – so you could slightly increase or decrease colour saturation, but no more. It's a good rule, but then on the next line (so to speak) the rules allow you to turn your colour file into black and white! Why?
Well, we all know why, but it's an intriguing irregularity in documentary photography's current philosophical arguments. I think this calls for a glass of red wine and further discussion!