Details

Category: Almost Weekly Photo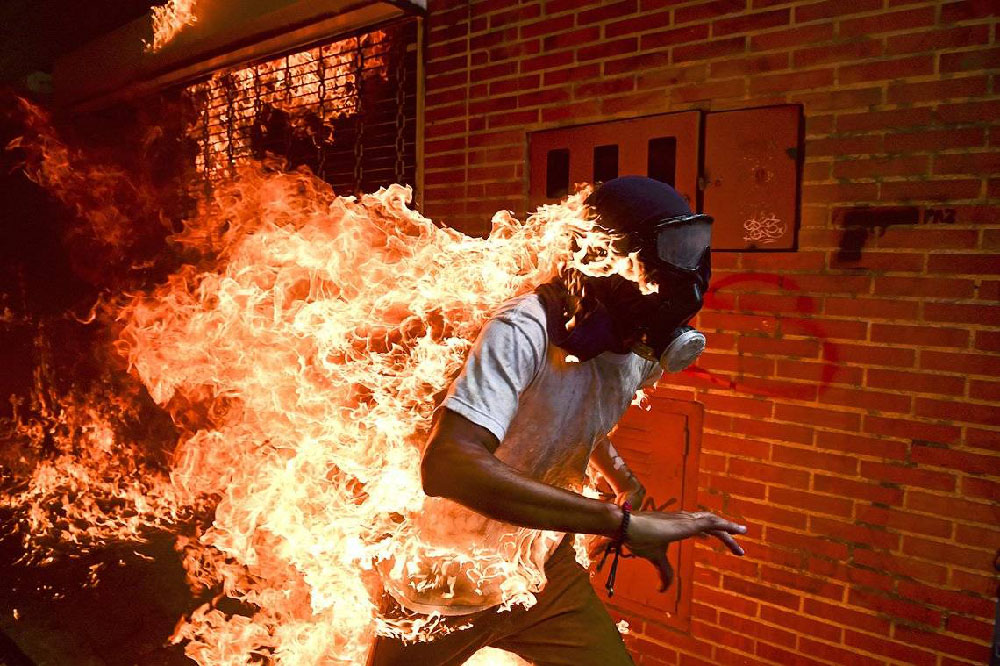 World Press Photo of the Year 2018, Venezuela Crisis, by Ronaldo Schemidt, captures 28-year-old José Víctor Salazar Balza ablaze amid violent clashes with riot police during a protest against President Nicolás Maduro, in Caracas, Venezuela on 3 May 2017. © Ronaldo Schemidt, Agence France-Presse
Each year, Canon sponsors the World Press Photo exhibition at the State Library of NSW in Sydney – and should be congratulated for being a part of it. The 2018 awards are currently on exhibition until 24 June this year, so if you live in Sydney or you're passing through, it's well worth a visit.
Looking around the walls this year, the photographs were incredibly powerful. Maybe I'm getting older, but this is to my mind one of the stronger collections – and there was a range of both good and bad news stories.
The exhibition features 150 winning images selected from among 73,044 photos taken by 4,548 photographers, representing 125 countries.
Of note, the coveted World Press Photo of the Year was selected from six nominees, including Australians Patrick Brown (General News, first prize singles) and Adam Ferguson (People, first prize stories).
Many readers will know my views on photography and its authenticity. For art based photography, there is no need for honesty, but I understand and commend the documentary world for trying to keep their profession clean.
It's not easy. A few years ago, the winning photograph was unfairly criticised by many 'experts' as being a composite. The photographers name was dragged through the mud, not that he was aware because he was away on assignment. When he finally returned, the photo was confirmed to be a single capture and all those so-called experts were wrong. I wonder if any of them apologised?
The reality of photography today is that you can't easily tell if an image is a 'fake' or not. What's even more confusing is that the amount of 'allowable' post-production applied varies greatly, and what one photographer thinks is a lot of editing, another thinks is just the start! The rules and regulations are incredibly rubbery, requiring each winning image to be carefully vetted by the organisation for authenticity. I can't see any alternative.
David Campbell, World Press Photo's director of communications and engagement, gave the photo press a guided tour before the opening in Sydney. You can imagine my ears pricking up when he suggested that black and white photographs may be too far removed from reality and that some photographers are suggesting black and white no longer be allowed.
It's an interesting point. When it comes to a colour photograph, you're only allowed to do minor adjustments to exposure, contrast and colour – so you could slightly increase or decrease colour saturation, but no more. It's a good rule, but then on the next line (so to speak) the rules allow you to turn your colour file into black and white! Why?
Well, we all know why, but it's an intriguing irregularity in documentary photography's current philosophical arguments. I think this calls for a glass of red wine and further discussion!
Details

Category: Almost Weekly Photo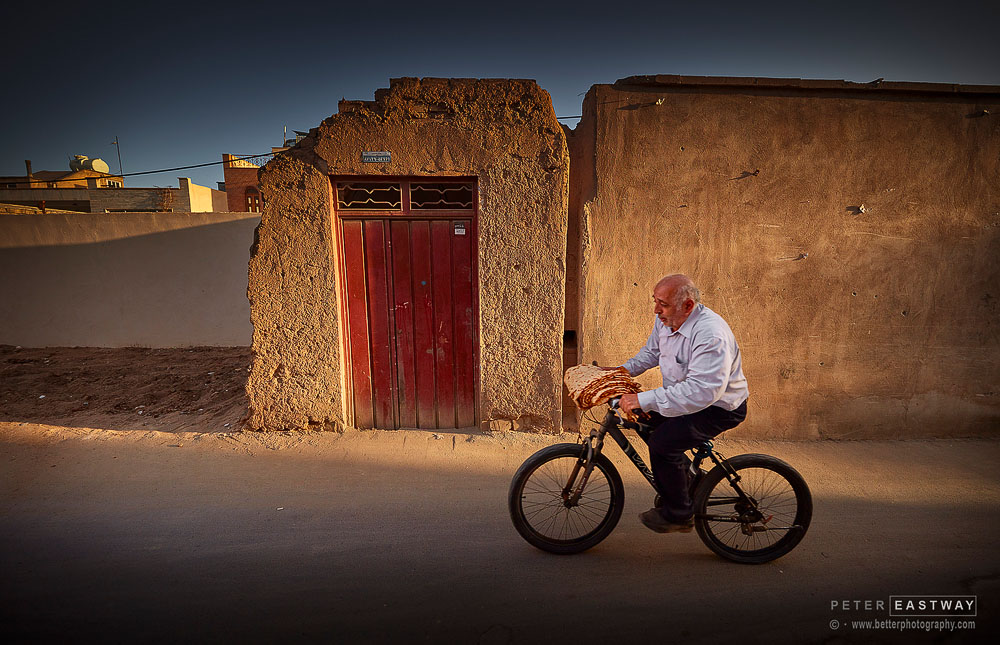 Early morning bread run, Kashan, Iran.
Canon EOS 5DSR, 11-24mm lens, 1/125 second @ f5.6, ISO 125
Iran is going to feature at the Evening Atelier at Dee Why RSL next Wednesday evening (all welcome - $9.95 entry fee). I'm seeing if Nuran is around, but I think he's overseas, possibly enjoying some of the marvellous breads you get in this part of the world.
Bread is a staple food and there are bread shops everywhere you look. It's mainly unleavened bread as I understand it and I have been entertained by a number of bakers in different parts of Iran.
One of the ideas I use when travelling is to pick a theme and create a series of images around it. I don't have just one theme, rather there will be a series happening at the same time. I think I've posted a few yellow taxis from Iran in an earlier blog post, and I might have posted this gentleman somewhere as well, but he is a special 'bread' favourite.
I have taken bread photos inside bakeries, outside bakeries, on the way to bakeries and on the way home from bakeries. I have old people with bread, young people, religious people and people riding bicycles. 
Themes like this can be used to create a small portfolio, a chapter in a book or a section of an audio visual. It also gives you something to focus on, especially in a new location where the photographic opportunities can sometimes be overwhelming.
Click through to the website to see three more bread extravaganzas! 
Details

Category: Almost Weekly Photo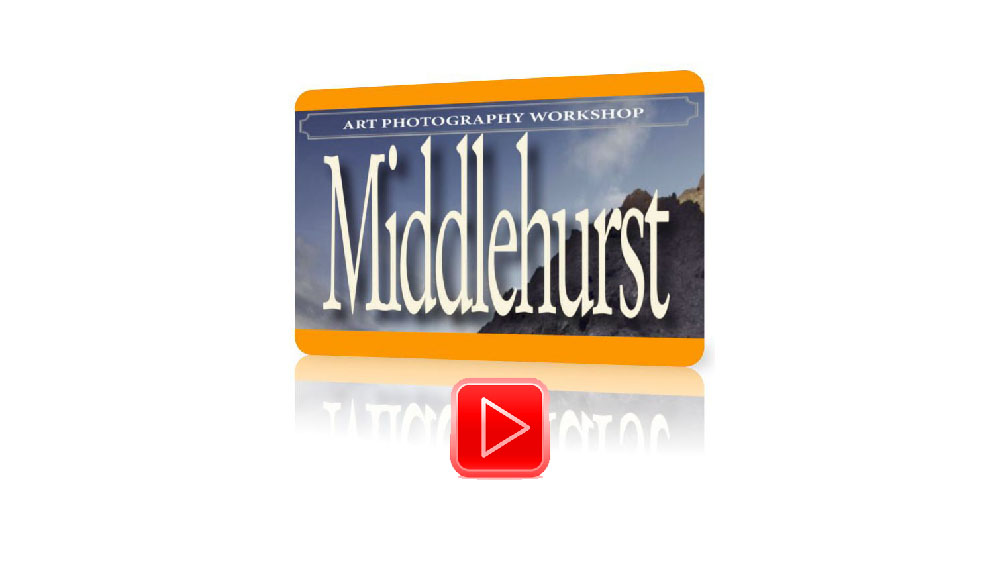 May I plug two things that are closely related? Producing a photo book and our Middlehurst Art Photography workshop?
After each Middlehurst Art Photography Workshop we produce a book with the attendees, including images that Tony and I have taken. The little video above will show you the book we produced and talk about the importance of producing books.
It will also suggest you look into coming on a Middlehurst Art Photography workshop! This year, we were fully booked, but unfortunately a number of our guests have had to cancel. So we have three places at the moment and there's still time to book! Contact me, Tony or Kim (This email address is being protected from spambots. You need JavaScript enabled to view it.). 
And to see some of my photos from Middlehurst, sign up to my Instagram feed: www.instagram.com/petereastway/