Details

Category: Almost Weekly Photo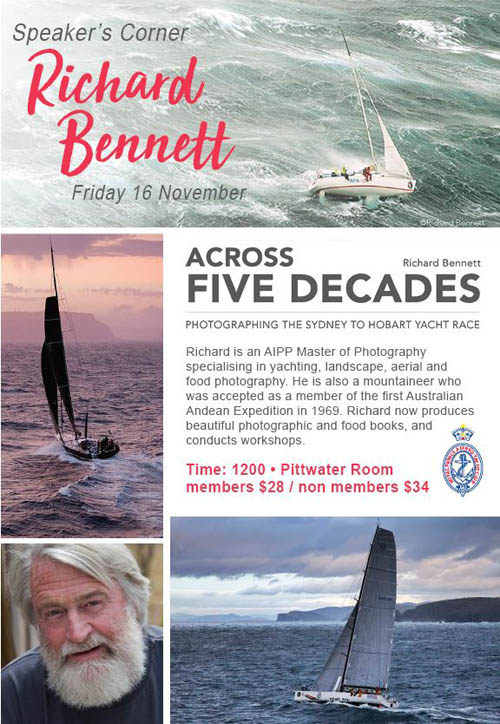 Richard Bennett is a good friend of Better Photography and regular readers may remember reading about him over the past few years. He's the photographer who has followed the Sydney to Hobart Yacht Race from the air for the past five decades - but he's much more than that!
Richard lives in Tasmania, but he's up in Sydney on the Northern Beaches giving a lunch-time talk next week. The venue is the Royal Prince Alfred Yacht Club in Newport. It is a sit down lunch: main course and buffet desert and coffee for $34.00.
Date: Friday 16 November 2018
Time: 12.00 for 12.30.
Presentation goes for an hour to an hour and a half - maybe more, Richard says, depending on how the audience is tracking!
Details are here:
However, the link doesn't do much as you still have to book by phoning the Royal Prince Alfred Yacht Club on 02 9998 3700.
The address is Royal Prince Alfred Yacht Club 16 Mitala Street Newport 2106.
I've just booked my place and told them I'm a vegetarian - so see you there!
Details

Category: Almost Weekly Photo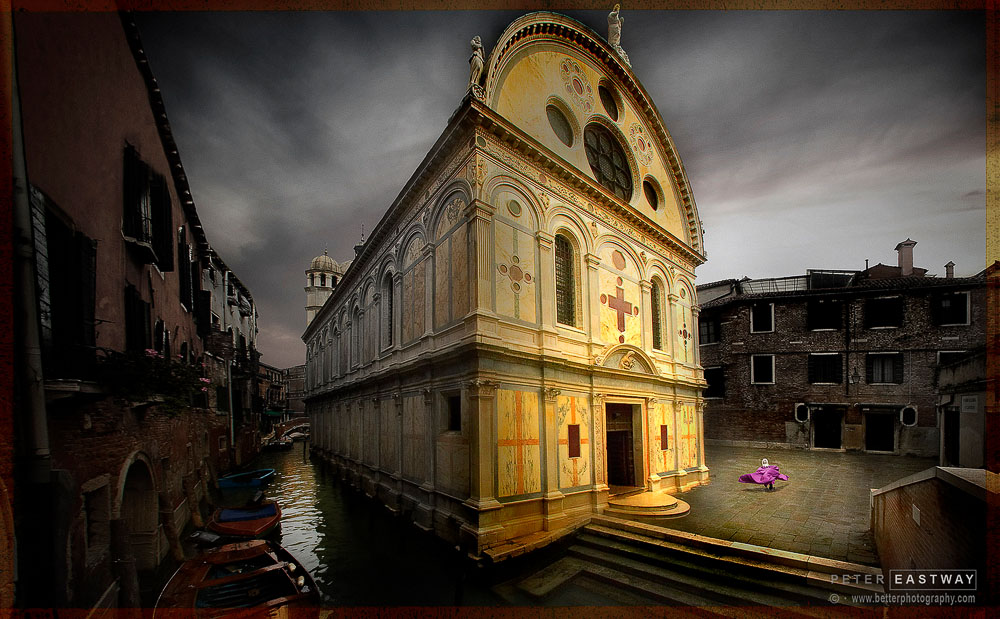 I'm currently into the final stages of putting my book, The New Tradition, together. The two copies of the book I had printed by Momento Pro (and which won a Gold with Distinction in the AIPP Australian Photography Book Award recently) were 'proofs', so to speak. We've used them for double checking, proofreading and I'll also send a copy to the offset printer so they know the colours they have to match.
And this is a part of photography that not a lot of photographers get to see - or indeed, need to see! On-demand printing needs RGB files, while offset printing needs CMYK.
When I send my files off to Momento Pro for printing, I keep them as standard RGB files. I suggest converting all your files into Adobe (RGB) colour space. 
However, when you use an offset printer, CMYK files are required. It's the same file but instead of comprising red, green and blue channels, it's made up of cyan, magenta, yellow and black channels. It's just a button press in Photoshop, but behind the scenes, lots of things can happen.
So, why not have Momento Pro print all of the books and not worry about CMYK? Cost! I'd love to have them all printed by Momento Pro, but then I'd have to charge a lot more for the book (although if you'd like a Momento Pro version, it is available on the website).
Over the years of producing the CMYK conversions for Better Photography magazine, we've learnt a few things. First, it's best to work with a colour space (like U.S. Web Coated [SWOP] v2), rather than a custom printing press profile. We've also found that the standard Photoshop CMYK conversion flattens the tones, so we tweak the files afterwards. Generally speaking, this is a 15% lightening of the mid-tones across all the channels, and a slight clipping of around 6 points on the black channel to ensure we have some good blacks.
The press in Hong Kong will also be doing machine proofs for a number of the pages, which we can compare against the second copy of the book printed by Momento Pro. It is a big expense, but it's worth it to ensure you're going to get the quality.
So, if you're producing your own book of photographs for an on-demand printer, keep your files in RGB. On the other hand, if you're going for a long print run with an offset press, get some expert advice to ensure your files are correctly converted.
And this photo, Santa Maria dei Miracoli? I wonder if this will become the signature photograph of The New Tradition because it represents the time when photographers could finally work like artists, and not be limited by the camera and technology. You can read more about The New Tradition and even advance-purchase a copy for a significant discount!
Check out the video and the flip-book on the website - and maybe you'd like to purchase a print with your book at the same time? You can save over $40 if you order before December!