Details

Category: Almost Weekly Photo
If there's one location in the world that really deserves a medium format camera, it has to be Iceland. The volcanic island is incredibly weathered and textured, from the abrasive lava flows to the fine green grass growing out of black volcanic soil.
Set your lens to f11 (or whatever your optimum aperture is), ensure the camera is rock solid (so no camera shake), and then check your focus: the resulting quality of detail found in a medium format file is a wonder to behold!
While I love shooting with medium format, you do have to think a little differently. For instance, I don't own zoom lenses for medium format (they exist, but they are relatively short in range and rather large to carry around). Instead, I have a small collection of lenses: 23mm, 55mm, 80mm (equivalent to a 50mm on a DSLR), 110mm and 240mm. It's a useful range, but I find myself using my feet a lot more as I move myself into position.
Of course, sometimes you can't change your position easily. Take the little village behind Hellnar in Iceland shown here. I love this location because, to my eyes, the buildings are so simple and neat, plus the black woodwork contrasts strongly against the vibrant green grass. And then there's the little church in the background - who doesn't love photographing the churches spotted all around Iceland! It reminds me a little of a Jeffrey Smart composition (an Australian contemporary painter).
The challenge for me was the 110mm lens I was using was a little long for the framing I had in mind (and that you can see above). The only other lens I had with me was 55mm, and that was too wide. (The 80mm would have been perfect, but sometimes I don't travel with my 80mm because I find I rarely use it when I have the 55mm or 110mm to choose from. Silly me!).
I wanted to fit in just a little more than I could, but if I walked backwards, the terrain meant I lost my view, so what was the solution?
Stitch! Stitching isn't just for panoramas. I simply worked out my left and right sides of the photo and took three frames and opened them up in Photoshop to quickly stitch together. In terms of post-production, it's nothing more than a little darkening of the sky and foreground, and setting the exposure to reveal the rich colours.
And it's a medium format frame, the original measuring 14,000 pixels across, so plenty of information to make a nice big print!
If you're interested in exploring Iceland, I am running a photo tour there at the end of October/early November 2019 with Better Moments (a photo tour company based in Denmark, but not related to Better Photography!) It's also being hosted as a Phase One tour, meaning if you come along, you can use a Phase One medium format outfit for the duration of the photo tour and I'll be there to help you use it. Of course, it's not compulsory to use a Phase One camera - everyone and all camera brands are welcome!
For details, check out the website or click here.
Details

Category: Almost Weekly Photo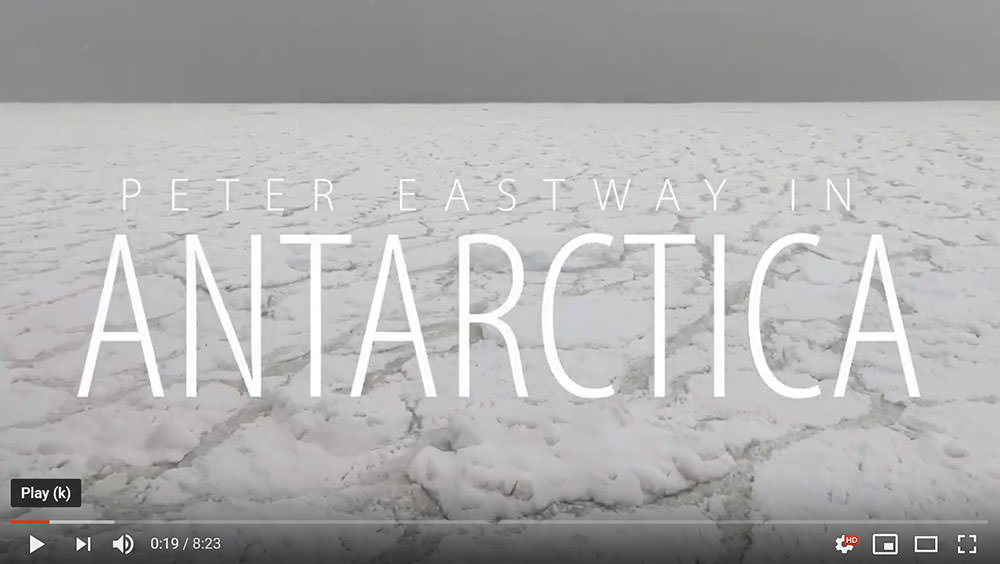 I've been playing around with video again and you can see a small production on YouTube detailing my last voyage to Antarctica and South Georgia with Aurora Expeditions. It was also my last voyage on the ageing Polar Pioneer, the diminutive ship being replaced by the larger, more luxurious Greg Mortimer next season. Gotta say I'm looking forward to it!
This is the link: https://youtu.be/ZszMPZIpK4k
This was my fourth voyage to Antarctica and it continues to surprise and impress. I don't think it will matter how many times I visit, the weather and local conditions are always so different, that familiar places never look quite the same.
For instance, I visited St Andrews on my very first voyage, but the weather or itinerary had disappointingly precluded us from landing on later voyages - until this time. And this time, I was disappointed not to be landing at Salisbury Plains (too much swell on the beach and probably too many seals as well), but the alternative the following day was to visit St Andrews.
And St Andrews was completely different to the first visit. Instead of a bleak overcast day, it was bright and sunny. Behind the beach we walked over luxurious green grass instead of bare earth and mud, and you could be forgiven for wondering if this really was South Georgia! And then there was the number of King Penguins. Being a little later in the season (December instead of November), there were probably double the number of penguins – I think the number was around 250,000!
What I love about lots and lots of penguins is the opportunity to take a pattern shot. It's the same photo, but everyone is different! And when you can combine the adults in black and white with the adolescents in orange brown, there is no shortage of patterns to play with. You'll see video versions of some of my stills in my little YouTube production.
So, enough with the writing! Where's the video? Check it out here!
Details

Category: Almost Weekly Photo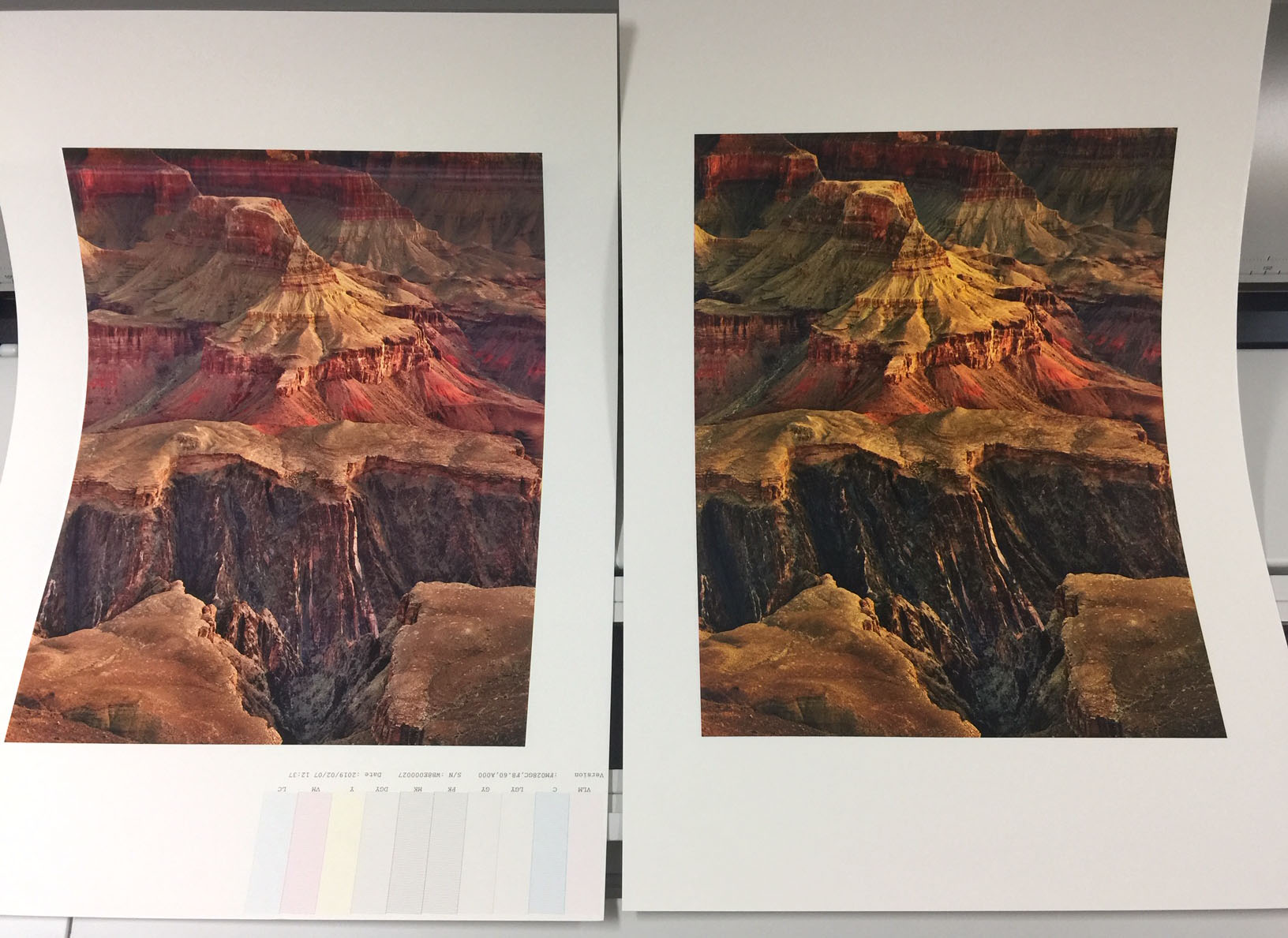 What do blocked print nozzles look like? No idea, but I know what a print made with blocked nozzles looks like – and so do you if you look at the examples above.
I am probably the worst photographer to own a printer. Experts will tell you that printers work most reliably when they are used regularly, but given I can be away on a trip for two or three weeks at a time, my Epson SureColor P10070 can sit idle for longer than it should.
So recently when I made a print after being away for a month, I simply turned the printer on, loaded the paper and pressed the button. That was a waste of paper – as you can see from the print on the left.
What I should have done was use all the modern technology built into the SureColor P10070 and done a nozzle check or let the printer do an automatic clean. I didn't and so the blocked nozzles prevented some of the ink from reaching the paper and the resulting print was rather lacklustre!
Fortunately, when the printing was finished, the SureColor was beeping at me, suggesting I clean the print head – which I did. A few minutes later, it reported the process was finished and the printer was ready to try again: the result you can see on the right which is a much better result!
I think making prints is one of the most enjoyable aspects of photography, when all your hard work comes together into something tangible. People often ask me if I have trouble making good quality prints and my answer is no, not if I do everything properly. Really, if you have the right equipment and set-up, making great prints is really easy.
So, what do you need. First up, you need a good quality monitor so when you edit your files, you're seeing an accurate rendition of what the photograph really looks like. I use EIZO monitors for this reason. Second, you need a good quality printer – but you don't need something as large as my 44-inch SureColor P10070. The SureColor P600 and P800 desktop printers will handle A3+ and A2 size prints respectively.
Finally, you need a good printer profile for each paper type you use. I get mine from Dr Les Walkling (www.leswalkling.com) and Kayell also provides them. These custom profiles make all the difference and give me the 'perfect print'.
If you have a subscription to Better Photography, check out Issue 93 and the printing feature which will explain everything you need to know. If you don't already subscribe, you can grab Issue 93 with an online subscription because all the back issues are available to current subscribers!! Click here for details!