Details

Category: Almost Weekly Photo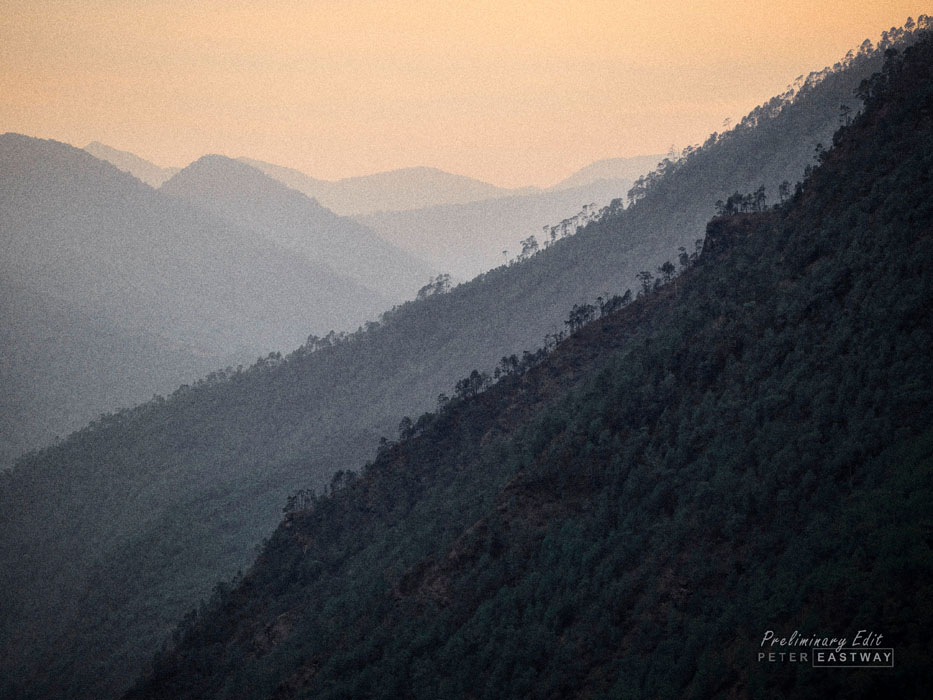 Bhutan mountain landscape.
Phase One XF, 100MP Trichromatic back, 240mm Schneider-Kreuznach lens.
After three trips to Bhutan, I thought it was time to try something different. In the past, I've taken a DSLR or CSC as being a sensible camera for travel photography – and they are. This time, I thought let's give it a go on medium format (and there is a complete article on my thought process coming up in the September issue of Better Photography).
There are challenges with medium format, especially if you're going to shoot hand-held as is so often demanded in a travel photography context. So I pushed the ISO to keep my shutter speeds high and it all worked remarkably well.
Then it came to post production and on this particular day, I thought a desaturated look with lots of grain could be appropriate. Interestingly, the day was so grey that I have actually saturated the colours to get the desaturated look, but I am digressing.
I love the way mountains stack themselves one on top of the other, especially if you view them with a telephoto lens because it adds to the compression and isolates the shapes and patterns that are so easily seen with the eye.
So, from 100-megapixel, tripod mounted perfection to a hand-held, high grain rendition. I'm certainly not the only photographer to have used this technique, but it's always good to try something that is new for you.
Details

Category: Almost Weekly Photo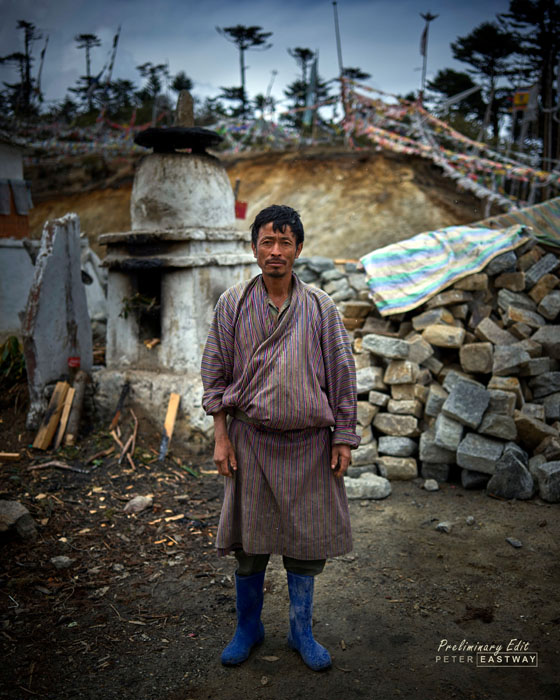 The Boss is getting cold.
Phase One XF, 100MP Trichromatic back, 55mm Schneider-Kreuznach mid-telephoto lens.
Before you read the rest of this blog, check out the four photos. You've seen the first up above and the other three are at the end of the article.
What do you know about these photos? What can you tell from the photos alone?
High up on a mountain pass in Bhutan, it was quite chilly. A couple of construction workers stood next to the mandatory chorten, keeping a fire going.
This was the story. It's a simple story, but it gives you more information to understand what's happening, but perhaps not quite enough…
The boss had noticed the fire was going out. He sent his assistant across the road to find more wood. Colourfully attired in blue Wellington boots, the assistant grabbed a small tree and dragged it down the hill and back across the road, where he trimmed it ready for burning. He even paused long enough to have a portrait taken.
So, now there's a story, do the photos have more meaning? Are the photographs more interesting? Do the four photo work better collectively than any one image alone?
Not every photograph we take has to stand alone. I'd suggest none of these photos are brilliant, but together with a little story, they create a mini photo essay.
Before television and video became so prevalent, photographers would create photo essays to better tell a story. They were often documentary in nature and generally very popular with magazine readers.
We can do the same. Whether we publish in a magazine or on a blog doesn't matter, but I do think it's important to add a few words, to flesh out the story, to allow your viewers to correctly understand what is happening.
So, on your next photography outing, think about creating a mini photo essay and putting it together. I'd be interested to see what you create – maybe we'll even publish one or two on this blog?
See the other three images here...
Details

Category: Almost Weekly Photo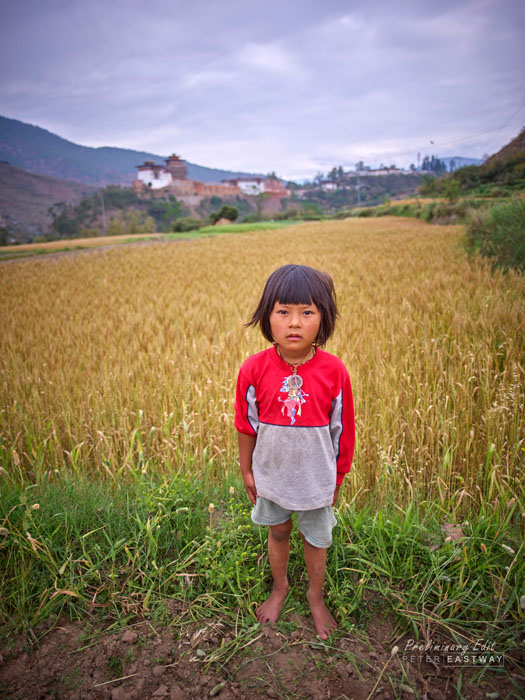 Wangdue, Bhutan
Phase One XF, 100MP Trichromatic back, 35mm wide-angle lens
The world is changing so quickly, you wonder whether photos like these will be around in a decade, even less. Modernisation and mechanisation are reaching small communities and one wonders if small children will be wandering around the rice paddies while their parents work, or if they will be inside looking at a computer screen?
Bhutan is a photography paradise with something to photograph wherever you look. And if you can't see anything, just wait a little because around the corner, the weather will change or a new village will emerge. This location was an idyllic little farming community of a dozen houses below our eco-hotel. After breakfast out on the patio, looking over the river and the distant Dzong, we wandered down to take a look. Everyone was friendly, as you'd expect, and after an exchange of pleasantries, we managed to capture a few photos of this young girl.
I love the fact that she looks so awkward, so self-conscious about having her photo taken. Her parents were encouraging her to be good and I had no sense of guilt, knowing that in a few years she'd be using her mobile phone to photograph all her friends and, just maybe, some tourists as well!
I had time to shoot one portrait with a wide-angle lens, including the rice fields and the distant dzong. I took a higher viewpoint so that she was framed by the rice field, leaving the dzong up above. It places her in the environment.
I then switched to a mid-telephoto and took a closer portrait, using a wide aperture to throw the background out of focus. By taking a lower viewpoint, I have still managed to keep the dzong and rice fields in the background, although they are less recognisable.
So, which is best? You may have a preference based on the subject's pose and expression, but from a photographic viewpoint, which best tells the story?