Details

Category: Almost Weekly Photo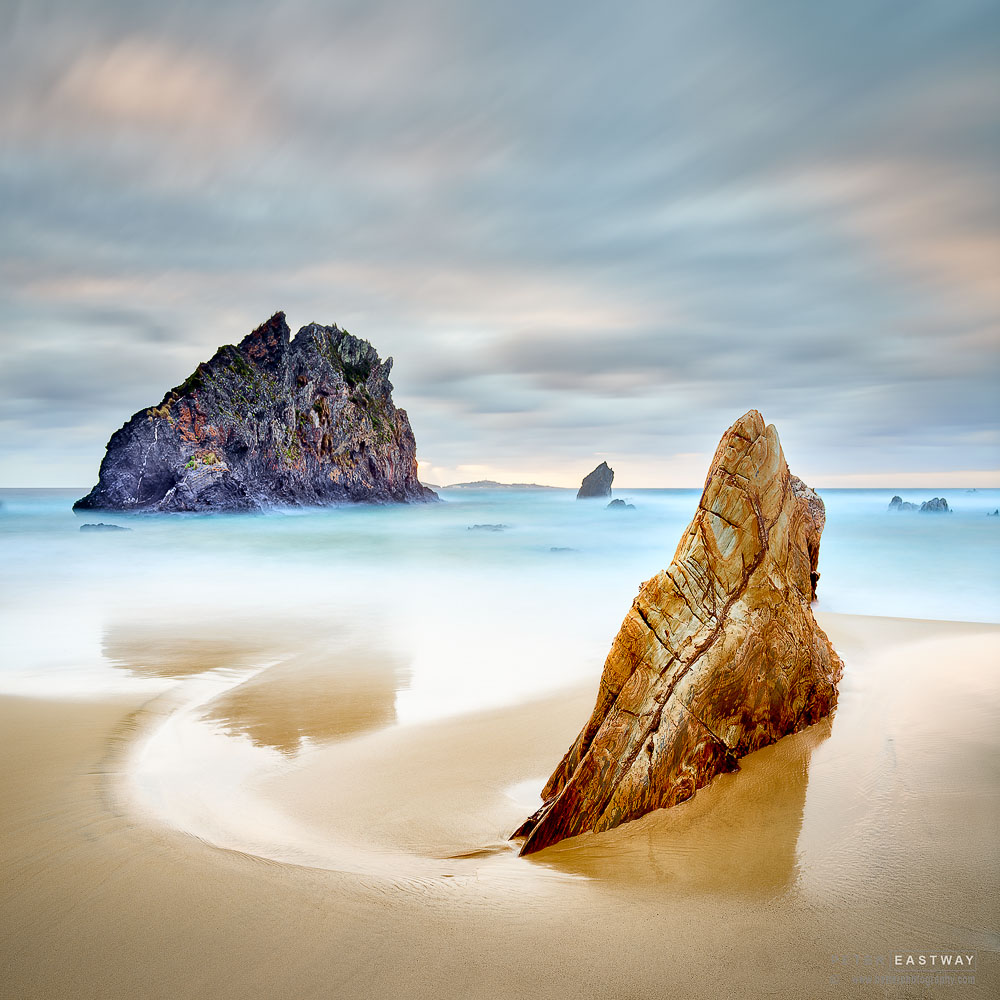 Glass House Rocks, Narooma, NSW
Phase One XT 150MP with 32mm Rodenstock, f8 @ 1/5 second, ISO 50, frame averaging for 60 seconds.
If nothing else, these are interesting rocks! And regular readers may recognise them as I have certainly photographed them before - but never quite like this. Different times, different weather, different thought-processes - it always surprises me just how much you can find to photograph if you stop to look. Of course, you're right to point out that I visited the wonderful South Coast of NSW, but my point is that things that have become commonplace to us can nevertheless be rediscovered with the right attitude?
Am I sounding a little philosophical? It's possibly because I've been teaching with Len Metcalf and his art-based approach to photography has had an effect. Some photo tours and workshops are mainly practical, others have a greater classroom content and while our program was reasonably adaptable, we spent around half our time listening, commenting, processing - and printing!
Both Len and I are strong printing advocates. A photograph isn't really a photograph if you're just looking at it on a small screen. The best way to present a photograph is in a printed form - such as a print, a book or even a card. As Len pointed out, a digital image is just an electrical current passing across a screen, while a print is a separate physical object. It has an existence of its own. It is tangible.
So, two suggestions. Firstly, Narooma is a great destination and there are lots of places within striking distance to photograph. 
Second, print your photographs! The Epson SC-P906 I took delivery of last week worked flawlessly, producing beautiful prints that all our participants loved and enjoyed. Thanks to Epson and Canson for providing ink and paper.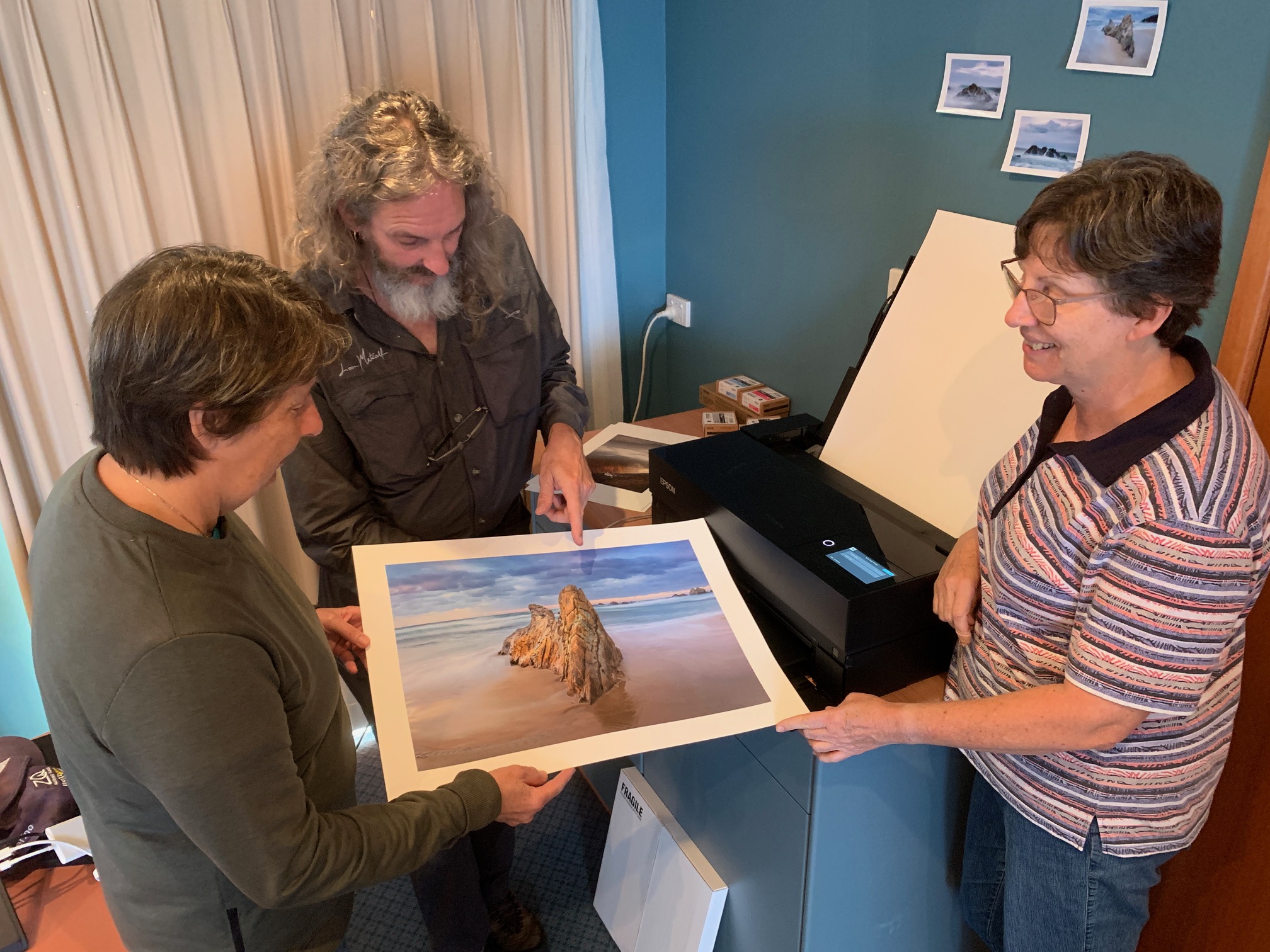 Above, Sue (left) and Julie discuss Sue's beautiful photo at Glasshouse Rocks with Len Metcalf. As you can see, the Epson SC-P906 printer is very small and it fit easily into the boot of my car for transport. We had a pack of the larger A2 Canson Rag Photographique to play with and there's no doubt that size does matter. With our modern cameras capturing so many pixels, there really isn't a reason not to print to A2 from time to time and, interestingly, I can see that Kayell has the Epson P906 printer on its website for $1695. You don't need to purchase one of the larger pro printers because these smaller models produce prints of exactly the same quality - and that print quality is second to none.
Details

Category: Almost Weekly Photo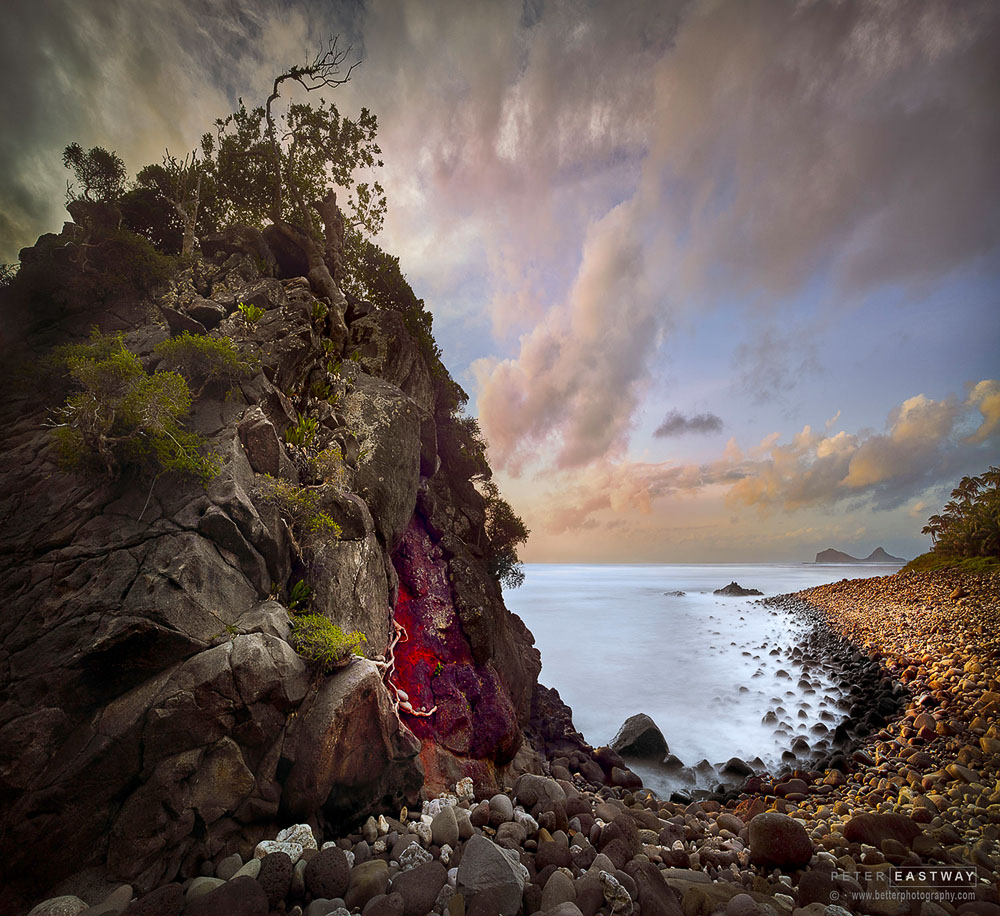 Little Island, Lord Howe Island
Alpa TC, Phase One IQ180, 23mm Rodenstock lens, 1/8 and 30 second exposures, f8 @ ISO 35
Last week, I realised my personal website (www.petereastway.com) was missing some of my earlier work and the above photo of Little Island shot on Lord Howe Island (off the NSW coast in Australia) was one of them. 
Lord Howe Island itself is quite magical, what you'd want in a 'desert island' if you had to be marooned somewhere. It's big enough so you'll never be bored, small enough to easily get around, and there are some very special locations, such as Little Island down the bottom of the trek up to Mount Gower.
Most of the time we were there, Little Island wasn't, but I imagine with big swells and tides, the water laps around it and hence its description. The challenge was finding an angle that included both its shape and location. Standard angles-of-view which included both sides of the island and a clearly defined shape were interesting, but I found this more closely cropped and squished composition to be stronger. Then it was a matter of ensuring sufficient detail in the island itself and dropping in a second exposure (taken from the same angle using a locked off tripod) with blurred water and clouds.
Why two exposures of the same scene? It was windy and the small bushes at the top of the island blurred during the long exposure. As photographers, we don't need a reason other than to say it was my preference to have the bushes sharply resolved with the shorter exposure.
When playing with exposure, the landscape can reveal all sorts of secrets and I love the discovery of the deep red rocks, almost buried in the middle of the island. By drawing out and enhancing the colour, you can almost imagine this a wound, a metaphor for what we're doing to the Earth in so many places. However, the main reason I drew out the colour was to create a point of interest in the composition and, as we all know, it's points of interest that make photographs engaging for our viewers, allowing them to apply their own interpretations and responses.
I hope you enjoy it.
This week, I am down in Narooma with Len Metcalf and a group of photographers on my first photo workshop in many months. I've taken an Epson SC-P906 A2 printer (I've actually purchased this for myself from Kayell, although as an Epson Ambassador, Epson would certainly have lent me one). We also have some great sample Epson Signature Hot and Cold Press papers, and also Canson's Rag Photographique, Platine and Aquarelle (I'm also a Canson Ambassador). Our plan is to shoot, process and print and, given the weather forecast, I think we will be having a little 'inside' time for plenty of printing!
Fingers crossed the world continues to open up and the vaccine does its magic.
In the meantime, don't forget my Landscape Photography MasterClass has been fully updated and you can read all about it and see a great little audio visual at www.betterphotographyeducation.com.
Details

Category: Almost Weekly Photo
Educational Cleric, Kashan, Iran
Fujifilm X-T3 with Fujinon XF8-16mmF2.8 R LM WR, f8 @ 1/60 second, ISO 250.
Looking through the portfolios of great photographers, I'm always struck by their sense of timing, whether it's a landscape, a portrait or a street scene. My first thought is, how did the photographer manage to be in such a great spot at just the right time? I'm sure many of us look at images that inspire us and have similar thoughts.
Very often the answers to these questions are found in the stories, articles and biographies surrounding these photographers. For street photographers, it wouldn't hurt to read Cartier-Bresson's Decisive Moment. I have a replica copy of the book in my library, David Oliver has an original - and so does Lyn Whitfield-King. The replica copy is extremely good, resisting the urge to reproduce the photos 'better' using modern printing processes and delivering a faithful, soft-contrast facsimile. However, for me the key is in Cartier-Bresson's essay about how he approaches photography and what he means by the decisive moment. I found it incredibly instructive.
Of course, all these ideas and influences become condensed into your own way of working. My take-away from photographers like Cartier-Bresson, Salgado and even our own local heroes like Michael Coyne, is that half the battle is just being there. Sure, you make your own luck, you follow interesting situations, you make yourself ready for action, but at the end of the day, it's just being there with your camera.
This photo, far from being a Cartier-Bresson or a Coyne, is one that I enjoy because of the way the cleric is positioned within the arches of the mosque in Kashan. One of the great services you'll find in many mosques around Iran's tourist areas are clerics ready to answer questions and explain Islam. This gentleman, mobile phone in hand, spent 15 minutes with us, explaining the Call to Prayer and then giving us a wonderful rendition as well. Having video on my camera meant I was able to capture both the song and this still image.
The other thing I've learnt is that you need to take lots of photos. I know I write this a lot, but to get that one in a thousand shots, you need to take a thousand shots! I have lots of photos with the cleric in a similar position, but only one with his hand gesturing towards the heavens.