Details

Category: Almost Weekly Photo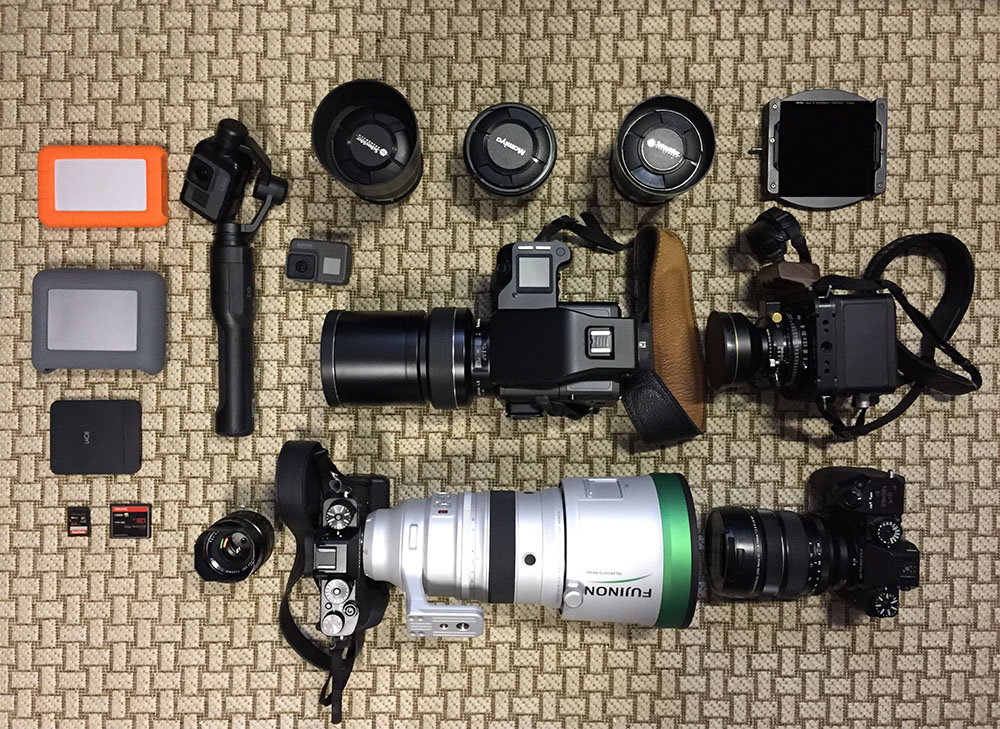 I'm always struggling to work out what camera gear to take. And invariably, I wish I took something else, although I am becoming better (meaning, I rationalise my poor decisions more effectively).
Travelling to Antarctica is a photo opportunity you don't want to skimp on. Although I've been fortunate to visit several times, each voyage is different and it's just like visiting for the first time – I don't want to miss a single shot.
The first step in working out what gear to take is to decide what types of photos you'd like to come home with. I wanted to shoot fully detailed landscapes for large prints and books (so I needed medium format); I wanted to capture the wildlife, so I needed a DSLR or mirrorless camera, and I wanted to shoot some video – so again, a DSLR, mirrorless or POV camera.
Once I'd worked this out, it was a matter of deciding what equipment to take. For medium format, I essentially took everything: Phase One XF camera body with IQ3 100MP Trichromatic back, 35mm, 55mm, 110mm and 240mm lenses. I also took the Phase One A-Series with a standard 100MP back and a 23mm ultra wide-angle lens. And my NiSi 100mm filter kit works for all the lenses, except the 240mm.
For the first time, I took a mirrorless system for wildlife. I was suitably impressed with Fujifilm's new X-T3 and its much improved autofocus speed and precision. I added in an X-H1 body, 8-16mm wide-angle, 200mm f2.0 telephoto (there's a 1.4x teleconverter somewhere too) and a 35mm f1.4. This allowed me to shoot both stills and video, and it was lighter and more versatile than medium format.
However, I'm also enjoying the GoPro camera because it's so small, waterproof and it can fit in any pocket. I have two of these, one on a gimble for smooth motion footage. And then I have my Sandisk storage cards (both CF and SD), plus my back-up drives which comprise LaCie's Rugged 2TB, the DJI CoPilot and the new Portable SSD.
Now, before you wonder how I fit all this into one camera bag, I didn't! I had two bags. I took a waterproof SKB hard case which has a backpack inside it. This allowed me to transport my cameras (but not all at the same time) from the ship to land in safety, and once on shore, I could leave the case behind and use the backpack. My biggest challenge was deciding what gear to take with me each time we went out!
For the flights to and from the ship, it meant  I could pack the large 200mm and a few other lenses and bodies inside the backpack, suitably padded with clothing, and then I placed this in my suitcase with further padding. The hard case came along as well, holding boots, tripods and other things that could get lost by the airlines if absolutely necessary!
The rest of my gear was in my standard camera backpack. When I travel, I work out what I can't do without if my luggage gets lost – and take that with me as carry-on.
I hear that the airlines are looking to crack down on carry-on luggage. I don't think they're targeting photographers, rather people who seem to carry everything including their kitchen sink! Probably best to keep a low profile with our gear!
If you're interested in joining me on a voyage to South Georgia and/or Antarctica, check out the website for options in March and November 2020.
Details

Category: Almost Weekly Photo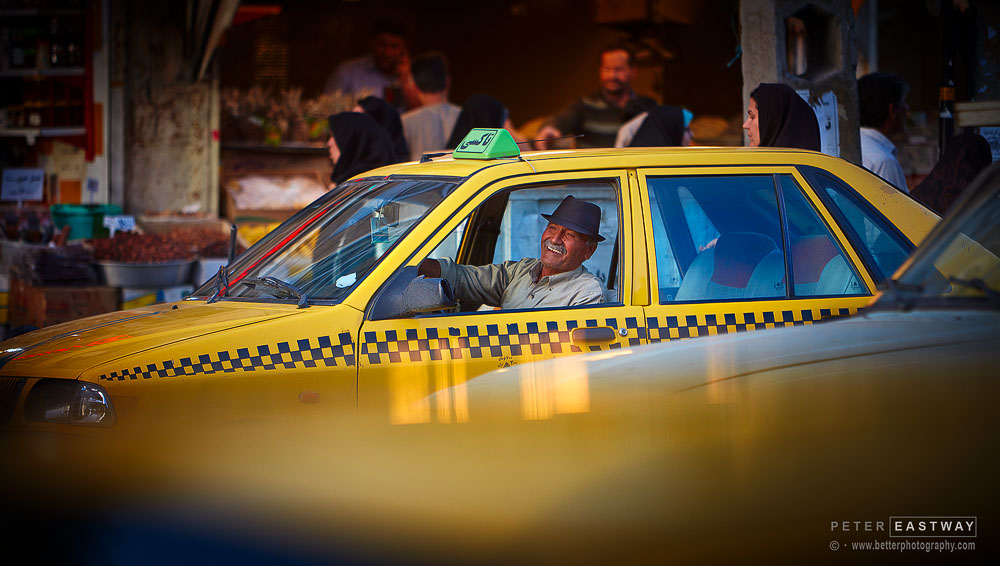 Hamadan Taxi Driver, Iran.
Canon EOS 5DSR, 70-200mm lens @ 200mm, 1/400 second @ f2.8, ISO 100
New York is known for its yellow taxi cabs and no doubt they are prevalent in many other cities around the world, but I'd suggest few cities have as many yellow taxis as Hamadan in Iran. On our photo tour, Nuran Zorlu and I spent a few hours loitering in the Hamadan's busy centre with our band of adventurous photographers. The Imam Khomeini square boasts a rich but decaying circumference of elegant building facades, with a hurried, bustling congestion below. Crossing the road to the park in the centre of the square was not without its challenges!
Nuran had suggested that Imam Khomeini square was a great place to sit down and observe life, but we weren't sitting very long before we found ourselves the centre of attention, with plenty of opportunities to photograph the people.
What struck me was the number of taxis, either in transit as a laneless melee around the park, or waiting in long lines for fares. The challenge was to capture them as a part of daily life. For the street scenes, I found a wide-angle lens allowed me to get close to the taxis as they whizzed past, placing them in the foreground and retaining the building facades behind.
As I stood on the roadside, I noticed how every taxi had its own sub-plot inside, the life of the driver and maybe his passengers, so I switched to a 70-200mm zoom and lowered my camera height. This let me look across the road into the taxis and at the driver.
On occasion I was discovered by the drivers, but never castigated. Perhaps it was because I was obviously a foreigner and somewhat of a novelty in a country that has recently re-opened its borders for general tourism.
There's no doubt this taxi driver knew I was there!
Note: Peter Eastway and Nuran Zorlu have another trip to Iran booked for April this year.  After a couple of cancellations there are now some spots left....!
Click here for all the details of the April 2019 trip on the Better Photography website or email Kim - This email address is being protected from spambots. You need JavaScript enabled to view it..
Details

Category: Almost Weekly Photo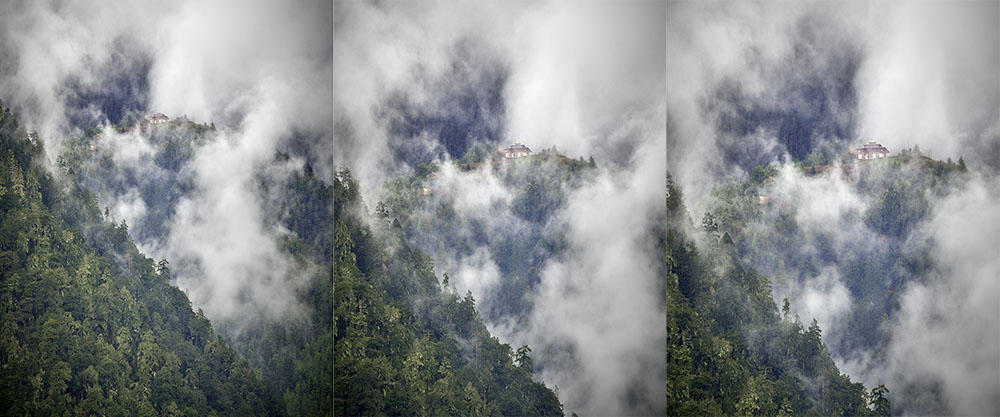 Hilltop monastery, near Haa, Bhutan
Phase One XF 100MP Trichromatic, 240mm Schneider lens, f5.6 @ 1/800 second, ISO 200
One of the limitations of medium format is the lack of a super telephoto lens. In fact, the problem applies to all photographers who don't own a super telephoto lens. And the solution is the same: crop. We all have more than enough pixels these days to crop our images, sometimes quite severely, and (technically speaking) still come away with a good quality file.
Take a look at the photo above taken near Haa in Bhutan. You're almost guaranteed one or two days like this on a two week trip, with swirling clouds engulfing towering peaks that in turn dwarf a tiny dwelling or monastery: man's insignificance in nature.
On this particular day, we were driving up to Chelela from Haa. It seemed every time we turned a corner, there'd be a dzong or a temple partially hidden by clouds. However, the distances were great and I needed to crop, certainly for a small image on social media.
One of the aspects of photography we don't talk about enough is the size of the photograph when presented for viewing. In the digital world, we have no idea whether our image is going to be looked at on a small, ageing iPhone screen or a brand new EIZO CG318 4K monitor – yet size is important. If you're looking at these photos on your phone, you might not even notice the temple at first. On the other hand, imagine looking at a one metre tall print on a wall: you'd certainly notice the tiny temple then. So, scale and the physical size of your photograph when viewed is incredibly important.
In this case, for my website and blog, I felt I needed to crop the image quite severely (middle and right) so the small temple is more prominent. On the other hand, the wider crop (left) for a large print would make me very happy!
Come along to Bhutan at the end of this year with David Oliver and me – we have a new itinerary going from west to east Bhutan! For more information, visit the website or click here.