Details

Category: Almost Weekly Photo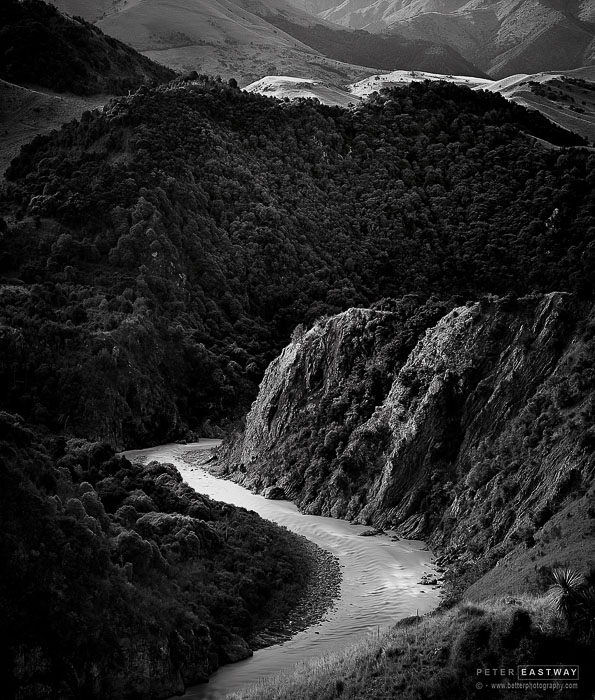 This is not Hanging Cow Creek, but the creek over the hill from Hanging Cow Creek!
Phase One 645DF, IQ180 back, 110mm Schneider, f5.6 @ 30seconds, ISO 50.
The Search is a marketing program conducted by RipCurl for surfers and the surf industry. It's an aspirational lifestyle where the best surfers travel the world in search of new waves to ride and the journey is every bit as important as the destination. Friend and legendary photographer Ted Grambeau has been instrumental in setting the standard for the imagery that tells such compelling stories.
I think photography can be approached in much the same way. Each time I venture out with my camera, it's a new search for a great photograph: the ultimate social documentary portrait, an epic landscape or an emotionally charged interpretation of a new location or destination.
There really is nothing better than travelling on the road, searching for new photographs. On photo tours, we generally have a good idea of what we're going to find, although nuances of weather, season and the local population can strongly influence the outcomes. Yet while the hero destinations are great, I find that my favourite photos are taken of lesser known subjects that 'just happened' to be found as we searched along the road.
This image was photographed in New Zealand and is one of my favourites of the Awatere Valley. It was taken on a photo tour with Tony Hewitt, a bit like the one we're planning this June/July. We were travelling up the valley to a sheep station near Middlehurst, not knowing exactly what we'd find.
We pulled over to the side of the road and bundled out of the minivan to look over the side of the chasm. To the right, the river snaked and curved around a bluff and this is what I saw. It's not Milford Sound, it's not taken in unusual climatic conditions, but I think it's a strong image and, for me, represents the search.
Does thinking about our photography this way help? I think it does because not every time we venture out with a camera do we find amazing things to photograph. Just like the surf isn't great every day, nor can we expect to capture perfect images all the time. And that's what makes the 'good' photos so special, what keeps the search interesting, what keeps us going.
Tony Hewitt and I are investigating two new places in New Zealand as part of our ongoing search: D'Urville Island and Cape Campbell (Adventures in NZ). We have a week planned in early July, so if you're interested, check out the details on our website. Places are still available for our next 'search'! Click here.
Details

Category: Almost Weekly Photo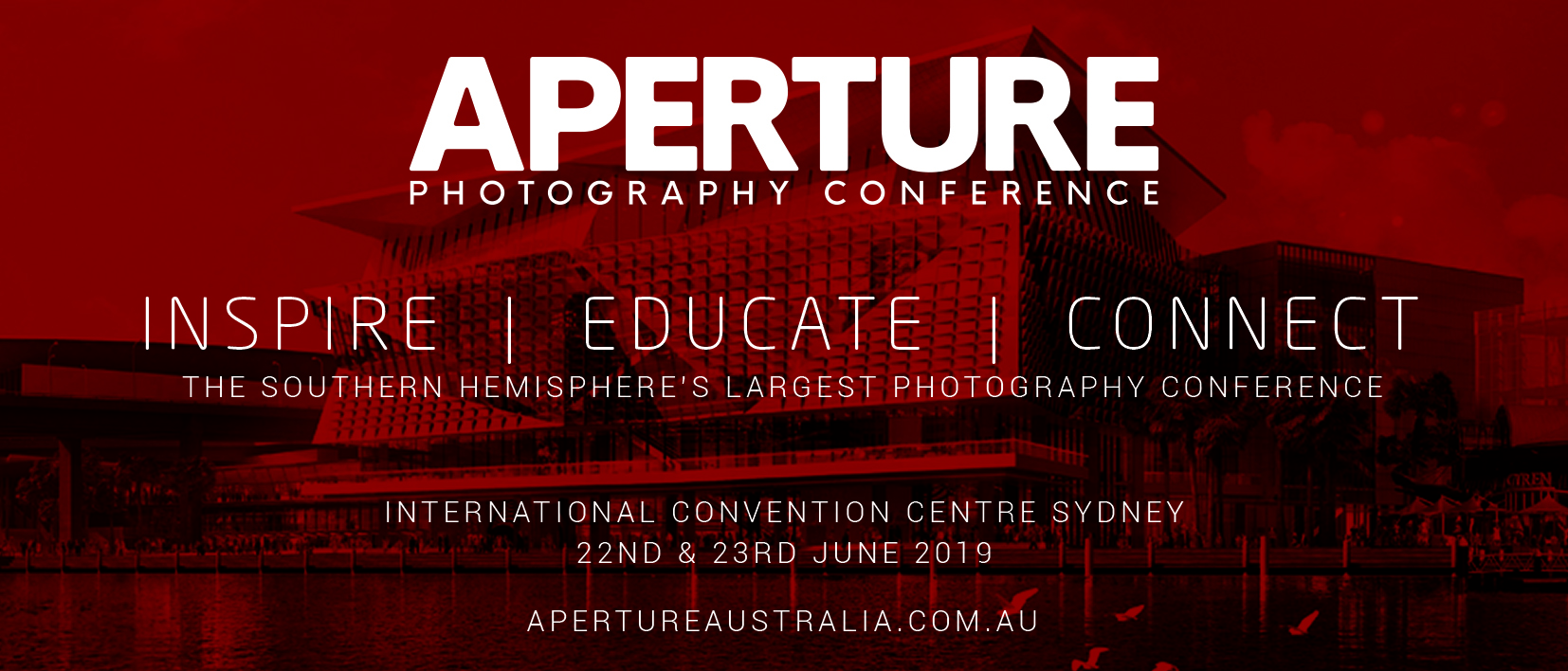 It's on this weekend! Save $150 - use coupon code 'BETTER150'
A Celebration of Photography
EXCLUSIVE PRESENTATIONS FROM INDUSTRY LEGENDS
If you're an amateur or professional photographer, Aperture Australia is THE annual conference to attend if you're committed to sharpening your craft and connections. Even if you're not a photographer, the powerful images and presentations from Australia's best are sure to blow you away.
Held over one intensive weekend in the heart of Sydney, those on the guest list can access firsthand advice from influential and award-winning Australian and International photographers who have made waves with their work internationally. As pioneers in their respective fields, Aperture's featured photographers will showcase the raw stories behind their most iconic shots to inspire your own approach to the profession. A thought-provoking and creative gathering, this is for photographers both amateur or professional, and anyone interested in photography.
OFFICIAL APERTURE 2019 SPEAKERS
Aperture Australia is a photographic conference centred on the individual talks of six industry greats who have spent years mastering their craft. With their diverse portfolio of experience, guests will follow speakers' stories as they explore the immense variety of situations that life behind a camera can expose you to.
The weekend is a celebration of the art of photography, designed to benefit the career professional development of everyone who attends, regardless of their skill level.
HOSTED BY AWARD-WINNING AUSSIE TELEVISION JOURNALIST
Ray Martin is back again to host Aperture Australia 2019. Not only is he a veteran interviewer and iconic television journalist, but Ray is also a keen photographer. As host of the weekend conference, Ray will introduce each speaker, conduct on-stage interviews and lead thought-provoking panel discussions.
LIMITED TICKETS AVAILABLE
WHERE: International Convention Centre (ICC) Sydney
WHEN: 22nd & 23rd June, 2019
COST: $495 Weekend Pass All tickets include entry for both days
Special discount for Better Photography Members of $150.  When purchasing tickets, enter the coupon code BETTER150.
For further details, visit the Aperture 2019 website: www.apertureaustralia.com.au
Details

Category: Almost Weekly Photo
If there's one location in the world that really deserves a medium format camera, it has to be Iceland. The volcanic island is incredibly weathered and textured, from the abrasive lava flows to the fine green grass growing out of black volcanic soil.
Set your lens to f11 (or whatever your optimum aperture is), ensure the camera is rock solid (so no camera shake), and then check your focus: the resulting quality of detail found in a medium format file is a wonder to behold!
While I love shooting with medium format, you do have to think a little differently. For instance, I don't own zoom lenses for medium format (they exist, but they are relatively short in range and rather large to carry around). Instead, I have a small collection of lenses: 23mm, 55mm, 80mm (equivalent to a 50mm on a DSLR), 110mm and 240mm. It's a useful range, but I find myself using my feet a lot more as I move myself into position.
Of course, sometimes you can't change your position easily. Take the little village behind Hellnar in Iceland shown here. I love this location because, to my eyes, the buildings are so simple and neat, plus the black woodwork contrasts strongly against the vibrant green grass. And then there's the little church in the background - who doesn't love photographing the churches spotted all around Iceland! It reminds me a little of a Jeffrey Smart composition (an Australian contemporary painter).
The challenge for me was the 110mm lens I was using was a little long for the framing I had in mind (and that you can see above). The only other lens I had with me was 55mm, and that was too wide. (The 80mm would have been perfect, but sometimes I don't travel with my 80mm because I find I rarely use it when I have the 55mm or 110mm to choose from. Silly me!).
I wanted to fit in just a little more than I could, but if I walked backwards, the terrain meant I lost my view, so what was the solution?
Stitch! Stitching isn't just for panoramas. I simply worked out my left and right sides of the photo and took three frames and opened them up in Photoshop to quickly stitch together. In terms of post-production, it's nothing more than a little darkening of the sky and foreground, and setting the exposure to reveal the rich colours.
And it's a medium format frame, the original measuring 14,000 pixels across, so plenty of information to make a nice big print!
If you're interested in exploring Iceland, I am running a photo tour there at the end of October/early November 2019 with Better Moments (a photo tour company based in Denmark, but not related to Better Photography!) It's also being hosted as a Phase One tour, meaning if you come along, you can use a Phase One medium format outfit for the duration of the photo tour and I'll be there to help you use it. Of course, it's not compulsory to use a Phase One camera - everyone and all camera brands are welcome!
For details, check out the website or click here.