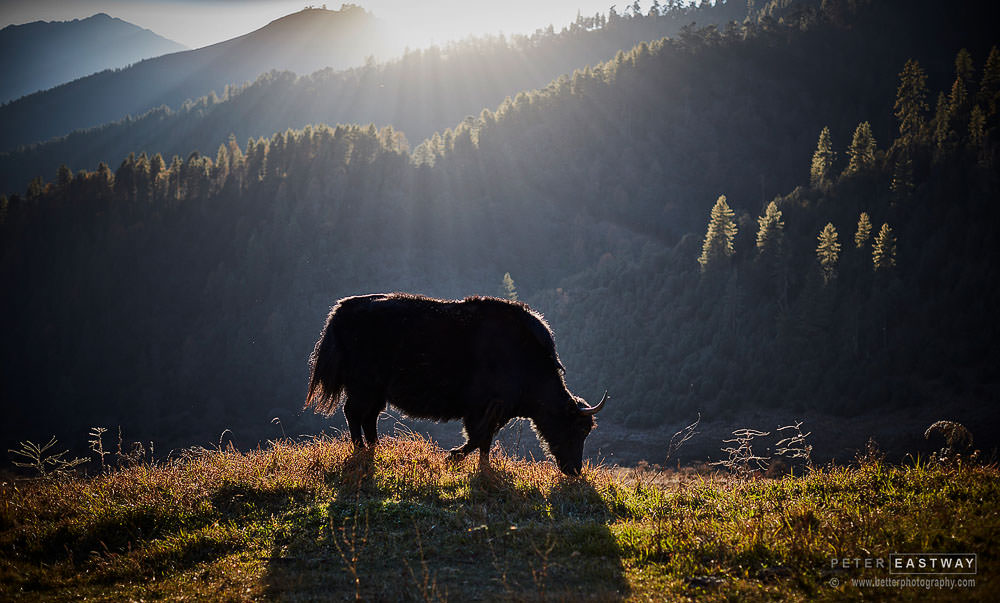 The perfect yak? Phobjikha Valley, Bhutan
Canon EOS 5DSR, 50mm lens, 1/320 second @ f2.8, ISO 100
When you travel, do you go for the iconic shots, or just sit back and let it happen? I think for my first few trips, I definitely went for the iconic shots. If I were in Paris, I'd want to shoot the Eiffel Tower.
But that was many moons ago. Today, given how easy it is to see photos of the Eiffel Tower, I think people are looking to create photographs that show a personal experience, rather than a copy of all the postcards we have ever seen. Or should that be, a copy of all the Instagram posts!
So, while you're in Paris, a shot of the Eiffel Tower is probably required, but it doesn't need to be the focus of your photo book, photo essay or audio visual.
In Bhutan, the iconic subjects are monks, dzongs, mountains and yaks. Yes, yaks!
On a previous trip, I had been photographing yaks as I saw them, but without much enthusiasm. It would be nice to have a good shot, but not paramount. For the shots I had, they were in uninteresting locations, the light was too harsh, or they just weren't good looking as far as yaks are concerned (not that I'm an expert, mind you).
On earlier visits, I had always been lucky at the top of the Phobjikha Valley to find a yak or two. On one occasion I even had the yak walking between the prayer flags (another iconic subject), but this time, the top of the valley was yak-free.
Disappointed, I put the subject out of my mind and concentrated on what was there - some wonderful light and a hint of autumn colour. 
I think this is what we need to do as travel photographers - to live in the moment. While it's good to have a shot list of photos you'd like to take, don't concentrate on this list to the exclusion of what is actually there. In fact, I find that by letting life take me by the hand, it often leads me to even better photographs.
Including better photos of yaks!
We drove a little further down into the valley, looking to make the most of the amazing light and what should we see, but a herd of yaks strolling up the hill! The shot you see above was taken from the car - that's how easy it was! And perhaps a little safer too! My Bhutanese guides always keep their distance and suggest we do too as they can be cantankerous beasts from time to time!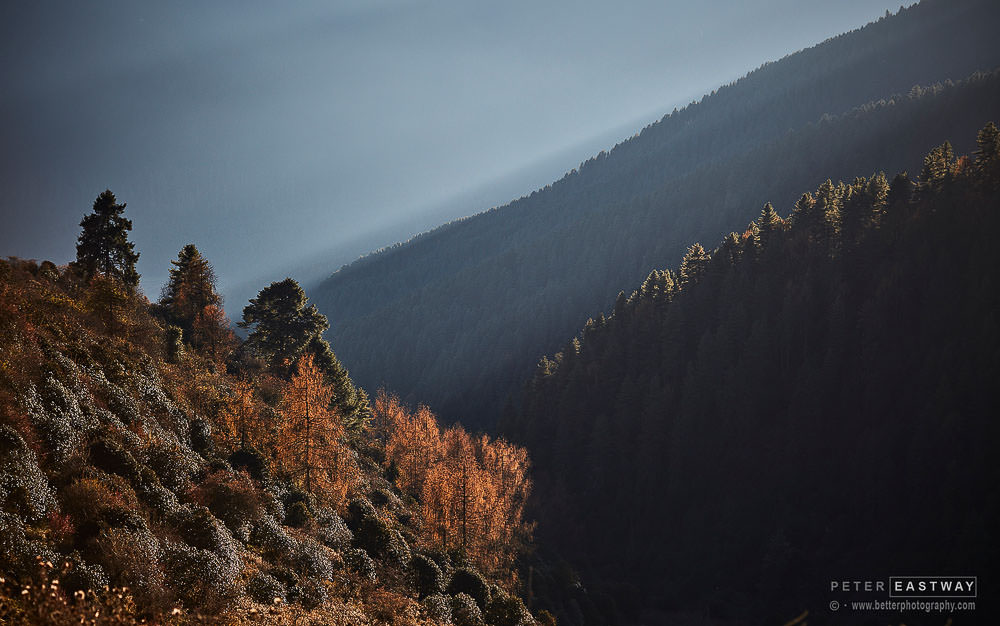 The amazing light show on the drive into the Phobjikha Valley.
And if you're interested in a photography workshop in the next 12 months or so, I have places left on trips going to the New Zealand 'Middlehurst', Antarctica, Canada, USA, Iran and Bolivia. Full details on the Better Photography website!