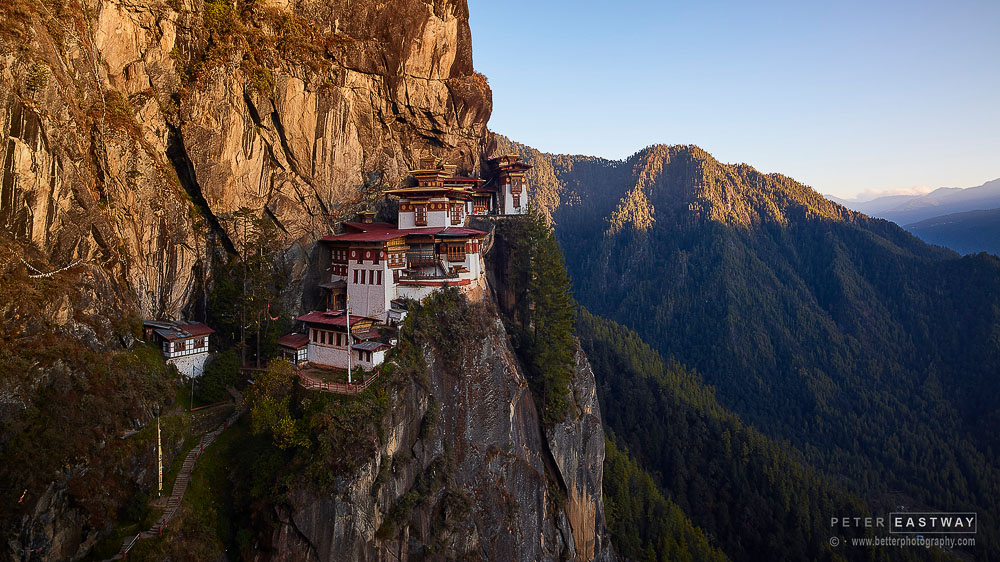 Taktshang Monastery, Bhutan.
Phase One A-Series 100MP, 23mm lens (cropped) 1/60 @ f8, ISO 50
What do we do with all the photos we take? I might do a few more photo trips than most readers (but then again, maybe not) and I struggle to process all the images I capture. They're all there, safely stored on my LaCie 6big and backed up on external drives, both in the studio and at home.
But they are just raw files. I haven't done anything with them. Each night during the trip, I will quickly look at the files and process them lightly in Capture One using my Wacom MobileStudio Pro, usually uploading them to my iPad and iPhone so I can show other trip participants and my family when I get home.
And then nothing!
Well, my new year's resolution is to create a book or an audio visual from each trip, but how am I going to find the time to process the images? I think this is where we have to differentiate the work that we do. When creating images for awards or an exhibition, where the photograph will sit alone for inspection and assessment, I can spend hours if not days in post-production to get it just right.
This isn't going to be sustainable for the 30 – 60 images I need for a book or audio visual, so my new approach is to limit the post-production to what is possible using Capture One (or Lightroom). These photographs are not exhibition grade, but they are sufficiently refined to sit in a book or an audio visual because the viewer has only a fleeting engagement with the images as the pages turn or the slides are changed.
Generally, I can produce a high-quality rendition in less than 3 minutes – and most of that time is exploring where I want to take it. And this rendition looks fine in a book or an audio visual I believe!
What prompted this suggestion? I've just finished processing 80 images from my 2016 Bhutan photo tour which I have put into an audio visual. The new AV will premiere at my Evening Atelier in Dee Why this coming Tuesday evening – so come along. You can book online at www.betterphotography.com or just turn up and pay me $10 cash at the door (the online price is $9.95 and I doubt I will have 5 cents change!). The evening starts at 7.00 p.m.