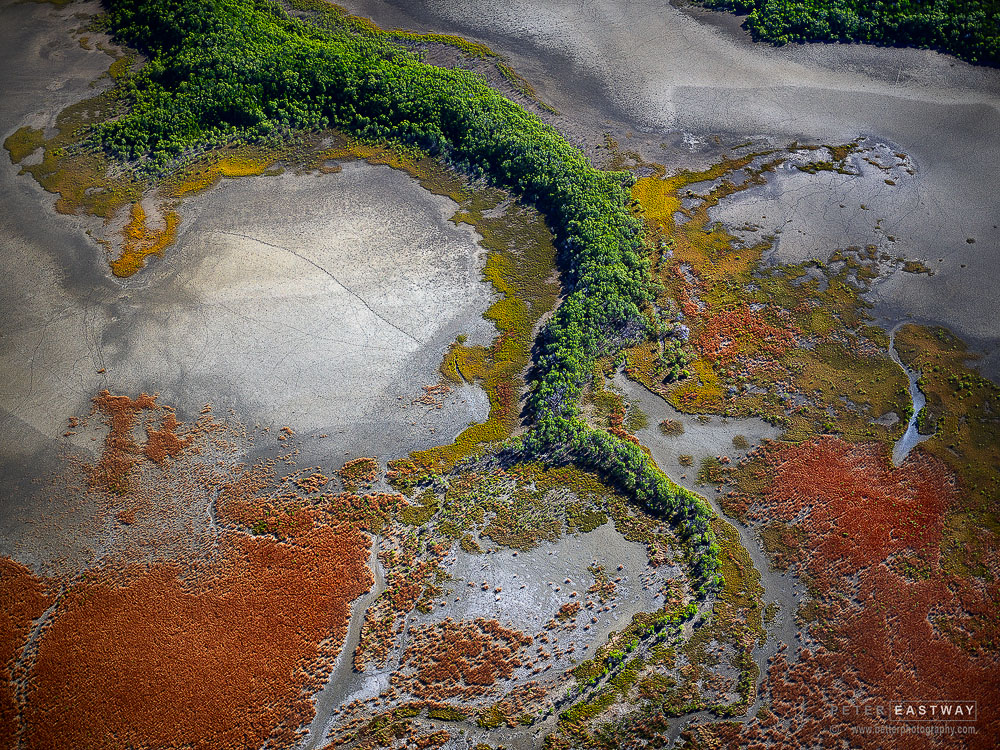 Arnhemland Aerial, inland from Aralaij Beach.
Phase One XF 100MP, 80mm Schneider lens, 1/4000 second @ f2.8, ISO 200
How do you set the white balance in a photo like this? It's hard to believe that earlier this month I was complaining about the hot afternoon sun, now that I am freezing cold down in Sydney! I visited Awunbarna for the second time with a photography workshop, this time accompanied by Kath, Martin, Stephen and Stuart. Based on their facial expressions as we shot unique landscapes from the helicopter, floated by open mouthed crocodiles and wandered through ancient cave systems covered in rock art, I think it was a success. Also called Mount Borradaile and Davidson's Camp, it's a very special place on Earth with only 1400 visitors a year and 700 square kilometres to play in! (If you're interested in a workshop in July next year, please send me an expression of interest - This email address is being protected from spambots. You need JavaScript enabled to view it.).
Yet in the landscape, setting the correct white balance can be challenging. Think of what it's like when you're shooting in a rainforest with all those greens - it's hard to get rid of a green colour cast, especially since it is really there. Yet our minds reject too much green, searching for a point of equalibrium. And it's the same with aerials. Last month in New Zealand and now in Arnhemland, getting the colour balance exactly right can sometimes be challenging.
So, what's my approach? I have many and they all depend on the result I see on my Eizo monitor back at the studio, or my Wacom MobileStudio Pro when out on location. The importance of a high quality monitor when it comes to assessing colour balance cannot be over-emphasised.
Working in Capture One, Lightroom or Adobe Camera Raw, the white balance settings are much the same mechanically, although the results can be quite different. So for me, step one is to use Capture One because I prefer its 'definition' of colour.
Step 2 is to use one of the presets, usually As Shot, Auto or Daylight. More often than not, one of these works.
If not, Step 3 is to use the white balance selector tool and click on various areas within the image. Where I click, the software will neutralise those pixels to a neutral grey, and all the other colours will adjust accordingly. I find this works very well on subjects such as the tidal flats in the photo above. The sand is actually a yellow brown colour, but I have turned it grey by using the white balance selector tool. The white balance doesn't have to be accurate, it just has to look good.
The fourth approach is to use the Kelvin and Tint sliders, but I confess, this is a last resort as I really struggle to know if I have gone far enough, or too far. If in doubt, I do the best I can and put the photo away for a few hours or a day, prepared to reassess another time!
The white balance in Antarctica isn't too difficult... And funny I should mention that because I have a photo tour going to Antarctica in December 2018 (back for Christmas) with Aurora Expeditions. And there's a 15% discount offer on some berths if you book before 31 August this year, so if this is sounding like you, visit the website and have a look here.