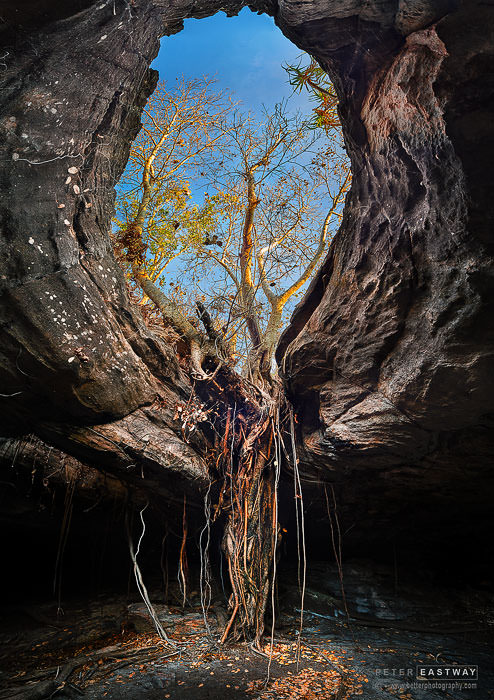 Cave window, Mount Borradaile, West Arnhemland.
Phase One A-Series 100MP, 23mm Alpagon lens, 1/10 second@ f16, ISO 100, stitched.
I'm not completely happy with this image as presented, but it has been sitting on my hard drive for too long and I feel I need to move on. I'm sure many readers have the same challenges with photos they like, but just can't quite crack!
It all started with an innocent walk up towards a lookout where we'd been the day before on my recent photo tour to Arnhemland. Stuart wanted to return to shoot some unfinished business, but when we arrived, the sun was still a bit too high. Our guide said, no matter, let's check out the cave system nearby.
I looked around us. We were on top of a relatively flat hill, with large areas of bare stone and a few low shrubs. I couldn't quite comprehend where we were going to find a cave system, especially since we'd walk all over this area the day before and I had noticed nothing. However, I am obviously unobservant and a cave system there was!
And it was huge. And big enough to walk around. And there was amazing rock art on the walls and the ceilings. And there were skulls and bones - but we were asked not to photograph them. It wasn't for spiritual reasons, rather many years ago, the station received a visit from the police because someone in a Melbourne minilab had seen a tourist's photo of human bones and reported it! The fact the bones were hundreds of years old seemed to appease the police, but to save on administration and paperwork in the future, we were asked not to photograph them. So we didn't!
In any event, I had this shot in mind. Now, I'd like a more perfectly shaped tree, but the location was great if only I could fit it all in. I couldn't, so I turned the wide-angle horizontally and did a vertical stitch.
Back on my Wacom MobileStudio Pro, PTGui struggled to join the 8 images together, until I eliminated three of them and a five image stitch worked perfectly. But then I struggled a bit more, getting the feeling I experienced into the image. Back at the studio in front of the Eizo, I'm still not quite there, but there are so many other photos from Arnhemland I need to process!
Feel free to check out the starting point on my website...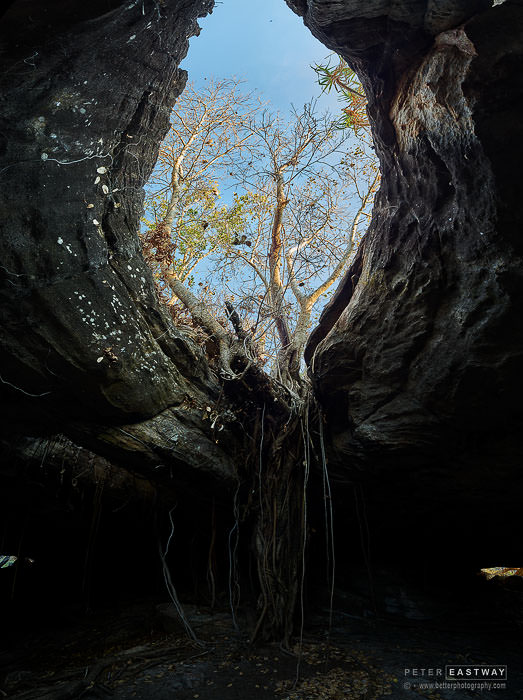 The stitched image before pasting in a little rock at the top to complete the circle.
And if you're interested in a photography workshop in the next 12 months or so, I have places left on trips going to Bhutan, South West USA, Antarctica and the Silk Road. Full details on the Better Photography website!