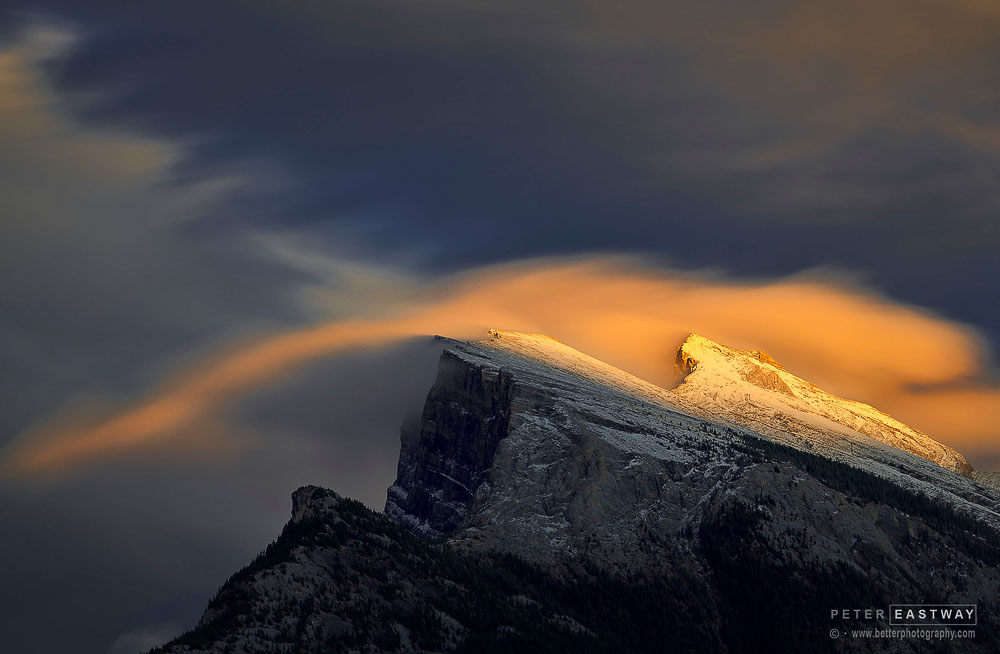 Banff, Canada.
Phase One XF 100MP, 240mm Schneider lens, f11 @ 30 seconds, ISO 50, 10X ND filter.
The obvious answer is no, but on a recent PODAS (Phase One Digital Art Series) workshop to Canada with Tony Hewitt, no planning was needed. After a few days of blue-bird sunshine, I was thinking the Rockies in Canada were chocolate-box sweet and the weather balmy and warm.
However as our group was saddling up for a horse ride, I changed my mind on two counts. First, I decided that two hours in the saddle wasn't for me. Half an hour maybe, one hour if I had to, but two hours was going to do my bum in, so I let my daughter go and Tony Hewitt as well.
As they mounted their horses, the second change happened - with the weather. Dark clouds raced down the valley and the winds blew so strongly that the horses all stopped and put their rears into the wind! I figured if the horses don't like it, it must be pretty grim.
Instead of riding a horse, I and most of the other people who were taking this journey to a dinner location, sat on the back of a cart dragged along by two magnificent beasts. We also got a little wet, but we were under cover and under blankets as the heavens opened up.
And I laughed! Boy, had I dodged a bullet!
Of course, both Tony and my daughter had a wonderful and somewhat soggy time and they said the ride back was much better. In fact, the ride back was spectacular because the storm passed through to reveal snowfall on the peaks and patches of sunlight igniting low clouds.
When people travel, they often wish for good weather, but photographers generally want something a little more interesting and a passing storm will do that for you.
This 30 second exposure was taken just as the sun was setting, looking up at the towering peaks surrounding Banff. While the clouds already looked spectacular as they flowed over the cliffs, by blurring them their movement became that much more obvious.
It wasn't a bad start to a week of amazing light and locations. My thanks to Phase One for inviting me along.
PHOTO FEEDBACK: I am looking for some more material for my Photo Feedback section. If you will give me permission to run your photo in this blog and potentially in an eBook in the future, without attribution (anonymously), please send me a JPG, 2000 px on the long edge. Feel free to send me an unedited JPG and your edit, with a few notes about what you're trying to do. I'll pick some examples that I feel I can improve or help, so if your photos are too good, I may not use them! Please send them to This email address is being protected from spambots. You need JavaScript enabled to view it. with PHOTO FEEDBACK in the subject line.