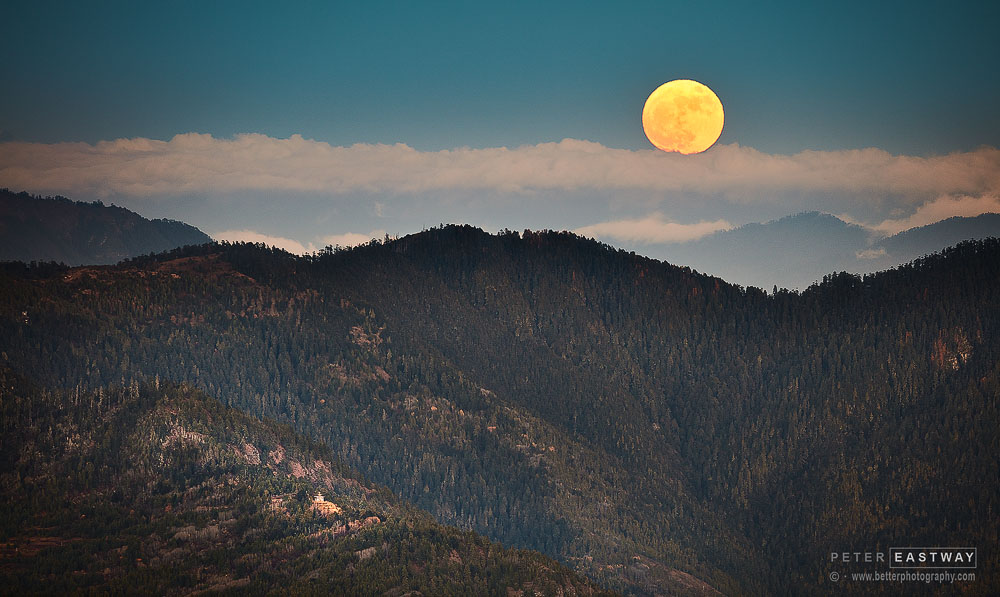 Moonrise from Chelela, Bhutan.
300mm lens, 1/8 second @ f4, ISO 100
Bhutan is an incredible country that is changing rapidly, yet there is something amazingly magical about it inspite of the onslaught of modernity. On our last trip, we were heading down from Chelela, the highest road pass in Bhutan (there are much higher passes, but you need a yak to cross them). We knew the full moon was due to rise, so we found a spot on the side of the road with a clear, uninterrupted view across the distant ranges. With so many trees lining the road, this wasn't quite as easy as it sounds.
Using our various smartphone apps, we worked out roughly where the moon was going to rise, set up our tripods and had a cup of ginger tea. No need to rough it too much! However, mid-gulp of hot ginger liquid, the moon made its appearance.
I don't think we were quite ready for the brilliant yellow colour. Yes, this image has had a little post-production, no the colour wasn't added, yes everyone knows the large moon is an optical illusion, and no, I haven't enlarged it. I think the size contrast of the moon comes from the tiny dzong down in the bottom left of the frame and the use of a 300mm telephoto on distant mountains, and this is the takeaway for full moon photos. If you want to emphasise the large size of the moon, use a telephoto lens so the moon is a reasonable size within the frame. No matter how big the moon appears to the naked eye, it's going to look pretty small and less impressive if you're shooting with a wide-angle (because of its small size relative to the frame).
This is exactly how I remember the evening, the moon silently rising under dimming twilight in the land of the Thunder Dragon.
Bhutan is full of unexpected surprises, even if you expect them! And no doubt there were photographers all around the world photographing the same moon, but not many of them would have had a Bhutanese dzong in the foreground!
If you're interested in a photography workshop in the next 12 months or so, I have places left on trips going to Bhutan, South West USA, the Arctic, Antarctica and the Silk Road. Full details on the Better Photography website!