Details

Category: Almost Weekly Photo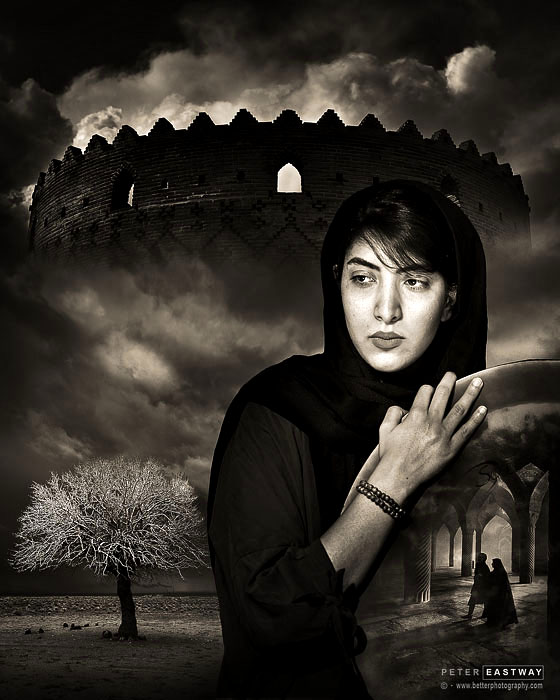 Work in progress: Percussion musician, Isfahan, Iran
Fujifilm X-T3, XF200mmF2 R LM OIS WR, f2.2 @ 1/150 second, ISO 3200, composite
Where would we be today without storytelling? We might think of Homer's epics, the backyard gossip about a wealthy woman living down the road, or something written about Christian Fletcher on social media (it wasn't true - or was it)? Our lives are made up of stories.
When it comes to portrait photography, stories can be created in many different ways. We have a wonderful repository of documentary and reportage photography that tells us all about the recent history of our world and generally, these photos are single captures with little post-production. They are what we might call 'real' photographs.
However as we well know, in the world of portraiture, 'reality' isn't necessarily what we are seeing. Scroll down the social media feed for any young woman and you will see thousands of heavily retouched and manipulated portraits. The 'reality' of fashion and beauty is quite different to that of documentary photography, even though both 'are telling a story'. 
When in Iran a couple of years ago, we were given a wonderful presentation by local musicians. As they played, I photographed and my thoughts wafted around with the music. I had the idea of 'composing' a portrait with a story, rather that just recording one. The story is of a woman, with her own thoughts of walking through a grand mosque with a parent - perhaps with an undercurrent of loss or separation. I have no idea why I went the dark and moody approach, except that it's easier to composite images together in the shadows. It's not completely finished yet, but it does point to another way we can use portraiture to tell a story.
In the International Portrait Photographer of the Year Awards, one of the categories is for storytelling and it will be interesting to see what types of storytelling we receive. The competition is similar in design to our International Landscape Photographer of the Year awards, with the top 101 photographs being published in a book. Entries close at the end of the month.
Details

Category: Almost Weekly Photo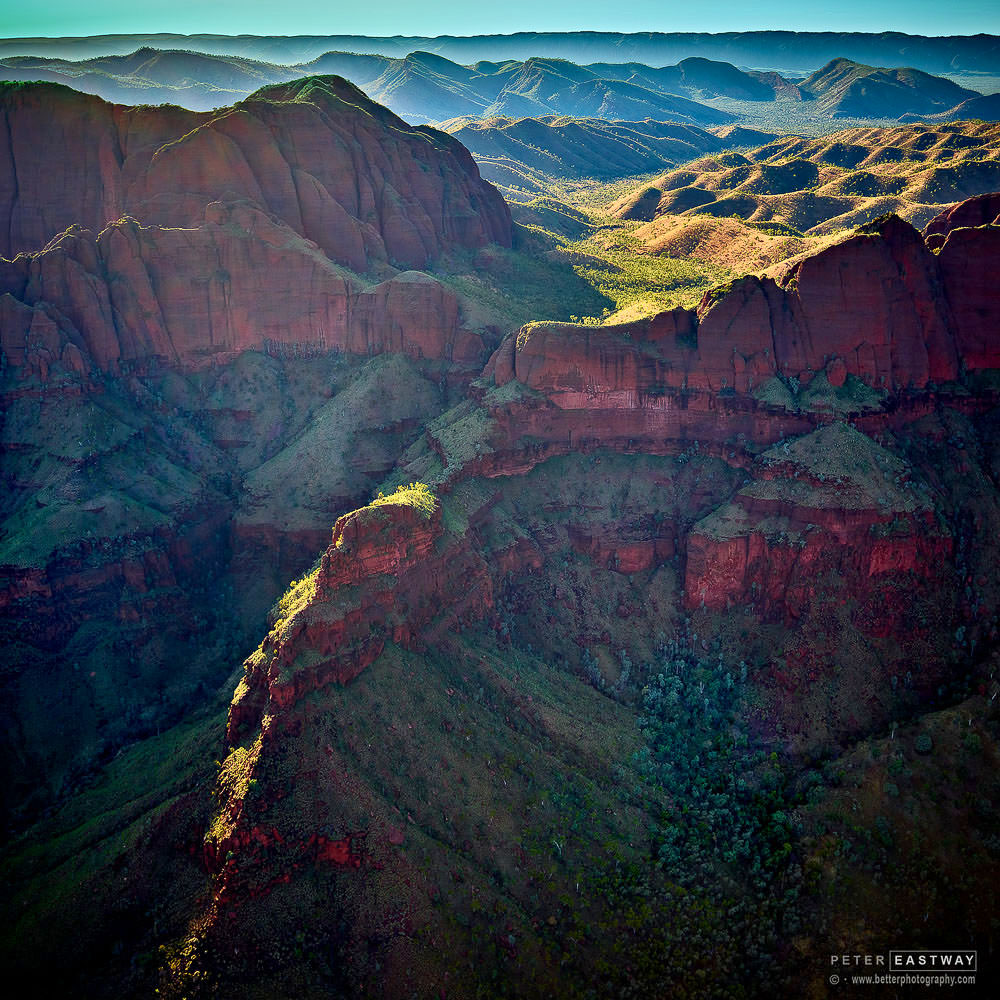 Preliminary Edit: Kimberley Region from the air, 2016
Phase One XF 100MP with 55mm Schneider lens, f4 @ 1/1250 second, ISO 400
I was listening to Light Minded's 100th episode recently which featured Adobe evangelist Julieanne Kost. When asked what she'd been doing during the Covid lockdown, she said she'd been experimenting with different techniques and ideas, things that she normally wouldn't have time to do because of her travel commitments.
I felt a pang of guilt that I hadn't done the same, but then I reflected a little and realised I had done something similar: I had been processing lots of 'unfinished business', like a shoot back in 2016 during a PODAS (Phase One Digital Artist Series) workshop. You can see one of the images above. So far, I have processed a dozen or so raw files from Capture One, but I have yet to finish them off in Photoshop - to refine the tonal and colour mapping.
The photograph is taken from a helicopter and you'll notice the fast shutter speed. Talking with Tony Hewitt, we both agree that 1/2000 second is best for aerials, if you can get it with your equipment, as there will be times when slower shutters speeds will suffer from camera shake and aircraft movement (the landscape itself is generally quite stationary)! However, this is just an aim point and you also have to manage the aperture you want (sometimes wide-open isn't quite as sharp as a stop or two down) and ISO (this is becoming less of an issue as modern cameras really excel at higher sensitivities these days). It is certainly possible to get sharp photos at slower shutter speeds, but your success average maybe a little lower.
So, as I write this, it's looking like travel to New Zealand is on the cards. We had two Middlehurst workshops sold out before Covid hit with a combination of Australian and international participants. We have now fully booked one week with Australian and New Zealand participants in July and are looking to add in a second week if there's enough interest. 
There's also a voyage to Antarctica which leaves and returns to Hobart, so while not much use for international readers, Australians with a few bob to spare may be interested in a January 2022 voyage - visiting parts of Antarctica that are less frequently visited by tourists and photographers alike!
Details

Category: Almost Weekly Photo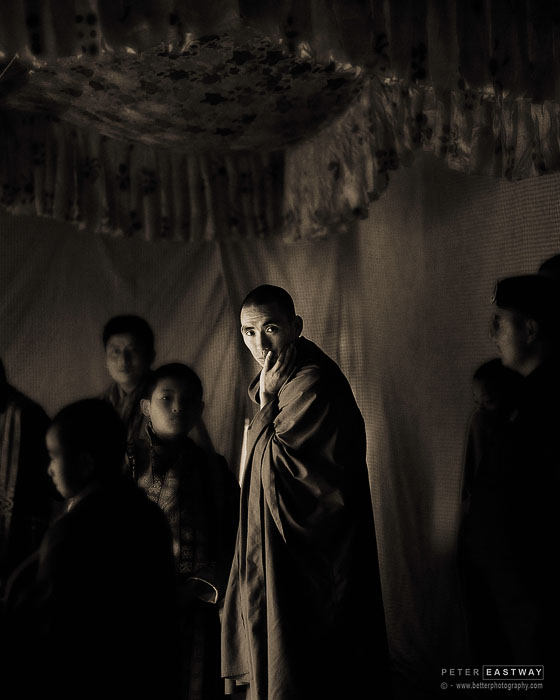 Monk, Mongar Dzong, East Bhutan
Phase One XF IQ4 150MP, 110mm Schneider, f2.8 @ 1/125 second, ISO 1600
Black and white strips out reality. It's a bold statement perhaps, given the history of photography itself begins with monochrome (and the photo above isn't strictly speaking black and white, rather a sepia tone). However, most of us see in full colour and so when we look at colour photographs, there's an element of expectation involved.
In the photograph above, colour would completely change the myth and mystery surrounding the portrait. The bright, gaudy yellow tent we are in is throwing sunshine colours all around, the monks are dressed in brilliant crimson, the ornamentation in the ceiling has every colour of the rainbow. The scene is festive, exciting and alive, yet amongst it all, the monk is poised pensively, quietly looking past the photographer (me) at something behind. Some of the other monks are looking too.
To concentrate on the monk and his expression, I felt that I needed to remove the colour. I wanted to reduce the image to just the key points, but without removing the context. Black and white does a lot of this. Darkening the surrounding figures and blurring them slightly helps as well, but it is the monochromatic rendition that does most of the work.
Fingers crossed we can get our tour to Bhutan happening next year - it's a wonderful place to visit.