Details

Category: Almost Weekly Photo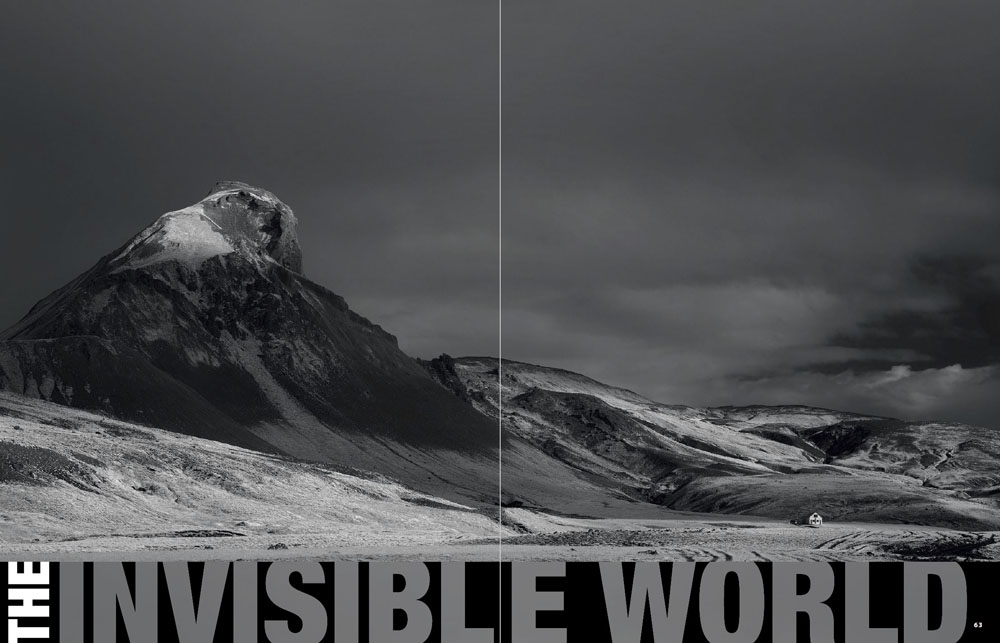 Peter Hill is pretty damn good at infrared photography. And it's a skill that's allowed him to produce some stunning black and white images.
Writes Peter in the current issue of Better Photography magazine, in an article called 'The Invisible World', "My primary technique is to keep my eye on the light and my mind open. My aim is to capture the IR light and the contrast it creates. If I don't like the light, the IR camera stays in the bag.
"Composition is a necessary second issue, but you need to keep in mind the potential for what IR can do. For example, I like backlighting a composition with a tree branch or trunk between the sun and the sensor. The more I hold true to this technique, the more I'm finding that compositions will present themselves, if only for a few fleeting moments. And this is where shooting with a converted camera really comes into its own. Most of my images are simply not possible if I had to resort to an IR filter on the lens.
"I have also found that shooting black and white IR requires far more attention to light, exposure and composition, than traditional black and white photography. It really makes you think about how you capture those aspects, how you visualise the outcome."
"One subject I try to avoid is people, unless I'm actively looking for the zombie effect, which is what IR does to faces and eyes. Deep, black, evil eyes!"
You can read more about Peter Hill's approach to infrared photography, along with the cameras he uses, by subscribing to Better Photography magazine online. You'll find details on the www.betterphotographyeducation.com website.
Details

Category: Almost Weekly Photo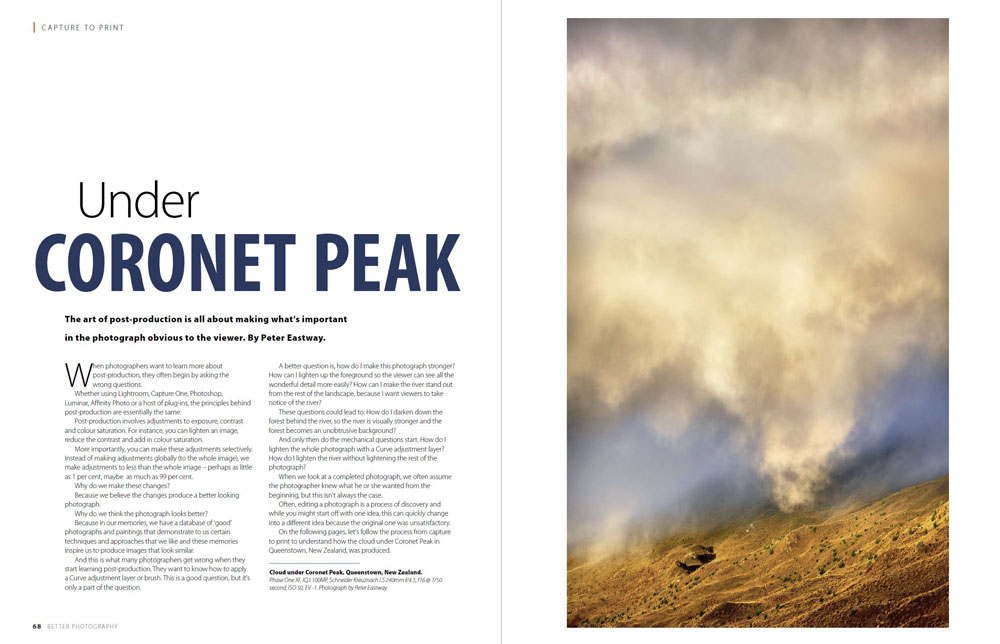 Have you ever struggled with a photograph, knowing what you want to achieve, but not quite seeing it on your computer monitor, no matter how hard you try?
The process from the capture of an image to its completion as a print can be short and sweet, or long and laborious. Often it has less to do with the photographer's abilities in Lightroom or Photoshop and more to do with what he or she thinks the final outcome should be. You know what you want, but the finished result eludes you. What's the answer?
Practice. Now, I know you didn't want to read this, but it's the truth. The more we practise, the more we problem-solve and the more skills we develop.
Practice is one solution, learning skills from another can help too. In the current issue of Better Photography, we've published the steps taken to produce 'Under Coronet Peak'. Not only do we show you the post-production, we discuss the capture and the raw processing, plus the output to print. It's interesting how in the process, decisions can be made and unmade as we live with the image, listening to what it has to say. Sounds a bit odd, but the more I process my work, the more I realise that practice and time are the necessary ingredients.
So, when editing our images, why do we make these changes? Because we believe the changes produce a better looking photograph.
Why do we think the photograph looks better? Because in our memories, we have a database of 'good' photographs and paintings that demonstrate to us certain techniques and approaches that we like and these memories inspire us to produce images that look similar.
And this is what many photographers get wrong when they start learning post-production. They want to know how to apply a curve adjustment layer or brush. This is a good question, but it's only a part of the question.
A better question is, how do I make this photograph stronger? How can I lighten up the foreground so the viewer can see all the
wonderful detail more easily? How can I make the river stand out from the rest of the landscape, because I want viewers to take
notice of the river? Or the cloud. Or the person.
The more images we process to completion, the better equipped we are to process tomorrow's work.
You can read more about this image in Better Photography by subscribing to Better Photography magazine online. You'll find details on the www.betterphotographyeducation.com website.
Details

Category: Almost Weekly Photo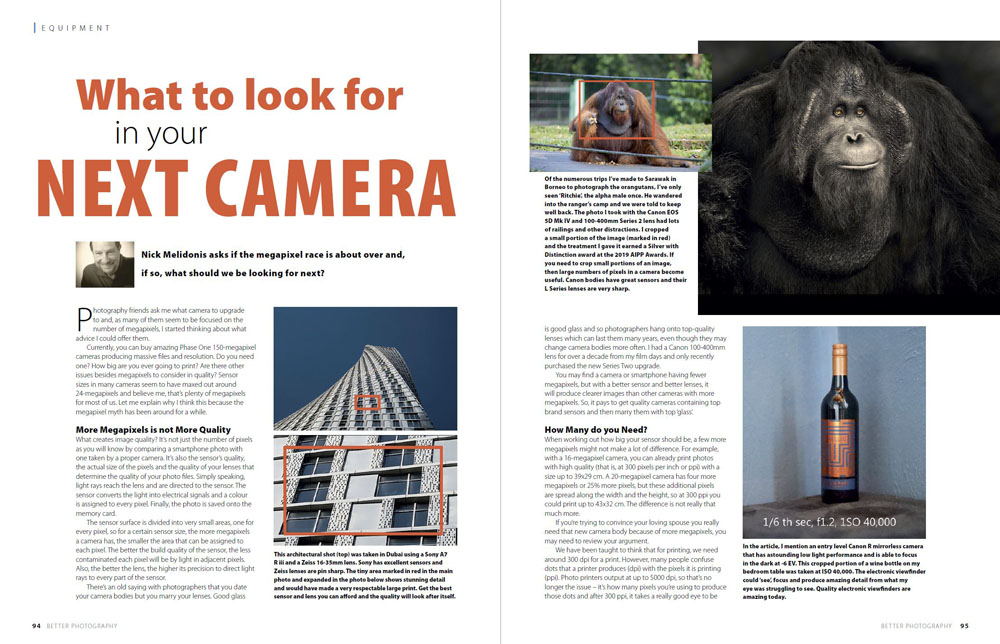 If you're a photographer, chances are you love a good camera. You've either recently bought one or you're planning to buy another, so what will it be?
Regular Better Photography contributor Nick Melidonis has years of experience as a successful professional photographer and in the current issue, he has some sage advice.
"Currently, you can buy amazing Phase One 150-megapixel cameras producing massive files and resolution. Do you need one? How big are you ever going to print? Are there other issues besides megapixels to consider in quality? Sensor sizes in many cameras seem to have maxed out around 24-megapixels and believe me, that's plenty of megapixels for most of us. Let me explain why I think this because the megapixel myth has been around for a while."
Nick then explains the myth before discussing how megapixels relate to printing.
"When working out how big your sensor should be, a few more megapixels might not make a lot of difference. For example, with a 16-megapixel camera, you can already print photos with high quality (that is, at 300 pixels per inch or ppi) with a size up to 39x29 cm. A 20-megapixel camera has four more megapixels or 25% more pixels, but these additional pixels are spread along the width and the height, so at 300 ppi you could print up to 43x32 cm. The difference is not really that much more.
"If you're trying to convince your loving spouse you really need that new camera body because of more megapixels, you may need to review your argument."
Fortunately, there are some arguments! You can read more about Nick's thoughts on buying new cameras and lenses by subscribing to Better Photography magazine online. You'll find details on the www.betterphotographyeducation.com website.