Details

Category: Almost Weekly Photo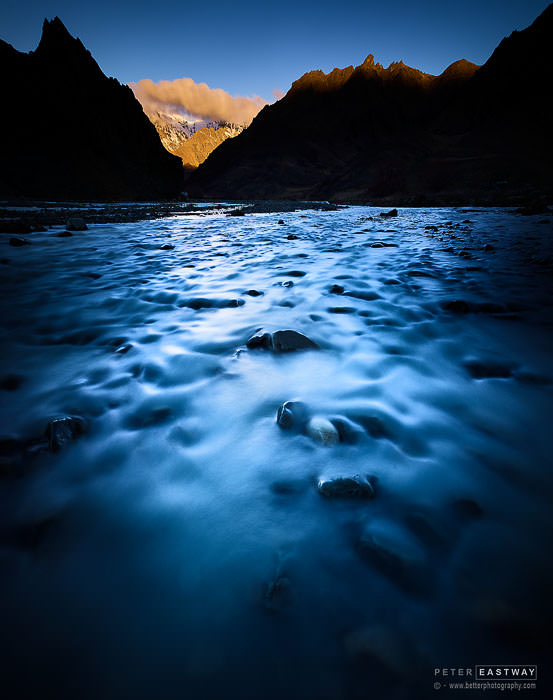 Tone's River, Middlehurst Station, New Zealand
Phase One A-Series 100MP Trichromatic with 23mm Alpagon lens.
Just back from Middlehurst Station in New Zealand where regular readers will know that Tony Hewitt and I give an art photography workshop each year. It's become such an enjoyable part of our calendar that we're committed to keep it happening.
The photo above proves to me that no matter how many times you go to a location, there's always something new to find. There had been a lot of snow and rain before we arrived, so the rivers were running much more quickly. I was also smart enough to take a pair of waterproof boots with me, so I wandered out into the river and set up my tripod. I was using my Phase One A-Series with its 23mm ultra wide-angle and the new 100MP TriChromatic back.
The camera and lens are around 30 centimetres above the water level, so very close. In Capture One, I have stretched the image a little to make the mountain peaks tower, plus I've used the distortion slider in the lens correction module to straighten up the horizon, but not because the image was distorted! In reality, the horizon looked unnaturally curved because of the way the river was running through the valley, so I used this tool to 'straighten' it up so it looks more 'normal'.
And interestingly, I did all the adjustments within Capture One. The access to layers (like the adjustment brush in Lightroom, but in my opinion, much better) in Capture One as part of the creative process transforms it from just a raw processor into a really useful post-production tool. There are still times when I take my files into Photoshop afterwards, but there are now fewer reasons for doing so.
As part of our workshop, we take an inkjet printer up to Middlehurst, which is no small feat given we have to jam it into the small plane that flies us into the station from Wellington. Each year, Epson has kindly provided us with a printer and Canson has provided us with some paper - thank you Epson and Canson. And yes, I'm a proud Epson and Canson ambassador and these are the brands I use in my studio on a daily basis.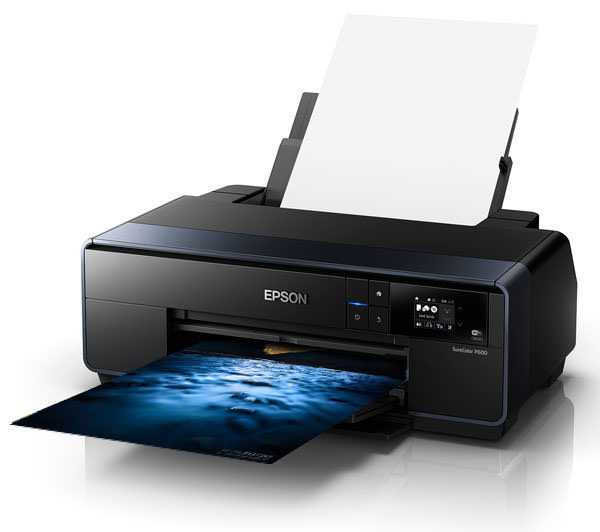 This year we used the A3+ Epson SureColor SC-P600 printer. It's a photo quality printer that in Australia is currently selling for just under $1000. It features 10 inks, the ability to print on a wide range of papers and, importantly, image quality that matches that of its professional range of printers. Printing with the SC-P600 is a dream come true and our student photographers were super impressed by how printing your own photographs really takes the photography experience to another level.
They used Canson Rag Photographique and Aquarelle matte papers, plus my favourite Platine as a semi-gloss surface that is really a lot like traditional darkroom papers. Again, and at the risk of labouring the point, these are the papers both Tony and I like to use for our own exhibition work.
Tony and I are super keen to promote next year's Middlehurst experience and I have a cool little video in production. I'm learning Davinci Resolve and finding it's a really fun piece of software for video producers - but fear not, stills remain my passion! So if you're interested in Middlehurst, now's a good time to start saving your pennies. It's not a cheap holiday, but it includes so many experiences we know you won't be disappointed. Details will be available shortly or you can email us to reserve you a place!
Details

Category: Almost Weekly Photo


The Portrait Conference - Online Competition
You are invited to enter this Portrait Competition, which will showcase the finest portraiture our region has to offer. It's open to professionals, amateurs and students. To determine which category you qualify for please read our terms and conditions.
The competition starts online with a prize pool of cash and prizes totalling $40,000 and the finalists will be automatically entered for free into an additional print competition that has an extra prize pool of $20,000. This print competition will be judged and drawn on the final night of the Australian Portrait Conference on the 14th of October 2018 in Sydney.
ENTRIES CLOSE END OF JULY 2018

The below prizes are waiting for the winners of the Open and Amateur categories, The winners of the student category will share in cash prizes up to $2500.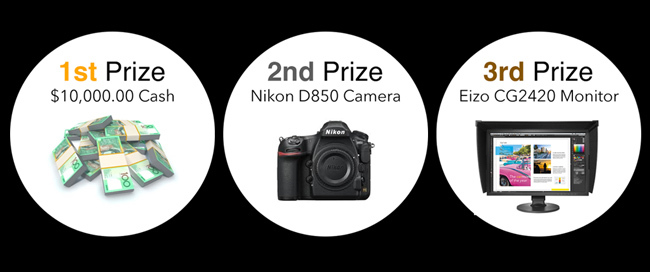 The Portrait Conference - Sydney Event
The Australian Portrait Conference will be in Sydney 13-14 October 2018 and will include two full days of instruction on all things portraiture by eight of Australia's most talented portrait artists and educators, including Tim Bauer, Vicky Papas Vegra, Natalie Howe, Robyn Campbell, Marcus Bell, Charmaine Heyer, Peter Rossi and Gary Grealy.
The conference begins with a keynote presentation by Peter Adams, a world collected portrait photographer who has interviewed and made portraits of 500 of the world's great photographers - a collection soon to be published in his forthcoming book 'A Few of the Legends'. Peter will be followed by the seven other industry leaders presenting over two days. Open Forums will be held both days over the weekend with a mix of conference speakers available to answer your questions.
Early Bird tickets are on sale now from $295.00.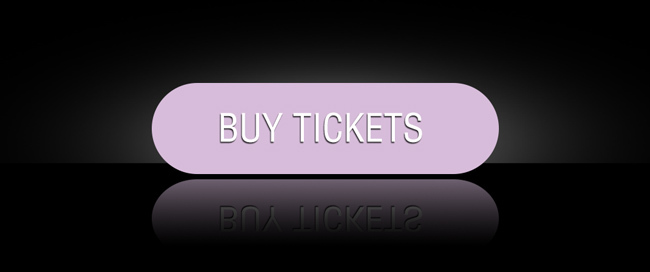 The Portrait Conference - Print Competition
Following judging of the online competition, the top 30 scoring individuals in the online competition will be notified of their success and will gain FREE entry into the print competition. These 30 individuals will be asked to provide a high resolution file to Kayell Australia so their image can be printed and made ready for judging at The Portrait Conference 13-14 October 2018.



Details

Category: Almost Weekly Photo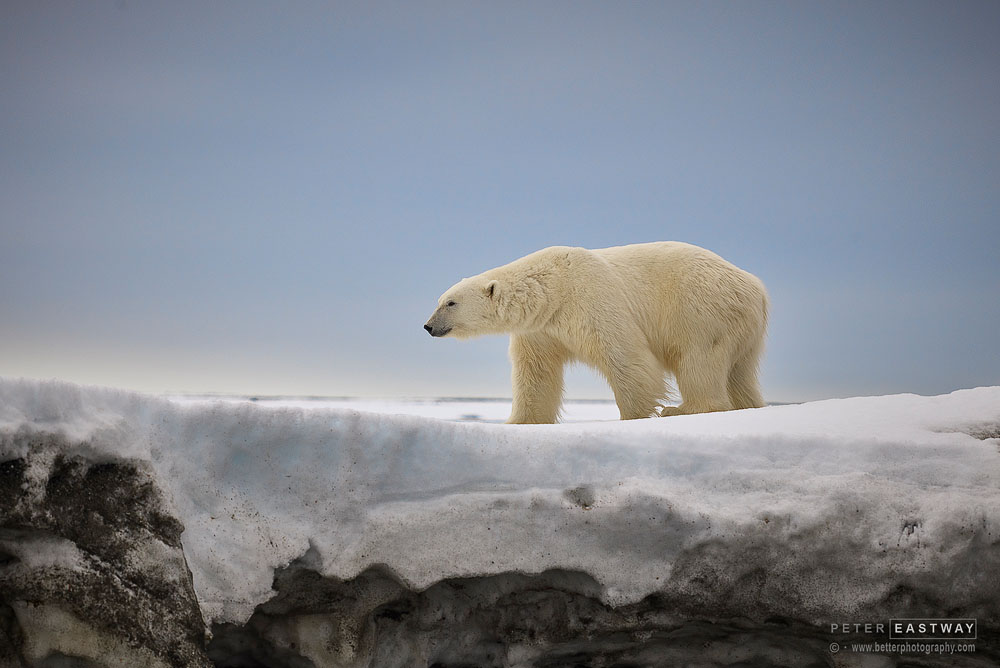 If you had to choose a position from which to photograph a polar bear, it would be down low (rather than from up high looking down, so you feel the power of the animal), and with an uncluttered background (so the polar bear stands out). So you can imagine my excitement when this polar bear decided to go for a stroll along the edge of Storoya, a tiny island in the Svalbard Archipeligo.
I've recently returned from two trips, the first in Svalbard. I travelled with Kevin Raber from Luminous Landscape and a group of keen photographers, some of who outgunned me with their high end telephotos - 500mm f4 and 400mm f2.8 optics were also trained on the above polar bear, but I did have the advantage of shooting it with two cameras.
This image is shot with the Phase One XF and the 100MP Trichromatic back, using a Schneider Kreuznach 240mm lens. It's not the ultimate wildlife camera outfit because the telephoto isn't long enough and the frame rate is too slow, but the shots that I did get are AMAZING. There is no comparing a Phase One file, especially on the new Trichromatic back and I'm loving the way I only need to caress the colour saturation in Capture One to get a colour palette that I'm in love with! Yes, I'm a convert. And yes, all hand-held from a zodiac (as you can see in the photo at the end of the article).
And the other camera? A much more sensible rig: the new Fujifilm X-H1 with its 100-400mm telephoto. Fast frame rate, 24-megapixels, image stabilisation, long telephoto and lots of bells and whistles. No, the results aren't as sharp as my Phase One files, but if you were comparing images on a website, a little bit of clarity and structure in Capture One creates incredibly crisp and impressive photos from the Fujifilm files. However, what really struck me as being quite amazing was the image stabilisation - I was able to shoot incredibly steady video at 400mm from a moving zodiac. It's not locked off like you'd expect from a tripod, but when the foreground is tracking along with the lumbering polar bear, it looks really cool!
To see my novice video efforts from Svalbard, shot with the Fujifilm X-H1 and a GoPro, search Youtube for 'Eastway' and 'Svalbard' or click this link: https://youtu.be/69rP-qnNHjg
And below, check out the photo of the zodiac with the polar bear in the background! It was a great photo opp!