Details

Category: Almost Weekly Photo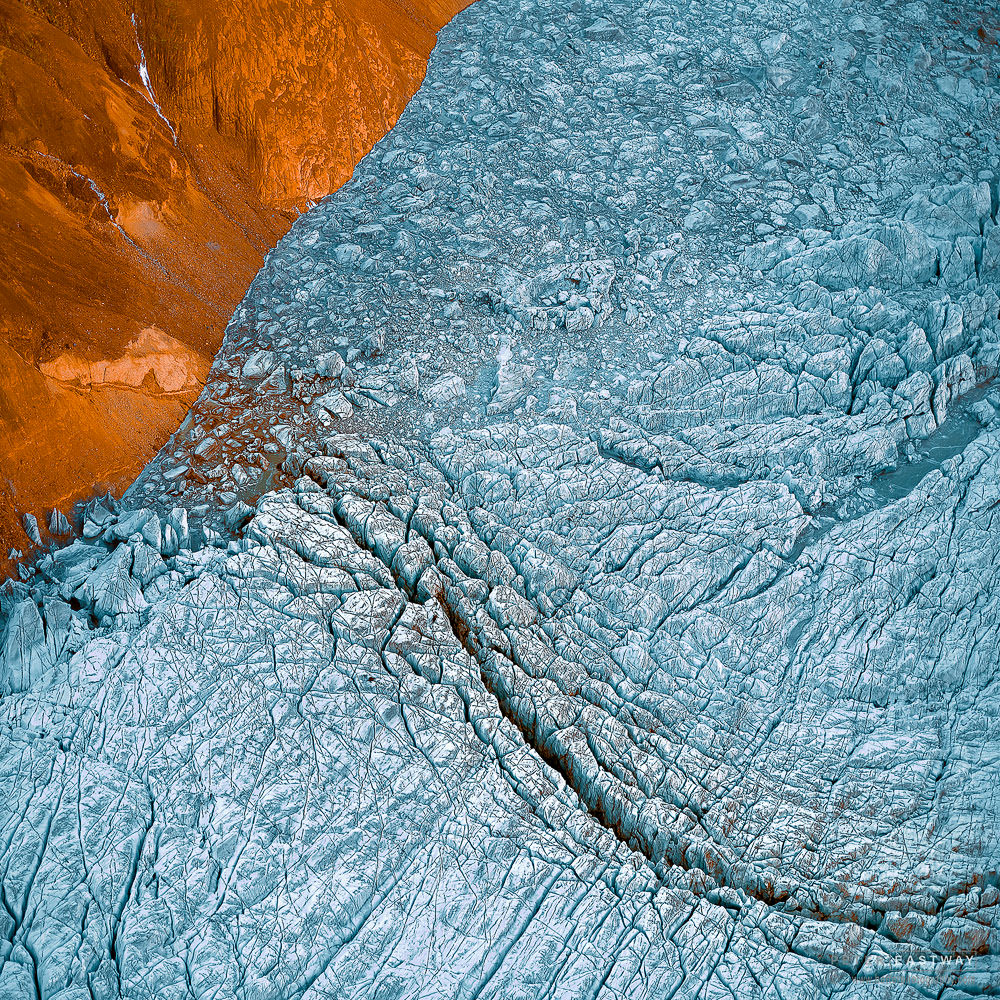 Glacial Textures, Iceland. 
Phase One XF IQ150, f3.2 @ 1/2000 second, ISO 200
I hope you're enjoying the High Resolution Toolbox articles we're running in this newsletter (one each week). Yes, they are courtesy of Phase One, but the information in them applies to everyone with a high resolution camera, whether it is medium format or not. And it's for photos like this that understanding high resolution and getting your technique right is so important. Precise focus and a fast shutter speed to avoid camera shake and subject movement were essential.
What you can't see on social media or a hand-held device is the depth of detail, so you'll just have to take my word for it when I say the fragments of ice down below are razor sharp when you enlarge up to 100%. After processing aerials from Utah taken earlier this year, I'm now working on Iceland. Not every image 'happens' automatically. In fact, for this location I was working earlier on a different angle, but as yet I have been unsuccessful. In looking at alternatives, this image seemed to work a lot more easily, so at some stage I'll return to the earlier image and try again. Do you find yourself working like this? I hope it's quite normal!
Shooting with high resolution cameras, I often don't worry too much about sharpening - because there's enough resolution already. But for these aerials, I'm finding a little low-radius (meaning a radius of 0.6 or less) sharpening really brings up the details. I have a plan for sharing some of these images at full resolution on my websites shortly - I'm not quite ready yet, but there is a plan afoot!
I guess my message is that aerials with high resolution sensors, even when correctly captured, can still benefit from a little sharpening to bring out the ground textures and patterns we love to see. It's creative sharpening rather than remedial. And while drones can't yet compete with this resolution, I figure it's only a matter of time before new technology makes those tiny airborne cameras capable of much more - and shooting super high resolution aerials will be available to everyone!
Finally, not long before we announce the Photo of the Year 2020 award. Most of the preliminary work is now in place ready for the big announcement on Wednesday! The quality this year was amazing, so thank you to all the entrants and congratulations.
Details

Category: Almost Weekly Photo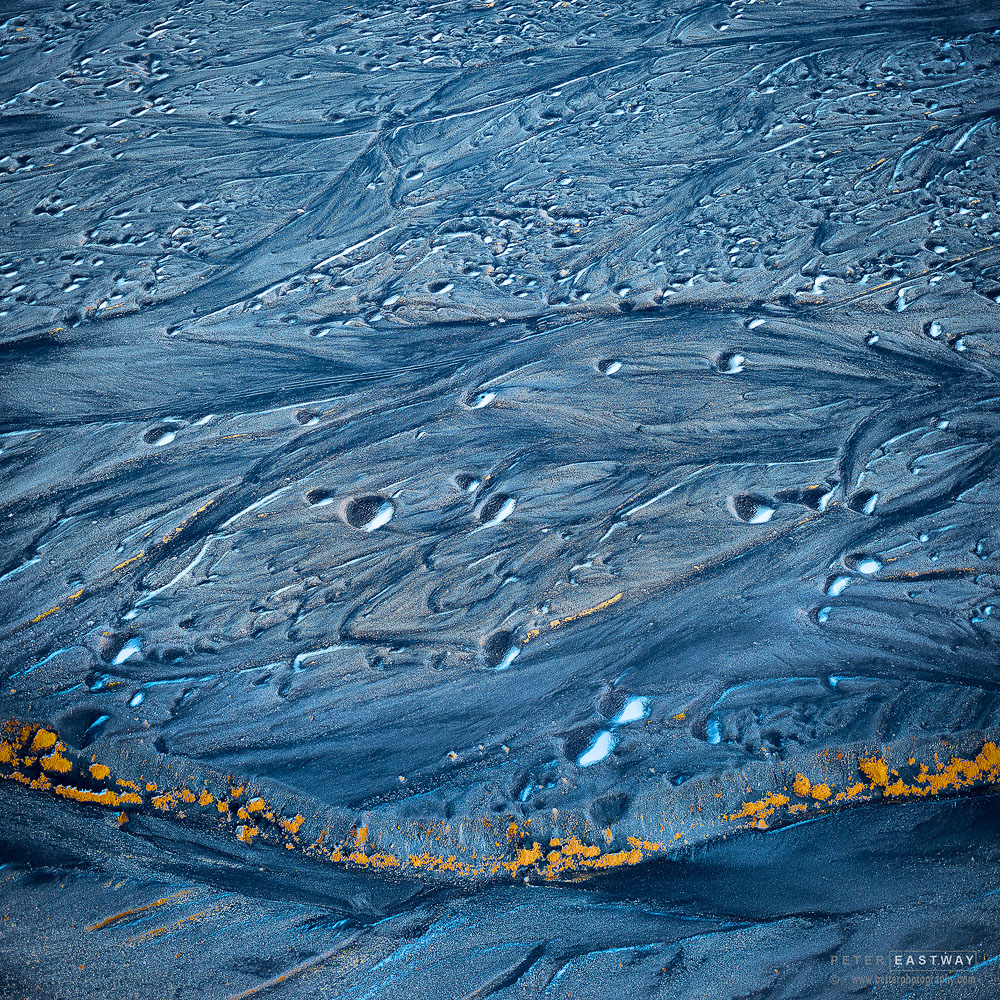 Glacial Moraine, Iceland.
Phase One XF IQ150, f3.2 @ 1/2000 second, ISO 800
Have aerial images lost their gloss? Based on the number entered into the landscape category of the Better Photography Photo of the Year Award 2020, I'm guessing not. And given we're normally land-dwellers, I think that a bird's eye view of the world will always intrigue us, no matter how many we see, simply because it's a different angle from what we normally see.
Look at any television show these days, from Nordic crime dramas to the Tour de France - the helicopter or drone shot has become an integral part of the director's craft. Simple aerials of a castle in a valley with a bunch of cyclists riding past are captivating; metaphoric patterns of a glacier can be mesmerizing. There was one Icelandic series that juxtaposed close ups of a dead body with aerial landscapes and it worked beautifully (even if it was a little macabre).
However, in a competition environment, it's getting harder and harder to impress the judges because we've seen so many fantastic aerials over the past few years. The extra few marks an aerial used to get because it was 'different' are no longer on offer. And in fact, an aerial entrant may have to work a little harder than a land-based landscape entry!
So, does that mean we give up on aerials and look for the next big thing? I don't think so. I love aerials, especially my aerials. No, I'm not suggesting my aerials are the best, rather that because I took them, I have a strong attachment to them.  And not every photo we take has to be an award winner. In fact, most of the photos you take and process need to make just one person happy: you!
Having just judged a very strong selection of landscape images, I don't think the image above is anything special in terms of a competition, but it ticks all of my personal boxes. I think it will make a great addition to my Iceland album.
The little 'craters' are depressions in the moraine. It looks like they were formed by big boulders that have since been washed away, but if that were the case, why have the depressions remained? Fortunately, I know I have some brilliant geologists as readers, so hopefully one of them will explain things to me (and I'll let everyone else know next newsletter!)
Details

Category: Almost Weekly Photo
Remnants of a flood, Wendover, Utah
Nikon D850, Nikon AF-S 70-200mm f/2.8G ED VR II, f5 @ 1/2500 second, ISO 200.
Years ago, Tony Hewitt, Christian Fletcher and I hosted photo workshops out at Karijini in the Pilbara. Photographers would come along to learn from us, but what we found interesting is that every year, we learnt something from our students. Sometimes it was an unexpected question that lead to new ideas, on other occasions our students brought their own sheer brilliance, but either way, teaching has always been a two-way street and I think it's given us as teachers an added advantage as photographers.
The same can be said for judging photo competitions. Judges have a great opportunity to see thousands of different images. We get to invest in an 'ideas bank': the different ways of framing, exposing and processing are lessons in themselves. The different subjects another resource - and all these ideas go into our personal 'databases' as inspiration for future explorations. I guess many readers would say it's like scrolling through a high quality Instagram feed.
Tony Hewitt, David Oliver and I are currently judging the Better Photography Photo of the Year 2020. I think Tony and David are finished and I am half way through. My role is a little more onerous as, in addition to scoring, I then add what I hope is a helpful judge comment. And it was while judging some of the aerials in the landscape category I was inspired to pull out some files I'd taken earlier in the year on a flight over Utah. I'm not sure how long the inspiration will last as I have probably a dozen aerial shoots that I haven't really processed properly yet, but now I've made a start on one of them.
The image above was taken over salt flats near Wendover. I was in the back of the plane while our 'students' were shooting through the open door, but I had been lent a Nikon D850 with a 70-200mm which let me shoot between the others from time to time. What attracted me here were what look like wooden palettes outside a break in a water embankment, pushed there by flood waters. I then explored what was a relatively flat and colourless raw file in post-production. I'm not quite ready to talk about my technique (it's still very much in development), but if you read back through recent newsletters, there are hints of what I've been thinking about lately.
I currently have 10 images processed and still going. I'll share a few more over the coming weeks - unless I'm inspired by something else in the competition! Thanks to all the entrants - it's an honour and great fun to review your work.