Details

Category: Almost Weekly Photo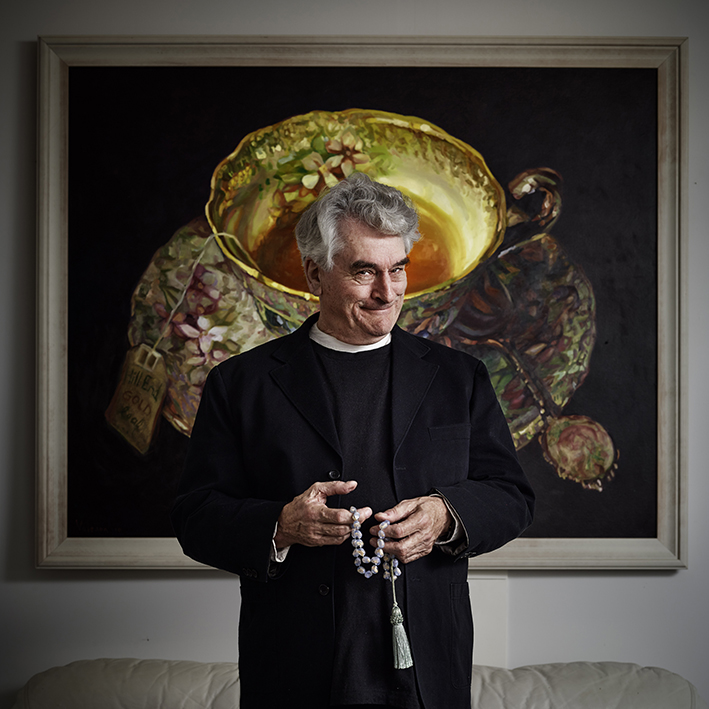 Peter Adams, Katoomba, NSW. The photo was considered to irreverent for use in the book's general publicity, but I am told it is inside. Photo by Peter Eastway.
Peter Adams' book A Few of the Legends is finally done! I've even seen a couple of sample books printed by Momento - a proof of concept so to speak!
Regular readers of Better Photography may remember Peter's articles in the magazine. Each featured a wonderful B&W portrait of a famous photographer, a photograph by the famous photographer and an interview that was always educational and entertaining. While we published over 50 of these articles, the massive new book will contain around 300 photographers.
It has taken Peter over 40 years to put this work together and he has travelled around the world many times to do it! Peter is also a master of the constructed portrait. Thinking on his feet, often with very little time, he'd find a location and a prop with which to photograph his subjects and more often than not, his portrait outshone the work of the interviewed photographer! However, what you'll love most are the stories and the insights into the creative minds of a diverse range of primarily portrait and documentary photographers. It's  a must-have.
The 30x30 cm tome has over 600 pages and will retail for $190 plus postage. However, if you're quick, you can grab a pre-publication offer for just $150 plus postage, although publication remains some months away. For details, visit Peter's website here: https://peteradams.com/books/a-few-of-the-legends#!Amendolia_and_book_B
Details

Category: Almost Weekly Photo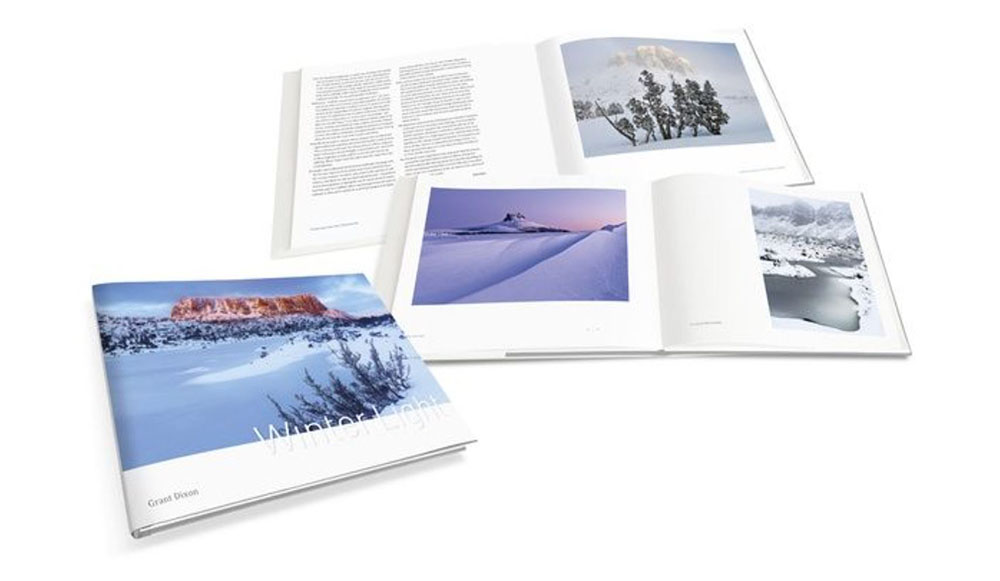 Tasmania continues to produce a proud tradition of landscape photography and I think Grant Dixon's recently published book, Winter Light, sits very comfortably with the best. And having spent many winter nights camping out in New South Wales' alpine areas myself, the cold snow seeping through my sleeping bag well before the dawn, I find myself doubly appreciating how much effort went into capturing Grant's beautifully composed photographs that feature lots of snow and ice.
Of course, it doesn't matter how much effort is made in capturing an image, it's the image itself that counts. You won't be disappointed. Grant's work presents an effortless landscape of tangential light, magnificent vistas and crispy details, yet as photographers, we can't but admire his tenacity and perseverance because images like his don't just 'happen', they are the result of much planning and a degree of luck. Especially in Tassie where the weather can be incredibly fickle!
Grant crowd funded his book last year and it was interesting to do the maths. According to the chuffed.org website, he raised nearly $30,000 from 255 supporters, offering a combination of single books and book/print packages. I'm going to guess he's covered most of his costs and still has a few books to sell, so please support a fellow photographer and buy a book! It will cost you $105 and that includes postage within Australia.
What's in it for you? While many Tasmanian wilderness photographers have used large format cameras, Grant shows what's possible with a standard Nikon DSLR or Sony mirrorless. Even so, his framing has a clean formality that looks like it could have been taken with a large format camera. And his post-production is both minimal and adequate, a conscious choice he has made and exercises deftly. However, most importantly, I think this book is inspirational and as photographers, that's what make us better.
You can purchase Grant's book from his website: http://www.grantdixonphotography.com.au/book/index.php And you'll also find a selection of his work for your viewing pleasure. Enjoy!
Details

Category: Almost Weekly Photo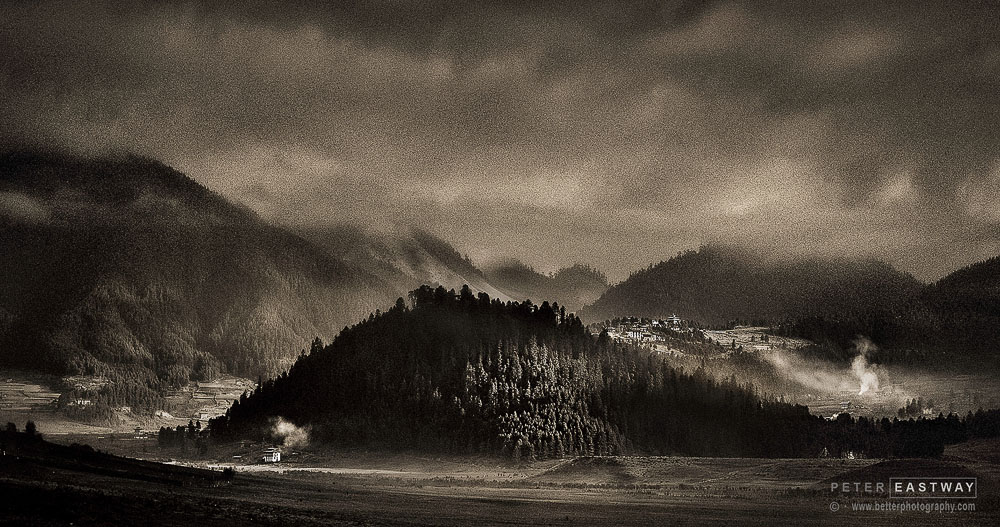 Early morning, Phobjikha Valley overview, Bhutan
Phase One XF 150MP, 110mm Schneider-Kreuznach, f5.6 @ 1/250 second, ISO 50
The first time I visited the Phobjikha Valley, I didn't feel it. The second time I found a couple of shots. The third time we were overnighting in a different part of the valley, in an old farmhouse, and while there were some great angles, I still didn't find anything particularly special.
On the fourth visit, it was magic!
Early morning bands of fog drifted across the valley floor as the sun rose, highlighting an old farmhouse here and revealing a mountain top village there. I was mesmerized! David Oliver and a few of our photographers wandered further along the road and found a herd of horses with frost cloaking their backs. And there was a lone tree, also blanketed with frost, backlit against a dark headland covered in trees. It seemed everywhere I looked, there were photographs to be taken.
When travelling (remember the days when we could travel), it is always tempting to sleep in. After a week or so on the road, the body gets tired and it takes me a little more effort to get out of bed. But I always do. I would hate David to get up early and find something I missed out on!
With the mist moving slowly and the sun rising, the landscape kept changing and whoever said you have plenty of time as a landscape photographer clearly hasn't visited the Phobjikha Valley at dawn! My first inclination was to use a wide-angle lens to incorporate as much as possible. I'm happy with a few of those frames, but huge expanses of sky and foreground seemed overpowering. For this photo, my choice of lens was a mid-telephoto. It required me to make some decisions about what to include and exclude, but this isn't an insurmountable problem as you can take as many photos as you need to.
As long as the light and the fog remained.
What I love about this photo is the mood and atmosphere provided by the slightly toned black and white rendition. When I look at it, it brings back fond memories of half a dozen trips to Bhutan. While there are plenty of pristine landscapes in Bhutan, what I love are the punctuation marks provided by farmhouses, dzongs and small stupa. And as with landscape photography generally, it's the light that makes the image. A few minutes later, the mist had lifted, the angle of the sun was higher and the magic was gone.
If you're looking for some excellent reading and inspiration as we await our next chance to travel overseas, check out my book The New Tradition. You can see a sample flip-book and introductory video on the Better Photography website - https://www.betterphotography.com/online-shop/new-trad-book