Details

Category: Almost Weekly Photo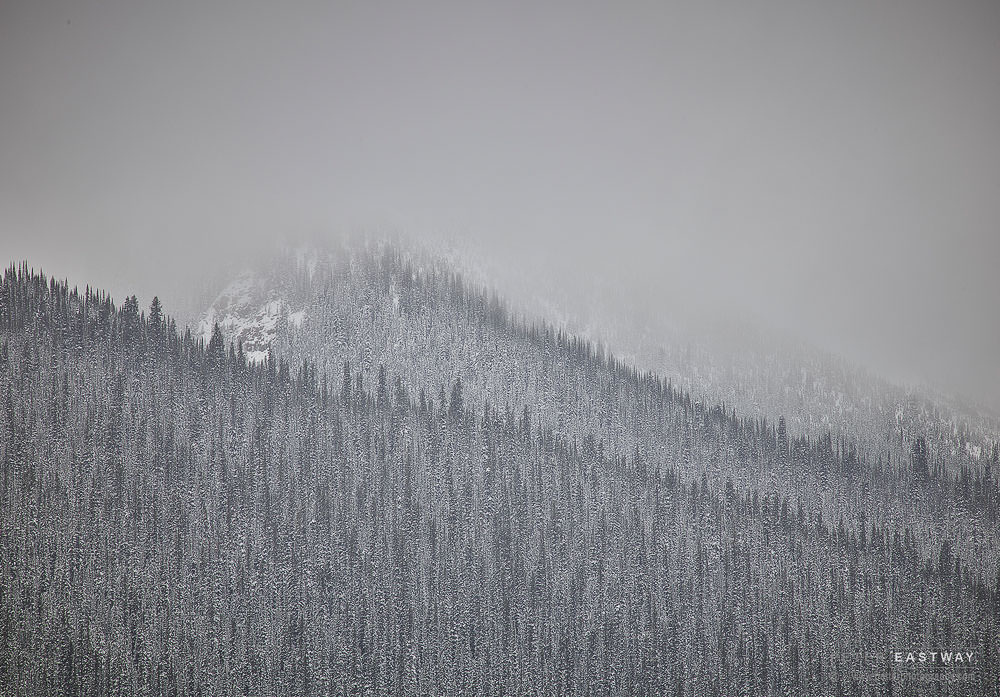 Snow-covered foothills, Icefields Parkway, Canada
Phase One XF 100MP, Schneider 240mm with 2x converter, 1/50 second @ f12, ISO 50.
This is one of my favourite photographs from a trip up the Icefields Parkway in Canada. Why? I'm not exactly sure, but I think it is a combination of me loving snow, of moody light, and of the beautiful textures created by the trees and the way they fold themselves over the foothills.
A lot of travel photography is taken from the side of the road. Even if you're heading off on a trek, you'll drive to the starting point and there are invariably opportunities along the way, especially if the light is changing. On a one to two week trip, I'd expect at least one, two or maybe three weather systems to push through, creating cloud and lighting opportunities - so you need to be ready.
On this occasion, as I've written before, we had early snow. When we started out in the morning in heavy snow, we didn't think we'd get to see anything much at all because visibility was poor, but later in the morning the clouds lifted a little and, using a telephoto lens, I was able to isolate the simple shapes of the tree-covered hills. The telephoto lens lets you simplify your composition and while it won't be very apparent in this small reproduction, there is some beautiful detail in there.
Detail in a photograph remains important to me. I'm happy to capture images that are soft and blurry, but that's a different head space. Part of what makes a photograph a photograph is the way the lens resolves detail. The closer you look, the more you see. So most of the time I'm travelling, I use a tripod. David Oliver laughs at me, saying he's taken his shots by the time I have the second leg of my tripod extended - and there's an argument there. On the other hand, usually the landscape isn't going to run away and spending a little time to set up the tripod can be well-used as you reflect on your subject. The resulting composition is generally more considered than a hand-held one - and I like that. It's not a better way of shooting, rather a different way - and each to their own.
If you'd like to join Tony Hewitt and me in Canada in October this year, we need to hear from you by the end of May. This part of Canada at this time of year is really popular, so if we're to book accommodation, we have to get cracking. For more details, check out the Better Photography website here.
Details

Category: Almost Weekly Photo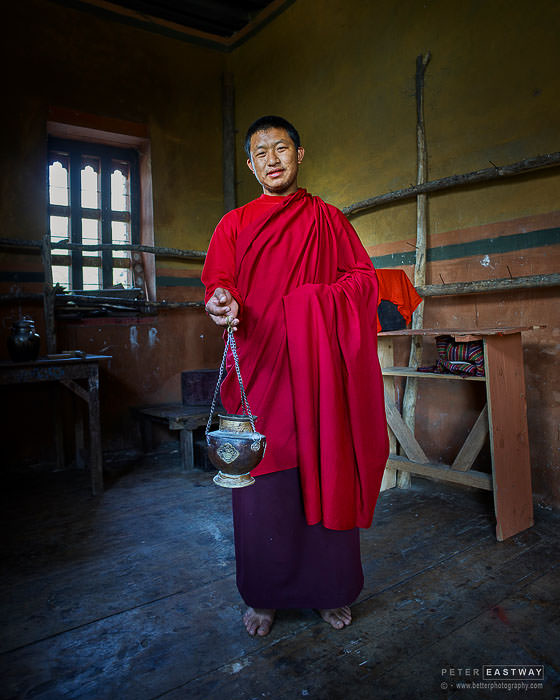 Monk, Rangjung, Bhutan
Phase One XF 100MP, 35mm lens, 1/50 second @ f5, ISO 800
In the last couple of weeks, I have given a travel photography presentation with Oged Wagonstein from Israel (as part of the Head On Photography Festival), and interviewed Lesley Downie for the AIPP Journal (the June issue, so it's not out just yet). Both are wonderful portrait photographers and have no trouble interacting with people as they travel around the world. How do they do it?
A lot of photographers are shy when it comes to pointing their camera in a stranger's face - and sometimes that describes me as well. On other occasions, I'm very relaxed and will photograph anyone. So if you find yourself in a position where you don't feel comfortable, don't worry too much. Maybe it's not quite the right opportunity, maybe you're not in the right mood, or maybe you're reading the situation accurately and people don't want to be photographed.
However, if you always feel a little shy, then maybe the problem does lie with you. Everyone has their own way of approaching people, but perhaps you could start by putting your camera over your shoulder and just walking up to people to have a chat - or buy something from their store. What you probably need to do first is break the ice - to interact with your potential subject. As you build a relationship, lots of things become much easier, including taking a photo.
Language can be a barrier, but only if you want it to be as many of my photos have been taken with a smile and a point at my camera. But it does require you to break the ice. Practice makes perfect and rather than hoping to take photographs of everyone you walk up to, practice talking to people and interacting first. I think you'll find that on many occasions, you'll work it out and pulling the camera off your shoulder to take a photograph will feel very natural.
In Bhutan, I remember being in a temple where we'd had special permission to take photographs. At one point, I wanted to photograph the head lama, so I made eye contact with him and pointed at my camera. He shook his head to the side - which I interpreted as 'no'. However, I now know that a sideways nod in Bhutan is actually a 'yes' or 'okay'. So, yes, language can be a problem, even unspoken language, but not for long - and certainly not when you gain some experience in a foreign country.
Gradually I'm developing that experience in Bhutan. David Oliver and I are returning there this November/December, with a new itinerary that travels across Bhutan from west to east. We're really excited about this trip which we researched last year. The monk in the photo above was photographed in Rangjung, Eastern Bhutan. Who knows, we may meet him again this trip! Why not join us this year as an early Christmas present to yourself! Details can be found here.
Details

Category: Almost Weekly Photo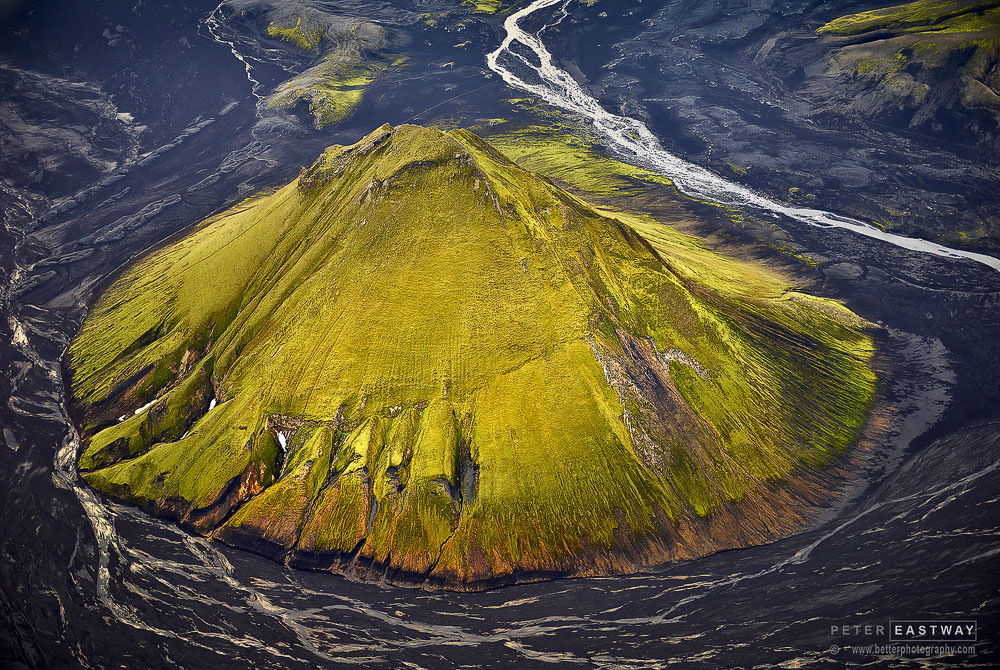 Pre-production Phase One XF/IQ100MP, 80mm Schneider lens
1/1000 second @ f3.5, ISO 200
Shooting aerials in Iceland is never guaranteed. The trip I'm doing to Iceland in Oct/Nov with Better Moments (no relation to Better Photography, but good blokes nonetheless) has provision for aerials, but it's weather dependent. A big part of what makes Iceland such a dramatic landscape to photograph is the weather and so you have to expect a few days when it's not pleasant to get out of the car. On the other hand, as the storms approach and leave, that's when the light is often at its most magical - and that's when you need to be out in the elements with your camera.
Back in 2015, when this photo was taken, Christian Fletcher and I were the first photographers outside of Phase One to use the new IQ3 100-megapixel back. Drew Altdoerffer flew over from Copenhagen and handed me a camera that appeared to be held together with black electrical tape. Little did everyone else on the trip realise what we were shooting with - and we couldn't say anything either, not until the camera was publicly announced.
It was hard to keep Christian away from the camera, but I managed to smuggle it aboard a late afternoon flight. Tony Hewitt had scored an earlier flight with epic light (not that he told me), I had the last flight of the day when the light closed in and was very flat - but to be honest, I couldn't have cared less! Just to be up in the air looking down on the awesome Icelandic landscape was spectacular enough.
I believe this is part of the Landmannalaugar region and the colours are very true to life: it was hard to believe there was this radioactive green volcano sitting in a sea of black volcanic earth. Quite remarkable and all I'm hoping for this next trip is a chance to shoot it again - with a bit more light! With such little life, I struggled to keep the shutter speed up at 1/1000, but the good thing about the 100MP CMOS sensor is that higher ISO settings are no problem, whereas with the older 80MP CCD sensor, pushing the ISO at all was challenging.
We've still got a few places in Iceland if you're interested - and you can also trial a Phase One camera outfit if you're interested. However, the workshop is available for all photographers and all cameras. Come along! Click here for details.