Details

Category: General Blog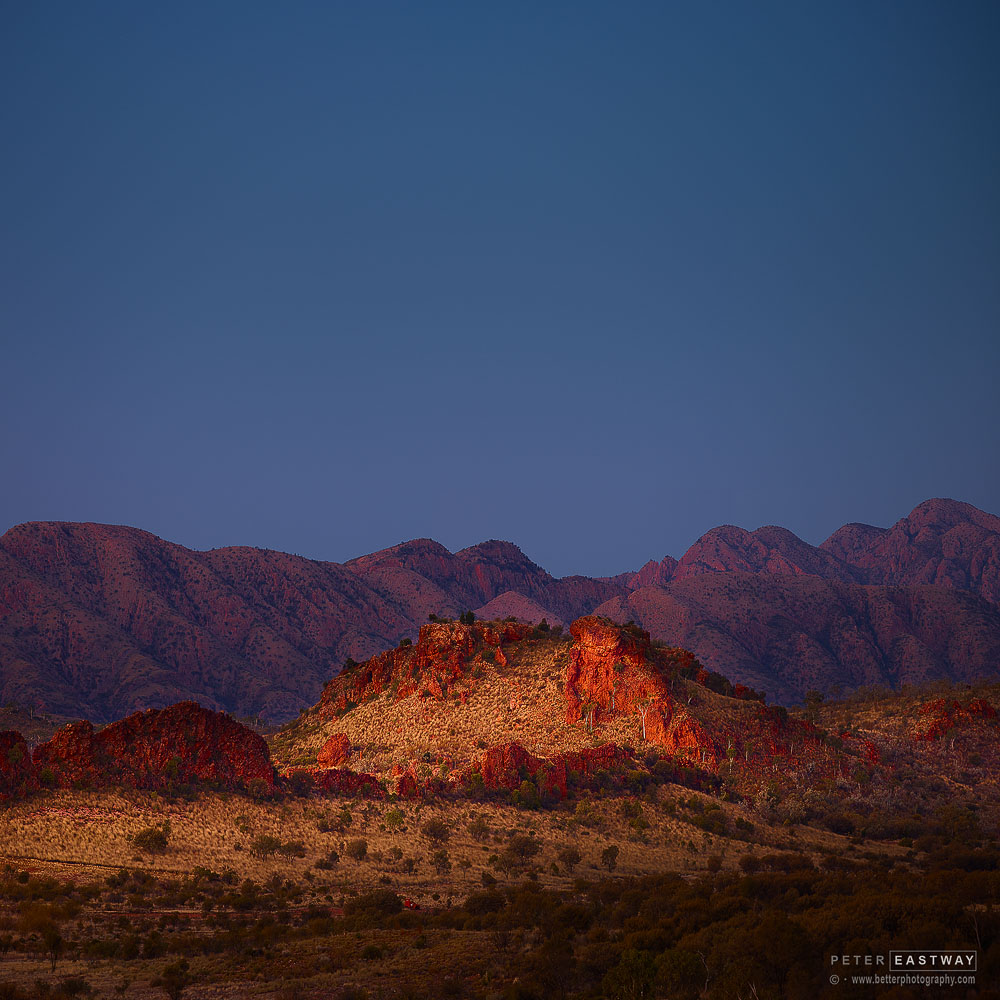 Hill outside Glen Helen, Central Australia.
Phase One 645DF, IQ180 back, 300mm Mamiya lens, 3 seconds @ f5.6, ISO 35
There's no doubting the magical quality of light in Australia's Red Centre, especially after sunset. The base colour of the earth is so rich and red that everything is coloured, so much so that people who haven't visited the Red Centre often query whether photographs depict the real colour or not.
On occasion, I have reduced the saturation in the reds so it could fit into the gamut provided by the ink and paper combination I was printing to. On other occasions, I have reduced the red just to make it look more believable. It really can be very, very red.
And of course, there have been other times that I have increased the red for aesthetic purposes! The point I'm labouring is that colour in photography is far from absolute or precise and that we can do a lot of things to our files to render them as we see fit. Or as we experienced them.
So, what about the colour in this photo? If you click through to the website, you'll see the raw file with minimal processing. It shows that the base colours are there, but the sky is pretty washed out and the colours are not as rich as perceived by the eye (or at least by my memory).
As I stood on the knoll behind Glen Helen Homestead Lodge, I couldn't help but marvel at the silvery light with a hint of rose and its effect on the surrounding hills. However, while capturing high quality pixels, the long exposure had lightened everything up and lost the magic. Temporarily.
In Capture One (or Lightroom), I explored the colour temperature settings until I produced the right balance of blue in the sky and red in the hills. I then added in some contrast to build the richness of the colours, and then added a little colour saturation as well. Finally, I darkened down the image to regain the magic, but using an adjustment layer in Capture One, lightened up the little hill as though it were capturing the last rays of sunset. This was made easier because the edit was based on fact.
I hope you like it! Tony Hewitt and I are planning a workshop to Central Australia this August in conjuction with Phase One. However, there is no need to be shooting with Phase One gear to come along, although there is an option to hire a Phase One outfit if you're interested. If you've ever wondered what medium format is all about, this could be a great opportunity! But DSLR and mirrorless camera owners are most welcome!
Details

Category: General Blog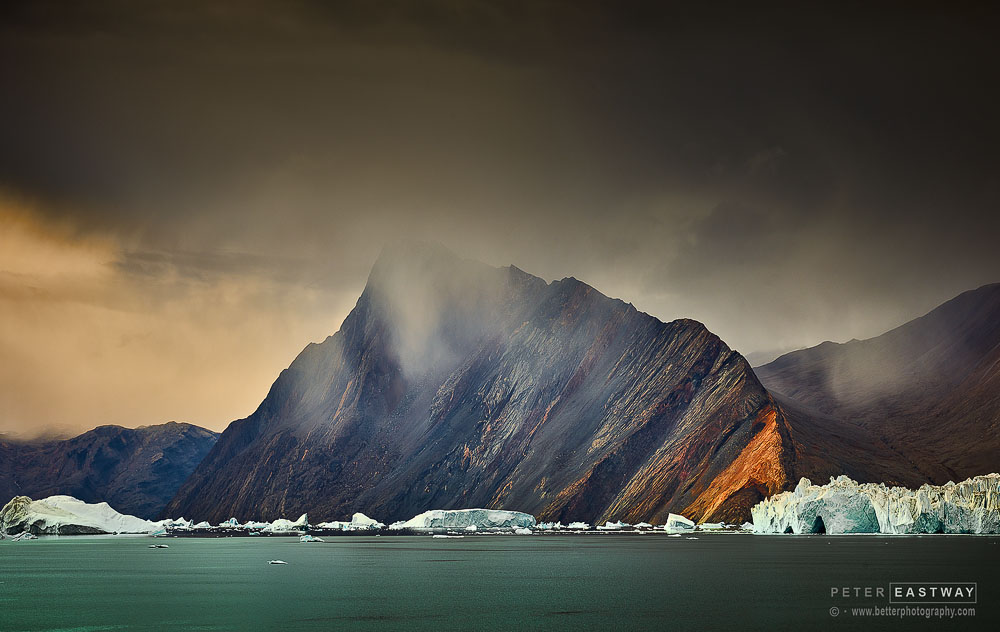 Nordbugten area, Scoresby Sund, Greenland.
Phase One 645DF, IQ180, 110mm Schneider, f8 @ 1/125 second, ISO 50.
Be careful what you wish for, they say, but one thing that is very likely on a photographic expedition lasting one or two weeks is that you'll get a strorm front or weather change moving through. Of course, there are some places in the world where the weather doesn't change very much (I can remember spending a month in Namibia years ago and we had blue skies for 27.5 days, and light cloud one afternoon) but generally speaking, you'll get a couple of weather changes and these are the times landscape photographers should live for. So, rather than wishing for fine weather, hope for the opposite.
This photograph was taken Greenland and I'm guessing it is local weather - meaning the cold air from the ice plateau not too far away created low cloud when mixed with the warmer air over the sea. We had fine weather either side of this particular event.
The photograph has been lightly processed in Capture One 11 using a series of seven adjustment layers. One feature I prefer in Capture One over Lightroom is that your adjustments (adjustment brushes in Lightroom) are set out in a list (a bit like the layers panel in Photoshop), making it much easier to name and access them, and importantly, turn them on and off. It's my new mantra for 2018 - process more photos lightly and worry about the fine detail if and when the image goes to press or to print.
In Capture One I used the Colour Editor in a couple of places - to accent the warm rocks, and to give a little colour to the previously murky waters. You can see the original file without adjustment layers on the website.
The only thing missing from this Arctic trip were Polar Bears, something I hope to fix this June with Kevin Raber - check out our Arctic tour on his Luminous Landscape website. Click here for details.
Details

Category: General Blog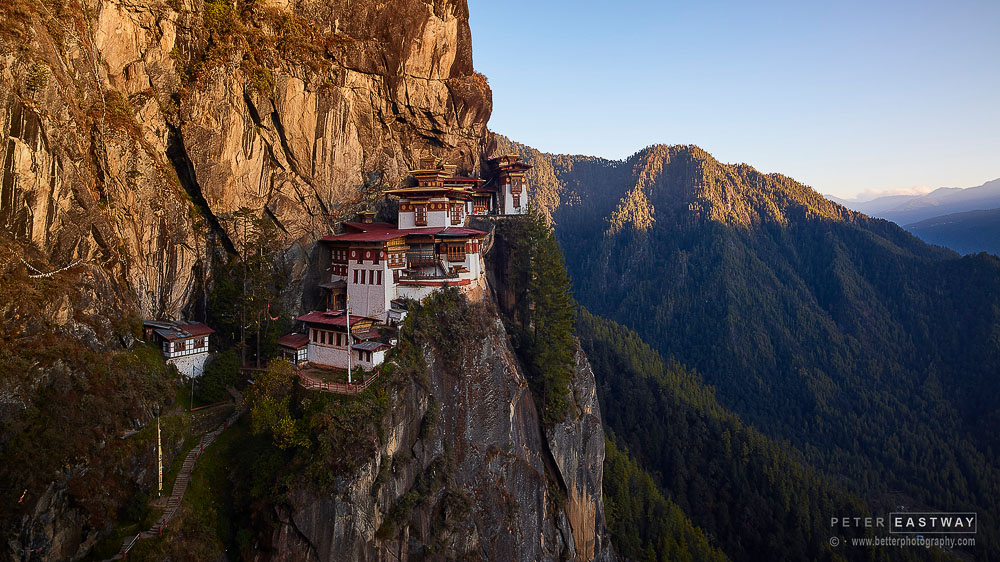 Taktshang Monastery, Bhutan.
Phase One A-Series 100MP, 23mm lens (cropped) 1/60 @ f8, ISO 50
What do we do with all the photos we take? I might do a few more photo trips than most readers (but then again, maybe not) and I struggle to process all the images I capture. They're all there, safely stored on my LaCie 6big and backed up on external drives, both in the studio and at home.
But they are just raw files. I haven't done anything with them. Each night during the trip, I will quickly look at the files and process them lightly in Capture One using my Wacom MobileStudio Pro, usually uploading them to my iPad and iPhone so I can show other trip participants and my family when I get home.
And then nothing!
Well, my new year's resolution is to create a book or an audio visual from each trip, but how am I going to find the time to process the images? I think this is where we have to differentiate the work that we do. When creating images for awards or an exhibition, where the photograph will sit alone for inspection and assessment, I can spend hours if not days in post-production to get it just right.
This isn't going to be sustainable for the 30 – 60 images I need for a book or audio visual, so my new approach is to limit the post-production to what is possible using Capture One (or Lightroom). These photographs are not exhibition grade, but they are sufficiently refined to sit in a book or an audio visual because the viewer has only a fleeting engagement with the images as the pages turn or the slides are changed.
Generally, I can produce a high-quality rendition in less than 3 minutes – and most of that time is exploring where I want to take it. And this rendition looks fine in a book or an audio visual I believe!
What prompted this suggestion? I've just finished processing 80 images from my 2016 Bhutan photo tour which I have put into an audio visual. The new AV will premiere at my Evening Atelier in Dee Why this coming Tuesday evening – so come along. You can book online at www.betterphotography.com or just turn up and pay me $10 cash at the door (the online price is $9.95 and I doubt I will have 5 cents change!). The evening starts at 7.00 p.m.