Details

Category: General Blog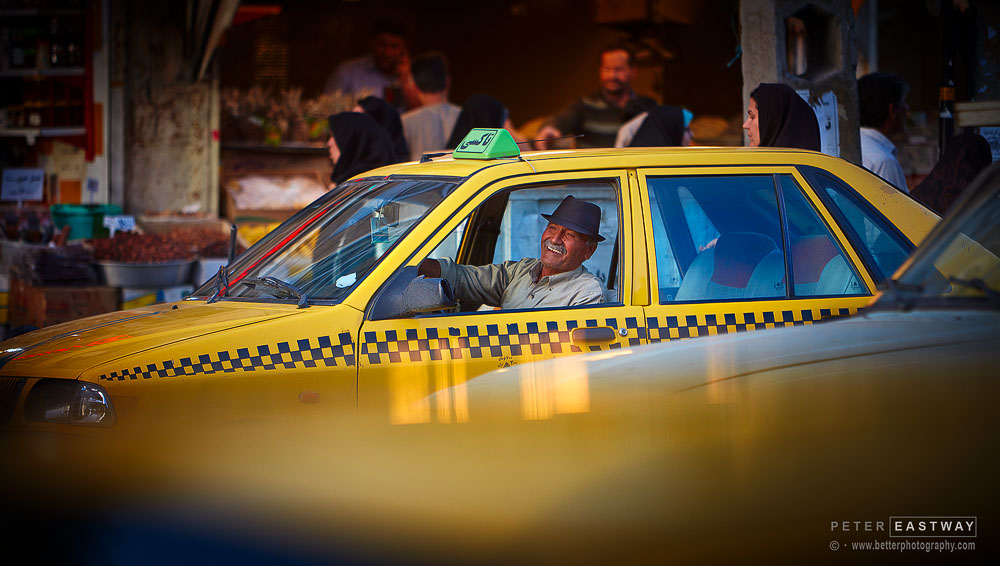 Hamadan Taxi Driver, Iran.
Canon EOS 5DSR, 70-200mm lens @ 200mm, 1/400 second @ f2.8, ISO 100
New York is known for its yellow taxi cabs and no doubt they are prevalent in many other cities around the world, but I'd suggest few cities have as many yellow taxis as Hamadan in Iran. On our photo tour, Nuran Zorlu and I spent a few hours loitering in the Hamadan's busy centre with our band of adventurous photographers. The Imam Khomeini square boasts a rich but decaying circumference of elegant building facades, with a hurried, bustling congestion below. Crossing the road to the park in the centre of the square was not without its challenges!

Nuran had suggested that Imam Khomeini square was a great place to sit down and observe life, but we weren't sitting very long before we found ourselves the centre of attention, with plenty of opportunities to photograph the people.

What struck me was the number of taxis, either in transit as a laneless melee around the park, or waiting in long lines for fares. The challenge was to capture them as a part of daily life. For the street scenes, I found a wide-angle lens allowed me to get close to the taxis as they whizzed past, placing them in the foreground and retaining the building facades behind.
As I stood on the roadside, I noticed how every taxi had its own sub-plot inside, the life of the driver and maybe his passengers, so I switched to a 70-200mm zoom and lowered my camera height. This let me look across the road into the taxis and at the driver.

On occasion I was discovered by the drivers, but never castigated. Perhaps it was because I was obviously a foreigner and somewhat of a novelty in a country that has recently re-opened its borders for general tourism.
There's no doubt this taxi driver knew I was there!
Details

Category: General Blog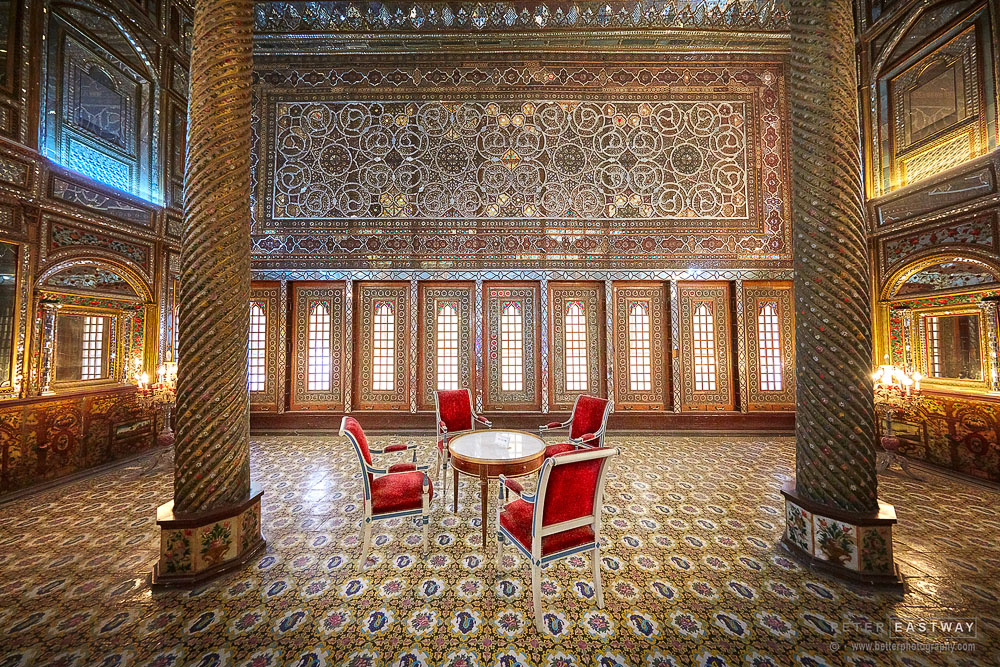 One of the side residences at the Golestan Palace, Tehran.
Canon EOS 5DSR, 11-24mm @ 11mm, 1/40 second @ f5, ISO 3200
At a smart new vegetarian restaurant next to an art gallery in Tehran, we were seated opposite three well-dressed women. A beautiful strawberry flan, large enough to feed a dozen people, was delivered to their table - rich, red strawberries with what appeared to be a suitably thin, crispy base, just the way I like it.
One of the women observed me looking at their flan. She laughed and made a couple of comments to her friends. Had I been a little obvious?
I asked our waitress if we could order a strawberry flan for our table, only to discover that the flan was not on the menu. My language skills didn't allow her to elaborate, but I guessed the women had brought it with them for a special occasion.
After we finished our main meal some time later, the strawberry flan appeared at our table. Three small slices had been consumed, leaving a generous gift from the women.
This gesture was to epitomise the friendly disposition of the Iranian people we met throughout our trip. Persia of antiquity was known for its luxury and entertainment and perhaps it is this generosity of spirit that has been handed down over the generations. Wherever we travelled, we'd meet people who would say, "Welcome to my country".
We had a little conversation with the three women. It was a birthday for one of them and when I asked her if she was 21, she looked offended and said she was only 18! I wondered if we'd be this hospitable in Australia if the roles were reversed. I'd like to think I would be, at least now.
Nuran Zorlu and I are just back from a remarkable journey through Iran. From a photographic perspective, it was simply exceptional. We were joined by nine photographers who also appeared to enjoy what we found. There will be more about Iran in future newsletters as I work through my files. Nuran is looking to take a group back to Iran in March/April next year, and I'd be keen to join him again in 2019.
Yes, there are political tensions involved, but on the ground with the 'average' Iranians, when you're walking through a market or across a field, I haven't visited a more friendly country.
The photo above gives you a glimpse of the opulence presented by some of the historical architecture. Iran - or Persia - goes back three or four thousand years and while some buildings have been restored in recent years, you're continually picking your jaw up off the ground as you gape in amazement at the building interiors. The walls and ceiling of this ballroom (I'm assuming) were covered in finely shaped and decorated mirrors. A remarkable space.
A portfolio of my Iranian photos will be up on my personal website shortly - view www.petereastway.com.