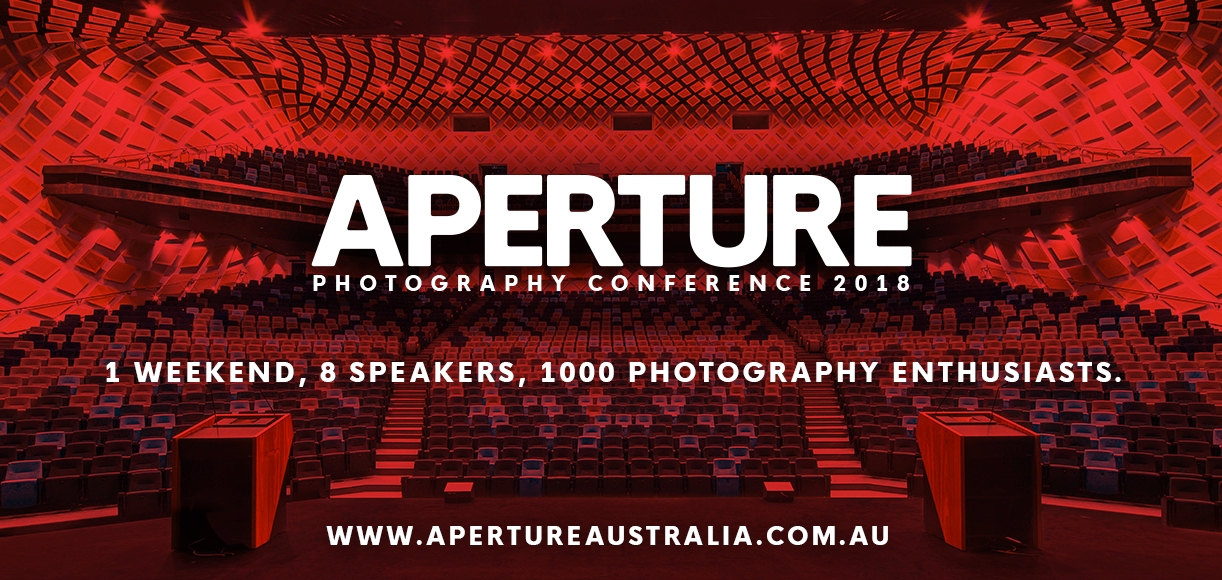 Meet Australia's Photographic Pioneers
Get $150 off your ticket with the exclusive discount code: BETTER150
If you're an amateur or professional photographer, Aperture Australia is THE annual conference to attend if you're committed to sharpening your craft and connections. Even if you're not a photographer, the powerful images and presentations from Australia's best are sure to blow you away.
Held over one intensive weekend in the heart of Sydney, those on the guest list can access firsthand advice from influential and award-winning Australian photographers who have made waves with their work internationally. As pioneers in their respective fields, Aperture's featured photographers will showcase the raw stories behind their most iconic shots to inspire your own approach to the profession.

Watch and witness
Live presentations by A-List Australian photographers, and intensive panel discussions and interviews hosted by TV journalist Ray Martin
When
Saturday 28 - Sunday 29 April 2018 at Sydney's International Convention Centre
Price
Weekend tickets starting from $495
Get $150 off your ticket with the exclusive discount code: BETTER150
All tickets include entry for both days.

Aperture Australia is a photographic conference centered on the individual talks of eight industry greats who have spent years mastering their craft. With their diverse portfolio of experience, guests will follow speakers' stories as they explore the immense variety of situations that life behind a camera can expose you to. Speakers include Ken Duncan, Gary Heery, Murray Fredericks, Krystle Wright, Jack Picone, Eugene Tan, Alexia Sinclair and Megan Lewis.
The weekend is a celebration of the art of photography, designed to benefit the career professional development of everyone who attends, regardless of their skill level.
Hosted by award-winning television journalist, Ray Martin. Ray is the face of Aperture Australia 2018. Not only is he a veteran interviewer and iconic television journalist, but Ray is also a keen photographer. As host of the weekend conference, Ray will introduce each speaker, conduct on-stage interviews and lead thought-provoking panel discussions.
In just two days, attendees are surrounded by more industry expertise, enthusiasm and unrivalled networking opportunities than they'll likely find in an entire year.
Better Photography is offering an exclusive $150 discount on tickets, just use the code BETTER150 during checkout to apply your discount.
Website link: http://apertureaustralia.com.au/

Direct ticketing link: https://events.ticketbooth.com.au/event/aperture-2018

Check out the video presented by Ray Martin on uTube: Click here